Shibuya 2020 – Super Welfare Expo
Shibuya Showcasing "Stylish" and "Cute" Social Welfare
Time: November 12 (Wednesday) – 18 (Tuesday), 2014 11:00-20:00 (Free Admission)
(8/Hachi, Shibuya Hikarie)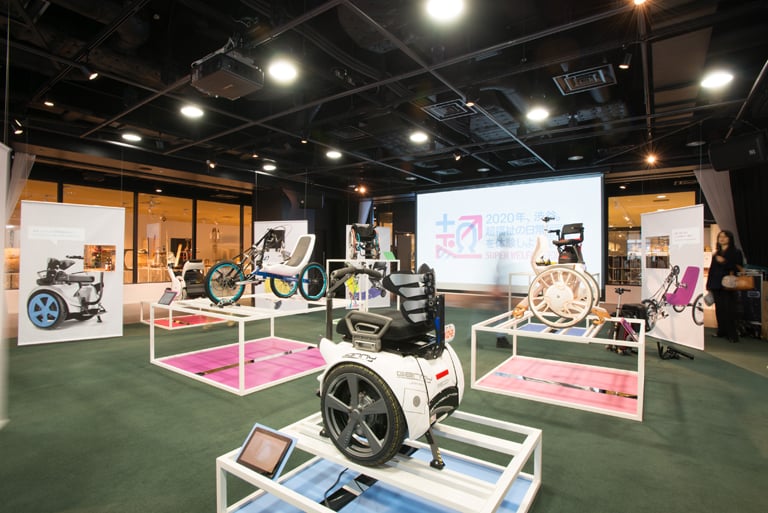 Wheelchairs that everyone will want to use
In anticipation of Tokyo's hosting of the 2020 Olympics and Paralympics, an exhibition was held at the 8/Hachi gallery at Shibuya Hikarie in Tokyo from November 12 to 18 to allow people to experience first-hand the barrier-free lifestyle that is envisioned by that time.
The exhibition featured displays of "super welfare items" that present a new image of "social welfare equipment," including wheelchairs, prosthetics and orthotics, devices to support walking, and equipment for people with visual impairments.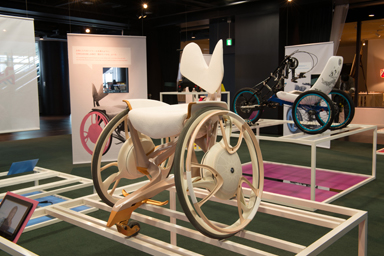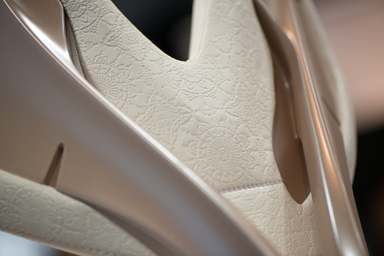 The first exhibit was a "street area," where visitors could see the latest advances in wheelchairs and personal mobility with a theme of "an invitation to cruise through Shibuya."
The 02GEN, an electrically power-assisted wheelchair developed by Yamaha Motor in collaboration with fashion designer Tamae Hirokawa, features a stylish design in tones of white and pink, giving women a sophisticated sense of style when they use the wheelchair.
The Genny 2.0 electric wheelchair from Segway Japan has a sports configuration that provides mobility in locations including sandy beaches and ski slopes. Other wheelchairs included folding types and models incorporating technologies used in wheelchairs for competitive sports. These wheelchairs transcend the traditional concept of social welfare equipment, as "vehicles" that everyone will want to try.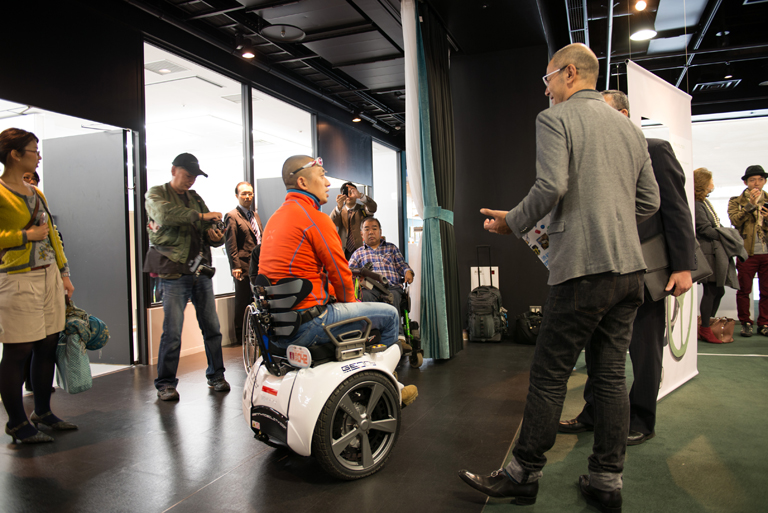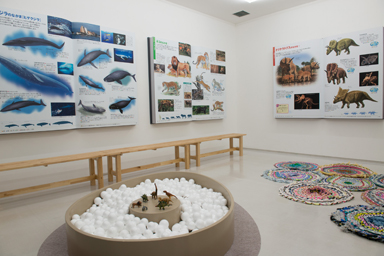 A "shop area" was also set up where visitors could experience shopping at a store for customized artificial legs that integrate art and technology, a futuristic bookstore where people who cannot see can obtain information, and a sports shop that simulates the competitive experience of top-tier athletes.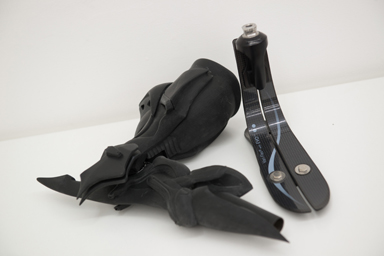 Visitors found futuristic prosthetics made with 3D printers particularly interesting. In general, when making an artificial limb like a leg, a physician writes a prescription, and a prosthetist then makes the limb by hand, from taking measurements to production and fitting. This means that a significant amount of time is required until completion, and also places a burden on the person receiving the prosthetic. This time can be significantly reduced, however, with the use of a 3D printer and the latest scanning technologies. Also on display were novel prosthetics that gave the appearance of science fiction, made by globally recognized designers, as well as orthotics that were "fashionable enough to show off" to assist physical functions.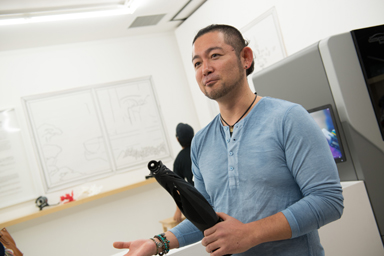 Taketo Kobayashi, a 3D computer graphics designer who participated in the prosthetics and orthotics project, noted, "Using a 3D printer makes it possible to produce the prosthetic in a day, and increases design flexibility. If people can use prosthetics that they are proud of, they will also have a more positive outlook in general."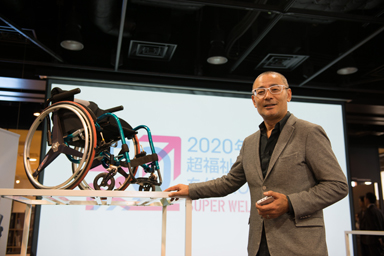 Shinji Sudo of the People Design Institute, the event's main organizer, added, "We've put together a collection that will surprise the people of Shibuya, who will find the items 'stylish,' 'cute,' and 'irresistible.'
"The 2020 Paralympics will be held in Tokyo and preparations for making facilities barrier-free are moving forward, but will we be able to 'make our hearts and minds barrier-free' in time? In the past, 'social welfare' has had a connotation of helping pitiful, unfortunate people. We should, however, be able to change the adjectives associated with welfare equipment from handicap-related terms to words like 'stylish' and 'cute.' Design can be a starting point for communication between persons with and persons without disabilities. Japan also has the technological capabilities to achieve this. I hope that holding this event in the fashion mecca of Shibuya will remake the image of social welfare.
"The year 2020 is just around the corner, and I want to present this new form of social welfare to as many people as possible."
Event Overview
| | |
| --- | --- |
| Time | November 12 (Wednesday) – 18 (Tuesday), 2014 11:00-20:00 |
| Location | 8/Hachi, Shibuya Hikarie |
| Organizer | People Design Institute |
| Assistance | Keio University Graduate School of Media Design, Nikkei Business Publications, Shibuya City |
| Support | The Nippon Foundation |
| Admission | Free |
| Website (Japanese) | http://www.peopledesign.or.jp/fukushi/ |
Contact
Public Relations Section, Communications Department
The Nippon Foundation