Tottori Prefecture Hosts 2nd National High School Sign Language Performance Championship
Princess Kako Gives Speech in Sign Language, First "Nippon Foundation Prize" Awarded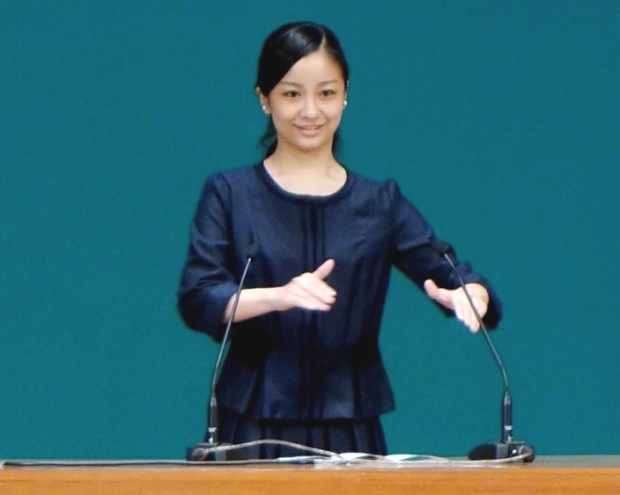 The Second National High School Sign Language Performance Championship, hosted by Tottori Prefecture and supported by The Nippon Foundation, was held on September 22, 2015, at the Yonago Public Hall in Yonago City, Tottori Prefecture. The competition featured 20 teams, selected from a preliminary round of performances by 47 teams representing 50 high schools from 22 prefectures, and comprising both deaf and non-deaf students. In addition to the competition's point-based prizes, this year's event included a Nippon Foundation Prize for the first time. Princess Kako, granddaughter of Emperor Akihito, also attended the competition.
Princess Kako opened the event by giving a speech in sign language, in which she pointed out that sign language is an important form of communication, and expressed her hope that the competition would be enjoyable for the participants while also promoting a better understanding of deaf people. Shinji Hirai, governor of Tottori Prefecture and chair of the event's organizing committee, explained the prefecture's proactive measures to facilitate the use of sign language in schools and public facilities, with the aim of launching a "sign language revolution" across Japan. Fujisaburo Ishino, president of the Japanese Federation of the Deaf, noted the importance of the competition as an opportunity for both deaf and non-deaf high school students to compete on the same stage. The opening remarks concluded with Takeju Ogata, president of The Nippon Foundation, outlining the Foundation's efforts to create an inclusive society in which all people can participate.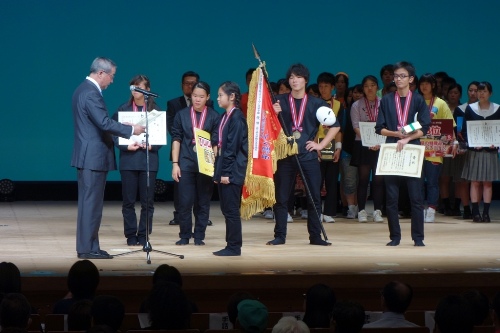 The eight-minute performances included songs, drama, skits, and manzai comic dialogues using sign language, and were judged on the accuracy and ease of understanding of the sign language, dramatic production, and overall expressiveness. The winning team, from the Nara Prefectural School for the Deaf, gave a lively, dramatic performance that envisioned a future in which "the world is one" under the motto "disabilities are not barriers in the world of expression." Second place was awarded to a dance performance by a combined team from Mie High School, Matsusaka Technical High School, and Ohka High School in Mie Prefecture. A team from Clark Memorial International High School Tokyo Campus came in third with a song and dance performance, and a special judge's prize was awarded to a team from Tatsuruhama High School in Ishikawa Prefecture, whose performance included both song and drama.
The Nippon Foundation Prize was awarded to two teams: the competition's winning team from the Nara Prefectural School for the Deaf, and a team from the Tottori Prefectural Tottori School for the Deaf, the highest-scoring team from Tottori Prefecture. These two teams will be invited to perform at the Information Accessibility Forum 2015, to be held in Tokyo on December 12-13.
The event concluded with Hand Sign, a dance company that incorporates sign language in its performances, taking the stage and leading the audience and participants in a chorus of their latest single, Tomodachi (Friends), which was also the competition's theme song.
Contact
Communications Department
The Nippon Foundation