Manga Edutainment!
100 Manga Selected in Project to Open New Worlds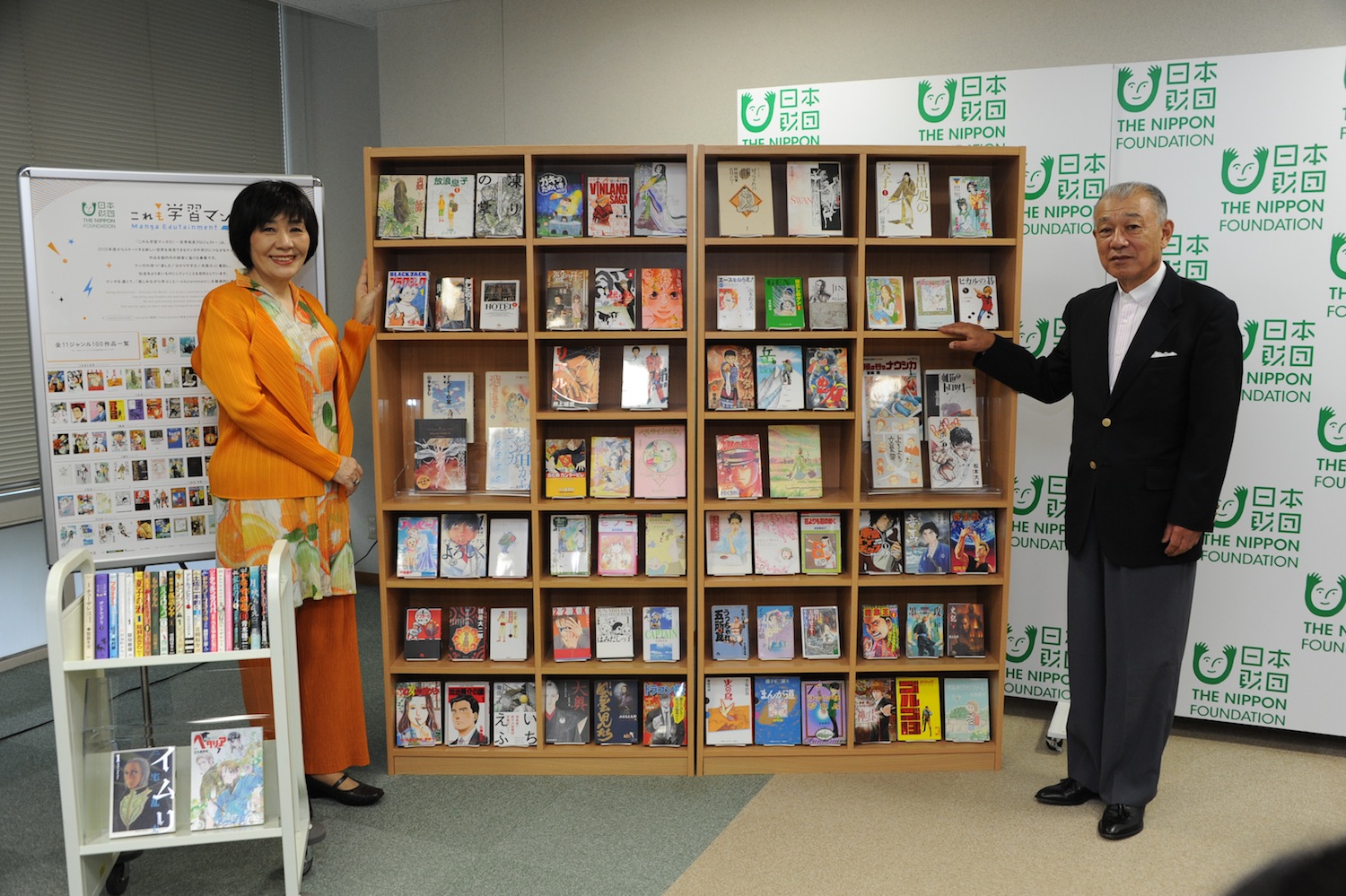 The Nippon Foundation has taken note that manga (Japanese comics) are "fun" and "easy to understand," and "create empathy." The Manga Edutainment Project to Open New Worlds was launched to select and promote manga that will enable children and young people to discover new worlds or lead to further learning. A press conference to announce the project was held on October 6, 2015, at The Nippon Foundation headquarters.
The project aims to project manga, which are generally viewed as entertainment, as educational tools that can create an appetite for learning or interest in social issues among children and young people. The category of educational manga already exists for works published expressly to teach history or as biographies of famous people, but this project is the first time that manga published as general works have been selected for their educational value. The 100 works are divided into 11 categories including literature, history, science and learning, professions, war, diversity, and sports, and were chosen by a panel of nine experts led by Machiko Satonaka, author of works including Tenjo no Niji (The Rainbow in the Sky) and 2006 recipient of the Japan Cartoonists Association's Minister of Education, Culture, Sports, Science and Technology Award, and Ichiya Nakamura, professor of media policy and pop culture at the Graduate School of Media Design, Keio University.
At the press conference, Yohei Sasakawa, chairman of The Nippon Foundation, noted that the Foundation has donated English-language books to roughly 800 universities and research institutions around the world through its 100 Books for Understanding Contemporary Japan book donation project, and expressed his hope that "these 100 manga will spark new interests and instill intellectual curiosity in children."
Next, Ms. Satonaka discussed the selection process. While the genre of educational manga already exists, the panel wanted to show that "all manga can be educational," and highlight that if manga are approached from different perspectives they can reveal various facets and be appealing in new ways. She also commented that it would have been easier to select 500 or 1,000 manga, and that narrowing the list to 100 was extremely difficult.
In addition to the Foundation's project website, the online book retailer Rakuten Books has set up a special site for the project (both sites in Japanese only). Brochures will be distributed through the Tsutaya bookstore chain, and a set of the 100 manga is being donated to the Tachikawa Manga Park. A symposium on the selected works is also being planned for March 2016.
Contact
Communications Department
The Nippon Foundation