Progress Report on Japan's First 3 Pilot Projects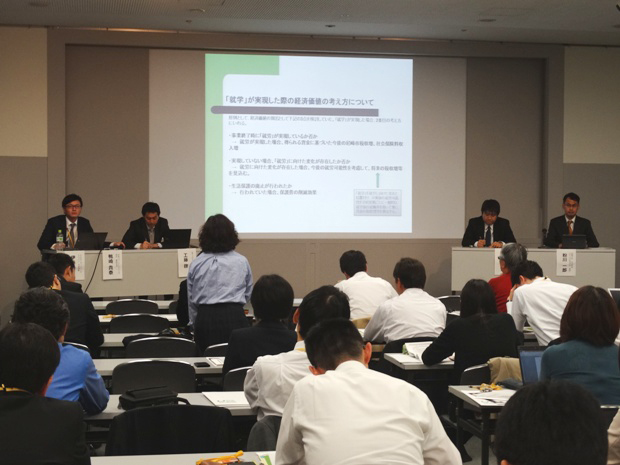 The Nippon Foundation has initiated three pilot projects for social impact bonds, as a way to resolve social issues using private-sector capabilities. A seminar was held in Tokyo on November 19 and in Osaka on November 20 to discuss the progress being made by these projects. The following is a report on the Osaka seminar, held at the Dentsu Kansai Branch Office.
The first social impact bond was launched in England in 2010, as a new impact investment model that involves both the public and private sectors. Investors invest in private-sector enterprises that implement programs to address social issues, and if the program succeeds in reducing the government's expenditures, the investors receive compensation from the government. Programs are non-profit activities that reduce social costs, mainly for preventive measures like facilitating the social integration of former prison inmates, shifting the care of orphans from institutions to families, and reducing recidivism among juveniles who have committed crimes.
The Nippon Foundation is currently involved in three pilot projects:
A project with Yokosuka City, Kanagawa Prefecture, to arrange for family care environments for children who require protective care, and accelerate the shift from institutional care to family care.
A project with the Kumon Institute of Education and several local governments, including the cities of Fukuoka and Kumamoto, using Kumon's "learning therapy" method for dementia prevention. The project aims to enhance the quality of life for older residents while reducing the cost to the governments.
A project with Amagasaki City, Hyogo Prefecture, to support employment for and the long-term independence of young people.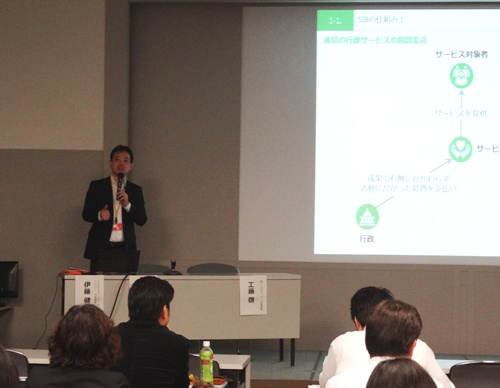 The seminar began with Ken Ito, executive director of SROI Network Japan, presenting an overview of major trends in social impact bonds around the world. The number of full-fledged SIB projects globally is currently 40, of which 30 are in Britain and nine are in the United States. Most of the investors are major financial institutions, and the total amount invested is approximately ¥15.7 billion.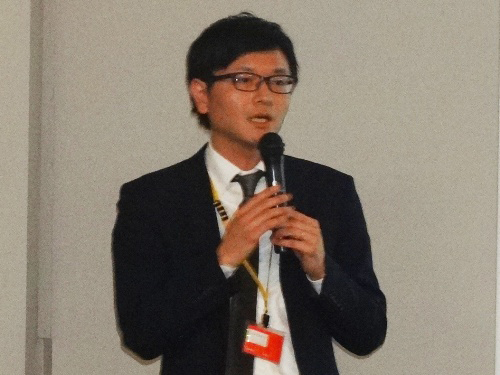 Next, Yoshihiro Kamozaki of the Japan Fundraising Association discussed issues related to the purchasing process at local governments, and gave an explanation of the first two pilot projects – to shift protective child care from institutions to families in Yokosuka, and to prevent dementia in Fukuoka and other cities.
Mr. Kamozaki explained that the Yokosuka project aims to reduce public expenditures for child care institutions by promoting special adoption programs for newborns. The target for the program's first year is to arrange four special adoptions. These adoptions will be handled in family courts, so that the children are entered into the adoptive families' family register in the same way as biological children. The cost of raising four children in institutions to the age of 18 would be roughly ¥35 million, so subtracting the program's ¥19 million cost results in a savings of ¥16 million. One adoption had been arranged as of November, and several others are being considered.
In the area of dementia prevention, the Kumon Institute of Education is implementing its "learning therapy" method for roughly 16,000 persons at its more than 300 facilities nationwide, in an effort to prevent dementia and reduce nursing care costs. The program has already been launched with seven local governments including the cities of Fukuoka and Kumamoto, and the effect on nursing care and medical costs is being monitored. Kumon intends to continue this program again in fiscal 2016.
Next, a panel featuring Yusuke Nojima, an advisor to Amagasaki City, Ichiro Kogawa, a professor at Musashi University, and Kei Kudo, founder and chairperson of Sodateage Net, and moderated by Mr. Kamozaki, discussed Amagasaki's program to promote youth employment. The number of families receiving public support in Amagasaki is increasing, and the program aims in particular to reduce social welfare spending and increase tax revenue by promoting employment for young persons in households other than those receiving support because of old age, illness, or disability. To date, 17 employable youth have been successfully contacted, and of these, one has expressed a desire to enter high school.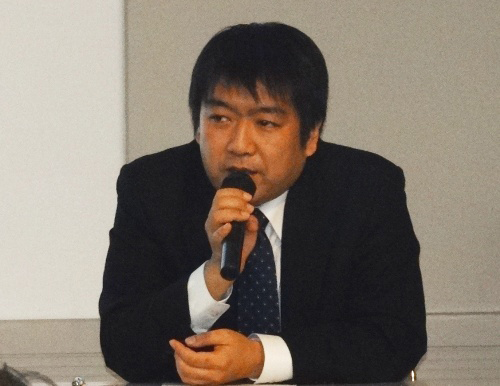 Mr. Nojima expressed his hope, noting, "Amagasaki has set up an outsourcing system, and outsources projects to the private sector when sound proposals are presented. City administrators are also gaining an understanding of social impact bonds. There are various limits to government services, so I will be happy if the city's future expenses can be reduced."
Professor Kogawa, who will be evaluating this project, added, "When we evaluate the impact in one year, I believe we should look not only at whether the individuals no longer need social welfare, we should also consider whether there are changes in young people's approach to work."
In terms of issues for social impact bonds going forward, Mr. Kamozaki noted, "Government agencies are moving randomly. We need to implement some kind of inter-agency forum for sharing information. Today only local governments are implementing pilot projects, but we need to think about a model project overseen by the national government. In Britain, the national government oversees project expenditures, and Japan should also set up a structure like an outcome fund."
Contact
Communications Department
The Nippon Foundation