Opening Ceremony and 1st Class
Start of 2nd Year of ROCKET Project for Talented Children
The second year of the ROCKET (Room Of Children with Kokorozashi and Extraordinary Talents) Project for talented children, a joint project of The Nippon Foundation and the University of Tokyo's Research Center for Advanced Science and Technology (RCAST), began on December 7 in Tokyo. The ROCKET Project seeks out elementary and middle school-aged children who display talent, but have difficulty adjusting to today's educational environment and avoid going to school, and provides them with ongoing support for their studies and daily lives. The program was launched in December 2014 with 15 young scholars selected from 601 applicants, and this year a second group of 13 scholars (all boys) was selected from 536 applicants. The second year will once again feature lectures and discussions led by experts ("top runners") in fields including science and technology, the arts, and sports, combined with hands-on, project-based learning and instruction via the Internet tailored to each scholar's individual interests. The first day began with an opening ceremony, followed by a lecture by the roboticist Tomotaka Takahashi, who is known for creating robots including the
Robi
and the robot used in Panasonic's
Evolta
battery promotional campaign, and the artist Yasuhiro Suzuki, a 2014 Mainichi Design Award winner.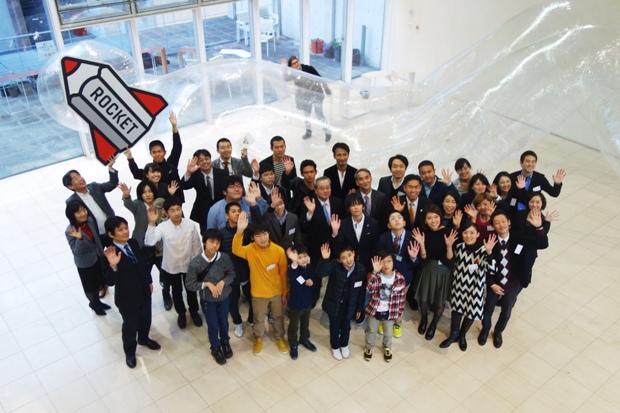 Opening ceremony
The opening ceremony began with remarks by representatives of the program sponsors, Takeju Ogata, President of The Nippon Foundation, and Professor Ryohei Kanzaki of RCAST. Mr. Ogata welcomed the scholars:
"This is a place where you can pursue your interests and seek out what you want to know, even if your teachers find it exasperating. You don't have to worry at all if you are not interested in something. The teachers will guide you in whatever you like or want to learn, so you have nothing to worry about and can do what you like. This is what I consider to be the most important thing about this project. Please enjoy your time here."
Next, Professor Kanzaki noted, "RCAST itself is a very unique place – a research center where people from various backgrounds come together to do new things. We really like uniqueness." Reflecting on what he has learned in his own research, he added:
"While you are part of the ROCKET Project, please experience many new things, in your own way, and if you keep moving forward new worlds will open for you. Use your eyes, ears, nose, and mouth to pursue new challenges. The staff of our institute will give you its full support. Good luck as you pursue the challenge of learning new things."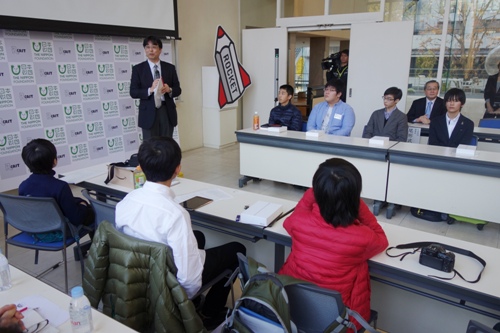 Professor Kanzaki was followed by Kazunobu Asada, a former education ministry official and current cabinet advisor, who congratulated the students:
"Your activities start today. I am also looking forward to seeing how you grow and how you change. The world is a big place. You have a great opportunity to learn more about the world around you. I hope that you will take the time to learn from many different people, and expand your own possibilities."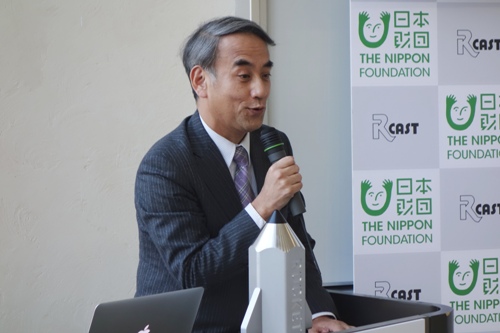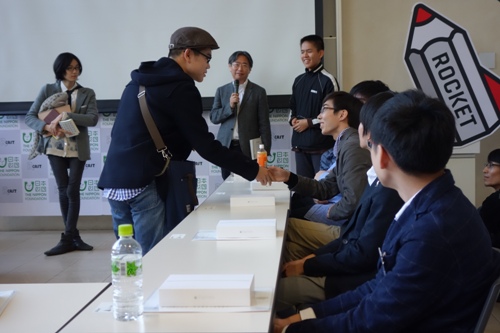 Now it was time for the first top runner lecture, titled "Our Interests – Two Artists Talk through Their Works," conducted as a dialog between Mr. Takahashi and Mr. Suzuki and moderated by RCAST Professor Kenryu Nakamura, director of the ROCKET Project. Messrs. Takahashi and Suzuki discussed things that interest them, in the context of their own work and experiences. Mr. Takahashi advised the scholars, "When you have trouble deciding something, choose the unique option," while Mr. Suzuki noted, "Even if people think you are strange, it is important to give priority to what you want to do."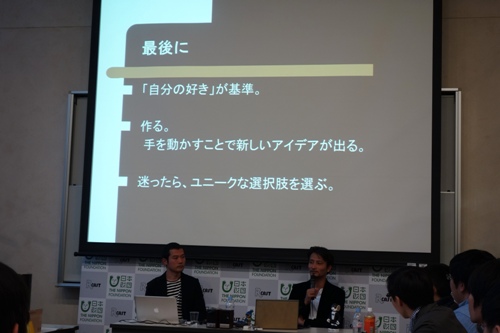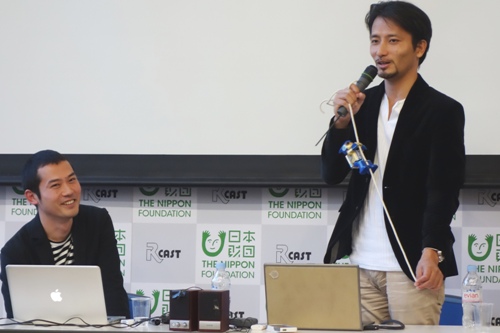 According to the ROCKET materials prepared by the project staff, the program does not aim to be a school. It is a room, or space, where children with unique talents can gather. The children are not selected because they are considered geniuses, and the program does not try to cultivate geniuses. Furthermore, the project is not intended to negate or oppose conventional classroom education. It is a program that recognizes that some children are unique and therefore cannot fit in at school, and forcing them to go to school leads to their becoming maladjusted. These children need a new place for their studies and a free style of learning. This is by no means inconsistent with today's school education system. Rather, the program believes both alternatives should exist. By working together with these unique children to create a space where they can display their individuality, the project will lead to the creation of a social fabric in which unique children can flourish. The ROCKET Project seeks to lead the way in diversifying how children learn.
Contact
Communications Department The Nippon Foundation