Japan's First Community-Supported Hospice for Seriously Ill Children
TSURUMI Children's Hospice Opens in Tsurumi Ward, Osaka, on April 1
With support from The Nippon Foundation and UNIQLO Co., Ltd., Children's Hospice Project (CHP) commenced operations of the TSURUMI Children's Hospice for seriously ill children on Friday, April 1. The facility is located within Tsurumi Ryokuchi Flower Expo Memorial Park in Tsurumi Ward, Osaka.
TSURUMI Children's Hospice (TCH) is modeled on Britain's Helen & Douglas House, and is Japan's first community-supported hospice for children. Unlike Japanese hospices for adults, which mainly provide palliative care to patients with diseases like late-stage terminal cancer, TCH will also support the continued growth of seriously ill children, and respite care to reduce the burden of caregiving on the child's family. The two-story facility has total floor space of 979 square meters built on a 2,000 square meter site, and offers playrooms, living areas, kitchens, and accommodations. Care is provided primarily by local volunteers, many of whom are specialists in medicine, education, and childcare. With this safe and secure environment, the facility provides a space where seriously ill children and their families can completely relax as if at a second home. Use of TCH is free for all guests, with the costs of operations covered by corporate and individual donations.
At TCH, the building is referred to as the "house," children and their family are "members," and volunteers operating the facility are the "cast." These volunteers work closely with members as friends, and draft individualized care plans for each child. These multifaceted plans include education and play that are based on social experiences, and are designed to promote the children's growth. When a child discovers a new interest and acquires new potential, this gives happiness and hope to their families as well as to the child. A part of TCH will be open as a public square, functioning as a hub where children staying at the facility can play with local children and their families can interact with the community on a daily basis, with the aim of becoming a foundation from which the entire community supports the children and their families.
The need for this facility stems from the fact that there are approximately 200,000 children under the age of 15 in Japan with serious illnesses. Medical advances are saving many lives, but this also means that the number of children with illnesses that require intensive medical treatment is growing every year, and an increasing burden is being placed on families by the home nursing care these children need after leaving the hospital.
CHP applied to UNIQLO's Clothes for Smiles project, which solicits ideas from around the world to support the dreams and aspirations of children, in 2012 with a proposal to support these children and their families by establishing a facility in Japan modeled on the Helen & Douglas House. Of the more than 700 proposals submitted, CHP's was one of eight selected. An agreement was reached between UNIQLO and The Nippon Foundation, which had already been supporting CHP, to jointly fund the building and operation of the facility. In 2014 the City of Osaka selected CHP's proposal for construction on a plot of land available for development in Tsurumi Ryokuchi Flower Expo Memorial Park, and the TCH project began to take shape.
TSURUMI Children's Hospice Vision
To support children living with life-threatening and life-limiting illnesses and their families by working closely with them as friends, as a world-class children's hospice that has deep roots in the local community
TSURUMI Children's Hospice Mission
To provide a home environment in which children living with life-threatening and life-limiting illnesses and their families can relax, have fun, learn, and be loved, as a place where they can always receive support during times of hardship or sadness
TSURUMI Children's Hospice Principles
Home from Home
Friendship, Tender loving, Care alongside
Children First
Fairness
Free standing
Transparency
TSURUMI Children's Hospice Facility Overview
| | |
| --- | --- |
| Operator | Children's Hospice Project |
| Supporters | The Nippon Foundation, UNIQLO Co., Ltd. |
| Address | 1-77, Hama 1-chome, Tsurumi-ku, Osaka |
| Site area | 2,000 ㎡ |
| Building area | 636.07 ㎡ (ground floor) |
| Total floor space | 979.11 ㎡ (1F: 589.94 ㎡; 2F: 389.17 ㎡) |
| Construction | Wooden |
| Floors | 2 Floors (above ground) |
| Design | Taisei Corporation architectural office |
| Construction | Taisei Corporation |
Artist's rendering of completed TSURUMI Children's Hospice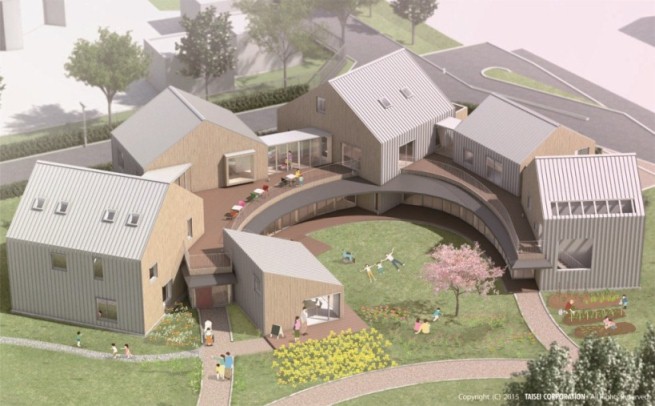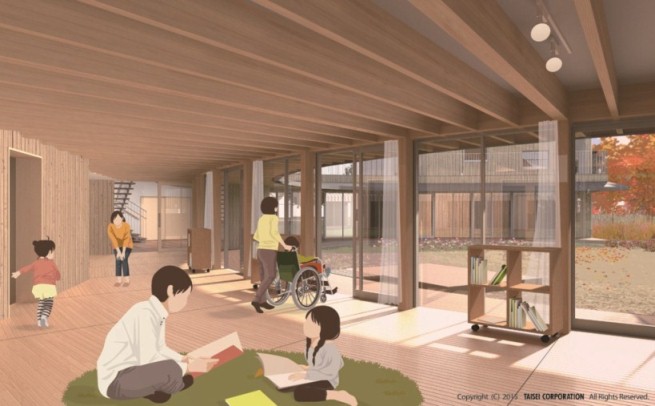 Related Link
Contact
Communications Department
The Nippon Foundation