Agreement with World Bank for Cooperation in Support for Disabled People
The Nippon Foundation has signed a Memorandum of Understanding (MOU) with the World Bark to cooperate in carrying out joint projects in the area of support for disabled people. The signing took place at the World Bank headquarters in Washington, D.C., at 14:00 local time on April 14 (03:00 on April 15, Japan time). This marks the first time that a Japanese private-sector organization will partner with the World Bank in the field of support for disabled people.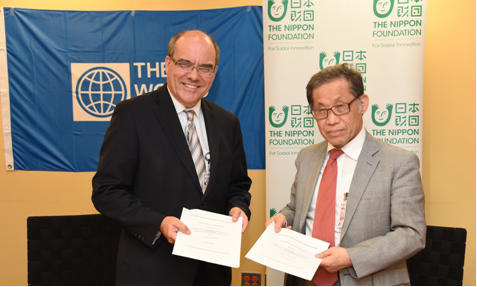 The tie-up is in response to a request from the World Bank, in recognition of The Nippon Foundation's activities in the field of support for disabled people. Through this tie-up, The Nippon Foundation and the World Bank will develop programs that further expand networks to support the independence of disabled people.
The MOU covers five specific areas:
Collaboration on activities related to disability including those related to the creation of employment opportunities for disabled people;
Cooperation in vocational training in information and communications technologies (ICT);
Fostering partnerships to build global networks to support disabled people;
Collaboration on the promotion and preparation of conferences of business leaders with disabilities, including international forums to encourage persons with disabilities to take on leadership roles; and
Pooling of efforts and expertise, including temporary staff secondments.
Activities that involve disabled people have become an important theme internationally.* The Nippon Foundation also concluded a framework agreement with UNESCO in December 2015 to work together in areas including the holding of a Festival of Disabled Artists to coincide with the Tokyo 2020 Paralympic Games, and the use of ICT in education for disabled people. By partnering with these two international organizations – the World Bank and UNESCO – the Nippon Foundation intends to strengthen its activities in the area of support for disabled people.
One of the Sustainable Development Goals approved by the United Nations in 2015 includes a call to "Empower and promote the social, economic and political inclusion of all, irrespective of age, sex, disability, race, ethnicity, origin, religion or other economic or other status."
Related links
Contact
Communications Department
The Nippon Foundation