Yohei Sasakawa Receives WHO Medal
Awarded by outgoing director general for contribution to leprosy elimination
Yohei Sasakawa, Chairman of The Nippon Foundation, was awarded the WHO Medal by World Health Organization Director-General Margaret Chan at the Global Partners' Meeting on Neglected Tropical Diseases, held in Geneva on April 19. Dr. Chan's second five-year term as director-general will end at the end of June 2017, and on the occasion of her retirement she awarded the medal to Mr. Sasakawa for his contribution through his ongoing activities as WHO Goodwill Ambassador for Leprosy Elimination. In his acceptance, Mr. Sasakawa outlined three areas of activity that have proven effective in raising awareness of leprosy, and expressed his determination to continue to work to eliminate both the disease of leprosy and the prejudice and discrimination faced by people affected by leprosy.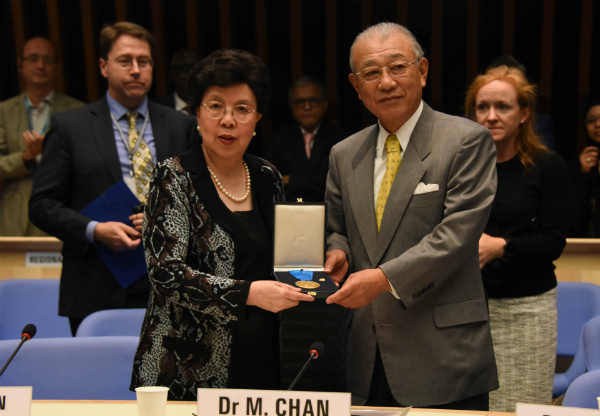 One of 18 neglected tropical diseases targeted by the WHO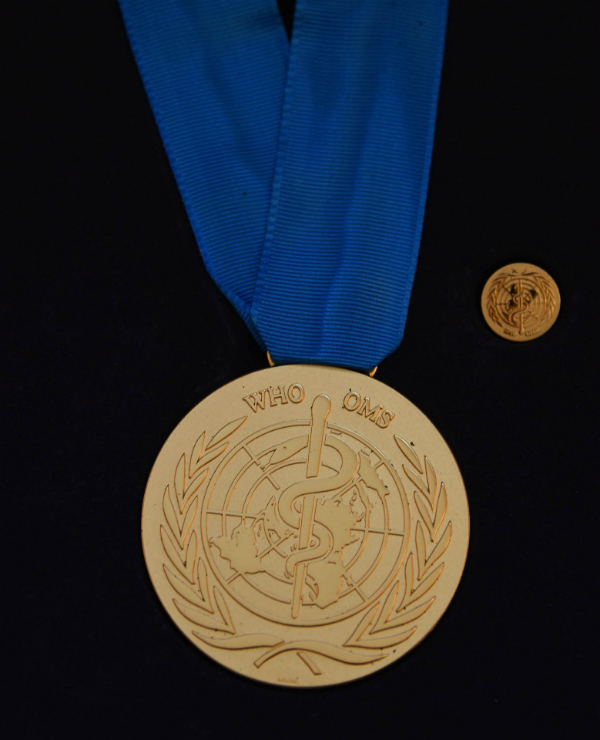 The WHO has identified 18 neglected tropical diseases it seeks to eradicate, including lymphatic filariasis, schistosomiasis, and leprosy. The Global Partners' Meeting brought together approximately 400 people working to defeat these diseases, who pledged further support to accelerate the WHO's work toward achieving roadmap targets set for 2020, as well as the elimination of many diseases by 2030. Former UN Secretary-General Kofi Anan and Bill & Melinda Gates Foundation Co-Chair Bill Gates both addressed the meeting, and former U.S. President Jimmy Carter sent a video message.
Toward the end of the morning session, the moderator introduced Mr. Sasakawa, who has served as WHO Goodwill Ambassador for Leprosy Elimination since 2001, and recapped his wide-ranging contributions toward the elimination of leprosy in countries around the world. Dr. Chan then expressed her thanks and presented him with the gold medal, which bears the inscription "Health for All."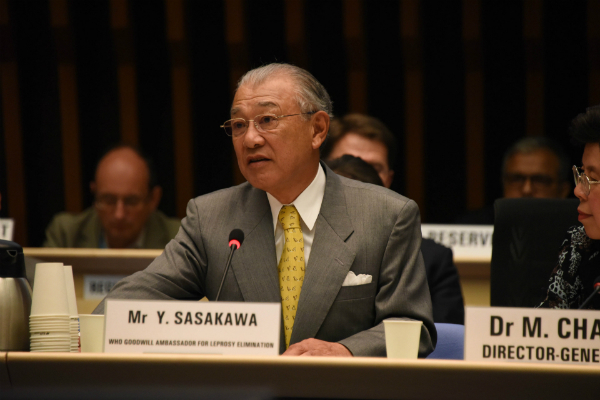 In expressing his thanks and his desire to continue his activities, Mr. Sasakawa commented, "I would like to share the honor and joy of having been awarded this medal today with everyone I have worked with." With Brazil as the remaining country not yet having reduced the prevalence rate of the disease to less than one case per 10,000 people, thereby meeting the WHO definition for the elimination of leprosy as a public health problem, he also noted, "We still have a little farther to go," and therefore, "When I learned I was to receive an award from the WHO, I was sure it would be a silver medal, but to my greatest surprise, it is a gold medal."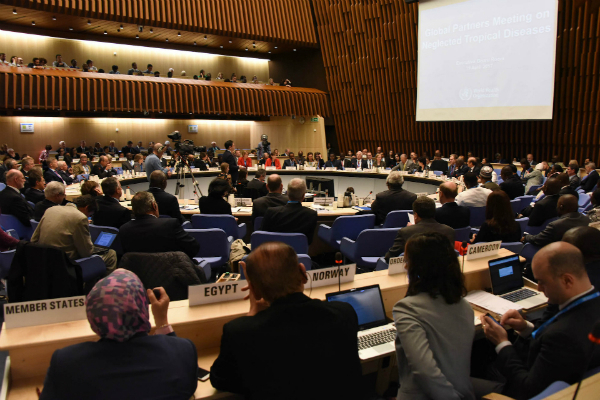 Three keys to success
He then outlined three things that he considers important in addressing leprosy: (1) Directly approaching political leaders of endemic countries and seeking their commitment, which adds momentum to efforts on the ground; (2) Promoting a correct understanding among the general public, through the local press and radio, as well as popular culture, because street theater, music, and entertainment can be more effective than written communication in conveying the message that leprosy is curable, treatment is free, and discrimination has no place; and (3) Forming sustainable initiatives bringing together governments, medical professionals, NGOs, health workers, organizations of people affected by leprosy, and other stakeholders.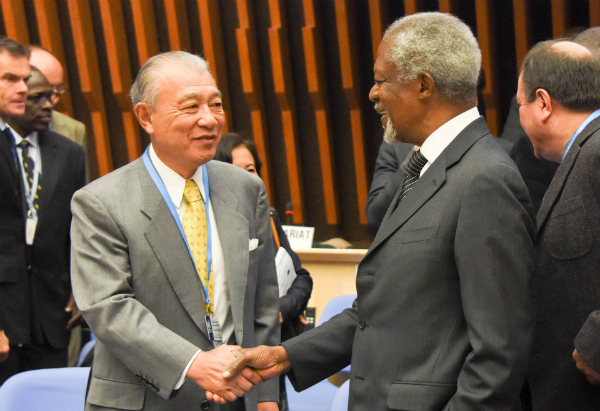 Mr. Sasakawa also expressed his thanks to the Novartis Foundation, which has been donating the drugs required for the multidrug therapy regimen (MDT) globally since 2000, noting that this has allowed The Nippon Foundation to direct its resources toward initiatives including the elimination of leprosy-associated prejudice and discrimination.
At the conclusion of then Director-General Hiroshi Nakajima's 10-year tenure in 1998, Dr. Nakajima awarded the WHO Health-for-All Gold Medal to The Nippon Foundation for its securing the drugs needed for MDT, which the Foundation provided for five years from 1995. The medal was also awarded to Fidel Castro and Hillary Rodham Clinton at that time.
Related Link
Contact
Communications Department
The Nippon Foundation