Social Innovators Selected
Social Innovation Forum 2017 to be held November 17-19
The Nippon Foundation will hold its second Social Innovation Forum on November 17-19, 2017, at Tokyo International Forum. In advance of the forum, seven "social innovators" have been selected from among 228 applications submitted from around Japan. These social innovators are being recognized as leaders with new ideas and a clear vision, who are forming cross-sector teams involving the national and local governments, companies, NGOs, and other organizations to promote activities that address social issues, without fear of failure.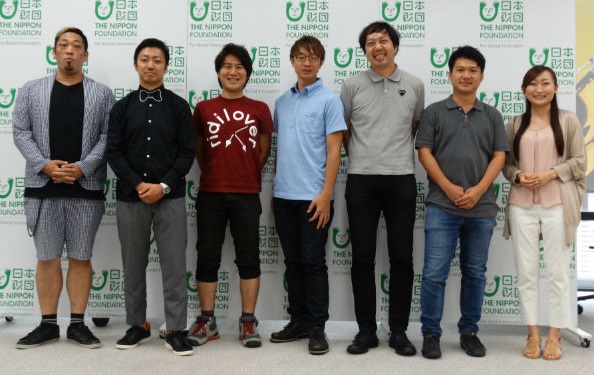 Each of these social innovators will receive support of up to five million yen, and will introduce their projects at the November forum. In addition, three of these individuals whose projects are deemed especially promising will be selected as "exceptional" or "outstanding" social innovators, with one Exceptional Social Innovator receiving up to 100 million yen for up to three years (up to 300 million yen total) and two Outstanding Social Innovators receiving up to 50 million yen for up to three years (up to 150 million yen total). The Exceptional Social Innovator and Outstanding Social Innovators will be announced at an awards ceremony scheduled for December.
The seven selected social innovators
Haruki Asatani, CEO, LOUPE Inc.
| | |
| --- | --- |
| Project | Committee to address increased workload of teachers |
| Overview | The increased workload being placed on teachers means that teachers are able to spend only 2.7 hours per week with students outside the classroom. Teachers do not have enough time to prepare for classes, either. This project seeks to make the administrative tasks performed by teachers more efficient by having individual teachers gain and share experience in operational efficiency, so that they can focus on their primary role. |
| Objective | Address the situation of an excessive workload being placed on teachers, so they have more time to spend interacting with students. |
Toshiki Abe, Representative, Ridilover, Inc.
| | |
| --- | --- |
| Project | Research and development of the overall social sector |
| Overview | This project seeks to create an industrywide research and development function that pairs successful results in the field of science and technology with various NGOs and other organizations. The project will conduct study tours and training that will allow these organizations to discuss the technological issues they face and shed light on those issues, to facilitate mutual understanding between these organizations and researchers. |
| Objective | Identify aspects of democratic society that are not functioning properly and create a better society for people in Japan and other countries. |
Yuki Oka, President, Ubdobe
| | |
| --- | --- |
| Project | Digital Interactive Rehabilitation System |
| Overview | This project seeks to innovate medical care and rehabilitation for children using digital art and by taking a child's perspective. This will involve the use of digital technology for children's rehabilitation in hospitals in Japan and overseas. Hospitals and schools for children requiring special support tend to have closed environments, meaning that these children do not have opportunities to meet elementary and junior high school students who are studying programming. The project will therefore work to develop hands-on digital rehabilitation systems by having these two groups of children work together under the supervision of professional adult programmers. |
| Objective | Enable children from around the world to have enjoyable rehabilitation. |
Ryo Kawaguchi, Representative Director, WorkAnywhere
| | |
| --- | --- |
| Project | CONTINUUM |
| Overview | By innovating communication tools and developing technologies that virtually connect spaces, this project seeks to create work environments where teams can work remotely with individuals working from home and in different locations without hindering their work. The aim is to innovate work styles and address a variety of social issues, including the excessive concentration of people and jobs in Tokyo and other large cities, long commutes, struggling local economies, and obstacles faced by working mothers. |
| Objective | Achieve a society in which anyone has equal opportunity to work or study from any place and at any time. |
Yosuke Komatsu, President, Asu-he-no-kibo (Hope for Tomorrow)
| | |
| --- | --- |
| Project | Venture For Japan |
| Overview | There are few options for students who want to work for local small and medium-sized companies after college graduation, and this is widening the imbalance in human resources between metropolitan and local areas. This program will provide training to promising students, and upon graduation dispatch them for a two-year posting in a management position or as assistant to the president of a local small or medium-sized company or start-up. |
| Objective | Achieve a society in which anyone can build a career in a large city or local area. |
Yumeno Nito, Founder, Colabo
| | |
| --- | --- |
| Project | Nighttime bus patrols to reach out to young girls |
| Overview | Teenage girls who, because of circumstances at home, cannot return home at night and spend their time loitering in entertainment districts, are at constant risk of becoming involved in criminal activities like prostitution. By traveling around these areas at night by bus and reaching out to support these girls, this project aims to provide appropriate support an early stage before problems materialize. |
| Objective | Offer safe alternatives to teenage girls who roam the streets at night, to achieve a society in which young girls are not exploited or involved in criminal activities. |
Taro Yokoyama, Indicocrea
| | |
| --- | --- |
| Project | CO-MINKAN |
| Overview | There are approximately 10,000 community centers across Japan, but they are not being fully utilized as places to resolve issues in people's daily lives. This project seeks to make these centers a focal point of their communities through cooperation between medical care providers and local citizens, especially women, young people, and older persons. The program will also train navigators to provide information and support for health, childrearing, and nursing care. |
| Objective | Achieve a society in which everyone can make health-related decisions with the confidence that they are making the right choice. |
Contact
Communications Department The Nippon Foundation