Supporting Children Undergoing Long-Term Care through Sports
7-Year-Old Kaisei Hitokata makes home game debut with Alvark Tokyo professional basketball team
The Alvark Tokyo basketball team held a ceremony on November 15, 2017, to make seven-year-old Kaisei Hitokata a team member, as part of a project to support children who require long-term medical care and their families through sports. On January 27, 2018, he made his home game debut as a member of the team staff, wearing his No. 14 uniform, at a game against the Shiga Lakestars at Arena Tachikawa Tachihi in Tachikawa, Tokyo.
This project is being undertaken by The Nippon Foundation, the NGO Being ALIVE Japan, and the B. League Japanese men's professional basketball league. Being ALIVE Japan was established with the goal of "Creating a society with teams that support chronically ill children and their families through sports," and this activity is part of its Teammates program to support children returning to school after undergoing long-term medical care. The B. League aims to "implement social innovation" through activities carried out by its entity B. League Hope, which partnered with The Nippon Foundation on this project.
Going forward, the project will work to increase the number of participating teams and involve fans, sponsors, educators, and medical professionals with the aim of building a model to support these children as they leave the hospital and return to school.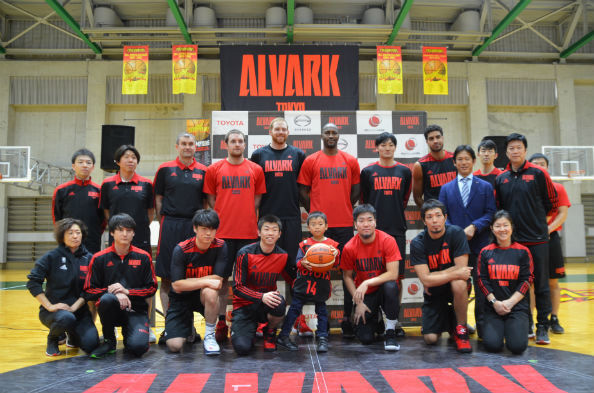 Nanbyonet, a nonprofit nationwide network supporting children with critical illnesses, estimates that there are approximately 250,000 children in Japan who require long-term medical care for chronic diseases and other reasons. Many of these children require continuous medical care, hospital visits, and home care, or have conditions that limit their physical activity, making it difficult for them to interact with other children their age.
This project is based on a program being carried out by the U.S. nonprofit Team Impact, which connects children facing serious and chronic illnesses with local college athletic teams. Hanako Kitano is Being ALIVE Japan's executive director and underwent long-term medical care during her childhood. She found out about Team Impact while studying in the United States and decided to start a similar program with professional sports teams in Japan. She explains, "By becoming a member of a team, rather than just having a one-day experience, I want children to have fun and gain the confidence to participate in society, and to be happy and hopeful while undergoing treatment."

Kaisei Hitokata, the seven-year-old who joined the team, lives in Komae City in western Tokyo, and enjoys making dioramas and being physically active. Because of a disease that affected his hip joint, he wears a brace on his right leg. When he joined the Alvark team, he was given the number 14 because he was born on July 14. His goal is to use basketball to become able to do many more things.
The ceremony to welcome Kaisei to the team was held at the team's practice facility, Fuchu Sports Center in Fuchu City (near Komae City), and was attended by head coach Luka Pavicevic and team president Kunihiko Hayashi. Kaisei says he knew the team because he and his friends from preschool went to watch one of their games, and now that he is a member he wants to be able to "dunk and make long shots." Coach Pavicevic added his encouragement, "I hope you will support the team in various ways. Let's practice hard together."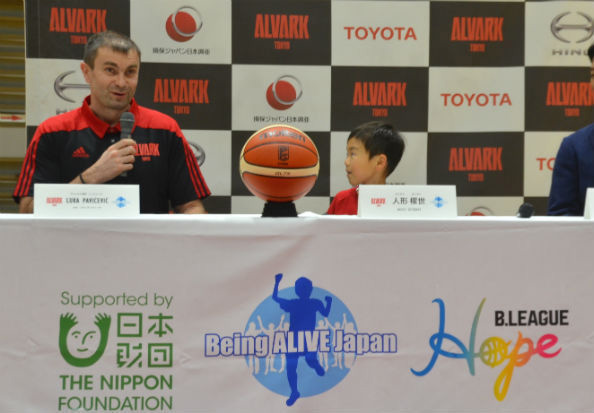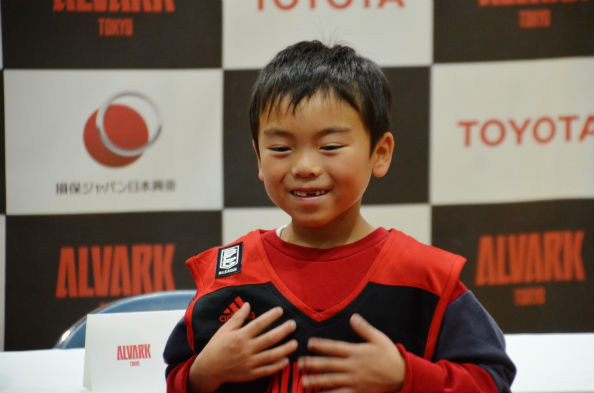 Kaisei will be a member of the team until the season ends in May. During that time, he is participating in team activities on a regular basis, attending practice roughly once every other week and assisting the staff at games. Through his interaction with team members and staff, he is learning about the rules of competition and teamwork, and what kinds of roles and activities are needed to support a team. Kaisei's second game, and first home game with the team, was on January 27. By the time of his home debut, he had built relationships with team members and learned how to support the team through activities like helping the managers prepare drinks during practices.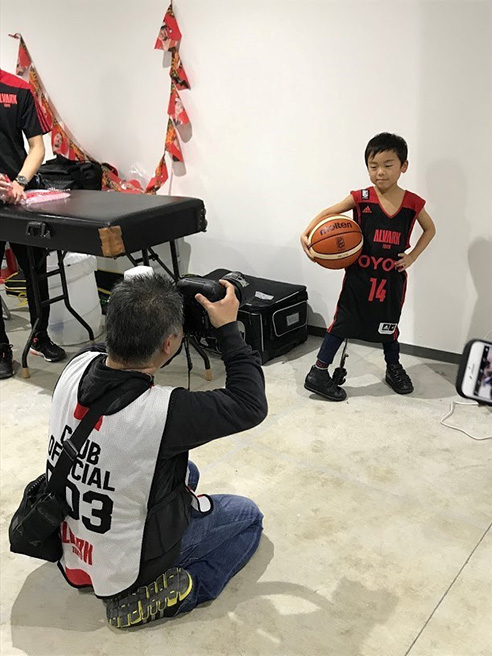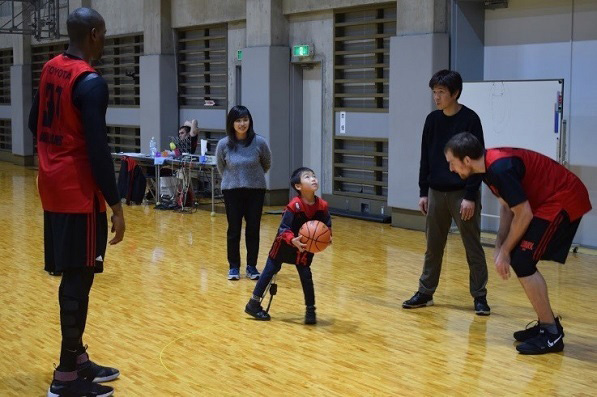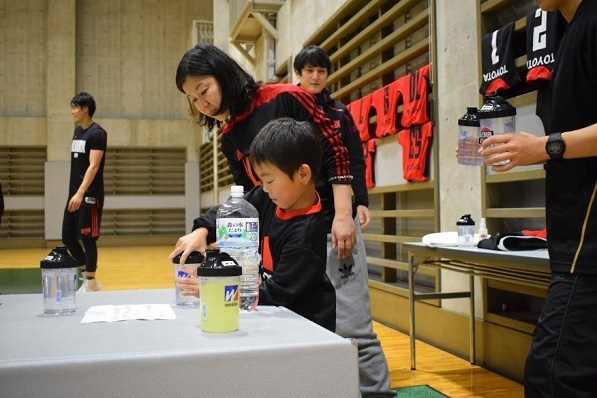 Prior to the game, the staff discussed with Kaisei how the players and staff could present an enjoyable time for the spectators. Before the game began, Kaisei was introduced in the middle of the court. Next, he had a shooting competition with Alvark Tokyo's mascot, and during a fourth-quarter time out he helped to toss souvenir items to spectators.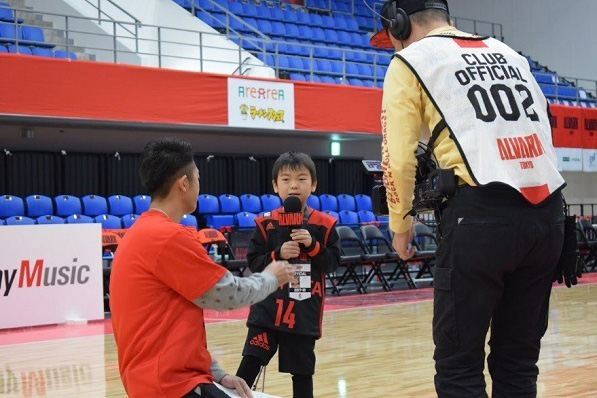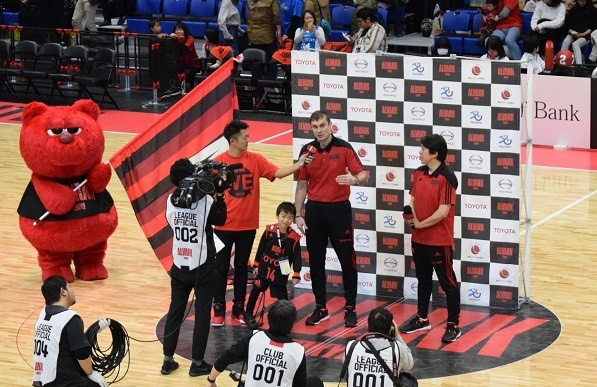 Alvark won the game, and after the buzzer Kaisei exchanged high-fives with the players. Then, without having been planned, Kaisei made the announcement that the victor's interview would be with No. 53, Alex Kirk. After the game, Kaisei expressed his thanks, saying, "More people than I expected came to watch the game, and they looked like they had fun. I've been to two games and we won both, so I am very happy."
To finish his home debut, the team chanted their slogan for this year – "Alvark! We!". Kaisei will continue to experience this slogan as a member of the team until May.
Contact
Communications Department
The Nippon Foundation
E-mail:cc@ps.nippon-foundation.or.jp