PyeongChang Paralympics
Para Athlete Scholarship recipients gaining experience for future success
The 10th Winter Paralympic Games, the PyeongChang 2018 Paralympics, opened at the PyeongChang Olympic Stadium on March 9 and ran for 10 days. To prepare for its work supporting the Tokyo 2020 Paralympic Games, a group of observers from The Nippon Foundation visited PyeongChang during the Games to collect information firsthand.
The excitement built during the PyeongChang Olympics, held in February, continued as the audience cheered the athletes from the 49 participating countries and territories as they entered the stadium during the opening ceremony, despite the temperature being four degrees below zero (Celsius). With 38 athletes participating, Japan was represented in five of the six Paralympic sports, the sixth sport being wheelchair curling. Among Japan's delegation were two recipients of The Nippon Foundation Para Athlete Scholarship, which the Foundation is offering to students affiliated with Nippon Sport Science University. Although the results were disappointing for these two athletes, they gained valuable experience that they will be able to use in the future.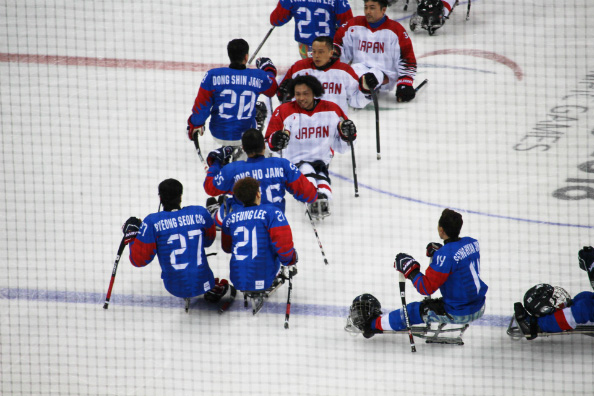 Para ice hockey team member Wataru Horie is pursuing a PhD at Nippon Sport Science University, and at 38 is the oldest Para Athlete Scholarship recipient. The team's goaltender, Shinobu Fukushima, is 61 years old, and the team's average age is 42, making Mr. Horie a focus of attention as a "young forward."
The team's first game was on March 10 against South Korea, which was ranked No. 3. Japan was ranked lower, at No. 7, and lost to Korea at the 2018 Japan Para Ice Hockey Championships in January. Nevertheless, the Japanese team played a physically aggressive first period, and with both offensive and defensive contributions from Mr. Fukushima, the two teams appeared to be roughly evenly matched. Mr. Horie also had a lot of ice time, during which he showed his determination and took several shots on goal. Soon into the second period, however, Japan incurred a penalty and temporarily lost one member, and Korea took advantage of the power play, with a speedy offense scoring the game's first goal. "Young" Mr. Horie repeatedly tried to break free but was unable to score. Going into the third period trailing by one goal, Japan focused on offense, but Korea took advantage of the weakened defense and widened its lead to 4-0. Late in the game Japan scored one goal, but lost the game 4-1.
Mr. Horie had said that he hoped to take the wind out of Korea's sails, but the Korean team was clearly superior in terms of speed, explosiveness, and stamina.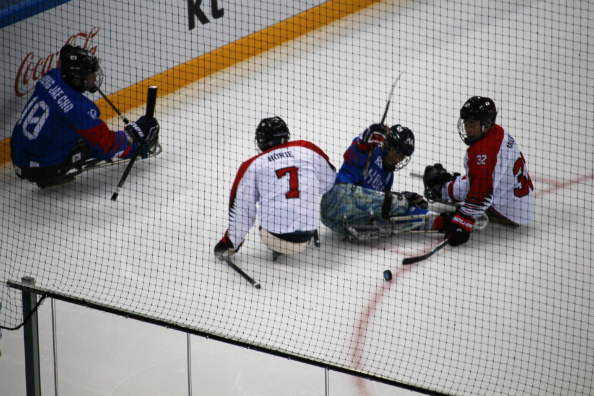 On March 11, Japan played gold medal contender United States, but lost 10-0. After winning the bronze medal at the Vancouver 2010 Paralympics but failing to qualify four years later, Japan had hoped to reach the semifinal round at PyeongChang, but was unable to advance.
With an average age of 42, it goes without saying that Japan's team needs younger players and is not as strong as it should be. Nevertheless, having taken up the sport in 2012 at age 32, Mr. Horie can be seen as one of the team's promising stars. He had previously played soccer, until having his left leg amputated following a traffic accident at the end of his third year of university, after which he played wheelchair basketball in professional leagues in Spain and Germany.
Regarding Para ice hockey in Japan, he says, "There are few people playing the sport in Japan, so the pool is shallow. Opportunities to practice on ice are also limited, so we are trying to do what we can." It will be interesting to see how he applies his difficult experience at PyoengChang to change the team's approach as he studies coaching.
As high as hopes were for the para ice hockey team, they were even higher for the other scholarship recipient, alpine skier Ammi Hondo. Her first race was the Super G, Standing, competition on March 11 at the newly built Jeongseon Alpine Centre. Competing against veteran athletes at her first Paralympic event, she got off to a fair start, but 15 seconds into her run she lost her balance and missed a gate, and was unable to finish. Afterward, she said that she was pumped up thinking about the next gate and lost her balance, but that it was a good experience.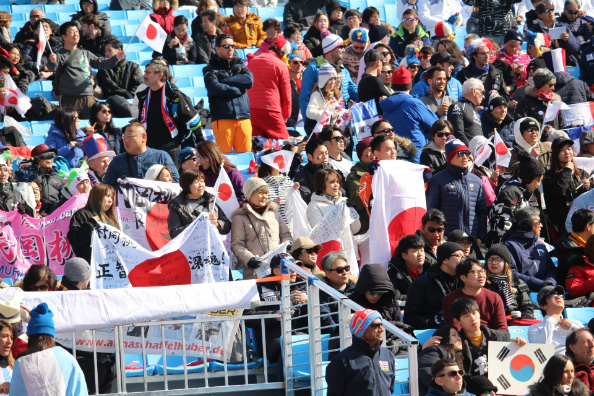 In her other events on later days, Ms. Hondo's best finish was 8th in the Women's Slalom, Standing, and she also finished 10th in the Women's Super Combined, Standing, and 13th in the Women's Giant Slalom, Standing.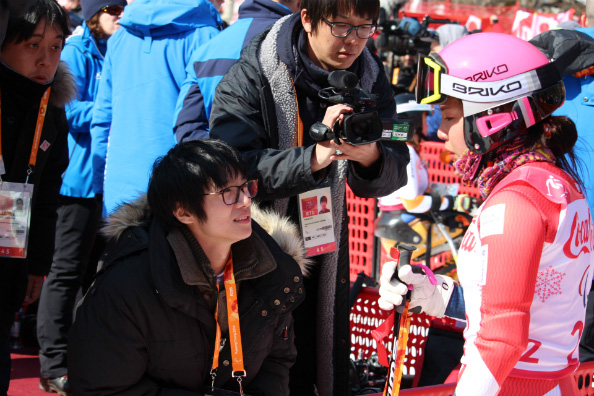 Ms. Hondo is 21 years old and a third-year student at Nippon Sport Science University, and only began competitive skiing less than two years ago. She began playing rugby at around the age of five. Despite being born without fingers on her left hand, she could throw a pass and tackle male players to the ground. She joined the women's rugby team when she entered university and was soon a regular player. During her first summer, she was named MVP as her team won the 1st Pink Ribbon Cup competition. She was a promising candidate for the women's national team when, during the winter of her freshman year, she changed course and took up competitive skiing at the urging of Ichiro Nomura, an associate professor at Nippon Sport Science University's Faculty of Sport Science, Department of Lifelong Sports and Recreation, who was cultivating athletes for winter Paralympic sports.
The same fearless spirit that she used to tackle opponents in rugby is essential when facing the high speeds of the giant slalom. Also, like rugby, the slalom requires footwork and being able to adjust one's center of gravity quickly, and these natural skills earned her a place on Japan's Para alpine skiing team. She likes to say that she hates to lose and "wants to get better." After not being able to win a medal at PyoengChang, hopes will be even higher for her at the Beijing 2022 Winter Paralympics.
Contact
Communications Department
The Nippon Foundation
E-mail:cc@ps.nippon-foundation.or.jp