15th Hub for Local Cooperation to Support Seriously Ill Children and their Families
'Burano' opens in Koga City, Ibaraki Prefecture – Taking care of children so that mothers can work
The Nippon Foundation is working to open hubs for local cooperation to support the more than 250,000 children in Japan with serious illnesses, so that those children and their families do not become isolated in their homes. A ceremony to mark the opening of the 15th location, a day care facility for children in Koga City, Ibaraki Prefecture, called "Burano," was held on April 1. Three similar facilities are also scheduled to open during April and May, in Shiroi City (Chiba Prefecture), Fukushima City (Fukushima Prefecture), and Takaoka City (Toyama Prefecture). The Nippon Foundation aims to have 30 facilities operating across Japan by 2020.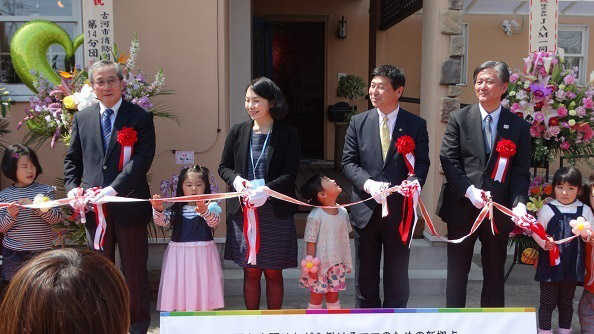 The city of Koga is located on the western edge of Ibaraki Prefecture, northeast of Tokyo. Miku Akiyama, Burano's chief director, is the mother of a child with a serious congenital illness. She launched an NGO together with other mothers in her neighborhood in the spring of 2017, and renovated a house that had been used as the office of a local residential construction company. The first floor of the two-story building is set up to provide multifunctional day care services (and is named titta), and the second floor is used as a work community (kikka) for the mothers. The Nippon Foundation provided the funding for the renovations to the building, and supplied a wheelchair-accessible vehicle, eight laptop computers, and other equipment.
Burano is the name of an island in the Venetian Lagoon in northern Italy. The island is known for its brightly colored houses, which were originally painted that way so that fishermen could identify their own house from a distance on their boats. Ms. Akiyama explains that the name is based on the idea of a place where people can connect with other people. Titta is a Swedish word that children use when they want their parents to look at something. Kikka is based on the Japanese word kikkake, which means a beginning or a motive, in the hope that this concept will spread worldwide.
Many neighbors, including mothers with young children, came to the opening ceremony, which was held in front of the renovated house. The Nippon Foundation President Takeju Ogata and Koga Mayor Chikara Hariya gave opening remarks, and then Mr. Ogata presented Ms. Akiyama with the keys to the vehicle. This was followed by the ribbon-cutting, which included Mr. Ogata and Ms. Akiyama, as well as Mayor Hariya, Kenichi Kuramochi, speaker of the city assembly, and several local children.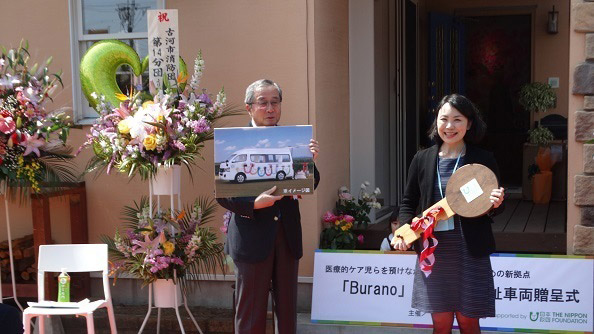 Ms. Akiyama's husband, Masaaki, worked for the major advertising and publishing company Recruit before winning election to the city assembly, and now supports his wife as a member of Burano's board. When asked about her hopes for Burano, Ms. Akiyama said, "I want this to be a place where mothers and children can enjoy themselves and feel safe. By taking care of children and giving mothers free time, mothers can lead a more relaxed life. I hope that this base will become a model, and that more hubs can open in the area."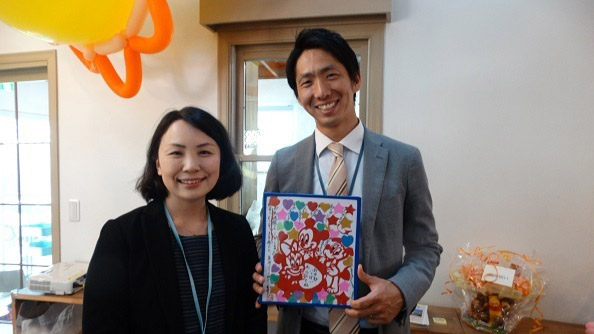 The ceremony was followed by a tour of the facility and a reception. There is a wide opening between the first and second floors so that mothers on the second floor can watch their children playing on the first floor, allowing the mothers to work on the second floor with peace of mind. The facility can accommodate up to roughly five children and eight working women, and working women without seriously ill children can also join. Burano has a staff of 12 persons, including three nurses, three licensed childcare workers, and physical training staff. The computers are set up for use on the second floor, where the mothers can perform jobs like data entry and magazine editing.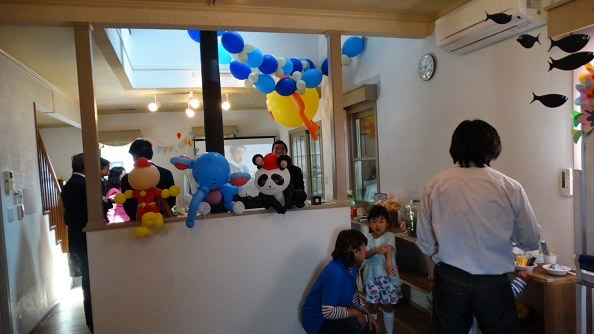 Although medical advances are saving an increasing number of lives, this also means that there is an increasing number of children whose lives are saved, but are left with severe disabilities or requiring medical care using equipment like respirators. Of the roughly 250,000 children in Japan with serious illnesses, more than 17,000 require this type of medical care. The Nippon Foundation has plans in place to support the opening of 20 facilities to function as hubs for local cooperation to support seriously ill children and their families, and Burano is the 15th to open. Preparations are currently underway to open an additional four facilities, of which three are scheduled to open during April and May.

Contact
Communications Department
The Nippon Foundation
E-mail:cc@ps.nippon-foundation.or.jp