Global Appeal 2019 Launched from New Delhi, India
To end stigma and discrimination against persons affected by leprosy
Date & time: January 30, 2018 (Wednesday); 17:30-19:00 (local time)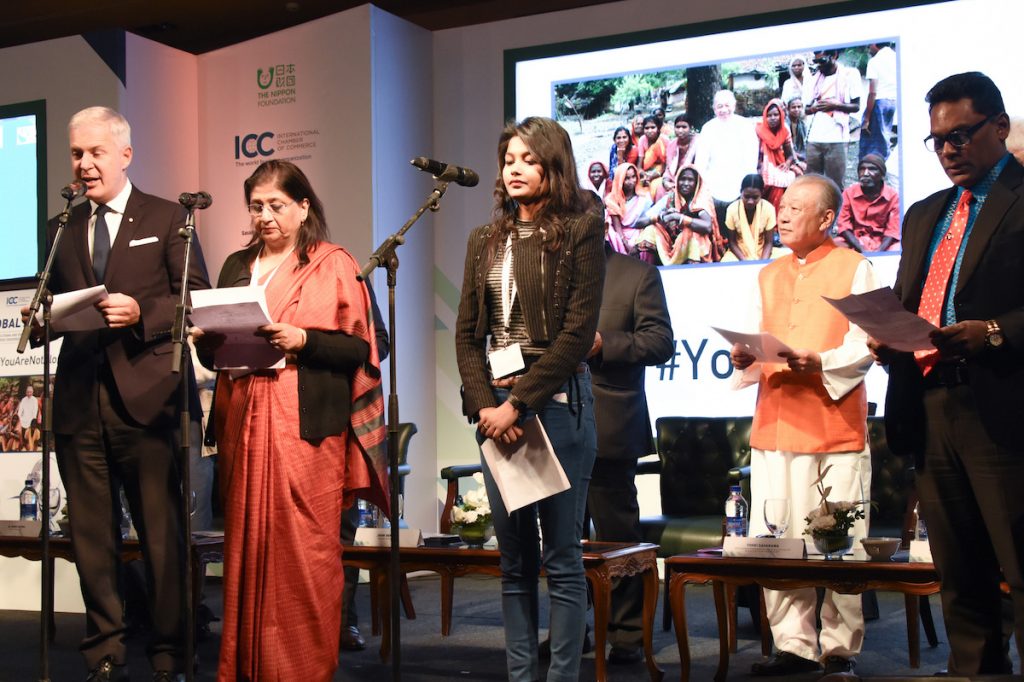 The Nippon Foundation, with the endorsement of the International Chamber of Commerce (ICC), this year held a ceremony on Wednesday, January 30 in New Delhi, India, to launch the 14th Global Appeal to end stigma and discrimination against persons affected by leprosy. Welcoming the attendees, The Nippon Foundation Chairman Yohei Sasakawa proclaimed, "Let us ensure that our collective commitment will be a significant step toward elimination of stigma and discrimination against leprosy." ICC Secretary General John W.H. Denton declared, "Together with The Nippon Foundation and other stakeholders, the ICC is committed to a truly inclusive society in which the rights of each individual are respected and every person can live with dignity."
The Global Appeal is held each year to coincide with World Leprosy Day, observed on the last Sunday in January, to call for the elimination of social discrimination against persons affected by leprosy. The event was launched in 2006 at the call of The Nippon Foundation Chairman Yohei Sasakawa, who also serves as the World Health Organization Goodwill Ambassador for Leprosy Elimination and the Japanese government's Goodwill Ambassador for the Human Rights of Persons Affected by Leprosy, and has been made with the endorsement of world leaders in a variety of fields including government, business, academia, and religion.
Text of Global Appeal 2019 to End Discrimination Against Persons Affected by Leprosy
Each year, thousands of people are newly diagnosed with leprosy.
Depending on their circumstances, they will join other persons affected by the disease who face multiple forms of discrimination and barriers to their participation in society.
In order to combat this discrimination, it is necessary to demystify leprosy by promoting accurate information—namely that leprosy is curable, that treatment is free and that there is no reason to marginalize anyone with the disease.
Success on this front also requires working to build a more inclusive society.
As the world business organization, the International Chamber of Commerce (ICC) works to create solutions for sustainable economic growth for the benefit of all through a commitment to international trade, responsible business conduct and a global approach to regulation.
By drawing on our global network of 45 million companies in over 100 countries, we develop and advocate inclusive approaches to important challenges, with the objective of making business work for everyone, every day, everywhere.
That includes those affected by leprosy because everyone deserves a chance to fulfil his or her potential, and the barriers of stigma and discrimination should not be allowed to limit their opportunities.
Together with The Nippon Foundation and other stakeholders, the ICC is committed to a truly inclusive society in which the rights of each individual are respected and every person can live with dignity.
Contact
Communications Department
The Nippon Foundation
E-mail:cc@ps.nippon-foundation.or.jp