Awareness Survey of 18-Year-Olds
Results of 9th and 10th installments announced
The results of the ninth installment of the Awareness Survey of 18-Year-Olds, launched by The Nippon Foundation in October 2018, were announced on February 14, 2019. Under the theme of the "National Debt," the survey was carried out in late January and nearly two-thirds of respondents were not aware that Japan's national debt is now more than ¥1,000 trillion. Roughly 30% of respondents disapproved of budgets being formulated on the assumption that debt will be incurred, and half felt that the reason for national and local government debt was that politicians did not make sufficient efforts to balance budgets. To address budget shortfalls, slightly more than one-third of respondents replied that outlays should be reduced, while almost half replied that revenue, including through taxes, should be increased. In addition, more than 70% of respondents said that the government's finances make them feel "concerned about Japan's future."
The results of the 10th installment, on the theme of "Regional Revitalization" were announced on February 21, 2019. The 800 respondents broke down as 299 having been raised in urban areas, and 501 being from rural areas. Close to half of the respondents believed that the concentration of population in Tokyo is a problem, but at the same time, more than 60% of all respondents, including roughly half of those from rural areas, expressed a desire to live in a large city.
*

Notes | In the information below, differences between total amounts and simple sums are due to rounding.
Survey 9. National Debt (Results announced on February 14, 2019)
Finding: 61.3% of respondents were not aware that Japan's national debt exceeds ¥1,000 trillion.
Are you aware that the national debt is in excess of ¥1,000 trillion? (n=800)
Finding: Roughly 30% of respondents oppose the formulation of budgets on the assumption debt will be incurred, while less than 14% approve.
What do you think about national budgets being formulated based on the assumption that debts will be incurred? (n=800)
Approve (13.8%)
Oppose (29.9%)
Don't know (56.4%)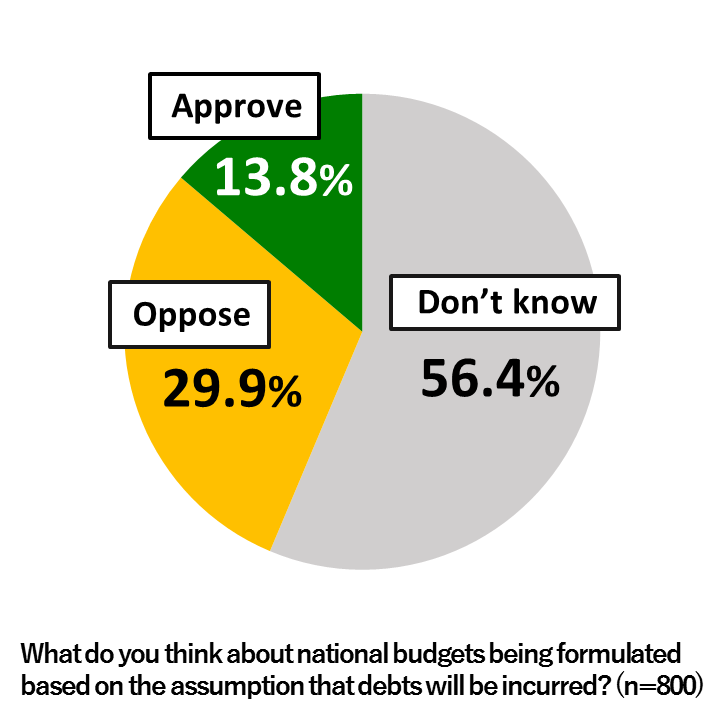 Finding: Half of respondents place the blame for national and local governments' budget deficits on "insufficient efforts by politicians."
Who or what is to blame for national and local government budget deficits? (n=800)
Insufficient efforts by politicians (50.9%)
Citizens have not paid enough taxes, etc. (20.9%)
Citizens demand too much (18.6%)
Other (9.6%)
Finding: To reduce government debt, more respondents (49.0%) chose "increasing revenue" over "reducing outlays" (36.5%), with those favoring "increasing revenue" roughly evenly divided between favoring higher corporate taxes and other tax increases.
Which would you choose as the most appropriate way to improve government finances? (n=800)
Reduce outlays for social services, public works, etc. (36.5%)
Increase revenue through higher corporate taxes (25.1%)
Increase revenue through other (consumption, etc.) tax increases (23.9%)
Other (14.5%)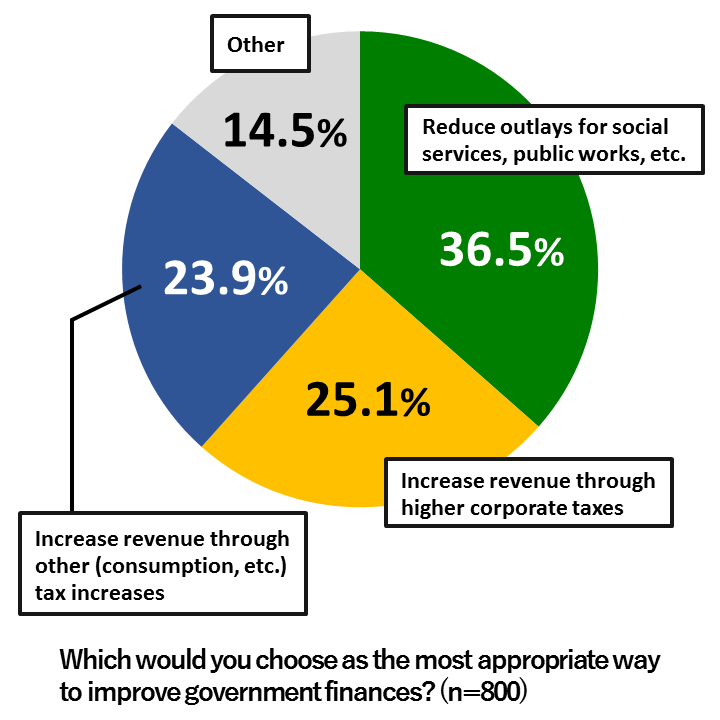 Finding: 72.8% of respondents replied that the government's financial position makes them feel "concerned about Japan's future."
Given the current state of the government's financial position, are you concerned about Japan's future? (n=800)
Concerned (72.8%)
Not concerned (7.3%)
Don't know (20.0%)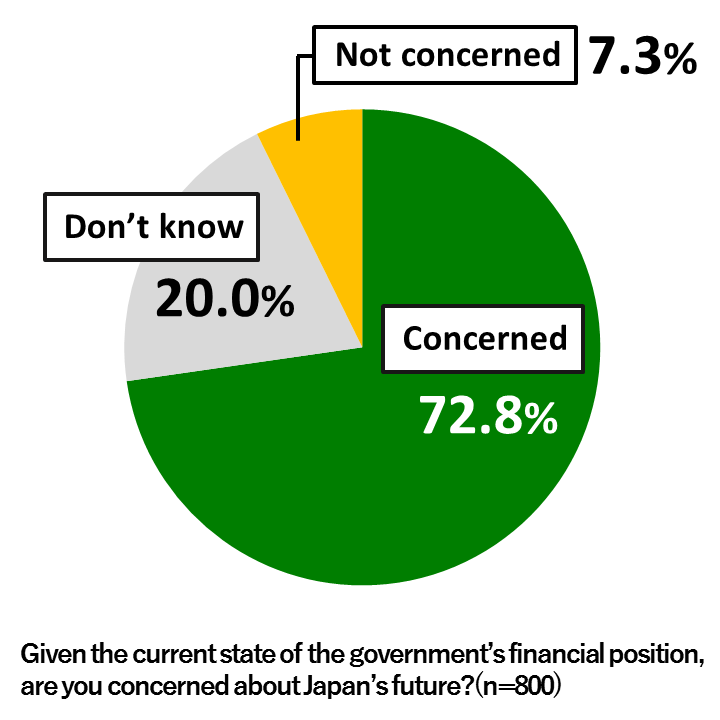 Survey 10. Regional Revitalization (Results announced on February 21, 2019)
Finding: 62.6% of respondents were raised mostly in a rural area, and 37.4% were raised mostly in an urban area. At the same time, of all respondents, 61.3% replied that they want to live in an urban area in the future, while 38.3% want to live in a rural area. (n=800)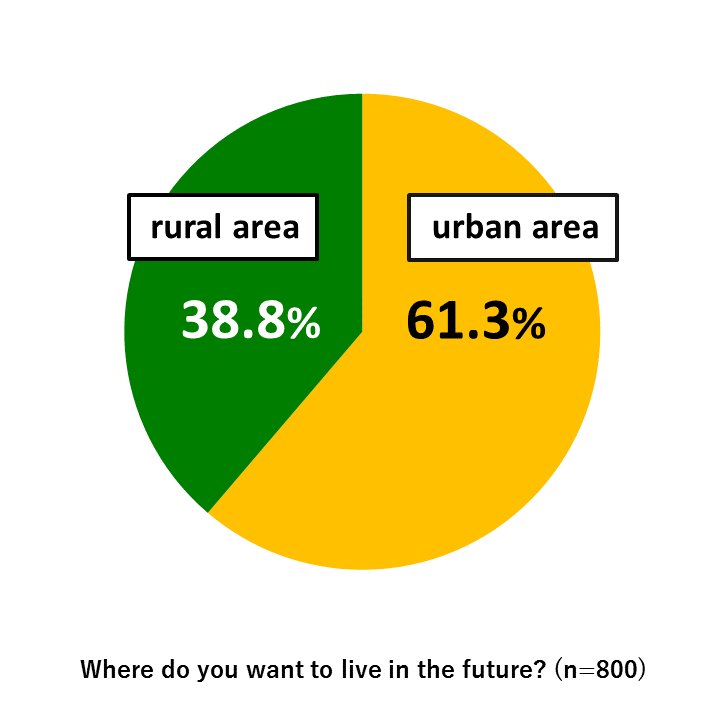 In response to the question "Where do you want to live in the future?" broken down by "Where were you raised?" Among respondents raised in rural areas (n=501)
More urban than where I was raised (47.1%)
Similar to where I was raised (43.5%)
More rural than where I was raised (9.4%)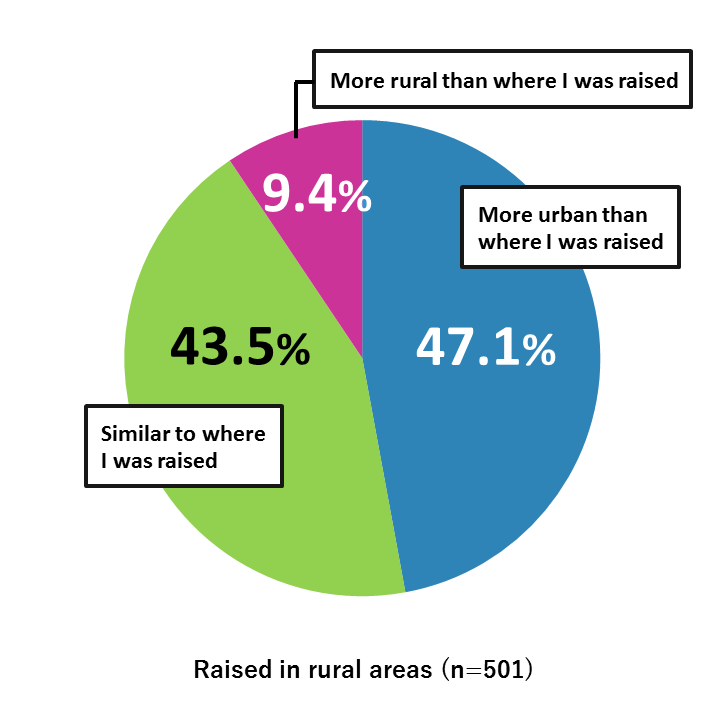 In response to the question "Where do you want to live in the future?"
Among respondents raised in urban areas (n=299)
More urban than where I was raised (37.5%)
Similar to where I was raised (47.5%)
More rural than where I was raised (15.1%)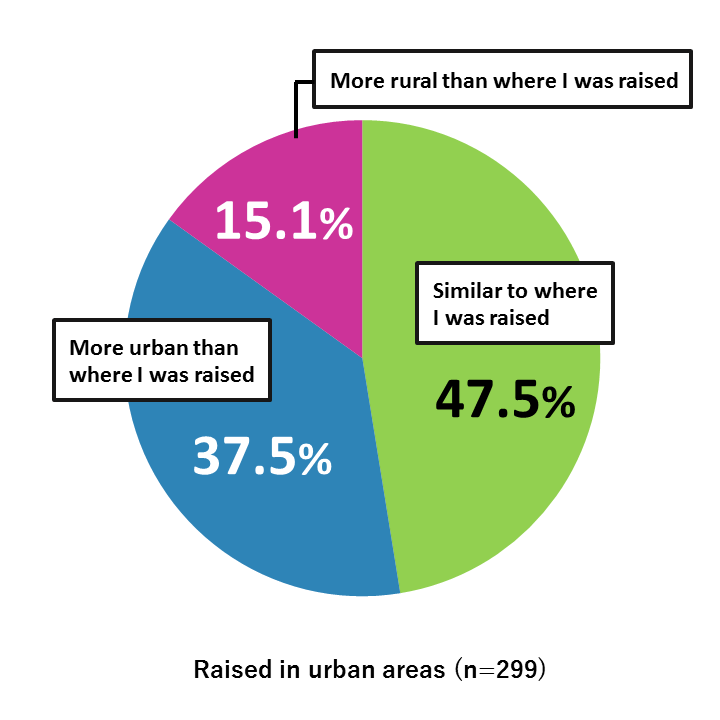 Top 5 reasons given for wanting to live in an urban area (multiple answers allowed; n=490)
Daily life agrees with me (53.9%)
Amusement, entertainment, recreation, etc. (42.0%)
Diverse range of opportunities (26.9%)
Plentiful employment opportunities (25.7%)
Lively personal interaction (21.4%)
Top 5 reasons given for wanting to live in an rural area (multiple answers allowed; n=310)
Daily life agrees with me (49.0%)
It is where I was raised (36.8%)
Abundant natural environment (33.5%)
Public safety (30.6%)
Easy to raise children (11.3%)
Of all respondents, top 5 reasons given for wanting to live in a similar area to where one was raised (multiple answers allowed; n=360)
Daily life agrees with me (59.2%)
It is where I was raised (50.3%)
Public safety (32.2%)
Abundant natural environment (22.2%)
Easy to raise children (12.8%)
Of all respondents, top 5 reasons given for wanting to live in a particular type of area (multiple answers allowed; n=800)
Daily life agrees with me (52.0%)
Amusement, entertainment, recreation, etc. (27.5%)
It is where I was raised (24.1%)
Public safety (19.8%)
Diverse range of opportunities (18.5%)
Contact
Communications Department
The Nippon Foundation
E-mail:cc@ps.nippon-foundation.or.jp