The Nippon Foundation Social Innovation Forum 2019
Announcement of results of nine-country Awareness Survey of Society and Country
The Nippon Foundation Social Innovation Forum 2019 was held from November 29 to December 1 in Tokyo. The event included a keynote address by Minister of the Environment Shinjiro Koizumi, 12 "Future Session" programs dealing with issues related to family, society, and the global community, 9 special sessions with presentations on social innovation activities around Japan, and The Nippon Foundation Social Innovation Awards.
One of the special sessions, held on November 30, presented the results of the 20th installment of the Awareness Survey of 18-Year-Olds, launched by The Nippon Foundation in October 2018. The subject of this installment was "Awareness Survey of Society and Country," and for this installment the survey covered 17- to 19-year-olds in nine countries: China, Germany, India, Indonesia, Japan, South Korea, the United Kingdom, the United States, and Vietnam. The survey showed that in a number of areas, young people in Japan ranked last compared with their peers in other countries in terms of considering themselves to be adults, having dreams for the future, and believing that they can change society or their country. The session featured four student panelists who are involved in social activities.
Risa Kogure, from Japan and a freshman at Keio University, noted her surprise at the survey results, and especially with the relatively low percentage of Japanese respondents who were optimistic about their country's future. She suggested that part of the reason for Japan's low figure could be that expressions like "change society" are vague in terms of scale, and bring to mind major issues like Japan's aging population and rural depopulation. She noted that Japanese young people do not see themselves as knowing how to address issues of this scale, and tend not to think about their own actions in terms of having an effect on society as a whole. She was also encouraged by the fact that roughly 60% of Japanese respondents had "a dream for the future," and in response to the question "How do you want to contribute to your country?" the percentage of Japanese respondents who did not have a specific idea of how, but wanted to contribute to their country, was the second-highest at roughly 12%, indicating the potential for change going forward.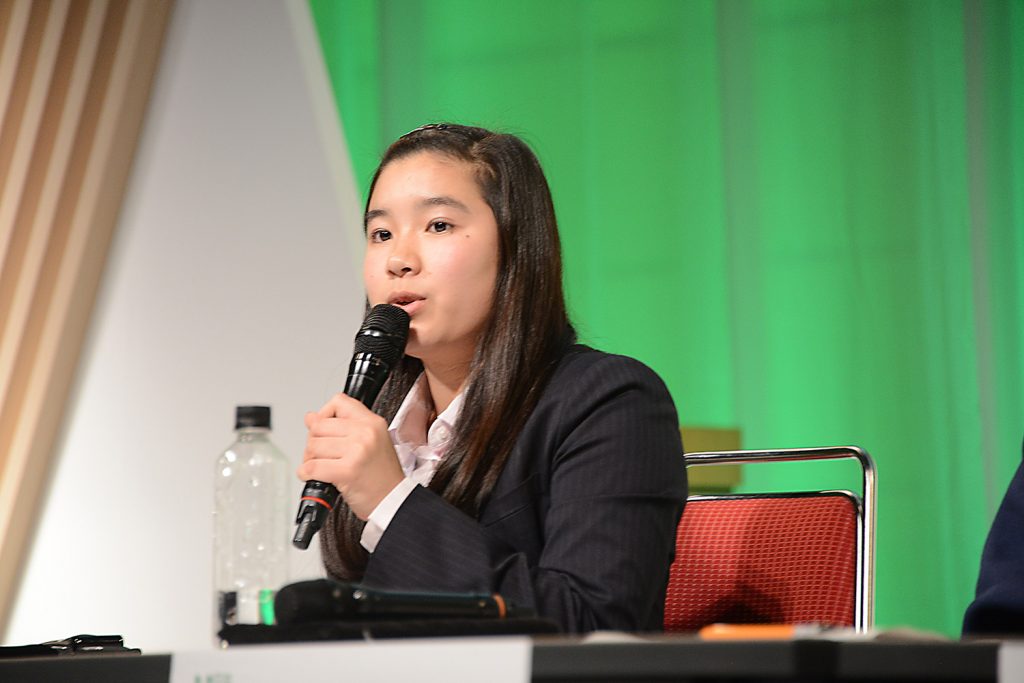 Yoshiki Nakamura, also from Japan, is a high school senior and has been involved with the NGO Free The Children Japan since his elementary school days. He felt that the fact that fewer than 10% of Japanese respondents were optimistic about Japan's future shows that young people feel that issues in the societies in which they live do not concern them. Based on his own experience, he noted that the most important thing is to make young people aware of issues, because if they are not aware of issues, they cannot become involved in addressing them, and if they do not take an interest and get involved, the problems will only intensify. His second thought was that the ways Japanese young people saw themselves being able to contribute to their country tended to be things taught in school, like working hard and paying taxes, and that the educational system should instill a greater sense of the things that young people can do on their own as members of society.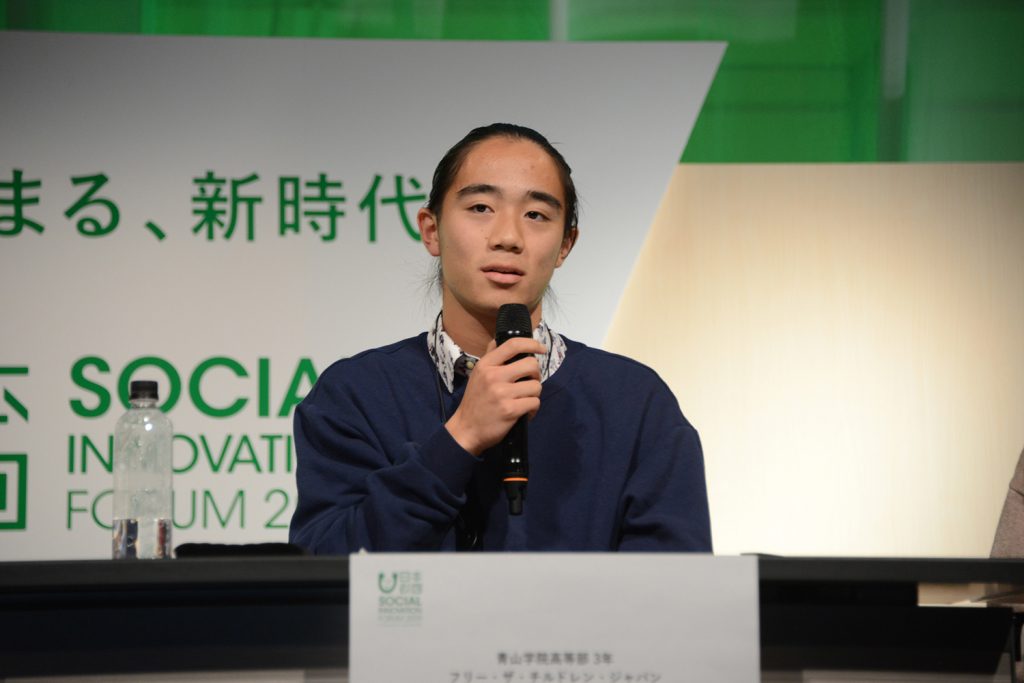 The third panelist was Ho Thi Quynh Trang from Vietnam, who went to an international high school in Japan and is currently studying at Waseda University. With regard to the survey, she noted that there are certainly distinctions in cultural backgrounds, family values, and educational circumstances, as well as political influences that must be taken into consideration, but added that in general, young people in Vietnam tend to be optimistic about the future and believe in the power of change in themselves and in the nation. In contrast, Japanese teenagers tend to be more pessimistic and indifferent toward social programs. One possible explanation that she gave for this difference was that in Japan 18-year-olds are not fully adults in legal terms, whereas in countries like Vietnam the age of majority is 16, and 18-year-olds therefore have higher expectations placed on them. She also expressed surprise about Japanese youths' lack of optimism regarding the future, and wondered what the underlying causes for this might be.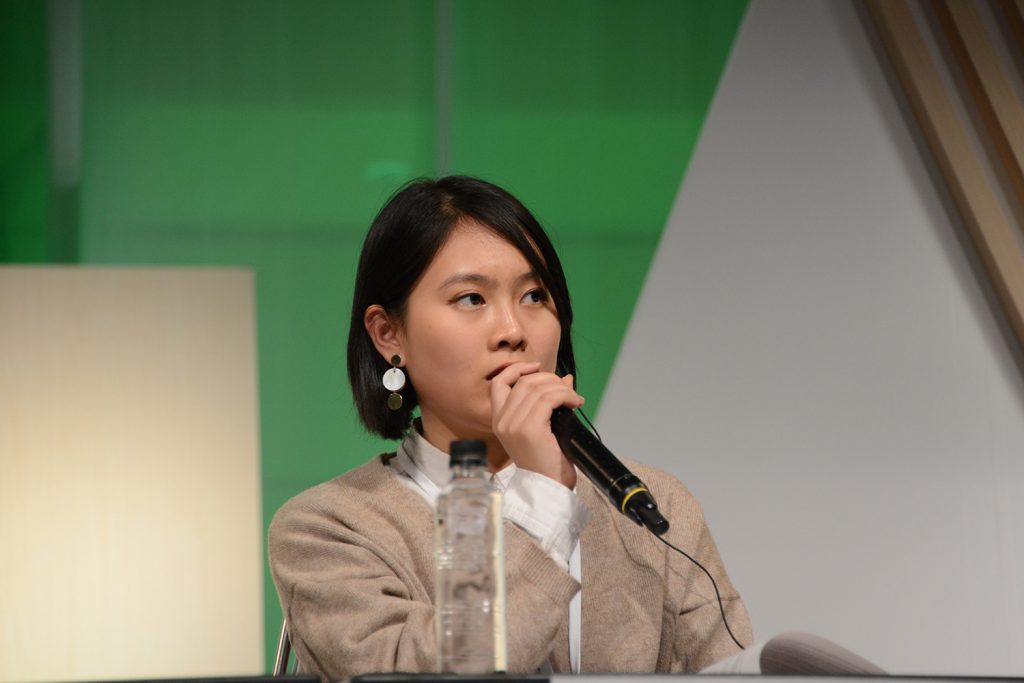 Yeshwini Selvaraj was born and raised in India until entering an international high school in Japan, and is currently a sophomore at Rikkyo University. She noted that having mostly attended boarding schools, which tend to be isolated communities, she would be shocked when she returned home to see the problems of poverty, malnutrition, and child mortality that so many Indians face. This led her to do research into these issues, and to the realization that empowering women was the key to resolving them. She was also surprised by the survey results, as she had not expected 70% of India's youth to be so optimistic regarding the country's future, because every time she goes back to India she is shocked by the level of problems that people have just accepted as part of their lives. She was also pleased with this result, however, because she believes optimism is the first step toward creating change.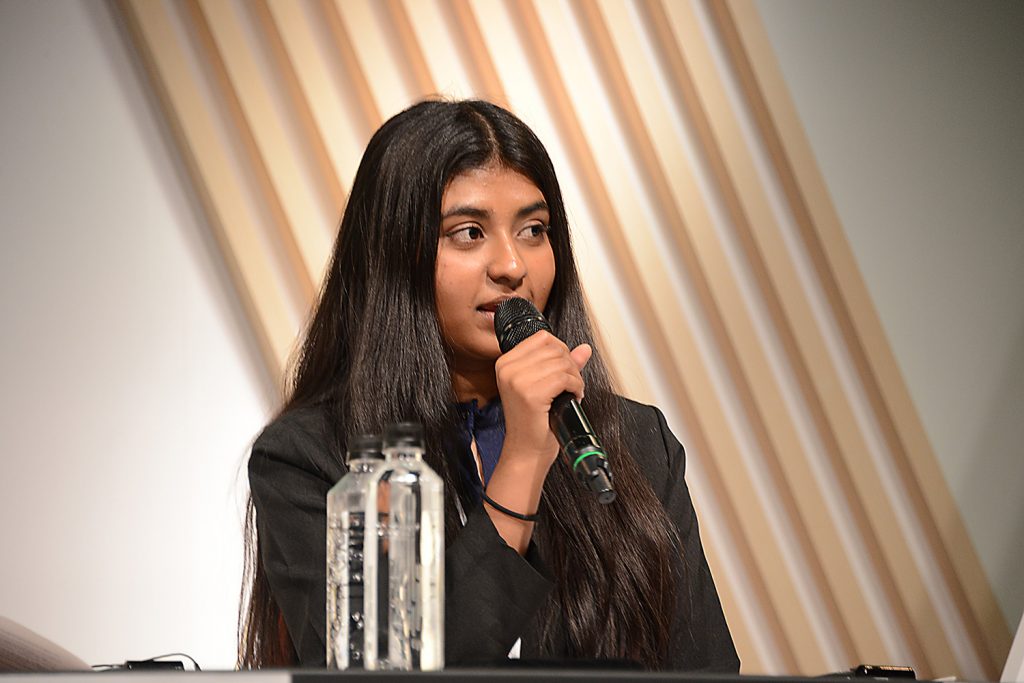 After these introductions, the panel discussion of the survey results began with Ms. Kogure, who said that her biggest surprise was that young people do not think of their activities as tying into social issues, and consider social issues as something to be dealt with when they become adults. Mr. Nakamura echoed this sentiment and commented that very few of his peers read the newspaper or follow the news, and felt that it is important to give young people a sense of empowerment. Ms. Trang noted that eliminating poverty ranked high among youth interested in social issues in both Vietnam and Japan, with Vietnamese people in general being very aware of the country's low level of development relative to many other countries. Asked about the differences with Japanese youth, she noted that with the age of majority at 16, Vietnamese young people have more legal rights, and also have higher expectations placed upon them to be economically responsible and help to support their family. Although both Vietnam and Japan are considered collective societies, she feels that people in general are more hesitant to stand out in Japan than in Vietnam.
Next, an analysis of the survey results by Masashi Fujiki, a teacher at Tokyo Gakugei University International Secondary School who follows these issues, was presented. Mr. Fujiki noted that because Japanese youth have few contact points with society, even when they do want to become involved, they don't know how to start. Today, young people have too many things that require their time, like school club activities and after-school juku (cram schools for entrance exams), but at the same time they have few choices, and to some degree don't know how to allocate their time. He stressed that young people need to be evaluated and accepted in ways that empower them, but going too far in the other direction and being overly critical (applying adult standards, etc.) raises hurdles. He suggests an approach of adults doing things "with" young people, rather than teaching them or doing things for them.
Yu Iwamoto, who is working with high school students in Shimane Prefecture and won the Exceptional Social Innovator (First Prize) award at the 2016 Social Innovation Forum, also shared his thoughts on the survey from the perspective of someone working in education in a rural area. Looking at the results for Japanese respondents, his initial reaction was that the results for Japanese youth were actually higher than he would have expected. Based on his experience, he identified three key factors in raising social awareness and the desire to address social issues among young people in Japan. The first is to expose students directly to issues in their communities so they can identify with them on a first-hand basis. The second is to create opportunities for students to interact with people of different ages and backgrounds, so that they will view issues from perspectives beyond those of their immediate, day-to-day surroundings. Interacting with people other than their school classmates also allows them to evaluate their own strengths and weaknesses. The third is to have the support of friends, teachers, and members of the community to encourage and assist them.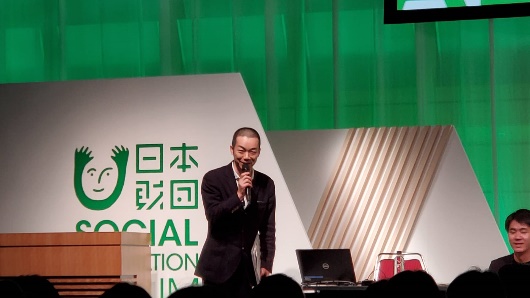 The panelists were then invited to ask questions of each other. First, Mr. Nakamura asked Ms. Trang and Ms. Selvaraj whether they were surprised about how little discussion there is among Japanese young people regarding politics and social issues. Ms. Selvaraj said that the situation was similar in India, because young people do not have a sense of hope in the government. Ms. Trang agreed, saying that politics is often considered a taboo subject for conversation in Vietnam as well. She added that in Japan there are no legal restrictions on freedom of speech, and thought it was unfortunate that Japanese people do not take advantage of this freedom to express and advocate for their viewpoints in the political forum. In Vietnam, by contrast, young people do not feel represented in political decision-making bodies, so they do not take action even if there are issues that concern them. Therefore, people address these issues through community and business activities, rather than political activity.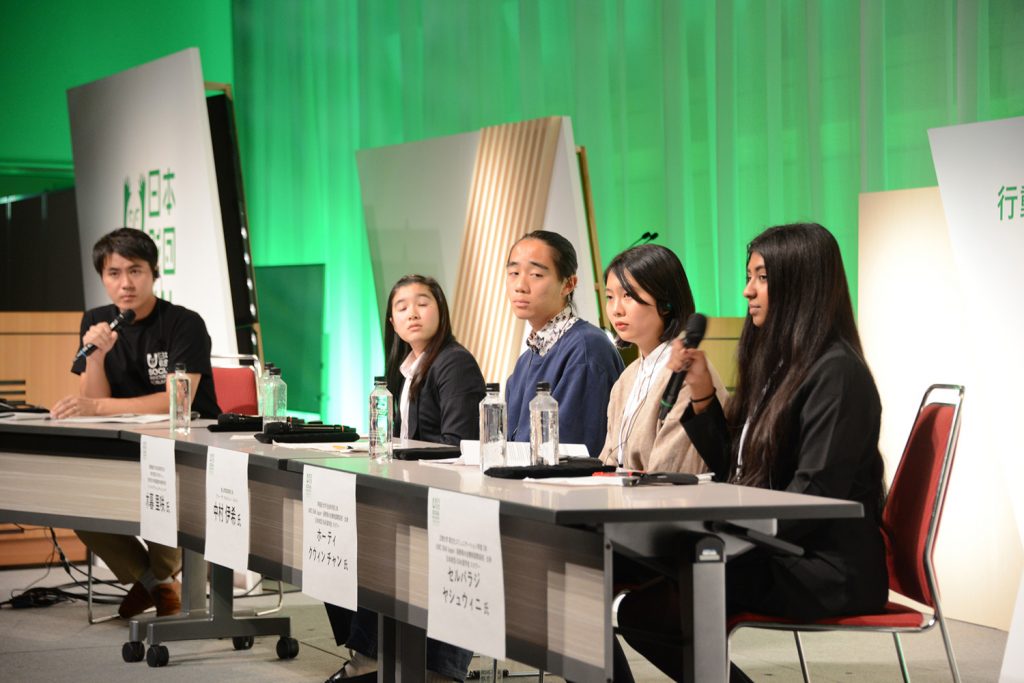 Finally, the panelists were asked what kind of country they want their country to become in the future. Ms. Kogure said that she would like for both younger and older people to pursue activities and address issues that interest them, and by doing so encourage others to become interested and to participate as well. Mr. Nakamura mentioned that he hopes to become a fashion designer in the future, and to incorporate and promote an awareness of issues like child labor and the use of environmentally friendly materials as part of that work. Ms. Trang said that she would like to see Vietnam promote education and environmental awareness, including preparedness for natural disasters, followed by economic development with an awareness of social issues that development brings. Ms. Selvaraj said that she has many things that she would like to see change, but that she is encouraged by the optimism of India's youth, and hopes to see a society with greater equality of opportunity, especially in education.
Panelist Profiles
Risa Kogure (Japan) / Freshman at Keio University
Ms. Kogure is a graduate of Tokyo Gakugei University International Secondary School's International Baccalaureate Diploma Programme. In 10th grade, she joined the school's Volunteer Team, and as the team's head she organized walk and study tours of Tokyo's Nerima Ward and Ueda City in Nagano Prefecture to bring together local companies, governments, and NGOs. She has spoken at the Japan Fundraising Association's annual conference on the subject of "How can social contribution education be tied into school education?"
Yoshiki Nakamura (Japan) / Senior at Aoyama Gakuin Senior High School
In the sixth grade, Mr. Nakamura became involved with Free the Children Japan through an English class. As a junior high school student in Takamatsu City, Kagawa Prefecture, he held several workshops together with his mother and brother to raise funds for wells and other activities in Indian villages as part of a program called "The Little Bakery." He has assisted with the holding of "global week" at schools and with "The World's Biggest Lesson 2019" project.
Ho Thi Quynh Trang (Vietnam) / Sophomore at Waseda University
Born in Vietnam, Ms. Trang is studying in the Transnational and Interdisciplinary Studies in Social Innovation program at Waseda University's School of Social Sciences. During her first year of university, she traveled to Niigata Prefecture with a group of international students from Waseda to learn about social issues in Japan. Ms. Trang is also involved with Waseda's "Doors, Japan-Vietnam Exchange Project," which provides educational support to elementary and junior high school students in Vietnam.
Yeshwini Selvaraj (India) / Sophomore at Rikkyo University
Born in Bangalore, India, Ms. Selvaraj is interested in social issues in India, and in girls' education and female empowerment in particular. She has participated in debating and Model United Nations since high school, and is currently involved with the New York-based organization She's the First, which promotes gender equality around the world. In the future, she hopes to use what she has learned at a Japanese university to contribute to India's development.
Contact
Public Relations Team
The Nippon Foundation
Email: cc@ps.nippon-foundation.or.jp