【TNF Journal】Business's New Relationship with Disabilities (Part 4)
ANA Group's Disability Inclusion Through a "Hard" and "Heart" Approach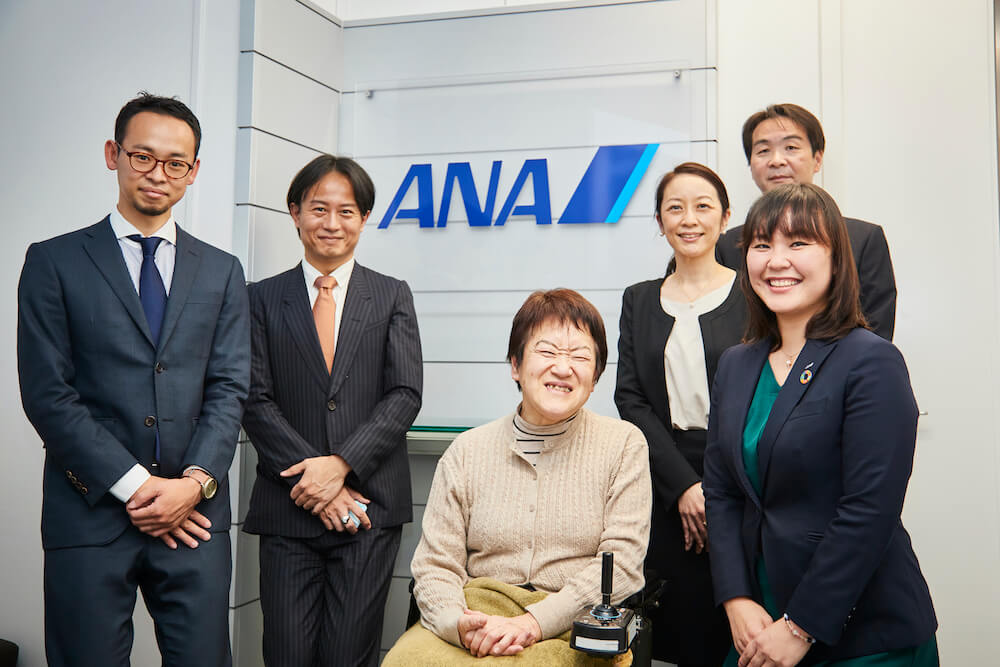 Key Points in this Article
One of the underlying reasons little progress is being made in the employment of people with disabilities is that companies have not clearly articulated in writing to their employees their corporate position on the employment of people with disabilities
The ANA Group formulated the "36K-Employee Kickoff," a code of conduct for the employment of people with disabilities in the Group and promotes understanding of disabilities in tandem with training and other activities within the company
Aiming for an inclusive society, the ANA Group is adopting a two-track approach to improving the workplace environment and its services based on "hard (facilities)" and "heart (caring)" efforts
Reporting: The Nippon Foundation Journal Editing Department
Focusing on the employment of people with disabilities at companies and the development of products and services for people with disabilities, we will introduce some outstanding initiatives in this series. We would like our readers to join us in considering what kind of viewpoints and ideas are necessary for creating an inclusive society* where everyone can participate irrespective of whether or not they have disabilities.
*

A society in which the existence of each and every individual is valued, regardless of race, gender, nationality, social status or disability.
In charge of reporting are members of the Working Group* formed by The Nippon Foundation to accelerate the social participation of persons with disabilities. In this Part 4 of the series, we will introduce initiatives of the ANA Group (a new window opens), which formulated the 36K-Employment Kickoff code of conduct for the employment of people with disabilities to promote the creation of an organization where all persons can work with confidence and pride and to direct efforts to the development of services that allow all persons to enjoy air travel in comfort.
*

A group formed to research and formulate plans for specific issues.
We interviewed Ms. Akiko Kimura, who belongs to the Diversity Development Office within ANA's Human Resources Department, Mr. Eiji Kojima, Manager of the CS Promotion Department, and Ms. Natsumi Murata, also of the CS Promotion Department, who has a disability.
Promoting understanding within the company through a group company-wide code of conduct
Okuhira: I am Masako Okuhira from The Nippon Foundation Working Group. To start, please tell us about how many persons with disabilities work in the ANA Group.
Ms. Kimura: The ANA Group has been devoting efforts to employing people with disabilities in its 39 group companies. As of November 1, 2020, out of a total of approximately 46,000 employees within the group, 923 are persons with disabilities.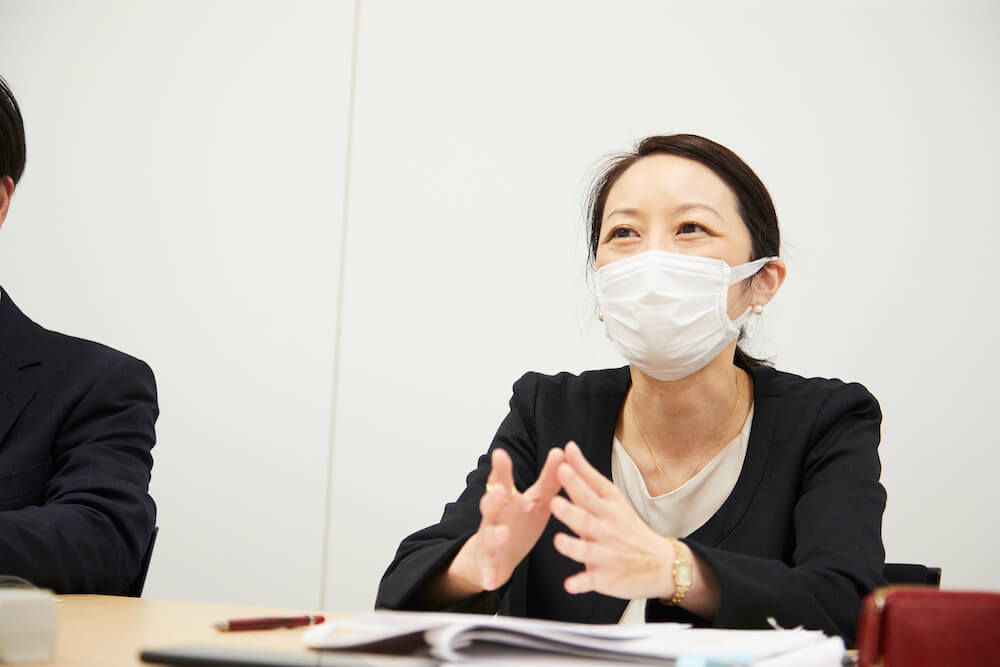 Okuhira: On what do you place importance in the promotion of employment?
Ms. Kimura: I would say it would be thoroughly communicating within and outside the company the ANA Group's stance on the employment of people with disabilities. In 2012, we established the Diversity Development Office within the Human Resources Department, and commenced full-fledged efforts in employing persons with disabilities. While sharing the know-how of group companies, we are working to expand employment by establishing an employment site for persons with disabilities and conducting ANA Group joint interviews.
In April 2015, ANA Group CEO Shinya Katanozaka personally announced ANA's "Diversity & Inclusion* Declaration" and since then we have been working to improve the environment for the participation of diverse human resources including women, persons with disabilities, and persons of senior age.
*

Creation of a society where everyone can play an active role by mutually respecting and acknowledging diversity such as race, gender, age, and the presence or absence of disabilities.
Following on from the CEO's announcement, in the same year more than 50 employees responsible for human resources and employees with disabilities from the respective group companies formulated the 36K-Employment Kickoff, a code of conduct for the employment of people with disabilities, over a six-month period. Under this code, all group employees are promoting an accurate understanding of "disabilities" and their diversity, and are working to create an organization where all people can shine and play an active role. Thanks to these efforts as well, the employment rate of people with disabilities within the group is gradually increasing, and I feel that we are making progress in their stable employment.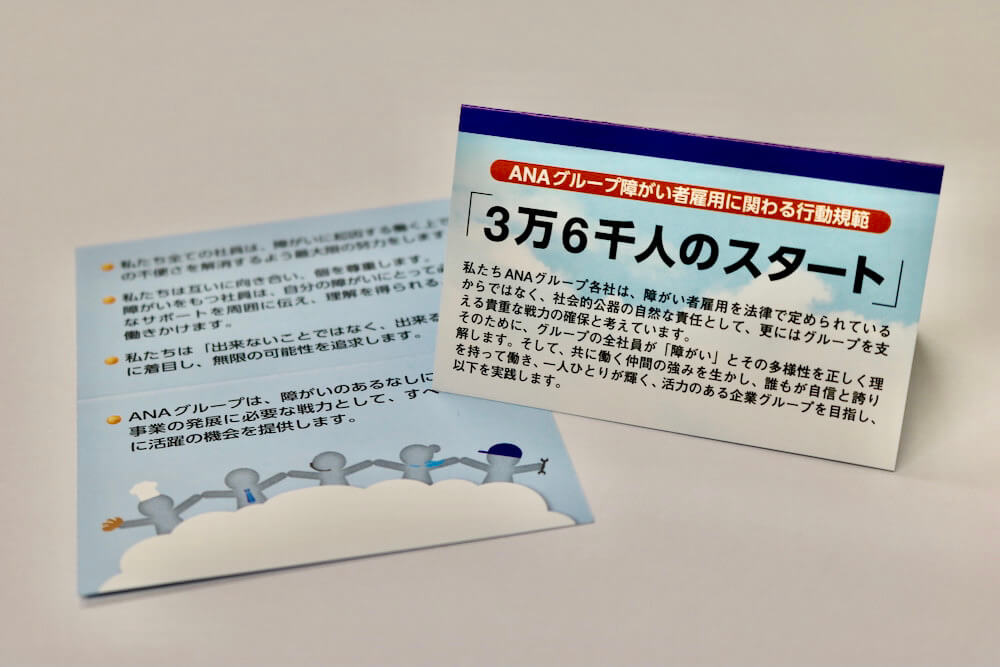 Okuhira: So you have taken on quite a few initiatives, I see. At present, what kinds of work are people with disabilities doing?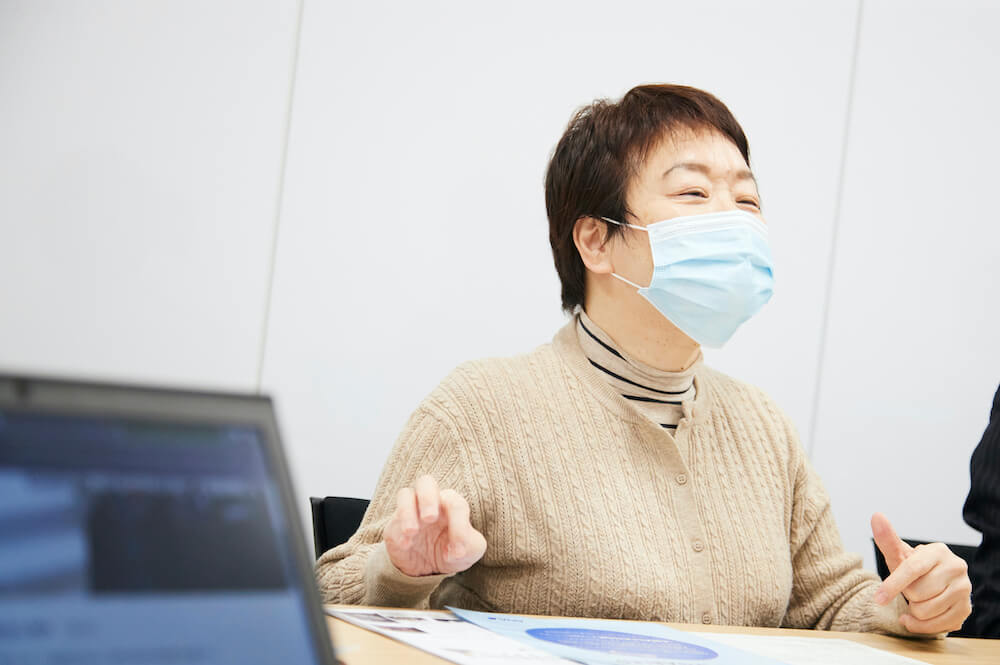 Ms. Kimura: In the group as a whole, employees with physical disabilities account for about 50% of employees with disabilities, while employees with intellectual disabilities and employees with mental disabilities each account for 25% respectively. Since the content of work differs at the respective 39 companies, the work of employees with disabilities also varies. For example, business at ANA Wing Fellows Vie Oji, a special subsidiary of the ANA Group, encompasses managing customer information, storage and management of flight attendant uniforms, the digitization of aircraft maintenance records, bread production and sales, the operation of cafés and convenient stores, and the manufacture of paper and wood products.
Ms. Kimura: UD Talk* is software that makes it possible to view in text form contents of telephone calls and meetings, and we have signed a corporate agreement and established an operating environment that allows us to use UD Talk throughout the entire group. Our special subsidiary Wing Fellows Vie Oji is also working on eliminating difference in level on the floor and making the position of the card reader used when entering and leaving the room accessible from a wheelchair. In ways like these, we are working on improvements in "hard" areas. Above all, however, in line with the principles of the 36K-Employee Kickoff Group code of conduct, we place the utmost importance on dialogue with individual employees so that all employees, including those who do not have disabilities, can accurately understand the diversity of disabilities and become a strong force. Just as we all have our own strengths and weaknesses, the tasks that each person can perform and cannot perform change, so I like to be able to have thorough follow up with each person without any preconceived ideas or assumptions. In addition, each group company has employment facilitators for persons with disabilities, and in cooperation between those facilitators and the Group Diversity Development Office, we are working to create an environment in which we can immediately respond to issues in the workplace.
*

A smartphone app that assists in communication with deaf and hearing-impaired people by displaying conversations in real time using voice recognition technology.
Izutsu: I am Takashi Izutsu of the Working Group. Although the employment of persons with disabilities is gradually making progress, I believe that there are still companies that feel it is quite difficult and have yet to take the first step. If you were to give advice to such a company, what points would you make?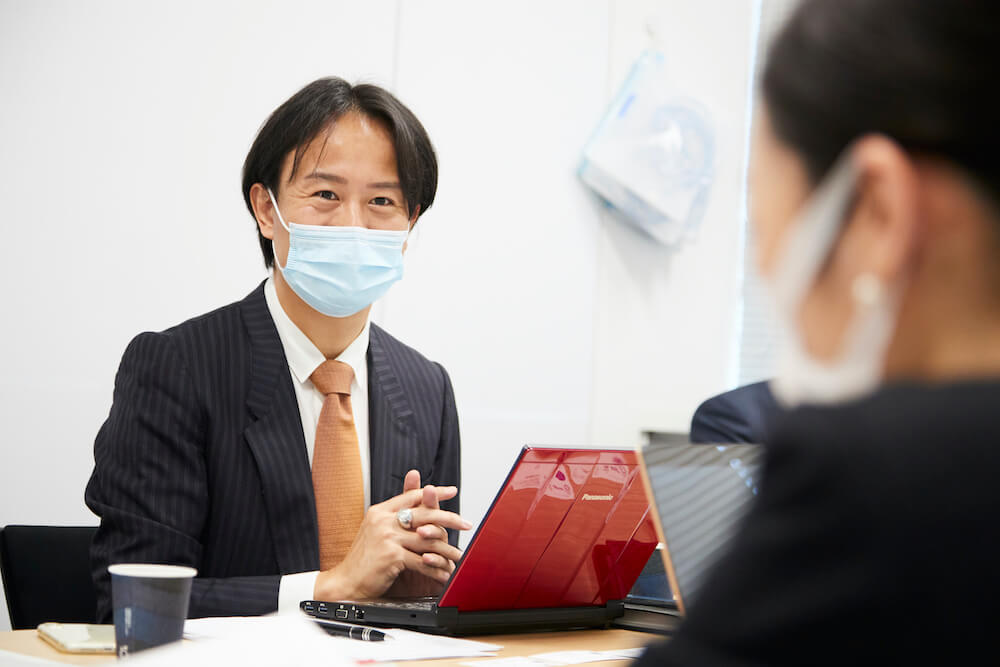 Ms. Kimura: Well, our group still has a long way to go but, as a start, I believe that it is perhaps important to first clarify in writing why the company employs people with disabilities, and then make efforts to instill this view within the company. The ANA Group positions the employment of people with disabilities as a way to secure a valuable workforce.
"Expressing in words" without restraint deepens mutual understanding
Okuhira: I would like to speak to Ms. Murata, who was actually hired as a person with a disability and is currently working in the CS Promotion Department of ANA.
Ms. Murata: I'm Natsumi Murata and I work in the Universal Service Promotion Team of the CS Promotion Department. I currently prepare programs and provide education and training both within and outside the company to ensure that all customers can enjoy comfortable air travel.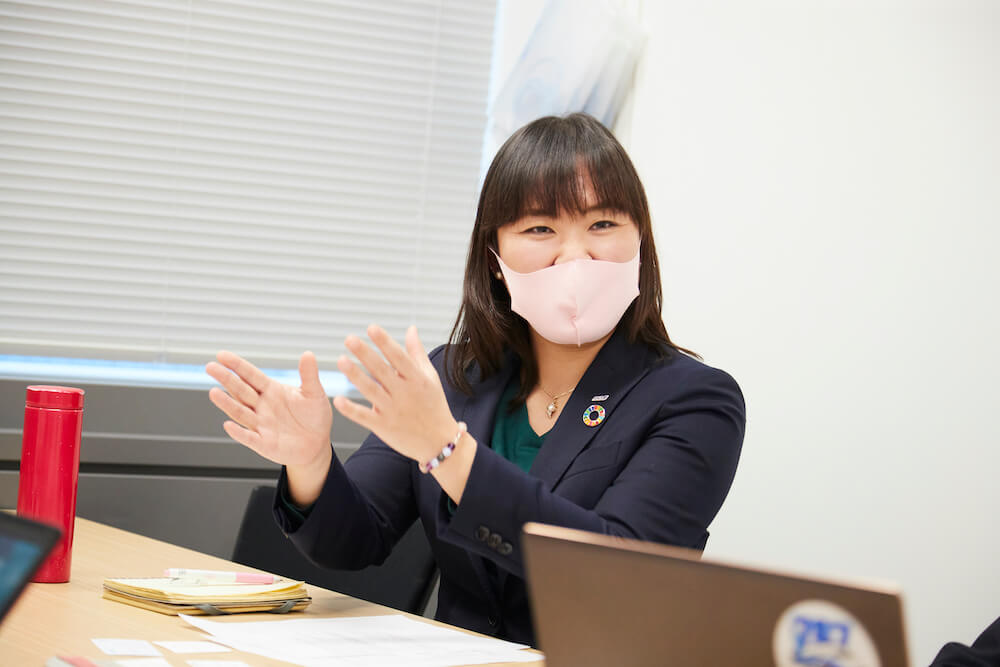 Okuhira: Ms. Murata, please tell us how you applied under ANA's recruitment for people with disabilities.
Ms. Murata: I have a disability related to depression and I have been in treatment for about six years. Just about the time I began feeling settled, I learned that ANA was recruiting people with disabilities, and I felt that I would like to try for a position. With that in mind, I submitted my application.
Okuhira: Please tell us what your first impression of ANA was including at the time of your interview.
Ms. Murata: I felt that I was treated as an individual, irrespective of any disability. Also, when I asked questions about hiring at a number of companies, only the person at ANA told me, "There are even managers among the people with disabilities we hired," and this is one of the main reasons I felt I wanted to work at ANA.
Okuhira: I see. And how do you find your job now that you are actually working?
Ms. Murata: I conduct training for the ANA Group's universal services both inside and outside of the company. For example, we are creating simulated experience programs where our staff can experience the physical conditions of the aged or pregnant women, and we are coordinating arrangements for necessary props, etc. for the programs. We have been making repeated efforts to provide content that is as close to the actual services as possible. I receive advice from my supervisor in a timely manner and I also feel on a daily basis that my enthusiasm for my work is appreciated.
Outside of the company, I am involved in the ANA Sora-Pass Class (Boarding Support Class) (a new window opens), which is a class for familiarizing students from special schools with the series of procedures related to air travel such as boarding an aircraft and taking one's seat inside the aircraft. This is done through classroom study and simulated experiences. Watching students who look anxious at first manage to pass through the gate-type metal detector, or to see students' faces beam with confidence when they manage to transfer from their wheelchair into their seat inside the aircraft gives me a very rewarding feeling.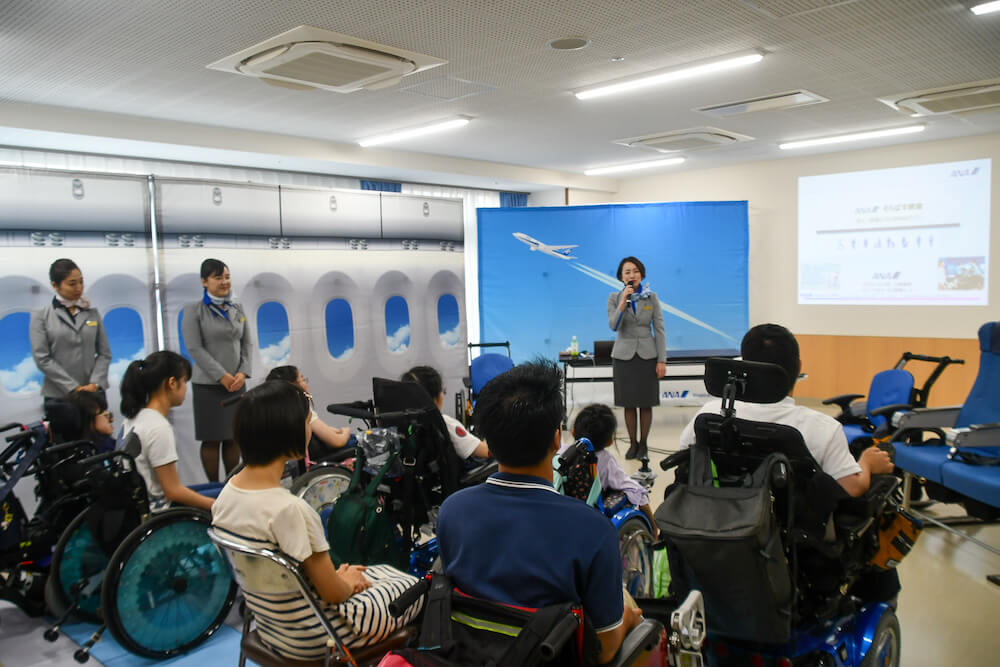 Okuhira: Just listening to you talk about it, I can tell that your work is fulfilling. On the other hand, I imagine that at times you may feel unwell. How do you cope at such times?
Ms. Murata: There are times when I am aware of my condition beforehand as well as times when that is not the case. In any case, once I am aware of my condition, I do not hesitate to consult with my supervisor. My supervisor usually understands my symptoms so I can take time off without any problem if my work is likely to be affected.
Okuhira: Does your work have a positive effect on your personal life?
Ms. Murata: I am also a single mother with two young children but I am very happy to be able to participate in society. Women are easily affected by their life stages but at ANA people try to understand each employee's situation, so there is a sense of security that you can build a career at any life stage.
A world where everyone can comfortably enjoy air travel based on "hard" and "heart" elements
Okuhira: Next, I would like to speak to Mr. Kojima, Ms. Murata's supervisor and CS Promotion Department Manager. I would like to ask you about services ANA provides for people with disabilities.
Mr. Kojima: Under the slogan, "A sky that is kind to everyone," the ANA Group is working to create services that enable all people to use airports and airplanes without stress.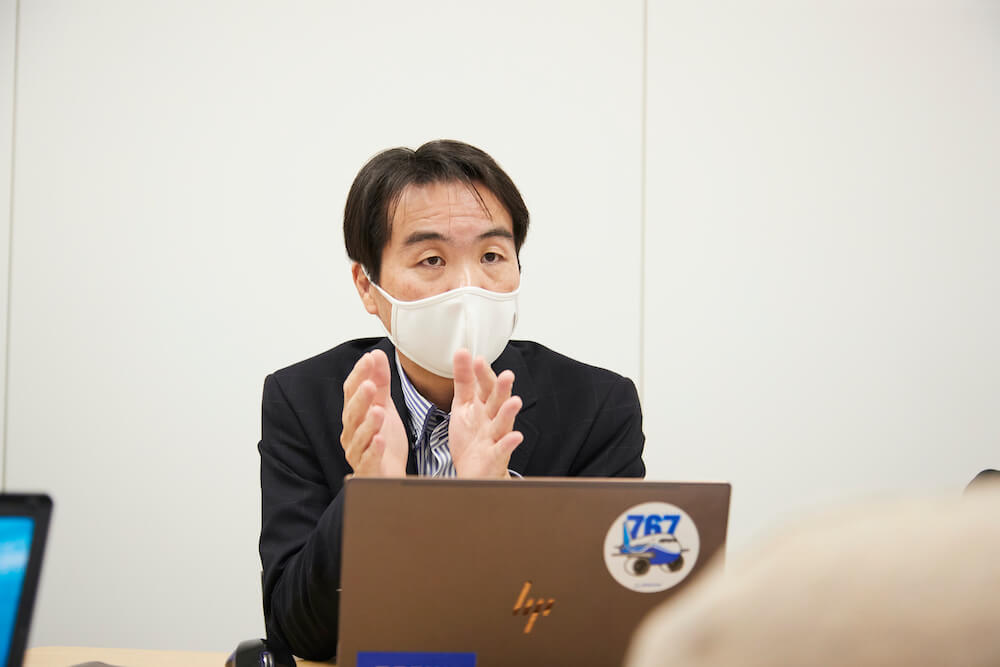 Mr. Kojima: We are making efforts to improve the travel environment from before the trip begins until arrival at the destination to enable our customers to enjoy pleasant air travel with peace of mind. These efforts include training ANA Group officers and employees in understanding travel from the standpoint of people with disabilities through hands-on experiences such as maneuvering wheelchairs and using white canes to help them "see." We also conduct external training such as the Sora-Pass Class which Ms. Murata spoke about, and at airports we have established an environment that takes into consideration all services including wheelchairs inside the airport, low counters, remote sign language devices, and voice recognition devices. In addition, we conduct various public relations activities through our websites.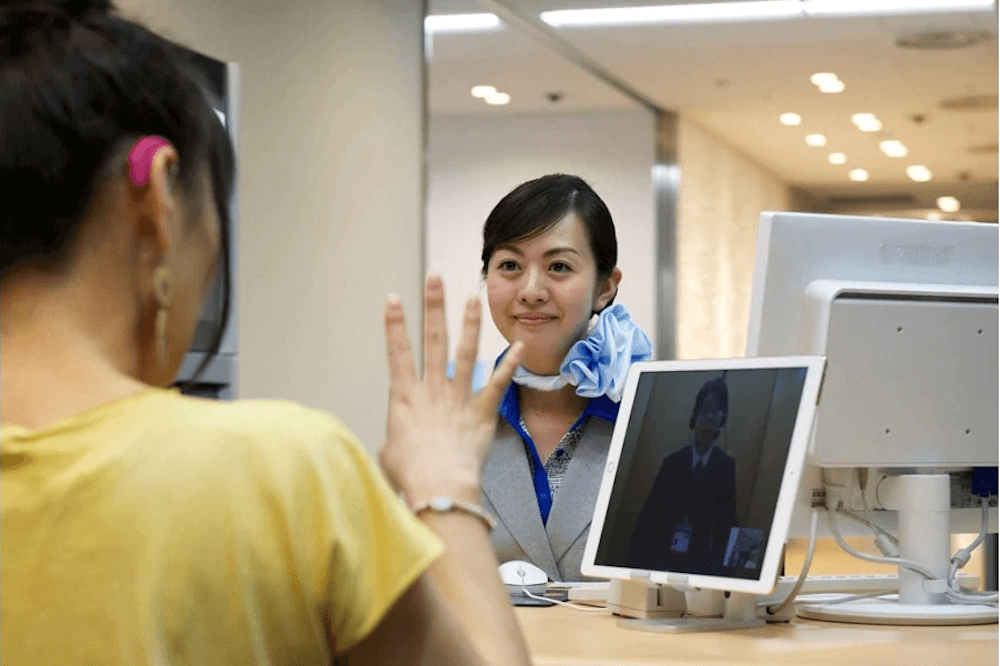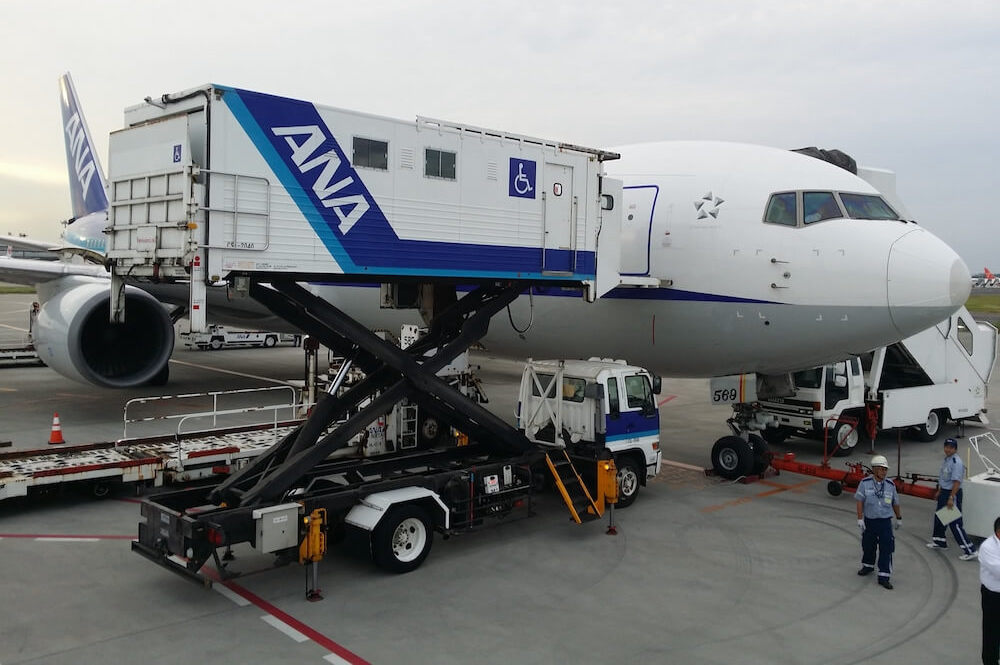 Okuhira: I see that you are working in various hard and soft areas.
Mr. Kojima: That's right. We refer to these as "hard (equipment)"and "heart (care)," and we are aiming for a world where everyone can enjoy air travel in comfort from the beginning of the journey to the very end.
Okuhira: Thank you. Can you please tell us your goals for the future and any advice you would like to share with persons with disabilities?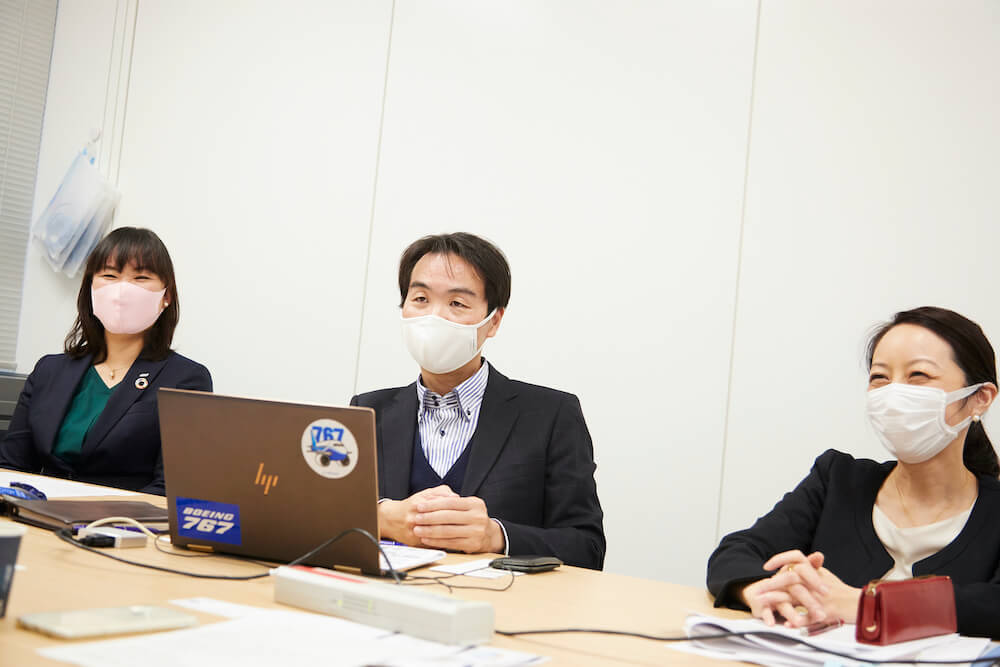 Ms. Murata: I think that some people with disabilities often feel uneasy that people around them in the workplace do not understand their disabilities. There was a time when I felt anxious about taking the first step. However, I feel confident that the one step we take will make our future brighter, and give hope to those who come after us. Whether you have a disability or not, I hope that you will convey your enthusiasm and aspirations to your company.
Ms. Kimura: Irrespective of disabilities, all staff in the ANA Group are partners in an equal relationship in achieving the same organizational goals. Going forward, we intend to concentrate our efforts on spreading the 36K-Employment Kickoff code of conduct as a core concept within our group.
Mr. Kojima: Please allow me to touch upon the bigger picture here. While our work in the airline industry mainly involves getting people from one place to the other, with that service alone, I think it would be difficult to make everyone's trips pleasant. I think the challenge for us is not only to enhance website content, airport services and in-flight services but also to cooperate with other services including tourism destinations and accommodation facilities and to work not only for our airline industry but also the travel industry as a whole.
Photo: Eizaburo Togawa