【TNF Journal】Business's New Relationship with Disabilities (Part 5)Realizing a Worker Friendly Environment Through Ultra Short Working Hours
SoftBank Aiming for a Society Where Diverse People Live Together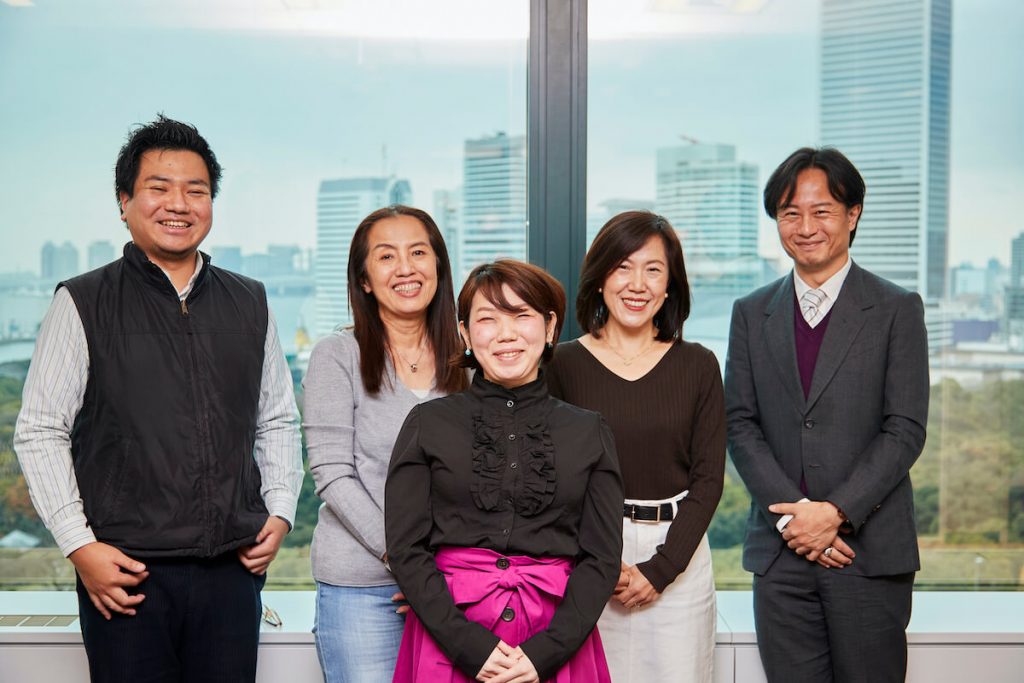 Key Points in this Article
The existing system of "putting people to work" prolongs working hours and is a hindrance to the social participation of persons with disabilities
By introducing a program that allows employees to work ultra-short hours, SoftBank has created a workplace environment that makes effective use of each person's attributes
SoftBank is aiming for a society where everyone can take on challenges through the realization of diverse work options unconstrained by working hours or disabilities
Reporting: The Nippon Foundation Journal Editing Department
Focusing on the employment of people with disabilities at companies and the development of products and services for people with disabilities, we will introduce some outstanding initiatives in this series. We would like our readers to join us in considering what kind of viewpoints and ideas are necessary for creating an inclusive society* where everyone can participate irrespective of whether or not they have disabilities.
*

A society in which the existence of each and every individual is valued, regardless of race, gender, nationality, social status or disability.
In charge of reporting are members of the Working Group* formed by The Nippon Foundation to accelerate the social participation of persons with disabilities. In this Part 5 of the series, we introduce the initiatives of SoftBank Corp. (a new window opens), which is currently conducting joint research with The University of Tokyo Research Center for Advanced Science and Technology to determine the work environment required by persons who have difficulty working long hours in places like companies due to their disabilities, aiming for a society where everyone can plan an active role.
*

A group formed to research and formulate plans for specific issues.
For this article, we interviewed Ms. Kaori Ito of the Human Resources & General Affairs Unit of SoftBank Corp. ("SoftBank"), Ms. Midori Umehara and Ms. Akiko Miyamoto of the CSR Division, and Ms. Mitsue Sugai, also a staff member of the CSR Division who has a disability.
"Information Revolution – Happiness for everyone" Activities beyond the corporate philosophy
Yamada: I am Yuhei Yamada of The Nippon Foundation Working Group. First of all, I would like to say that when I looked at SoftBank's Recruitment Information (a new window opens), I was very impressed to see quite a few interview articles on staff members with disabilities. About how many persons with disabilities are working at SoftBank at present?
Ms. Ito: We have 387 employees with disabilities working at SoftBank (as of June 2020). As far as the breakdown goes, 37% of these have physical disabilities and 27% have hearing disabilities. There are also employees who have internal, visual or psychological disabilities.
SoftBank conducts business under its corporate philosophy: Information Revolution – Happiness for everyone. Our view is that any person who agrees with this principle and has the ability, it does not matter whether that person has a disability or not.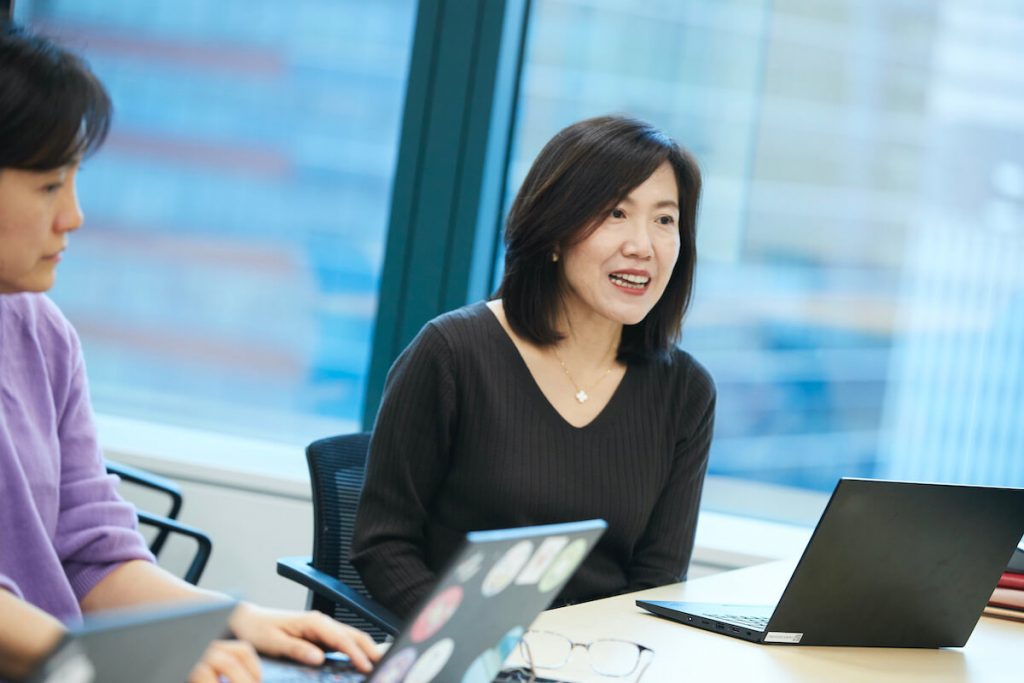 Yamada: I see. In addition to company's efforts in employment, I also understand that SoftBank engages in various initiatives for people with disabilities.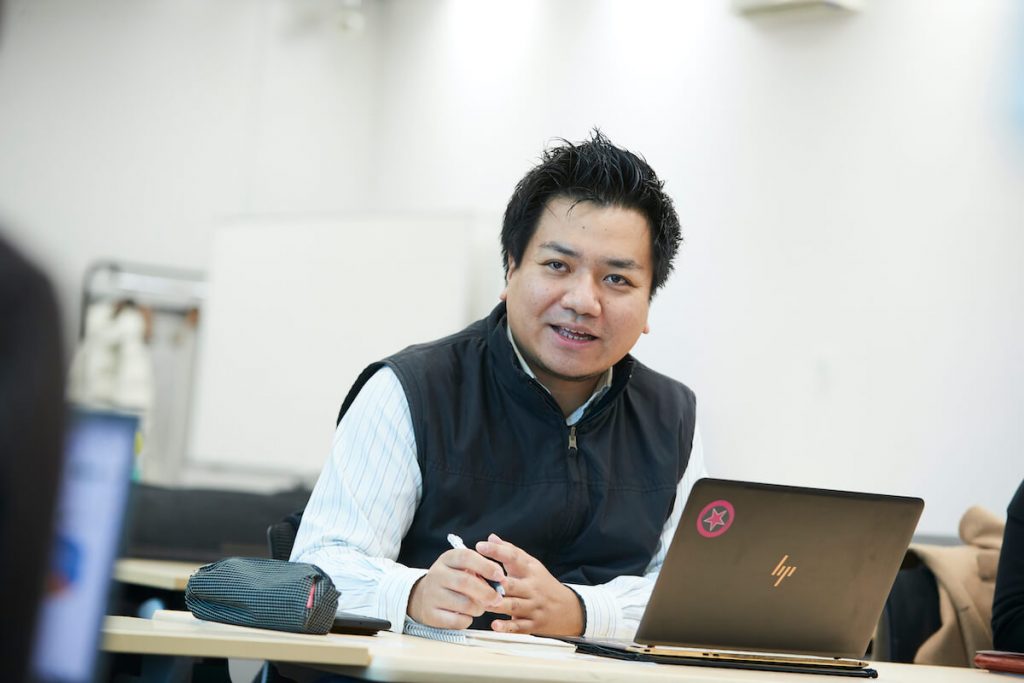 Ms. Umehara: As Ms. Ito mentioned a moment ago, our corporate philosophy is Information Revolution – Happiness for everyone. In line with this philosophy, we engage in various initiatives to create a society where any person can play an active role. One such initiative is the "The Magic Lamp Project" (a new window opens), a program for children with disabilities which we are conducting in cooperation with The University of Tokyo Research Center for Advanced Science and Technology.
The purpose of this program, which was launched in 2009, is to assist children with disabilities in their education and life in general using information and communications technology (ICT). For example, we provide mobile devices such as smartphones and tablets for student use in classrooms of special schools or special classrooms, and then verify their effectiveness. By collecting and publishing actual case studies where these devices compensate for the weakness of individuals and enhance their capabilities, we aim to broaden opportunities for learning and social participation of children with learning difficulties. To date, we have collected over 1,000 case studies.
As another service, we also offer apps free of charge. These include Sign Language Dictionary Through Games (a new window opens) for learning sign language intuitively and enjoyably through 3D animations, and Assist Guide (a new window opens) that enables children with problems to act on their own and demonstrate their true potential.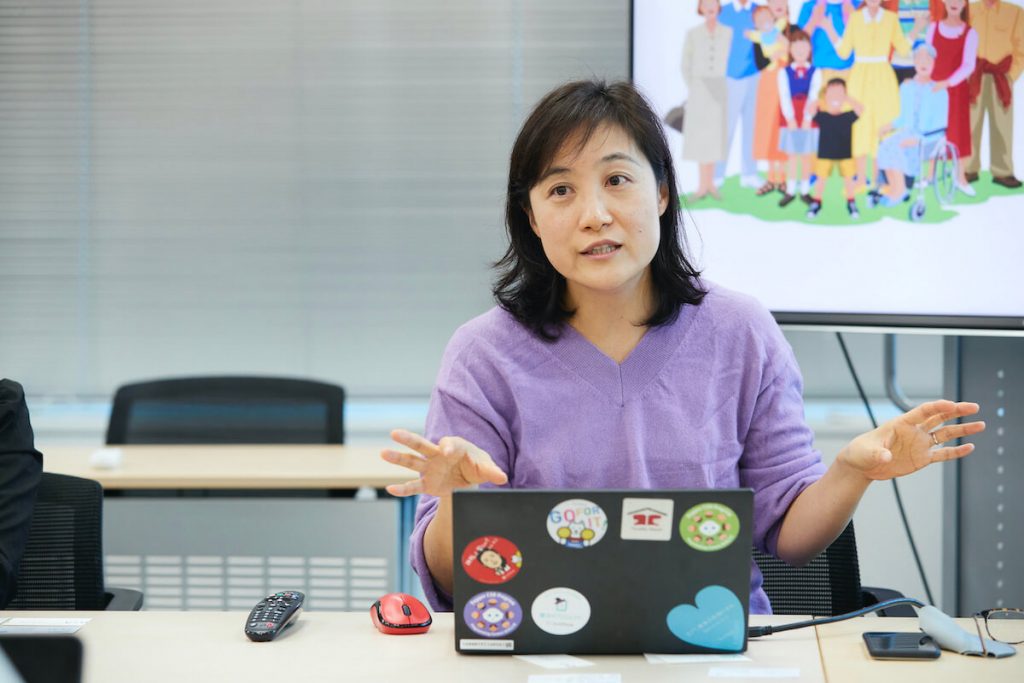 Ms. Umehara: I think children with disabilities encounter many barriers. We hope that we can somehow break down these barriers even a little.
A work program with ultra-short hours provides for diverse work options
Yamada: Can you also please tell us about the Short Time Work Program (a new window opens) your company has implemented?
Ms. Umehara: When children with disabilities become adults, they come up against a "work barrier." No matter how talented they may be, it is often hard for them to find jobs because their disabilities make it difficult for them to work long hours or engage in multi-tasking. Put another way, this may also be seen as a "Japanese membership-based employment barrier."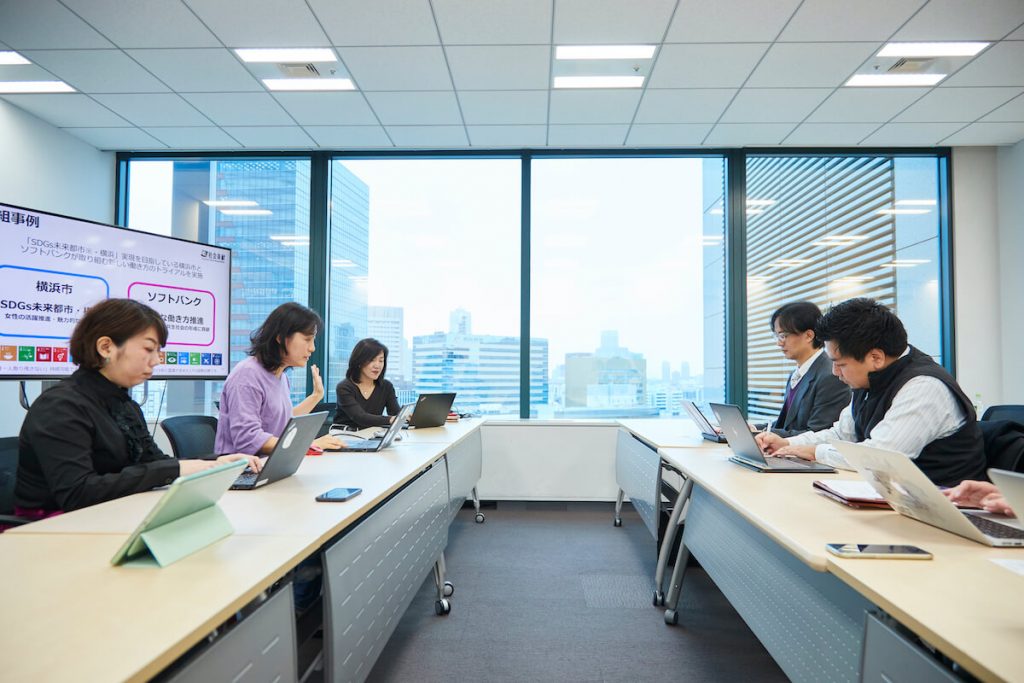 Yamada: What do you mean by that?
Ms. Umehara: The approach to employment of Japanese companies is based on the notion of "putting people to work." For example, it is customary for companies to assign full-time employees various tasks within the framework of the statutory working hours of 40 hours a week (30 hours for persons with disabilities). As a result, it is only natural for one employee to have multiple tasks. In addition, there is an entrenched view that it is difficult to participate in society unless you work at least a certain number of hours. There are also many people without disabilities who cannot work even if they have the ability, such as women after childbirth and the elderly.
The Short Time Work Program that we advocate is similar to the job-based employment system in Europe and the United States that matches jobs to people."
We believe the following four viewpoints are important in implementing the Short Time Work Program
Work duties are clearly defined, and people are hired to perform that work.
Performance of the work can be based on short working hours.
It is important to be flexible in dealing with staff in matters other than essential work tasks. (For example, even if the person fails to greet others, it does no matter so long as the person can perform the work.)
People with diverse traits can work together.
Izutsu: I am Takashi Izutsu of The Nippon Foundation's Working Group. The Short Time Work Program is certainly a very interesting work approach, so much so that it may overturn what was considered common sense in the past. How many people are actually using the program?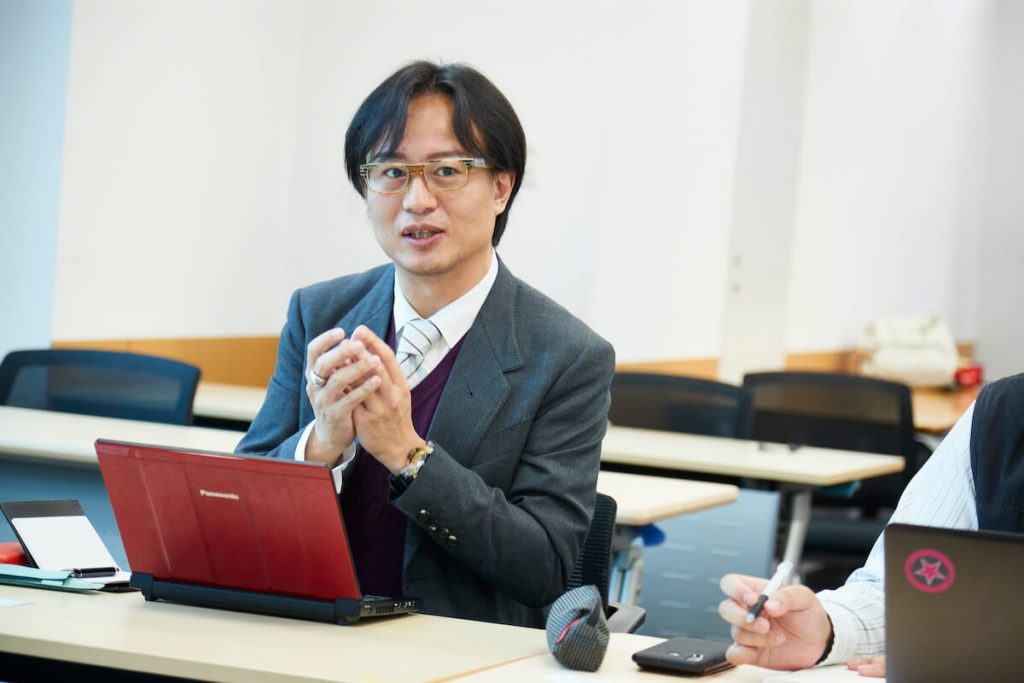 Ms. Umehara: So far, more than 40 people in total have been employed under the program, and at present 17 people are working under this Short Time Work Program. Employees in the program work from about one to four days, and from 4 to 7.5 hours a week. Having these employees work alongside regular employees has also created an awareness within the company that "even if there are various limitations, we all can work together."
Yamada: Please tell us if there are any other aspects that SoftBank values.
Ms. Umehara: That would be the creation of a "win-win-win" model that has merits for the three parties – "people with disabilities," "business" and "society." We believe that building a system that benefits everyone, not just certain individuals, will lead to the broadening and continuity of employment of persons with disabilities.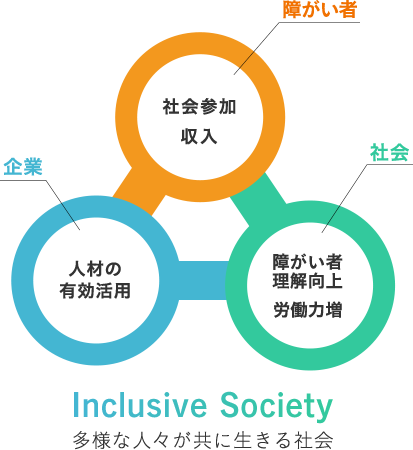 As a company, SoftBank has also reaped many benefits from implementing the Short Time Work Program. The program allowed us to review work at the company, to initiate work that we had been unable to start previously, and also allowed regular employees to concentrate on core work.
Creating a society where everyone can take up various challenges
Yamada: I would now like to speak to Ms. Sugai, who actually works at SoftBank and has a disability.
Ms. Sugai: In August 2019, I joined the company to work for one day a week. At present, I work two days a week, from 10:00 to 16:00. My job is to write articles for our intranet* and distribute our e-magazine.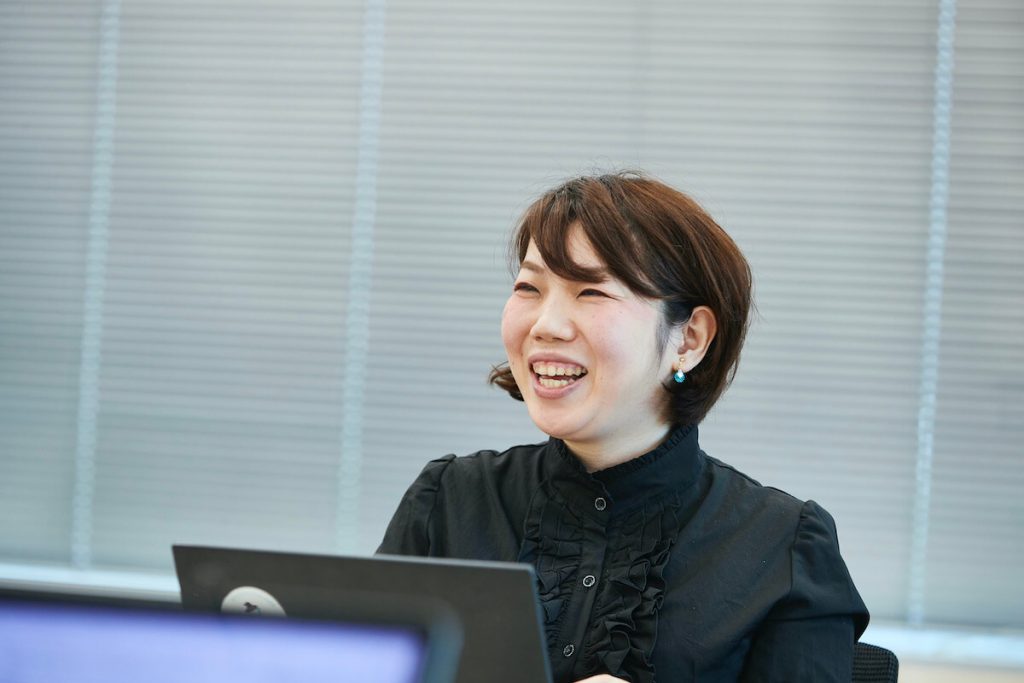 Yamada: What aspects of your work do you find rewarding?
Ms. Sugai: I suppose it's the feeling I get when people respond to my articles. It makes me feel very happy that I wrote them.
Yamada: I imagine there are also times when work may be difficult due to your disability. How do you cope at such times?
Ms. Sugai: I suffer from depression, and when I think too much about something, I sometimes get depressed. At such times, my workplace responds flexibly and allows me to take time off.
I am also very thankful that my supervisor and other colleagues understand disabilities. Senior staff often reach out to me by asking how I am doing, and may even offer me some sweets. I can work in an environment where I can relax.
Yamada: You certainly give the impression that you have an enjoyable workplace environment. Thank you very much. As a final question, please tell us about SoftBank's vision of the future you are aiming for.
Ms. Umehara: We are approaching the time when human life expectancy will be 100 years. I would like to create a world where each and every one of us can make the best use of our strengths and cross over from one company to another. I believe creating multiple job dependencies will make living easier for all people and I believe this is important for all people, whether or not they have a disability.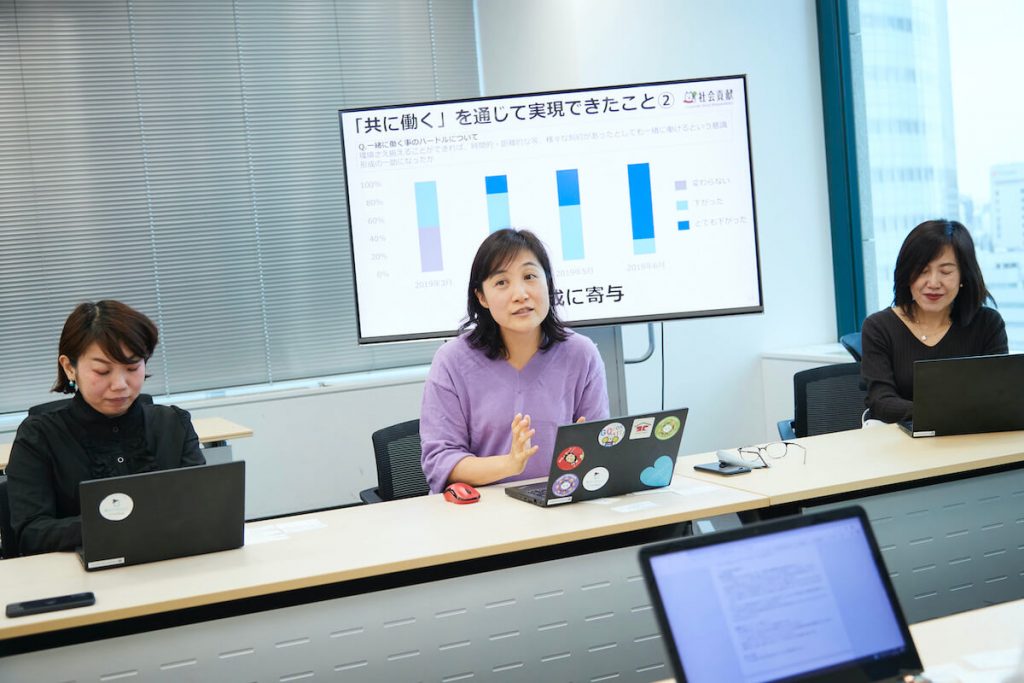 Toward that end, we are currently focusing on arranging the Short Time Work Program as telework and creating models that transcend the notion of "with or without disabilities." Recently we cooperated with the city of Yokohama and a number of companies based in Yokohama, which are making efforts to promote the active participation of women in society, in a demonstration experiment on short-hours employment (a new window opens) for mothers who are still raising children or who find working full-time difficult. We interviewed the women who participated in the experiment and the feedback we received indicated that the employment opportunities they had through the experiment forged connections in society for many of them. Some employers even remarked that the women provided skills beyond their expectations and were a great help.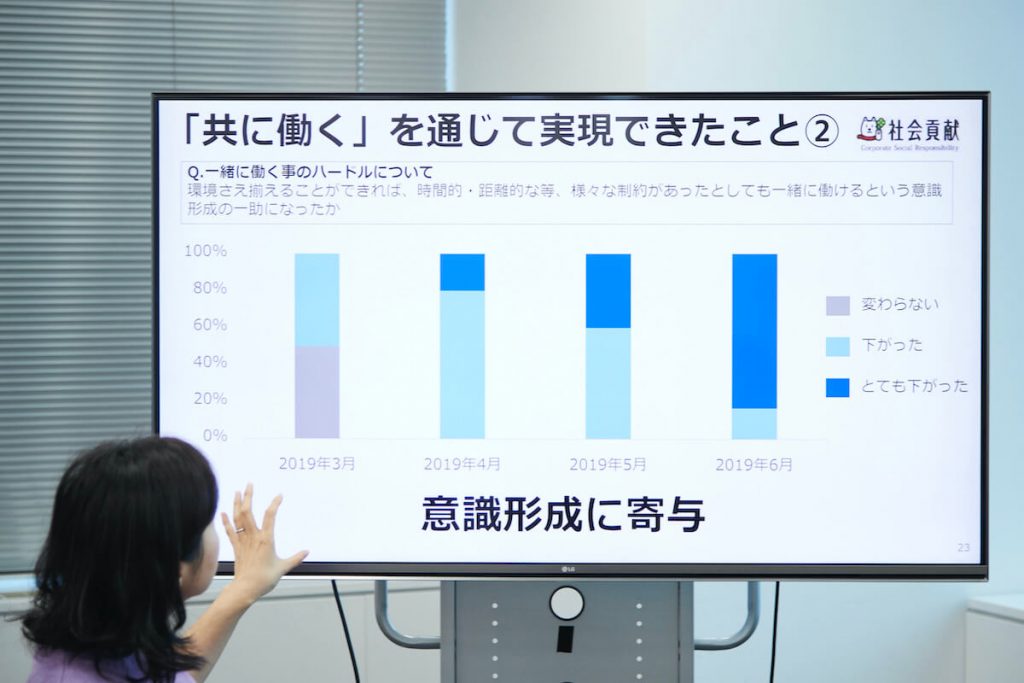 By creating case studies in this way and preparing a manual that any company will be capable of using, we hope we can be of support to many people who have problems in social participation.
In addition, to create a society where everyone can play an active role in their own way, we are also focusing on a Short Time Work Alliance (opens a new window) to widely promote the Short Time Work Program in cooperation with companies and local governments all over Japan. As of the end of December 2020, there were 194 companies that agreed on this program and have implemented it.
We sincerely hope that we can realize a society where all individuals can effectively use their attributes to work without constraints of time or disabilities, and to take on various challenges.
Yamada: That is an important approach that will lead to diversity inclusion advocated by The Valuable 500. Thank you very much for your participation today.
Photo: Eizaburo Togawa