【TNF Journal】Business's New Relationship with Disabilities (Part 9)"Discovering Each Individual's Strengths" Through Corporate Cooperation
Sumitomo Life's New Approach to Work Support through Cross-sectoral Cooperation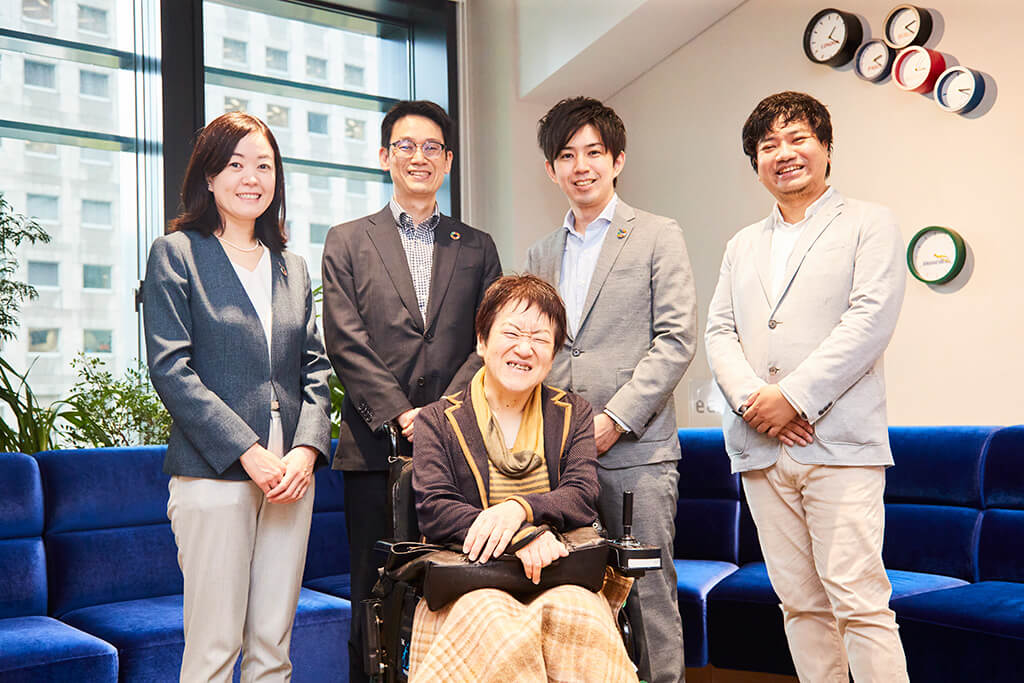 Key Points in this Article
There are various complex issues surrounding work for people with disabilities, and it is difficult for any one company or organization to resolve these on its own
Sumitomo Life has been focusing on creating a new model for work support in cooperation with local companies in Singapore
Cooperation in top-down and bottom-up efforts is vital in connecting the employment of people with disabilities to corporate growth
Reporting: The Nippon Foundation Journal Editing Department
In this series, we take a close look at the employment of people with disabilities at companies and the development of products and services for people with disabilities and introduce some outstanding initiatives. We would like our readers to join us in considering what kind of viewpoints and ideas are necessary for creating an inclusive society* where everyone can participate irrespective of whether or not they have disabilities.
*

A society in which the existence of each and every individual is valued, regardless of race, gender, nationality, social status or disability.
In charge of reporting are members of the Working Group(*1) formed by The Nippon Foundation to accelerate the social participation of persons with disabilities.
This Part 9 of the series takes a look at initiatives of Sumitomo Life Insurance Company (a new window opens) ("Sumitomo Life") where employees with disabilities are working at its special subsidiary (*2), headquarters, and local branches. Sumitomo Life is also working to promote diversity in the workplace through the active recruitment of women and the aged. We will introduce the activities of "TomoWork" (a new window opens), a project Sumitomo Life launched in Singapore in September 2019 to create a new employment model for persons with disabilities.
*1

A group formed to research and formulate plans for specific issues.

*2

A company established to promote employment and job security of people with disabilities.
On this occasion, we interviewed Mr. Makito Momota, Ms. Masako Yanagiya and Mr. Kazuki Edakawa of the Digital Innovation Promotion Office of the Information Systems Department.
Tackling work issues of persons with disabilities beyond organizational frameworks
Okuhira: I am Masako Okuhira from The Nippon Foundation Working Group. First of all, please tell us how the idea for launching TomoWork came about.
Mr. Momota: The Digital Innovation Promotion Office where we work not only looks after insurance but also, as part of our mission, looks for solutions to social issues through open innovation* in areas related to insurance such as nursing care, dementia and employment of people with disabilities. As you can imagine, all of these social issues are complex, and cannot be solved by any one company or organization.
*

Adoption of the knowledge and technology of other organizations and institutions other than one's own to develop innovative products, services and business models and to increase market opportunities.
The idea for our project was conceived in 2019 when we were participating in an innovation program held in Singapore. At that time, we launched TomoWork with the aim of solving work-related problems of persons with disabilities together with our local partners.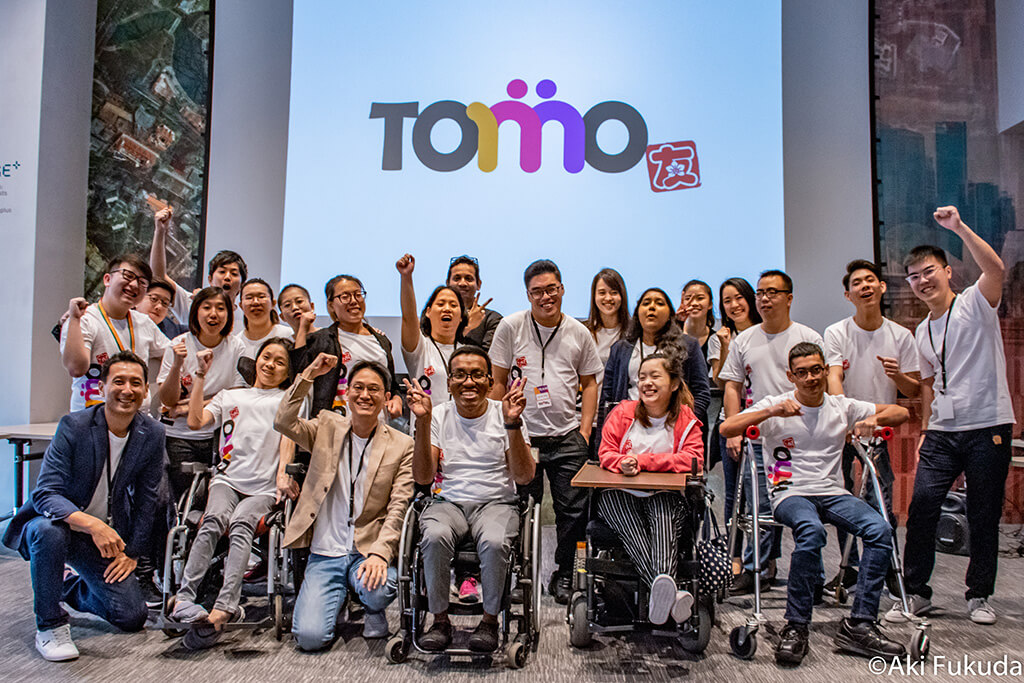 Our local partners suggested we name the project TomoWork. "Tomo" means "friend" and at the same time "together, " as in working together. We were quite impressed that our partners had come up with this name by researching the Japanese.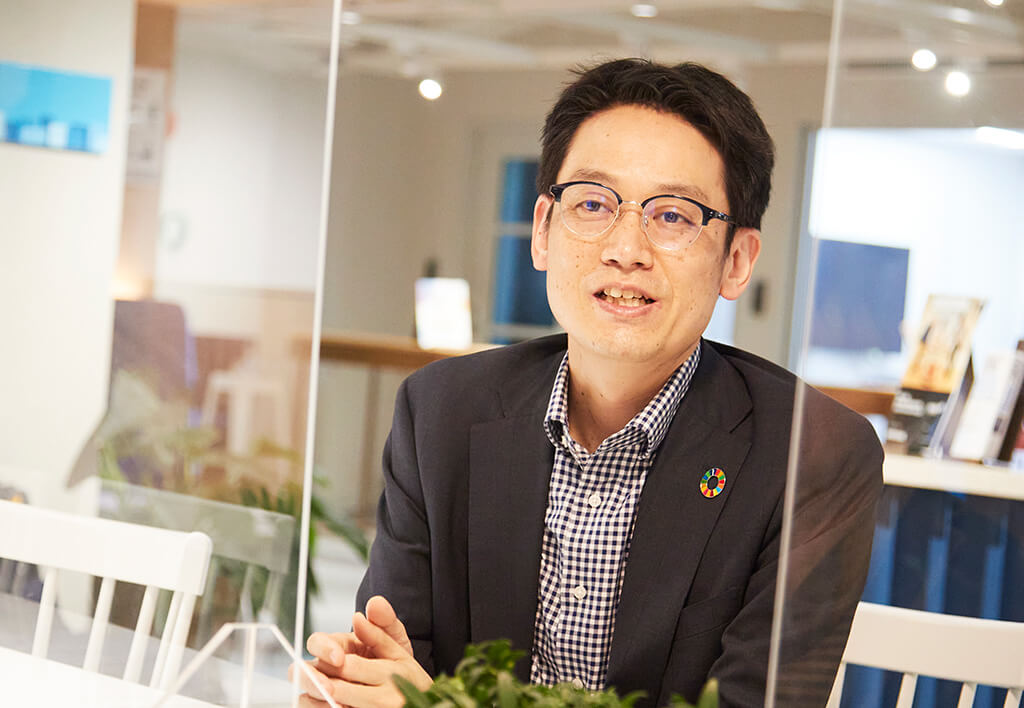 Okuhira: Considering the various social issues in society today, what made you decide to take up work support for people with disabilities?
Mr. Momota: In the course of dealing with various life insurance products, I became aware that there are certain problems that insurance on its own cannot solve. As an insurance company, we pay an insurance benefit if you or a member of your family happen to be in an accident, for example. However, a major issue for those who have to live with a disability is how they will rejoin society. By providing solutions to that issue, I felt that we could be more supportive of families.
In addition, as someone with a child who has a congenital visual impairment, I feel I may be somewhat more familiar with employment problems of people with disabilities.
Okuhira: I see. So why did you decide on Singapore as the place for the project?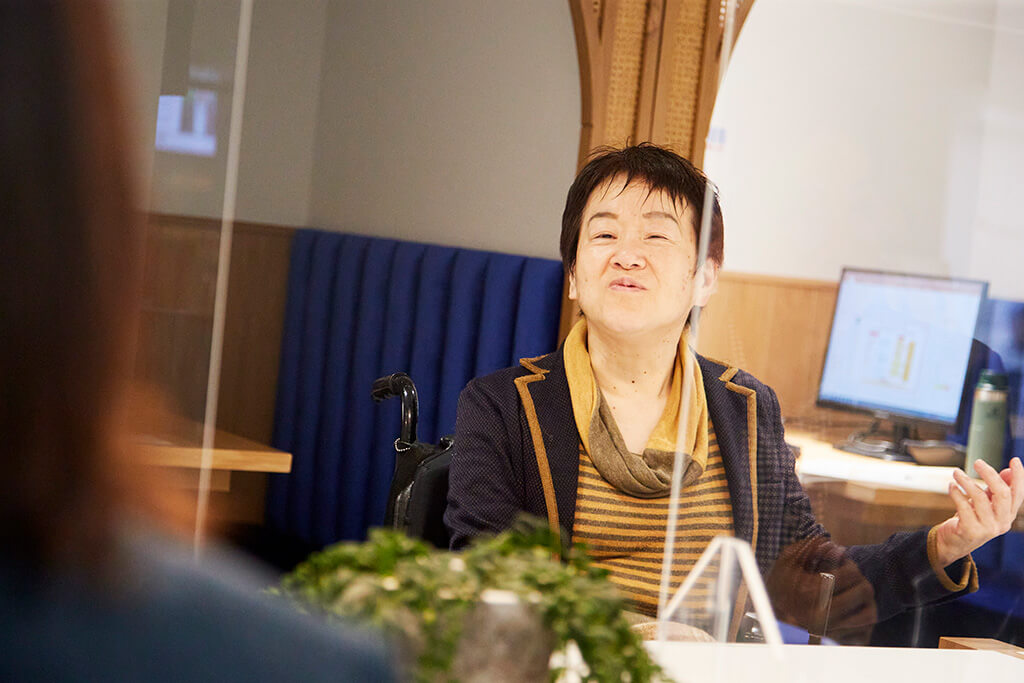 Mr. Momota: The direct catalyst was our participation in the Singapore Innovation Program which the Digital Business Innovation Center (DBIC) organizes. Sumitomo Life is a member of the DBIC. Participating in that program made us keenly aware that Singapore is indeed a country of innovation. Its investment in startups is more than twice that of Japan, and for two consecutive years Singapore has ranked No. 1 in the IMD World Competitiveness Ranking which the leading Swiss business school IMD releases. While Singapore is a small country with no resources, I feel that it places importance on developing human resources and generating innovation. It also has a high level of business agility.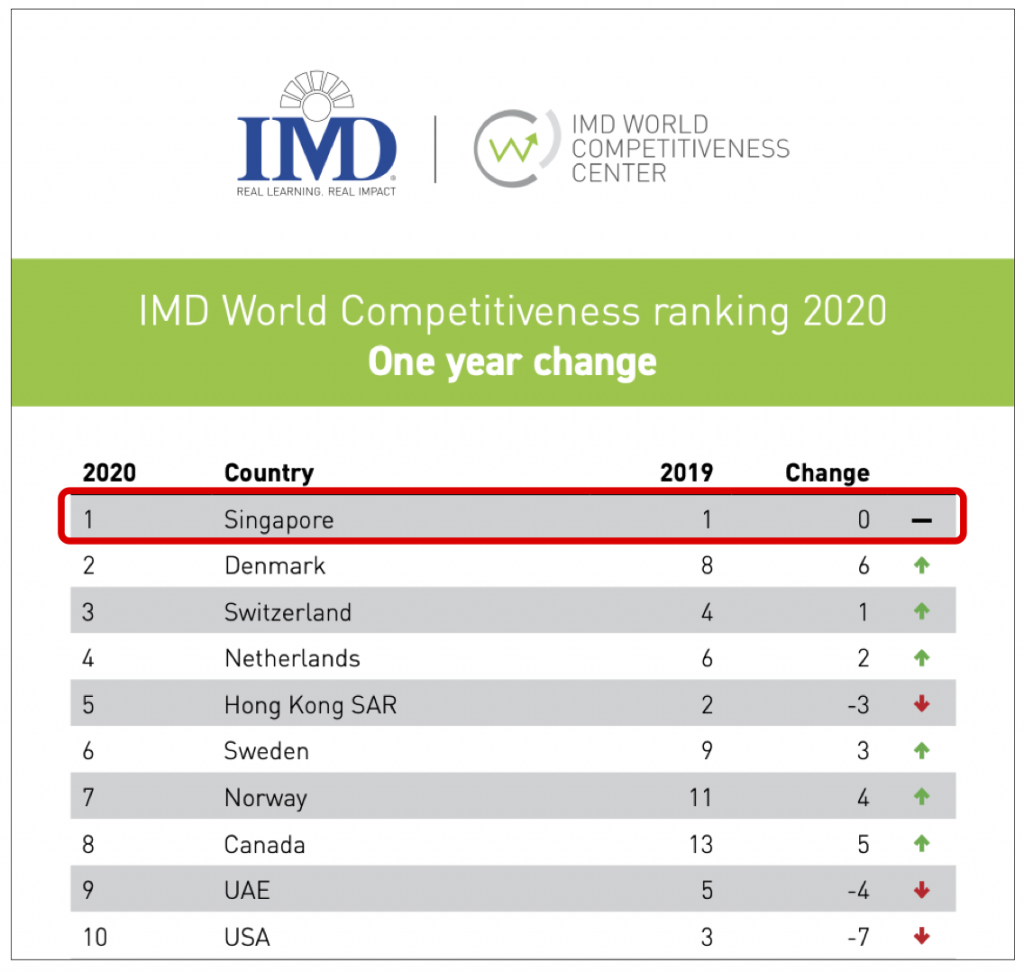 Okuhira: Please tell us about Singapore's support measures for people with disabilities.
Mr. Momota: Although Singapore is a city state that grew rapidly from the 1970s onward, income inequality and class divide are major social issues. The government is making efforts to address this disparity, and in terms of initiatives for people with disabilities, the President himself has been promoting innovation in working arrangements for people with disabilities while creating funds and awards to support people with disabilities.
Unlike Japan, there is no statutory employment rate in Singapore, nor are there mechanisms such as the Physical Disability Certificate, so the welfare system for the people with disabilities is quite different from Japan. For this very reason, however, it can also be said in a positive way that people with disabilities are very eager for support programs. Many have a desire to work and actively acquire skills, and the people with disabilities who took part in TomoWork achieved surprising results.
Discovering every individual's strengths. Five persons were employed after the initial trial
Okuhira: What kind of initiatives does TomoWork actually engage in?
Mr. Momota: Our objective was to create an employment model for people with disabilities, so in September 2019 we teamed up with a number of local partner companies and individuals with disabilities, and we conducted a trial for two weeks. We called this part of the project Phase 1.
At that time, we set three themes – skills development, place, and work approaches. In "skills development," we did a presentation for the participating companies through co-creation activities with persons with disabilities. For "place," we organized ideas about working space arrangements for persons with disabilities. For "approaches to work," we outlined ideas for an information platform necessary for determining the suitability of people with disabilities and matching them with job offers.
We had 15 persons with disabilities participating in the project, and although some did not feel confident in the beginning, they gained confidence through the program and ultimately succeeded in demonstrating their best performance. As a result, we were able to achieve surprising results, with five out of 15 persons finding employment. This experience led to the Acceleration Program,* which has become the backbone of our present initiative.
*

A program targeting venture companies and SMEs to grow business in a short period. Through various methods including regular interviews with mentors, which are referred to as accelerators in the program, verification and detailed examination of businesses are conducted.
Next, in Phase 2, which started in January 2020, we concentrated on an acceleration program where we conducted a joint project with multinational companies, and we also created a mockup of the information platform we outlined in Phase 1 to realize employment for persons with disabilities.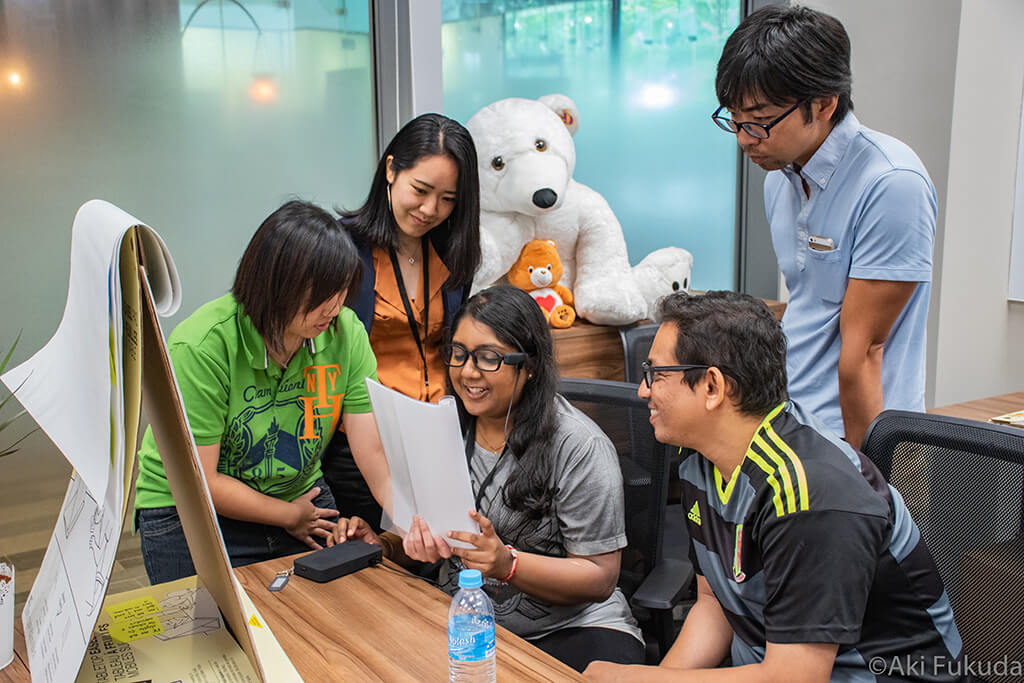 Okuhira: What kind of operational framework does TomoWork have?
Mr. Momota: Three of the people from the Digital Innovation Promotion Office where I work serve as coordinators. Furthermore, during each phase, we have been recruiting partner companies locally, and government agencies, institutions of higher education and NPOs introduce persons with disabilities to take part in the program.
Okuhira: What kind of changes have you seen in persons who take part in these programs?
Mr. Edakawa: A participant from our phase 2, for example, had excellent analytical skills, but he also wanted to develop his empathy skills.
Through the project, he learned to communicate better with his project members and offer extra support when his team members needed more help. I was delighted to see him show empathy and take a more proactive role in the team.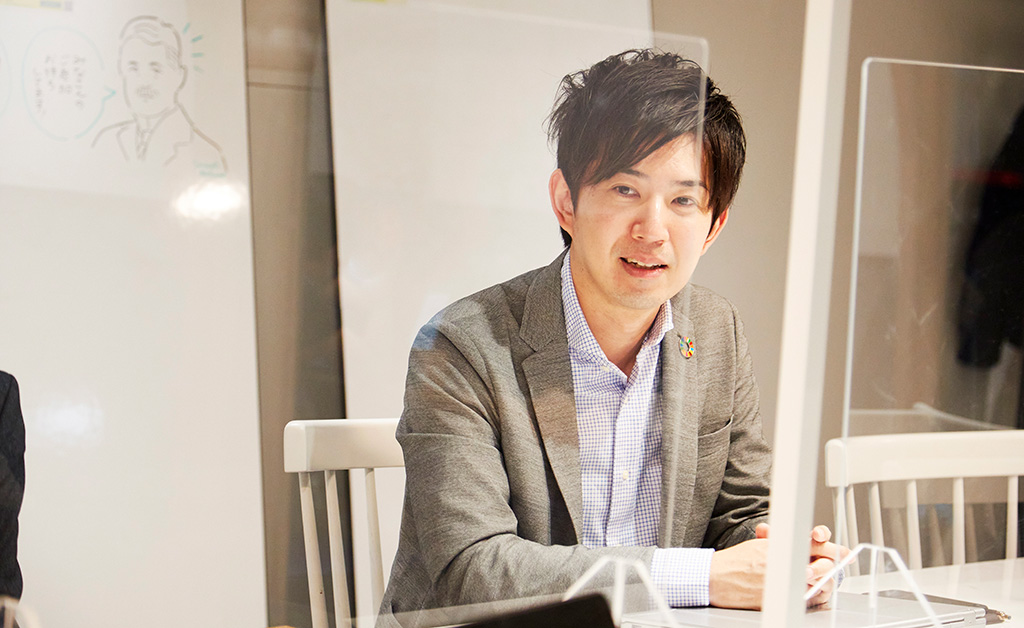 Yamada: I am Yuhei Yamada of The Nippon Foundation Working Group. Has initiating such efforts to support employment for persons with disabilities had a favorable impact on Sumitomo Life?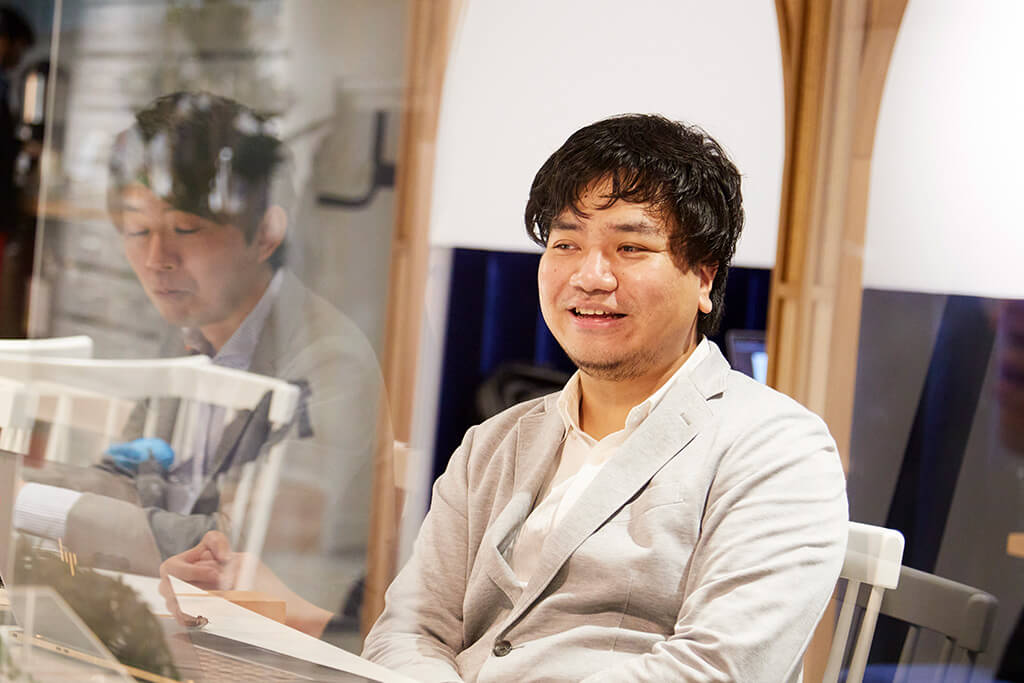 Mr. Momota: In the past year and a half since I first presented a report on results of initiatives in Singapore, I feel that with our ongoing perseverance and efforts, the number of supporters has increased and their understanding of this project has deepened. I also feel that trends in society are changing, and that in the world we live in today companies are being asked to pursue not only economic value but also social value.
Yamada: Conversely, do you feel that you and your colleagues have changed as a result of your involvement in TomoWork?
Mr. Edakawa: Definitely. My viewpoint of providing support to persons with disabilities disappeared in the course of the project and was replaced with a viewpoint of people pooling their respective strengths to support each other, irrespective of whether or not they have disabilities.
I had not previously been in the company of people with disabilities and I initially acted very aloof without even realizing it. I am not very good at expressing myself in English but participants in the program who understood this came to my rescue and helped me rephrase what I wanted to say. On the other hand, I was able to help people who were competent at analyzing but did not know how to use Excel. Helping each other in this manner, we were all able to demonstrate our respective strengths, the partner companies were quite satisfied, and our efforts resulted in favorable outcomes.
Ms. Yanagiya: Through this experience, I realized that collaborating with people outside the company and bringing together little by little what each individual was capable of could achieve tremendous results. My work for a long time has mainly been with people inside the company, so this was a very valuable experience for me.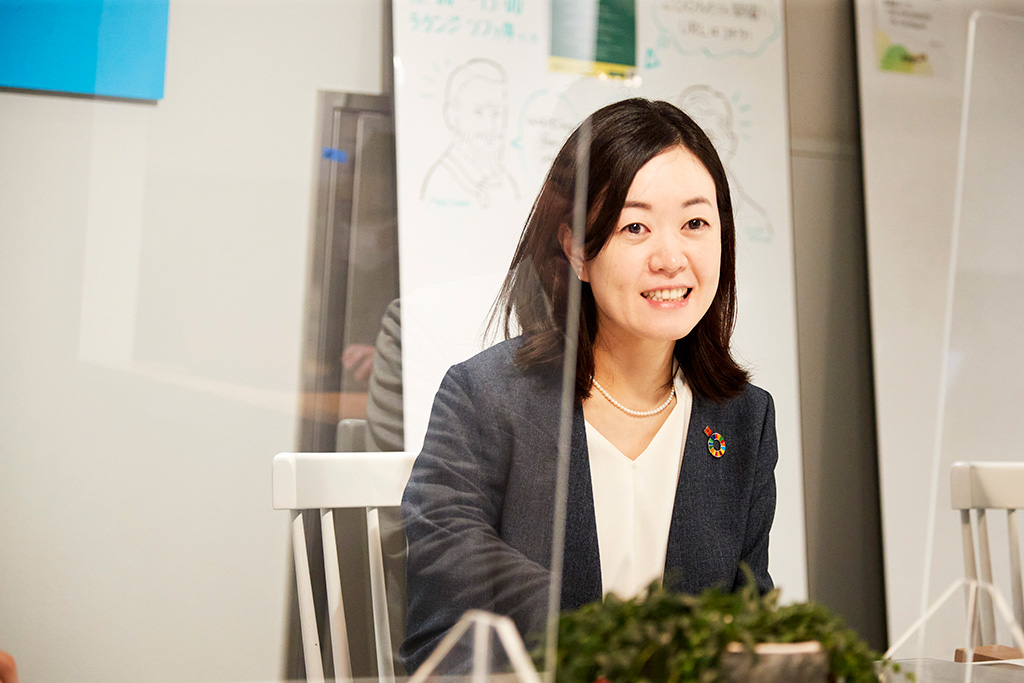 Both top-down and bottom-up efforts are vital in the employment of people with disabilities
Okuhira: Please tell us your ideas for the future development of TomoWork.
Mr. Momota: In March 2021, we will be launching a new program (Phase 3) for young persons with disabilities around the age of 20 who are expected to graduate or who are graduates of an institute of higher learning. After conducting various interviews and engaging in frequent dialogues, we found that each player has a unique role in building a supportive ecosystem. At the same time, we felt there was an opportunity for us to bring many partiers together. Therefore, we positioned TomoWork to be an action-oriented unit that can bridge various gaps.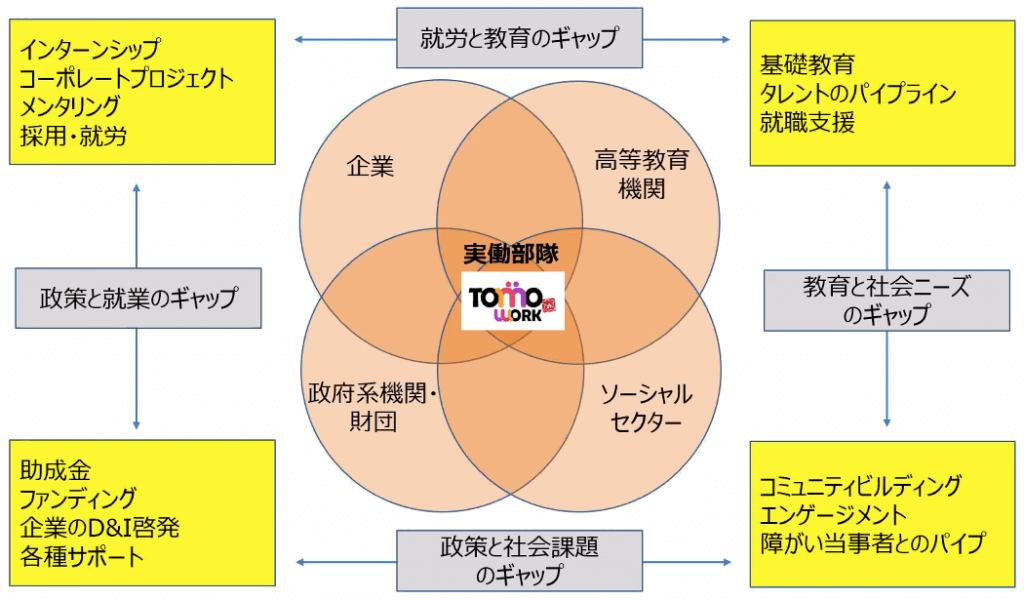 Mr. Momota: With about 20 local partner companies participating, we will also direct our efforts to a program for polishing soft skills* from Phase 3 onwards. We plan to start by defining what work actually is, and to conduct assessments that incorporate psychology into self-analysis of the ways we should improve ourselves. Furthermore, the next phase will be an initiative where our partner companies will provide practical projects, and mentors of persons with disabilities will accompany them. We are eager to achieve positive outcomes that we could also take back to Japan.
*

Qualitative skills that cannot be expressed in numbers such as communication skills, cooperation, self-motivation, and leadership.
Okuhira: In September 2020, Sumitomo Life signed on to "The Valuable 500" (a new window opens), the global movement promoting the social participation of persons with disabilities in companies, but has it had some positive impact on the company?
Mr. Momota: Yes, indeed. We have seen a huge change. Through The Valuable 500, Sumitomo Life has made a commitment to "creating a new employment model for persons with disabilities." With promises to contribute to the SDGs in our medium-term management plan, this commitment has further facilitated matters and serves as a foundation for our project team. Many of our partners are also members of The Valuable 500. This makes it easier to enlist their cooperation.
Yamada: I believe that in the future more companies will make efforts to employ people with disabilities. Can you give some advice to other companies on where the best place to start is?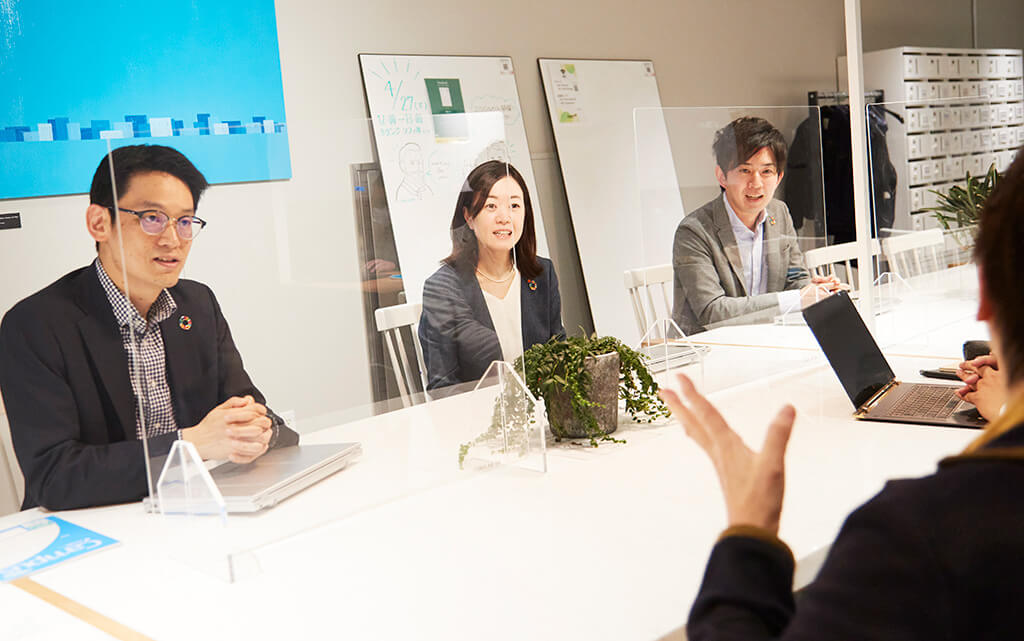 Mr. Momota: I believe taking action in top-down and bottom-up cooperation is extremely vital. The Valuable 500 is a good example of top-down. It serves as a statement that world-renowned global leaders take the social participation of people with disabilities seriously. In terms of bottom up, we will focus on the strengths of people with disabilities and accumulate results. At present, there are consumers in the world with various needs, and I believe people with disabilities are among these. In terms of grasping such needs, I feel that the number of global companies that consider diversity and inclusiveness as drivers of innovation is steadily increasing.
Okuhira: Finally, please tell us your future goals.
Mr. Momota: I think it is extremely important that people with disabilities are not left behind by society but can work and participate in society, making the most of their strengths. I think that if there is a growing trend in people shifting from being supported by taxes to actively paying taxes, that will also have a significant impact on society. Above all, I would like to contribute to creating a society in which everyone can work and live with a sense of satisfaction with or without disabilities.
Okuhira: We would be very happy to cooperate with you in some way. Thank you very much for your participation today.