【TNF Journal】Business's New Relationship with Disabilities (Part 11)Working Alongside People with Disabilities is Only Natural
The Asahi Shimbun Company's Initiatives in Creating an Inclusive Organization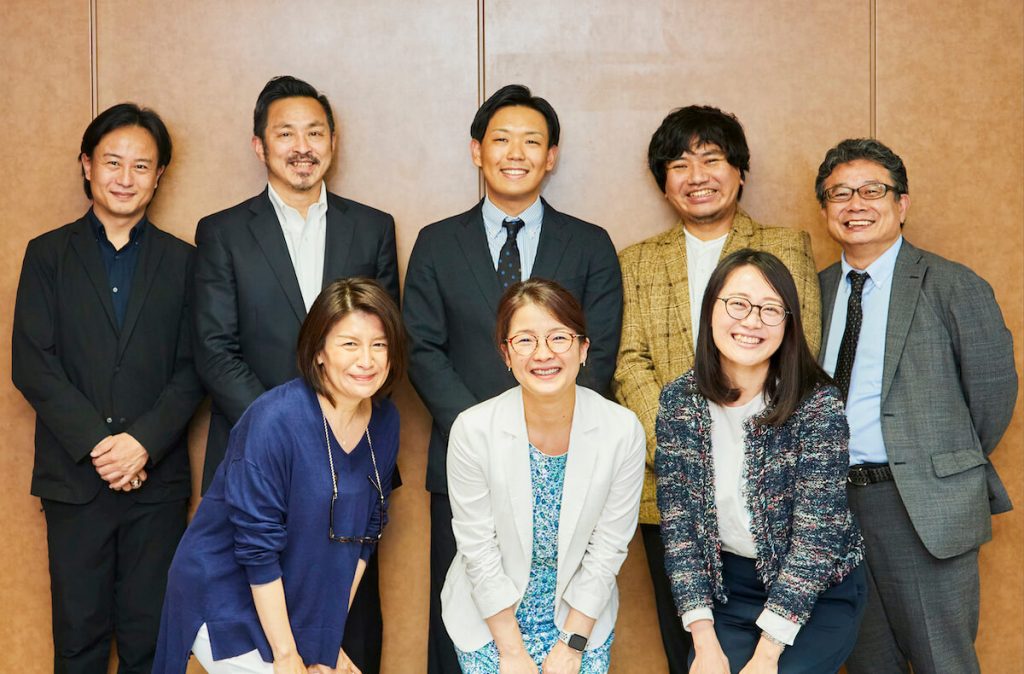 Key Points in this Article
As progress continues in the employment of persons with disabilities, Asahi Shimbun wants to reform work styles to provide opportunities for persons with disabilities to play an active role in media coverage as reporters
Asahi Shimbun aims to create an organization where all employees mutually apply their respective resources to cover each other's inabilities to achieve a workplace where everyone can fully participate
Media organizations of today need to be seen as organizations where persons with disabilities work alongside persons without disabilities at all times
Reporting: The Nippon Foundation Journal Editing Department
Taking a close look at the employment of people with disabilities at companies and the development of products and services for people with disabilities, we introduce some outstanding initiatives in this series. We would like our readers to join us in considering what kind of viewpoints and ideas are necessary for creating an inclusive society* where everyone can participate irrespective of whether or not they have disabilities.
*

A society in which the existence of each and every individual is valued, regardless of race, gender, nationality, social status or disability.
Members of the Working Group,*1 formed by the Nippon Foundation to accelerate the social participation of persons with disabilities, conducted the interviews. Here we introduce initiatives of the Asahi Shimbun (a new window opens), which has been at the forefront of promoting diversity and inclusion*2 in the workplace ahead of other newspaper companies under its corporate philosophy "thinking together and creating together."
*1

A group formed to research and promote plans for specific issues.

*2

Creating a society where everyone can play an active role by respecting and acknowledging diversity of race, gender, age, and the presence or absence of disabilities
For this article, we interviewed Mr. Katsu Tsunoda (Managing Executive Director / Executive Editor), Ms. Erina Okawa (Personnel Department), and Mr. Hiroaki Mori (Olympics, Paralympics and Sports Projects Department), who is also Para-athlete in Nordic skiing.
*

Titles as of June 2021

*

There are plans to add a video with sign-language for this article at a later date.
A company where all people can apply their skills and talents regardless of disabilities
Yamada: I am Yuhei Yamada of the Nippon Foundation Working Group. How many people with disabilities currently work at Asahi Shimbun and what kind of work do they do?
Ms. Okawa: Approximately 90 of the company's 4,300 employees have disabilities. They are working in various departments such as the proofreading and design departments as well as the business and IT departments. However, the current situation is that few people apply for positions as reporters, probably because there is a strong perception that the work required of reporters is quite demanding.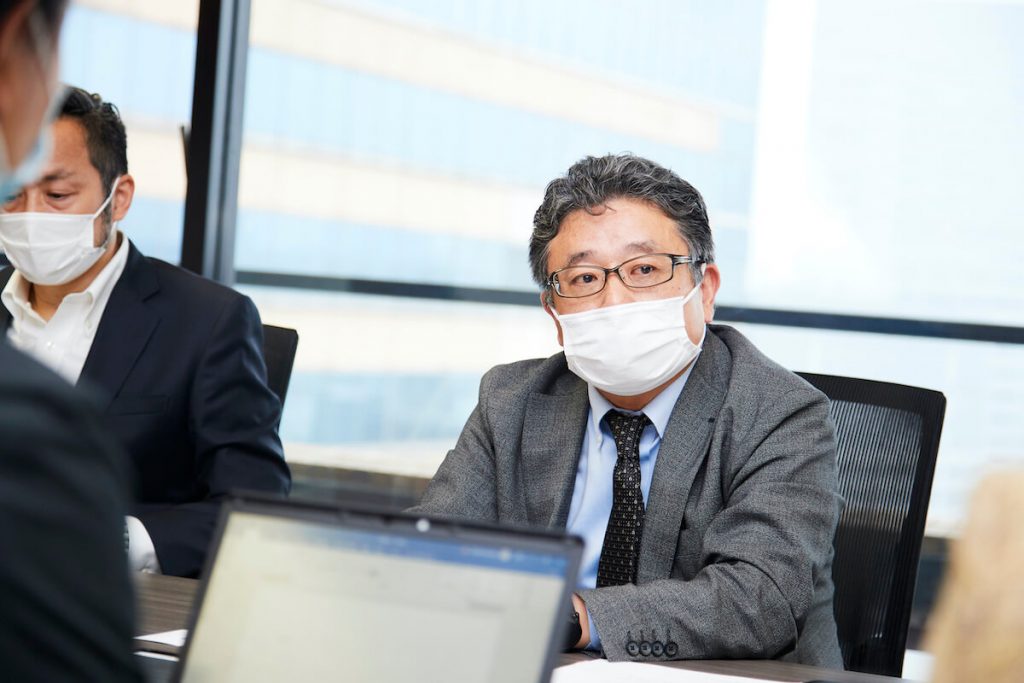 Mr. Tsunoda: Most persons hired as reporters are initially assigned to a regional bureau. Consequently, there was a period when persons with disabilities were not hired as reporters on the grounds that a car is necessary for reporting in regional areas or the office buildings where our local headquarters are located are old and lacking in universal design arrangements. In such cases, however, all that was necessary was to change the way of doing things, such as assigning work that did not require driving. I believe everything depends on people's ways of thinking.
There is some news that can be covered only from the viewpoint of people with disabilities. Therefore, our current policy is to actively recruit persons with disabilities as newspaper reporters.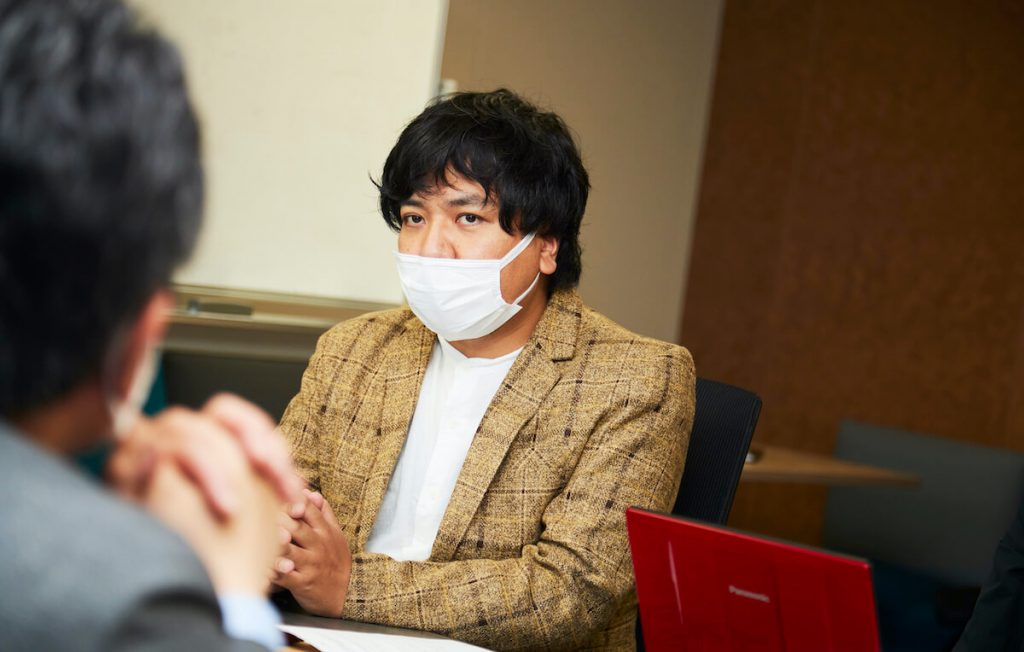 Ms. Okawa: The Asahi Shimbun Company is promoting work style reforms, and I believe working arrangements are changing from the traditional work style of newspaper reporters that everyone probably imagines. We want not only people with disabilities but also people with illnesses and people who are raising children or acting as family carers to continue working for as long as possible. Irrespective of various circumstances, we are trying to create an organization where everyone can fully participate in the workplace by having them mutually apply their respective resources to cover each other's inabilities.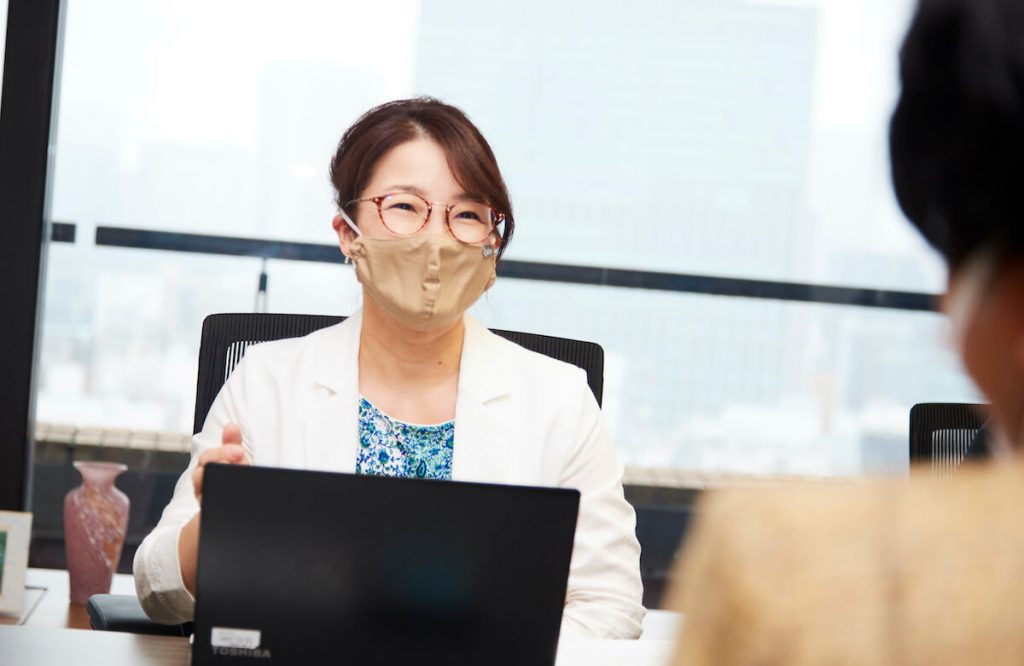 Yamada: The ideal viewpoint is not the one-sided perception of working together "for the sake of people with disabilities" but working together "for everyone's sake." I think there are people who develop psychological disorders such as depression and schizophrenia after starting work for various reasons. Even if people in those circumstances want to work, it may be rather difficult for them. In such cases, what kind of consideration is given?
Ms. Okawa: I think there are still some areas that require further consideration, but as for the employees with disabilities, we leave arrangements to the workplace but at the same time our HR Department provides attentive support.
Nevertheless, what we refer to as "disabilities" vary in degree from one person to the next. For example, just as people with the same hearing disability might have different hearing conditions, people's psychological disorders also vary in nature and degree, so while communicating diligently with the person concerned, we consider together the kind of support that is needed and how we can make work easier.
This is the case not only for people with disabilities. We are making efforts to create an environment where each and every employee can work comfortably while communicating with their supervisors so that they can continue working even if they have various circumstances.
It is also important for persons with disabilities to actively seek support
Yamada: I would now like to ask some questions to Mr. Mori, as a person with a disability who works for Asahi Shimbun. Mr. Mori, we understand that you joined Asahi Shimbun in 2019. How do you now feel after actually working as a staff member at Asahi Shimbun?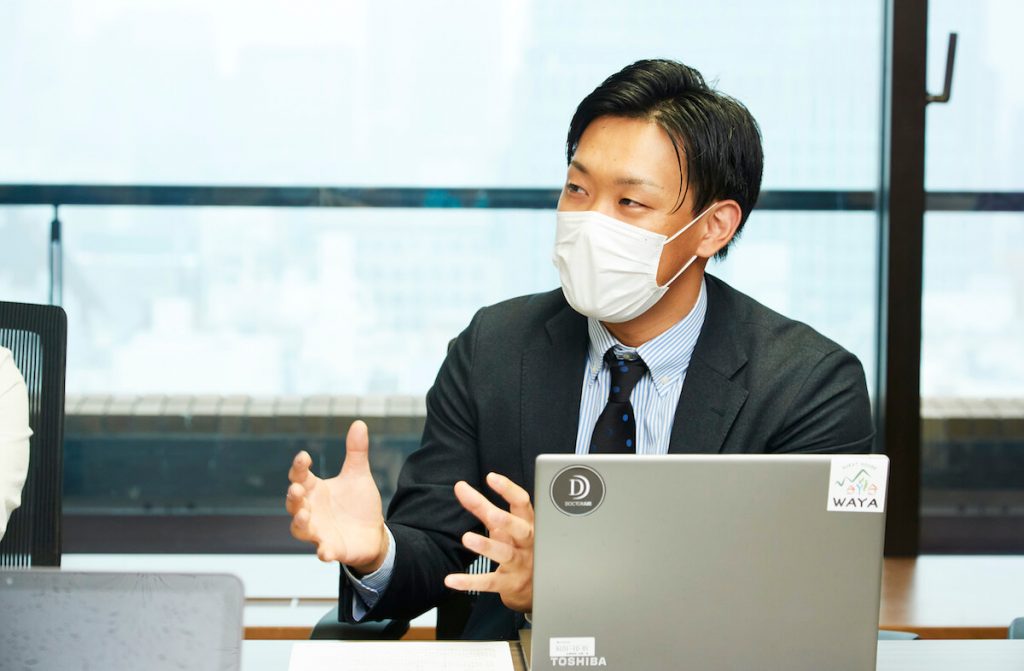 Mr. Mori: There is a clinic and health management office in the company, and there are plenty of elevators and lavatories for people with disabilities. We also have various support systems such as arrangements for going to the hospital during work hours, so it is a very comfortable workplace environment. There are also regular face-to-face talks with HR Department staff, and I can freely seek consultation even about matters I do not want others to know, so I feel it is a workplace with a comfortable and friendly atmosphere.
However, I do not think we should just depend on the company but also have an attitude of thinking rationally on our own. I was involved in a traffic accident when I was in high school, and now wear prosthetics below the knees of both my legs. Physically, I often require the support of others, and sometimes I feel unwell, so I understand the importance of communicating to others about how I feel.
Izutsu: I am Takashi Izutsu of the Nippon Foundation's Working Group. Mr. Mori, I understand that you are also a para-athlete. What kind of work do you do regularly?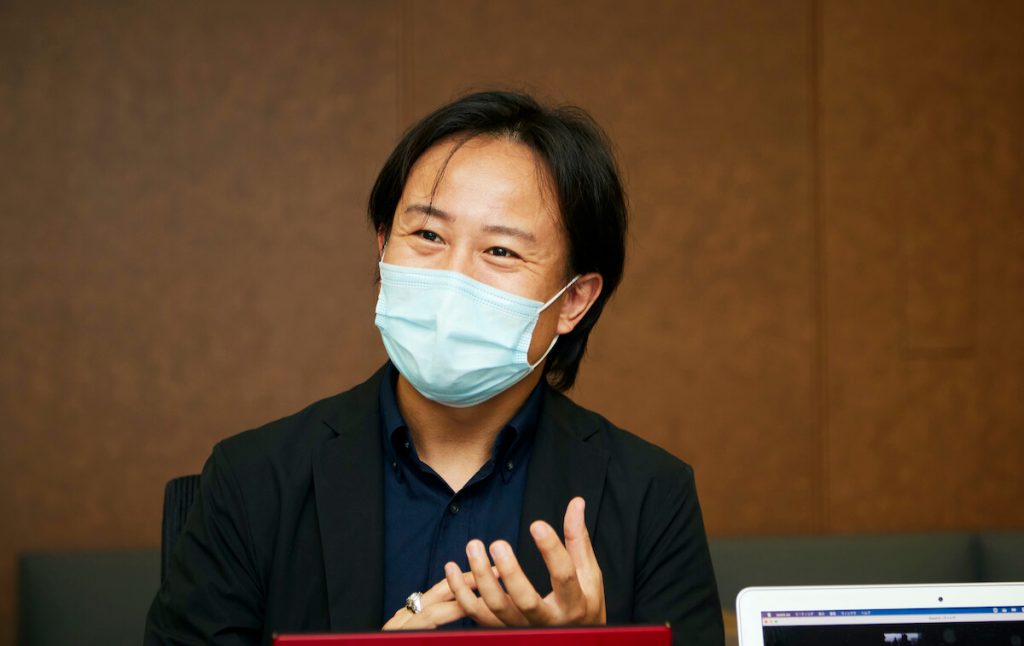 As a designated player for training of Para Nordic skiing, I am aiming to participate in the 2022 Winter Paralympics.
At work, I belong to the department responsible for the Tokyo 2020 Olympic and Paralympic Games as well as The Asahi Shimbun Company's sports strategy in the future. I feel that having a disability is one of my strengths at work. For example, when Asahi Shimbun holds a Para-sports symposium, I can come up with ideas from the perspective of the persons involved, and also using my personal connections, I sometimes ask Paralympic athletes to participate as panelists.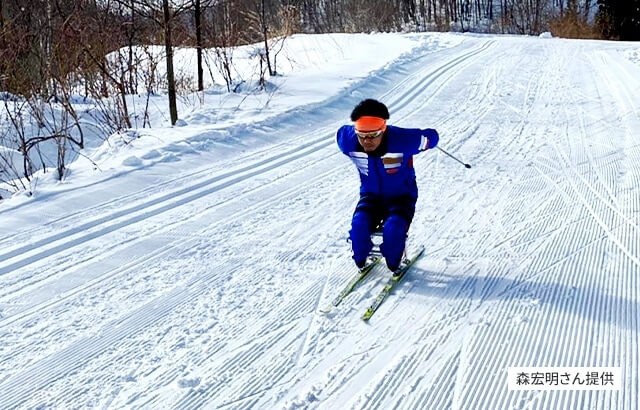 Yamada: Wow! That's fantastic. So, what do you think is necessary for other persons with disabilities to work enthusiastically like you?
Mr. Mori: I have now had a disability for the past eight years but every day I feel that it is important for me to convey to others the problems that I have. I'm not always sure how much to convey, but with the understanding that I am the only one who understands my pain and suffering, I realize that I cannot get others to do anything for me unless I communicate how I feel. My ideal is to maintain a neutral relationship where my disability is a matter of no concern. Therefore, rather than assuming my feelings will be understood by others even if I say nothing, I believe it is necessary for me to make a point of frankly communicating that I would like assistance.
Yamada: Communication is very important, isn't it? People with disabilities themselves sometimes have their own biases, I suppose. It is not good enough to simply tell others the name of your diagnosis and expect them to sympathize with you somehow. It is also necessary for people with disabilities to develop a certain amount of experience in explaining to others what kind of disabilities they have and what kind of consideration they require from others.
We want to widely communicate the image of people with disabilities working alongside people without disabilities
Yamada: In December 2020, The Asahi Shimbun Company joined "The Valuable 500" (a new window opens) , a global movement promoting the social participation of persons with disabilities in companies. Can you tell us more about this?
Mr. Tsunoda: I believe the role that we, as news media, can play in promoting the social participation of people with disabilities is to convey the importance of their participation more widely through the press. At the same time, in various interviews and news reports, we continue to question whether we ourselves are aware of the issues and are taking appropriate action.
Now, people with various disabilities are working at Asahi Shimbun. At first, people may find it difficult to communicate, but as working alongside each other becomes more and more commonplace, they open up and are able to talk to each other naturally. I feel that we are now at a time when media need to be seen as organizations where persons with disabilities work alongside persons without disabilities at all times.
On the occasion of our joining The Valuable 500, I would like to give momentum to the creation of companies and a society where all of us can work comfortably, irrespective of having or not having disabilities.
Yamada: I think it is really wonderful that people with disabilities are naturally a part of the workplace environment, and that this reality will become more widespread and a part of everyday life.
Photo: Eizaburo Togawa