The Nippon Foundation – Osaka University Infectious Disease Response Project

Plan announced to establish world-class center for general research on infectious diseases, with 23 billion yen to be provided over 10 years
At a joint press conference held on September 14, The Nippon Foundation and Osaka University announced The Nippon Foundation – Osaka University Infectious Disease Project to establish a center for general research on infectious diseases. The project is being launched to address the social issue of emerging infectious diseases as highlighted by the ongoing coronavirus pandemic.
The project will pursue open innovation with research institutions and the industrial sector in Japan and overseas, with the aim of protecting people's lives from the threat of future pandemics while at the same time maintaining social and economic activity. The Nippon Foundation plans to support the project by providing 23 billion yen to Osaka University over 10 years.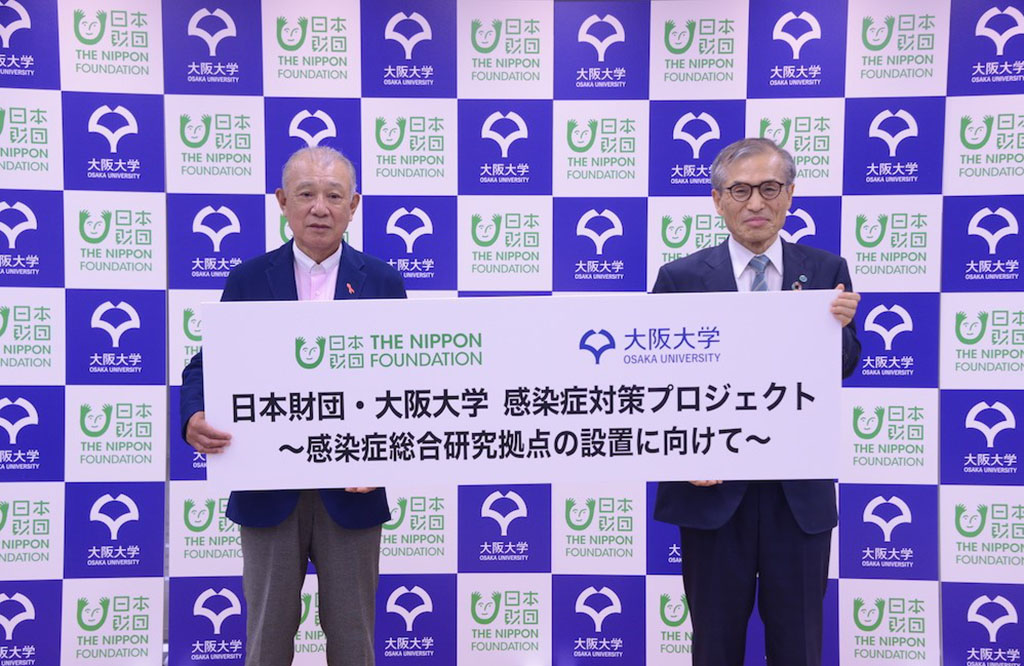 The coronavirus pandemic and spread of COVID-19 have shown a light on social issues including the maintenance of economic and social activity, the prevention and treatment of infectious disease, and preventing the collapse of the medical system. To address these issues, Osaka University will create a research center to function as an international hub that is also envisioned as conducting research from perspectives including social psychology and behavioral economics. The center's primary activities will be to establish an infectious disease research base, train medical human resources, and disseminate information and promote and enhance infectious disease literacy. The project will build on the research environment and medical human resource training environment of the Center for Infectious Disease Education and Research (CiDER), which Osaka University established in April 2021, with the aim of establishing a leading world-class research base.
Since the outbreak of the pandemic, The Nippon Foundation has been supporting coronavirus countermeasures in a variety of ways, including the establishment of medical facilities, emergency support for emergency medical facilities and medical practitioners, and free PCR testing for the staffs of facilities for older persons and providers of nursing care services. As an extension of those activities, this project is being launched in recognition of the need to address underlying issues from a long-term perspective.
Speakers' comments (partial)
Yohei Sasakawa, Chairman, The Nippon Foundation
With a national health insurance system and by other measures, Japan is relatively advanced globally in terms of its medical system. At the same time, however, the delayed response to the coronavirus pandemic has shaken people's sense of security.
Based on a guiding philosophy of "Being prepared for what may come," The Nippon Foundation has been supporting the coronavirus response in a variety of ways. New infectious diseases can be expected to emerge in the future, and strong platforms for basic science and basic medicine are very important for being able to respond at the most fundamental level. I believe that having a solid foundation will lead to advances in applied science and applied medicine.
Tekiju, an academy of medicine and natural sciences established by Koan Ogata, was the predecessor of Osaka University, and today Osaka University is engaged in superb research into infectious diseases. President Nishio had the idea of establishing a research center that would go beyond Osaka University and include universities and researchers from across Japan and around the world. We support this vision, and that is how we came to launch this project.
The center that this project will establish will be a "public" research institute that brings together researchers from around the world, who will work together in areas including behavioral economics and social psychology, in addition to basic medicine, and will pursue research to prepare for future pandemics.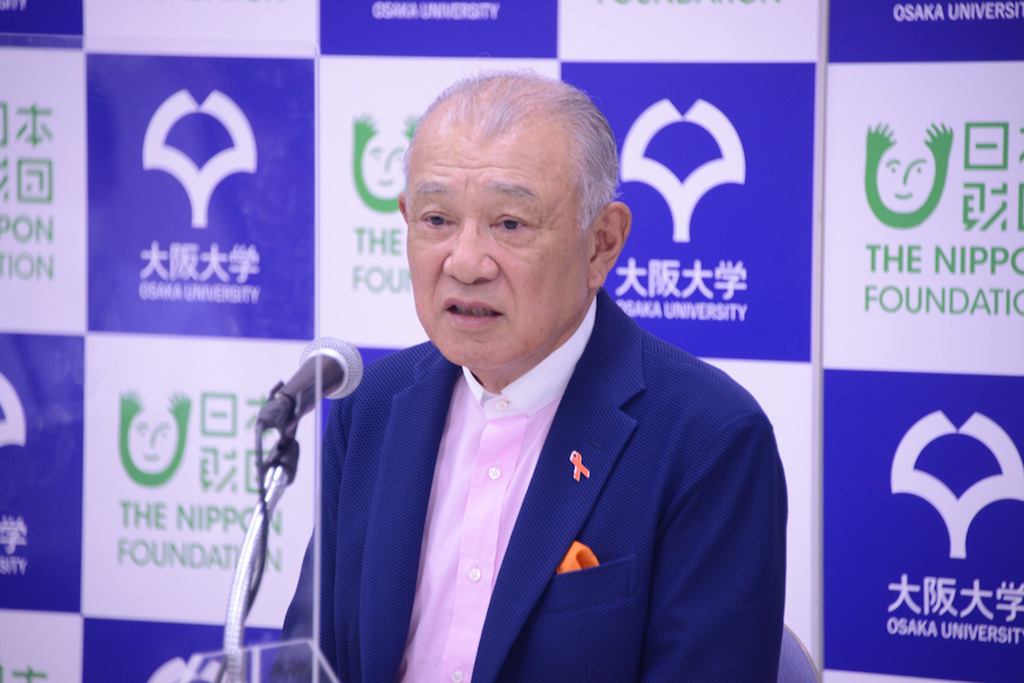 Shojiro Nishio, President, Osaka University
This project will establish a platform for research into infectious diseases to address the social issues that have been highlighted by the current coronavirus pandemic, by taking a long-term perspective in its approach to protecting people's lives while maintaining social and economic activity, in the event of pandemic crises that could occur in the future.
Osaka University has a long history of research in the area of infectious disease, with a track record in many areas including basic medicine, clinical application, social medicine, microbial disease, and immunology. To build on this research, we established a new Center for Infectious Disease Education and Research in April of this year. The Center will be at the core of this project, as we work to strengthen our foundation for infectious disease research, train human resources in infectious disease medicine, and disseminate information based on scientific evidence.
We will make every effort to contribute to society through this project using the accumulated knowledge of Osaka University's years of ongoing research and by cooperating with various organizations across Japan and around the world.
The Nippon Foundation's main coronavirus response measures to date
The Nippon Foundation has been addressing the coronavirus pandemic as a "disaster" since the early days of the outbreak, and has been engaged in various support activities based on a philosophy of "Being prepared for what may come."
For more information:
About Osaka University
Established in 1931 as one of Japan's imperial universities, Osaka University is one of Japan's leading comprehensive research universities, with 11 schools, 16 graduate schools, and 6 research institutes. Under a motto of "Live Locally, Grow Globally," the university aims to be a world-leading, innovative university that contributes to social transformation.
Contact
Public Relations Team
The Nippon Foundation
Email:cc@ps.nippon-foundation.or.jp