Awards Ceremony for The Nippon Foundation – Ministry of the Environment 'UMIGOMI Zero Award 2021'
Recognizing outstanding activities, research, and technologies to reduce ocean debris
The Nippon Foundation and Japan's Ministry of the Environment jointly held the UMIGOMI Zero Award 2021 to identify and disseminate to a wide audience outstanding measures being taken in Japan to address ocean debris (umigomi is a combination of the Japanese words for ocean (umi) and waste or trash (gomi)). The 2021 winners, selected by a panel of outside judges from among 276 submissions, were announced at a ceremony held on October 6.
Background of the UMIGOMI Zero Award
The first UMIGOMI Zero Award prizes were awarded in 2019 as a joint initiative of The Nippon Foundation, which is promoting the Change for the Blue project as part of its Umi-to-Nippon Project (The Ocean and Japan Project), and the Ministry of the Environment, which is promoting a Plastics Smart campaign. This was the third time the awards, which aim to identify and disseminate to a wide audience outstanding measures being taken to address ocean debris, were held. Submissions were accepted from March 22 to May 20, 2021, and a total of 276 submissions were received from companies, research institutes, NGOs, local governments, and other groups in Japan covering a broad range of initiatives, ideas, and technological development being carried out across the country.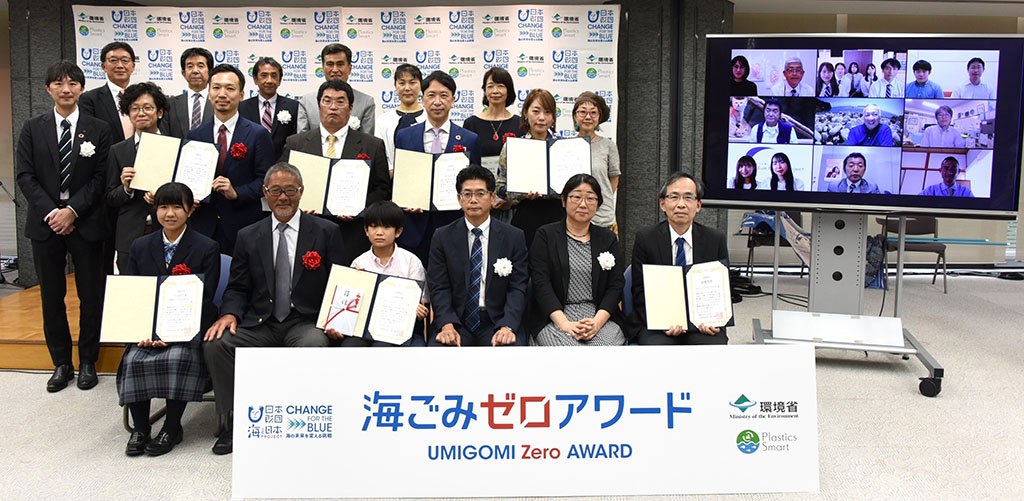 2021 awards ceremony
Recipients were engaged in a wide range of activities and initiatives related to ocean debris issues, including activities led by young people to encourage people to become interested in issues and take action, pioneering initiatives to assemble evidence, locally focused initiatives, and corporate efforts to promote recycling, as well as initiatives that can serve as model measures to address ocean debris. Kurea Imazu, a member of the top prize winner student group Blue Earth High School, commented that she and her fellow high school students have been engaged in ongoing activities because having students spread the word about environmental issues makes it easier for many people to get involved. She wants to spread the word that environmental problems cannot be ignored because they are difficult, and hopes that the initiatives being presented at the awards by companies and other organizations will be developed nationwide.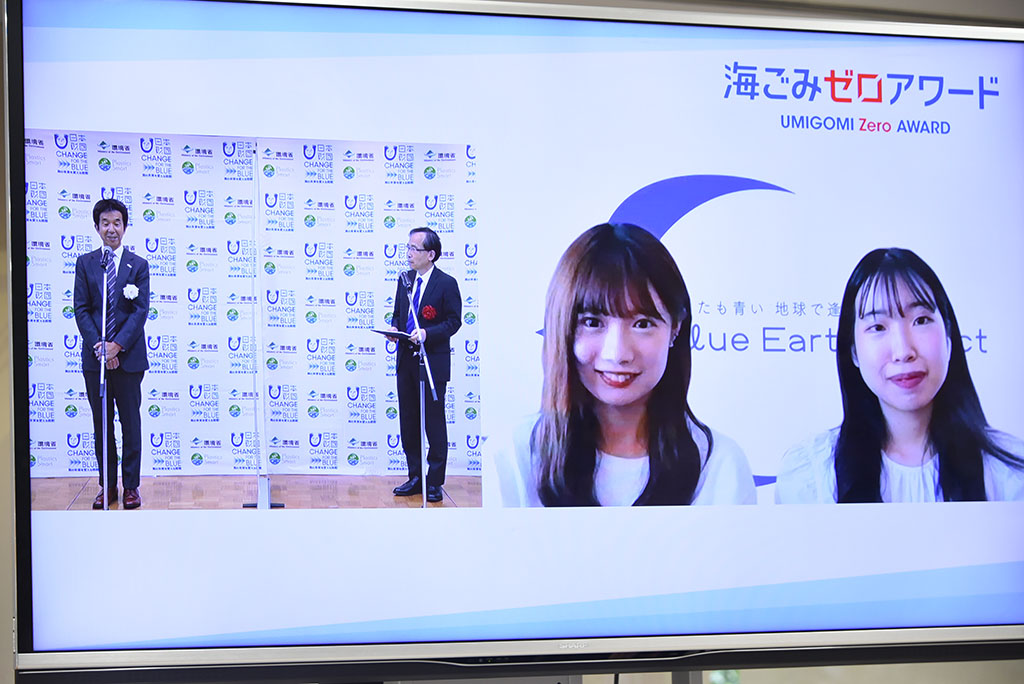 Comments
Mitsuyuki Unno, Executive Director, The Nippon Foundation
These awards are serving as a starting point for joint activities among recipients, leading to more broad-based activities. The Nippon Foundation will use these various networks to develop model projects that cut across existing organizational frameworks.
Keiko Morimitsu, Councilor, Minister's Secretariat, Ministry of the Environment
Many activities by young people received awards, and I have a strong sense that members of the next generation, who represent our future, are proactively addressing the issue of ocean debris and taking the initiative in spreading the word. I hope they will lead the effort to address ocean debris in Japan, and that this will lead to worldwide reductions in ocean debris.
Yoshizumi Ishihara, weather forecaster and television personality
Global environmental issues are entering a critical phase. I hope these awards will spur further activities, and bring these issues to the attention of many people.
Grand Prize – 1 million yen
Activity
Organization
Highlights
Blue Earth Project
Blue Earth High School (nationwide coordination student group based in Hyogo Prefecture)

Project to promote ecological education and awareness planned and operated by female high school students
More than 1,000 female high school students have participated over 15 years in 19 locations across Japan and overseas
Planning and operation of campaigns at restaurants to reduce plastic waste and events to promote ecological education and awareness
The Nippon Foundation Prize – 250,000 yen
Activity
Organization
Highlights
Ocean environment educational program across 3 generations over 26 years that created plastic debris removal device
Ocean Family (NGO) + 2 organizations (Kanagawa Prefecture)

Graduates of hands-on nature education program launched in 1995 operate nature education classes for children
Includes students who acquired patent for plastic debris removal device they designed

Gomibukuro (Ocean Protection Trash Bag) Project
Sumoto City
(Hyogo Prefecture)

Project to promote use of supermarket checkout bags that can also be used as trash bags
After taking home items purchased in local supermarkets, bags can be used as city-designated trash disposal bags

Nagahama Gomi 0 (Zero Trash) Project – Cute flags to eliminate trash
Team 530, Nagahama High School
(Ehime Prefecture)

Project to set up Japanese-style flags to promote awareness of ocean debris reduction
Weekly analysis of debris volume verified change in residents' actions as a result of flags

Local beach glass currency to make the ocean clean
Beach Money
(Organization based in Shizuoka Prefecture)

Launched in 2006, beach glass (pieces of discarded glass that wash ashore) is collected and can be used as local currency
Beach money can be used as currency at roughly 200 shops across Japan and in Taiwan and Hawaii. Beach money collected at shops can be used by staff at other shops, creating a currency that circulates
Ministry of the Environment Prize – 250,000 yen
Activity
Organization
Highlights
ORINASU – Build with Scrap
ACALI
(Company based in Fukuoka Prefecture)

Project to create 3-dimensional works of art from ocean debris
Working with companies to hold workshops for children to adults who participate in trash cleanup events

Biodegradable disposable food containers made from 100% plant-based materials
Orikane
(Company based in Aichi Prefecture)

Production of containers from normally discarded bagasse (remains of sugar cane after pressing)
Along with reduced use of plastic, contributes to reduction of CO2 emissions

"Elimination of plastic products" with the aim of preserving biodiversity
Kobe Animal Kingdom
(Zoo in Hyogo Prefecture)

Disposable plastic products used on zoo grounds replaced with paper products or reusable metal products
Portion of sales donated to "activities to preserve natural habitats of wild animals"

Taking Ownership project to address ocean debris issues in Seto Inland Sea
Geography and History Club, Sanyo Gakuen
(junior / senior high school in Okayama Prefecture)

Carried out by junior and senior high school geography and history club
Exhibitions at commercial facilities to promote reduction of ocean debris
Survey of debris in irrigation channels and mapping to ocean
AEPW Prize – 250,000 yen
Activity
Organization
Highlights
Upcycle Challenge!! Ocean debris is a traveler
Anomiana
(Organization based in Fukui Prefecture)

In new partnership with Umigomi Zero 2020 Award winner, creating three types of upcycled products from ocean debris from Wakasa Bay

Picking up debris that has drifted ashore and microplastics at beaches that can only be reached by boat
E. C. Oceans
(NGO based in Ehime Prefecture)

30 years of activities to collect debris that has drifted ashore, in cooperation with newspapers, TV stations, government agencies, and residents
Began collecting debris that has drifted onto uninhabited islands and is surveying debris washed ashore (throughout Seto Inland Sea area)

Omu-kun's Long Trip – Raising local awareness through recycling of ocean debris
Interact Club, Toyooka Sogo High School
(Hyogo Prefecture)

Recycling of plastic buoys and planters collected by high school students
Activities to contribute to public facilities and events and raise awareness of ocean debris issues

Re&Go container sharing service to reduce discarded containers
Nissha
(Company based in Kyoto Prefecture)

Sharing service for plastic takeout containers that can be reused
Increasing choices for user through program to reuse containers easily in public settings via Line messaging app
Judges' Special Prize – 200,000 yen
Activity
Organization
Highlights
Beverage container collection box to promote litter reduction and resource recycling – Attack Collection Box
Change for the Blue Oita Executive Committee

Collection box for empty containers in collaboration with popular manga / anime Attack on Titan, whose author is from Oita Prefecture
Aims to prevent littering and placing of other trash in recycling boxes
※More information about the award winners is available at http://uminohi.jp/umigomizero_award2021/(external site) (in Japanese only)
※AEPW Award: Established in 2020 by the Alliance to End Plastic Waste, an international NGO comprising more than 60 companies across various industries, that is working to address the problem of plastic waste. For more information: Alliance to End Plastic Waste(external site)
Contact
Public Relations Team
The Nippon Foundation
Email: cc@ps.nippon-foundation.or.jp