【TNF Journal】Business's New Relationship with Disabilities(Part 18)Rich Life Experiences for All
JAL Group aims to make enjoyable, thrilling experiences through travel accessible to all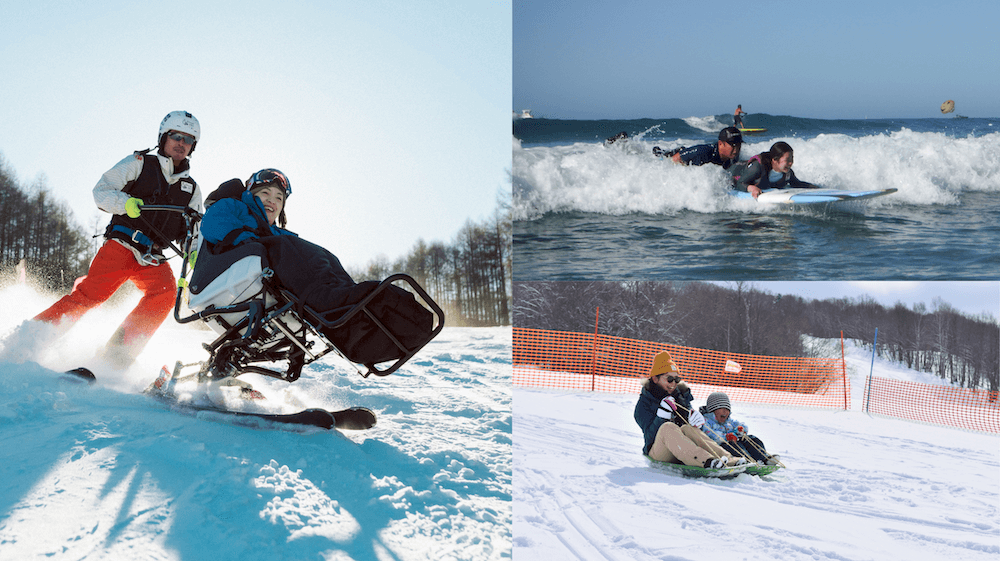 Key Points in this Article
Travel for persons with disabilities is fraught with difficulties such as lack of information and inadequate facilities and transportation at the travel destination
In cooperation with experts and local organizations, JAL Group plans and conducts tours that customers with disabilities can enjoy safely and securely.
Cooperation across service sectors of the tourism industry makes it possible to realize a society where everyone can enjoy travel without difficulties.
Reporting: The Nippon Foundation Journal Editing Department
As Japan's population continues to age, the birthrate declines and people's awareness of disabilities increases, more efforts are being made to make the enjoyment of travel accessible to all through "accessible tourism" that caters to the needs of people with mobility and communication difficulties.
The JAL Group, whose initiatives in employment for people with disabilities were introduced in the previous article , is also promoting accessible tourism with the aim of creating a society where everyone could enrich their lives through travel.
Members of the Nippon Foundation Working Group* spoke with Mr. Tomo Odake of the Planning & Operation Group, CX Planning & Support Department, Customer Experience Division, Japan Airlines, which is making efforts in the JAL Group to improve customer accessibility.
Members who engage in research and planning at the Japan Foundation to accelerate the participation of persons with disabilities in society.
Aiming to reduce anxiety and inconvenience experienced during air travel
Yamada: I am Yuhei Yamada of the Nippon Foundation Working Group. I myself have a psychological disability and have experienced inconvenience while traveling. I feel that travel today still presents many challenges for people with disabilities. I understand that the JAL Group is engaging in various initiatives to improve travel for persons with disabilities.
Mr. Odake: That is correct. Based on the idea of "providing safe and comfortable air travel to all," we make efforts to raise awareness in employee education about customers who experience mobility difficulties during travel such as people with disabilities, people with children, and the elderly. We are also making efforts to improve the user environment, provide information, and promote accessible tourism.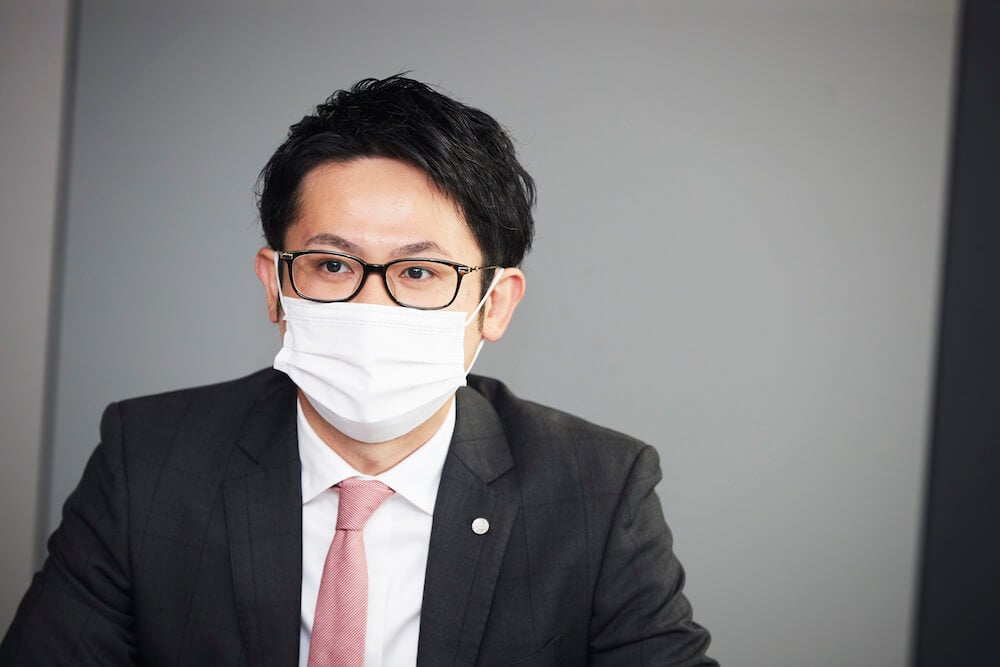 Yamada: Can you tell us some examples of initiatives are you working on?
Mr. Odake: As you may be aware, metal wheelchairs cause the alarm at security checkpoints to sound, so we arrange wooden wheelchairs that can pass through security checkpoints smoothly at all airports in Japan. We are also working to improve the user environment by providing so-called "Mirai Speakers" capable of delivering clear announcements to customers without making loud sounds. In addition, to provide support that caters to various disabilities of customers, we provide a "remote sign language interpreting service" that allows customers with hearing disabilities to complete airport procedures smoothly without stress, and a "communication board" that enables customers to communicate by pointing. On board as well, we provide "communication cards" to improve accessibility.
In addition to these arrangements, we also have a Special Assistance Registration Service to eliminate the inconvenience of customers who require time to complete procedures when traveling by air. By registering details of the assistance they require in advance, customers can shorten the time it takes for reservations and airport procedures, and for customers who are frequent users of the JAL Group's services, once they are registered, they can receive the assistance they require smoothly thereafter.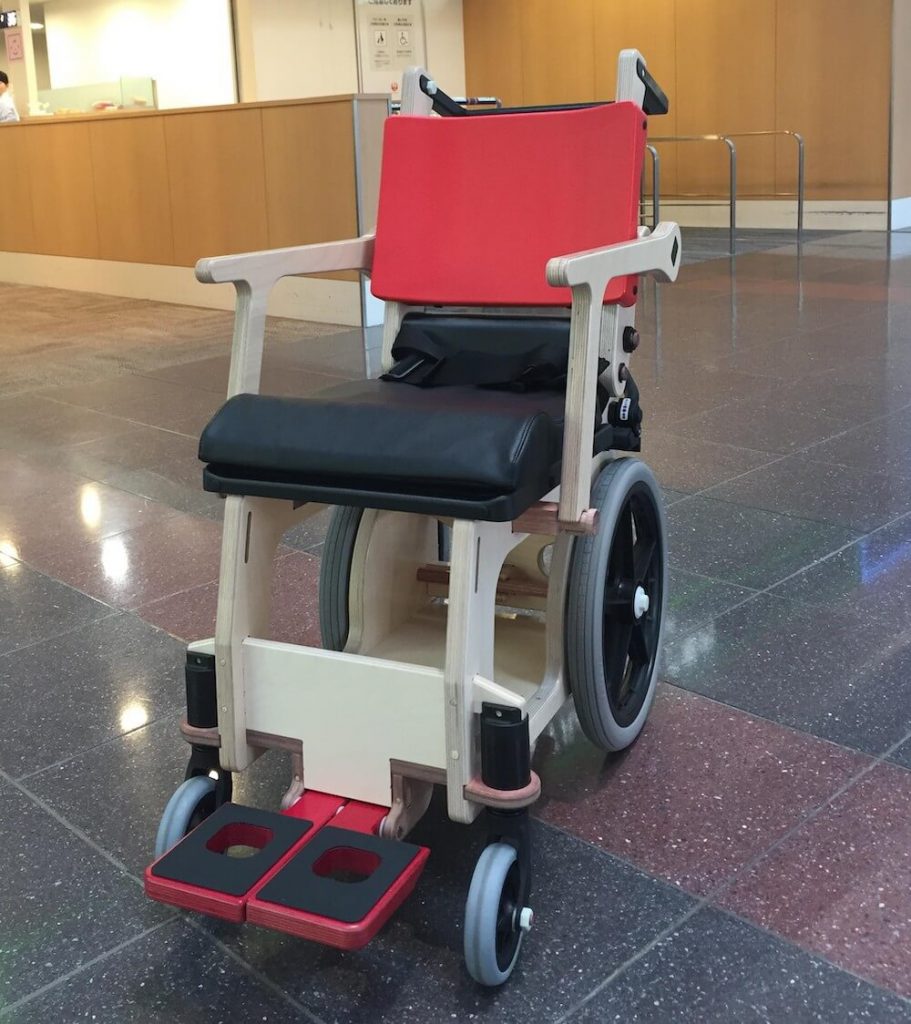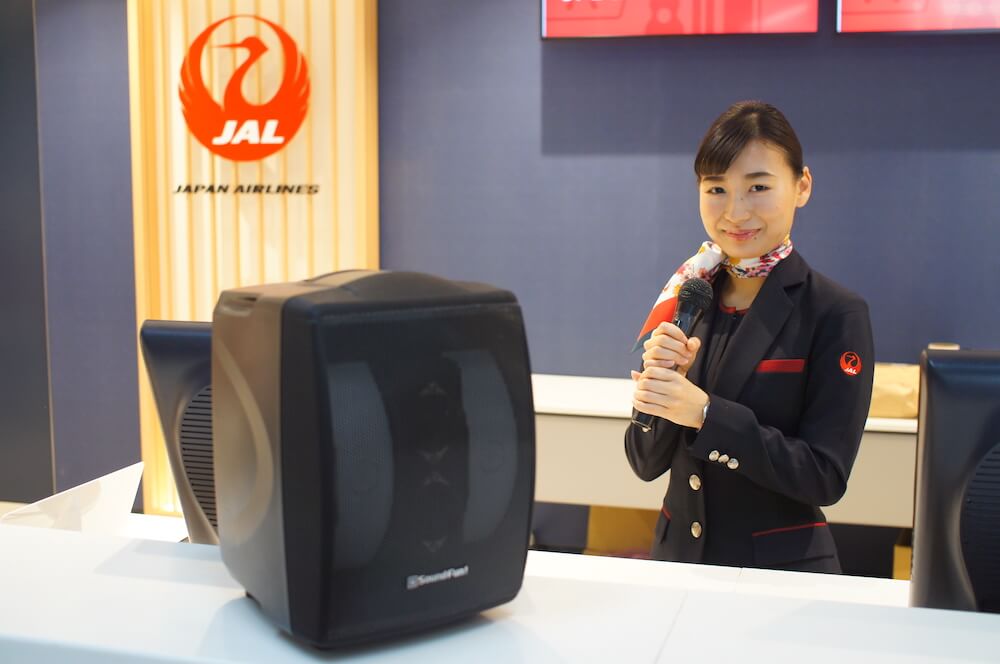 Yamada: I heard from a friend who uses a wheelchair that when he went through the security checkpoint at the airport and the alarm sound went off and attracted attention, he was told, "It's a wheelchair, so there's nothing you can do about it." I think it is very important to create an environment where everyone can travel in their own way without having to put up with unnecessary inconveniences.
Mr. Odake: I agree with you entirely. For people with disabilities, however, barriers to travel are not limited to just airports and airplanes. Many people with disabilities feel concerned about having no information on whether services at their travel destinations will have barrier-free facilities. This is why the JAL Group is focusing on promoting accessible tourism that provides comprehensive support for the entire trip from provision of detailed information in advance to accommodation at the destination and sightseeing including local transportation.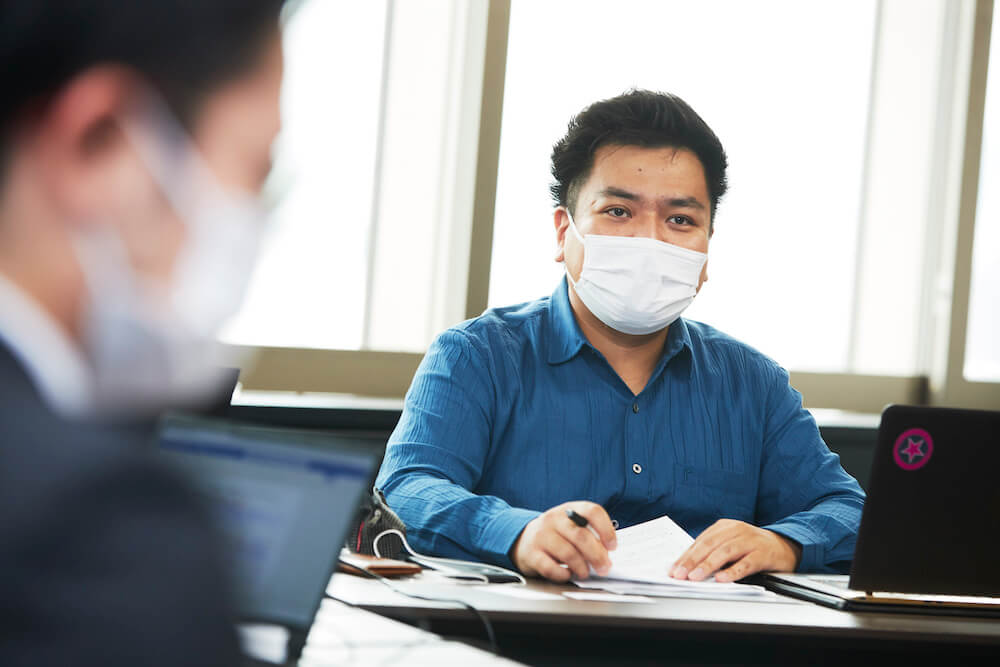 Preventing "disabilities" from standing in the way of enjoyable travel
Yamada: Can you tell us some of the ways in which you are providing for accessible tourism?
Mr. Odake: So far, we have planned and conducted group tours that include dual skiing (sitting-down skiing) experiences in Hokkaido and surfing experiences in Hawaii. By collaborating with experts who study travel where people with disabilities can enjoy nature and linking up with local support groups, we provide tours that everyone can enjoy safely and securely. Both types of the tours I just mentioned are popular and we have received very positive feedback from participants.
At the same time, however, some participants and employees who are wheelchair users have been requesting "barrier-free tours for individual travelers" where they can travel on their own whenever they want and choose hotels and facilities compatible with their disabilities." In response to their wishes, on October 5, 2021 we launched a "Wheelchair-accessible Okinawa 3 nights – 4 day" (external link) tour for individual wheelchair users to enjoy Okinawa in a barrier-free manner. The tour arrangements allow travelers to freely select their itinerary and flights, and to arrange accommodation on a single night basis.
In the past, customers with disabilities often requested regular tours for individuals, and this time for the first time we actually packaged a barrier-free tour for individual travelers.
Yamada: So, it's a tour especially for persons traveling on their own?
Mr. Odake: That is correct. Yes. To ensure that customers can safely and securely choose barrier-free hotels, rent-a-cars, taxis, and hotel activities at their own convenience, we involved staff from JAL Sunlight (a JAL Group special subsidiary), who also use wheelchairs, and designed these tours from the viewpoint of persons with disabilities. Participating in a survey on barrier-free support of facilities, they thought about what they wanted to do and what they could do with the aim of realizing travel arrangements that were also safe and secure.
A subsidiary that gives special consideration to promoting the stable employment of persons with disabilities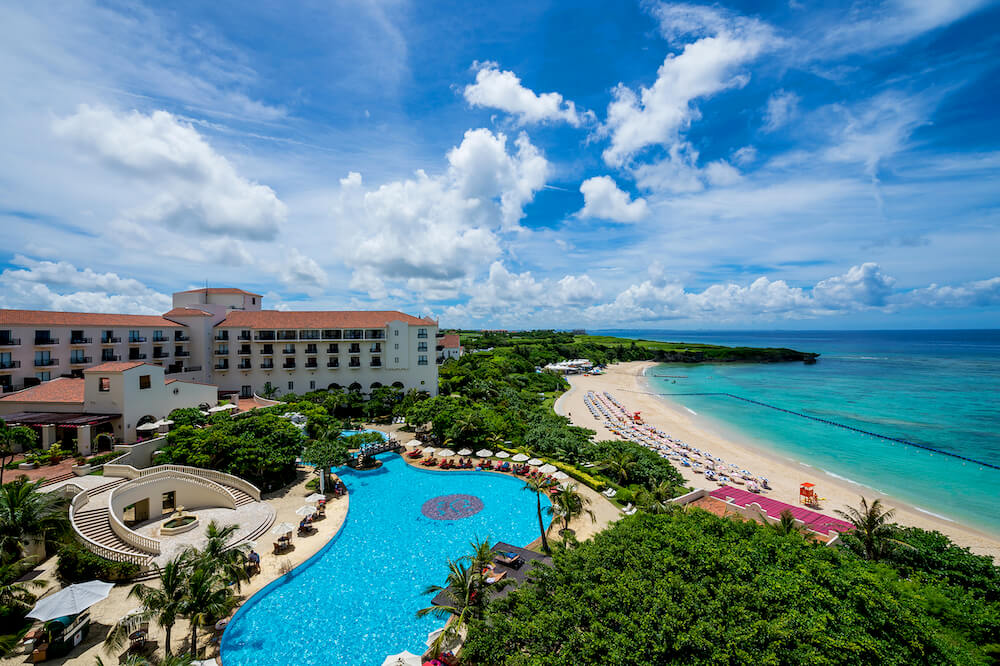 Yamada: Can you give a little more detail about the free choices customers can make?
Mr. Odake: For example, customers are free to arrange their own activities as they wish, such as enjoying time at the beach or visiting tourist attractions, to suit their disabilities. Furthermore, the tour information page on the JAL website provides detailed explanations through a combination of photos, illustrations, and text information required by wheelchair users. For example, you can find photos showing the direction of the handrail next to the bathtub and locations of outlets required for charging an electric wheelchair as well as photos regarding the accommodation and other facilities. In this way, a customer can choose a hotel after getting a clear idea of the facility and its amenities prior to travel. Furthermore, in designing these travel products, we tried to make them user friendly not only for wheelchair users but also for the elderly who might be anxious about walking.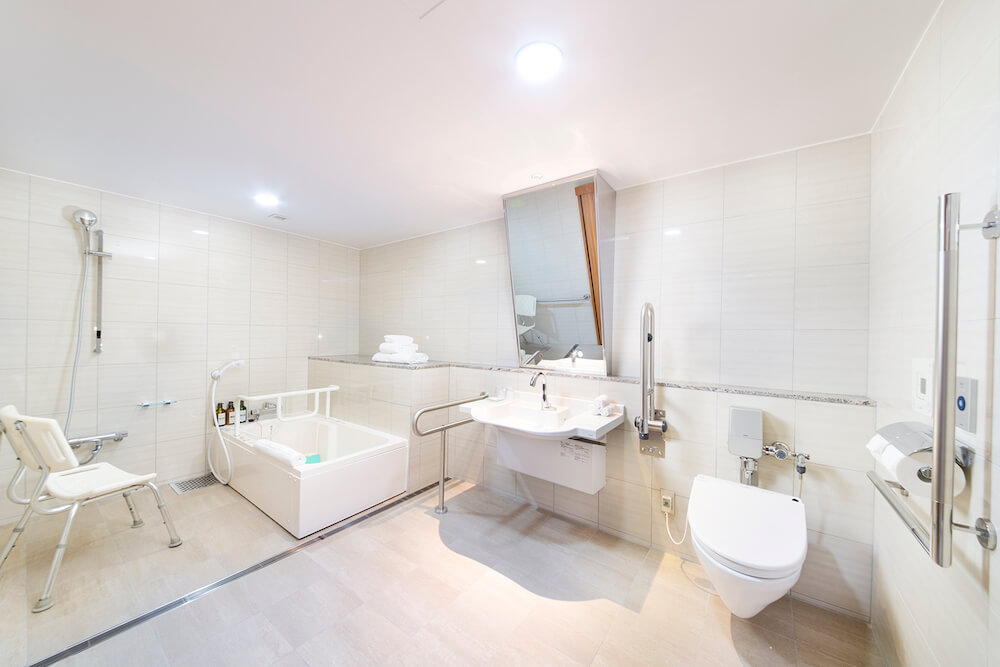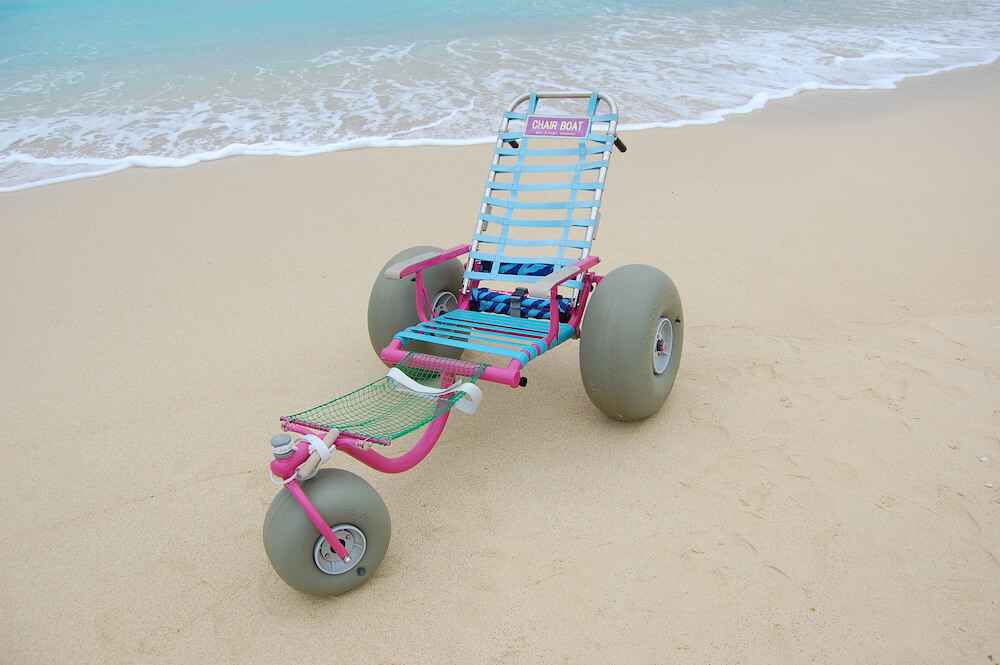 Yamada: Being able to check facilities beforehand is very reassuring.
Mr. Odake: Yes, it definitely is. When planning the first tour for individual travelers, we spent considerable time thinking about the criteria to set regarding arrangements for a wide variety of services including hotels, rent-a-cars, taxis, and hotel activities, and the kind of information to pass on to our customers to make them feel at ease.
Although COVID-19 conditions prevented us from visiting the actual locations to conduct field research on barrier-free conditions at hotels and other facilities, we conducted online meetings with the hotels we intended to use for the tour, and our own staff who use wheelchairs conducted on-screen checks to confirm whether movement from place to place via wheelchair could be achieved safely and securely. In this regard, there are many aspects that only wheelchair users notice, and we decided to post information concerning hotel room fittings on our web pages that introduce our tours based on the opinions of our staff who use wheelchairs.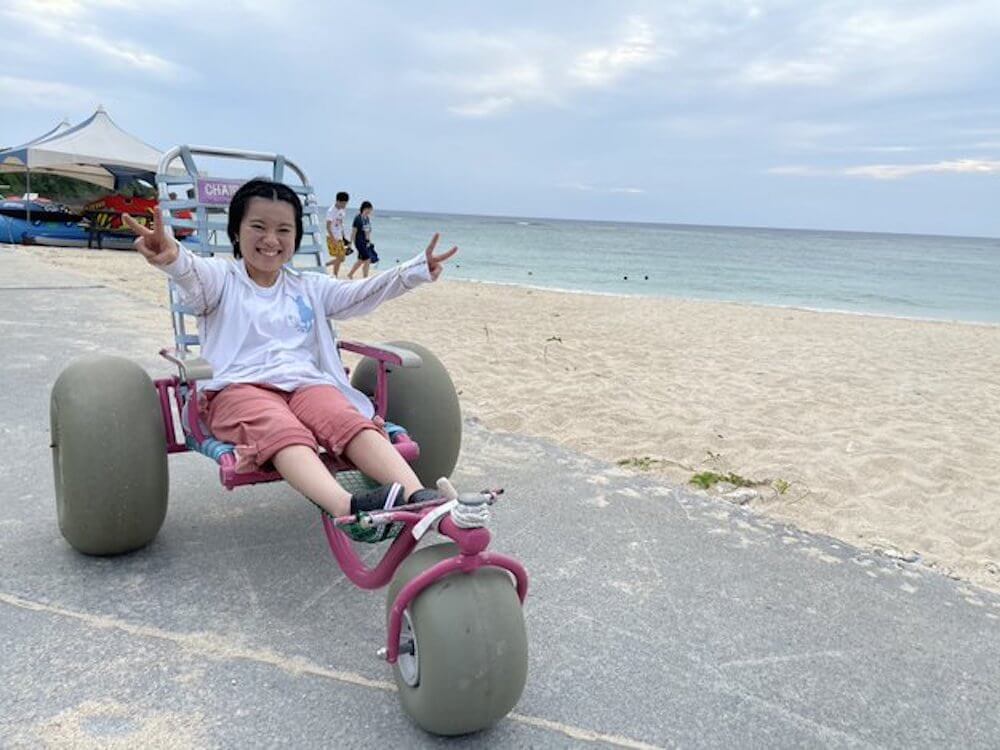 In addition to JAL Sunlight employees, wheelchair user employees who belong to the Safety and CS Promotion Group of the Customer Service Department of JALPAK, the organizer of this tour, are also involved in product creation, and cooperate in confirming barrier-free items and tour information web pages.
Izutsu: So, it's a tour that is created not only within JAL but also in collaboration with local operators such as hotels. What aspects did you pay particular attention to when planning and developing it?
Mr. Odake: Had we tried to plan the tour without taking into consideration the viewpoint of the parties concerned, I think we would have overlooked a number of aspects. A common preconception is that there is always a need to provide support for people with disabilities, or that wheelchair users require universal rooms. However, some people do not require any support despite having a disability, and in some cases, do not necessarily require a universal room if the room is large enough to accommodate a wheelchair.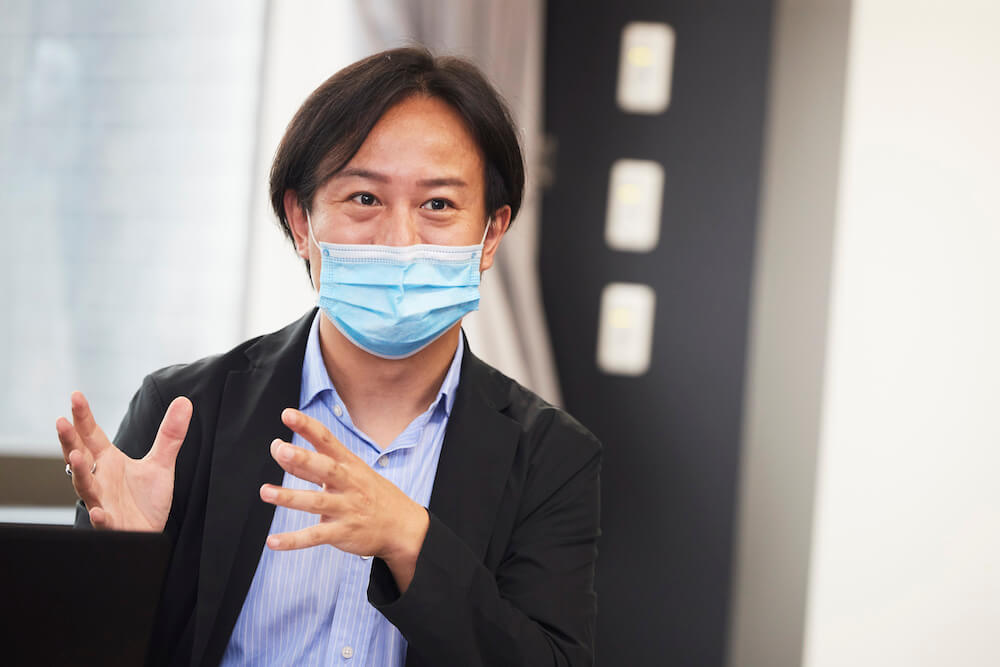 Yamada: Yes, there is a tendency to stereotype people with disabilities, isn't there? Even when we simply say a "person with a disability," the fact is the needs of each individual are different, so I think the process of developing a tourism package with clear communication is vital.
Mr. Odake: That is true. As part of accessibility* education, we thoroughly communicate to all employees their mandate to listen carefully to customers' requests without prejudice or preconceptions. We believe this leads to clear communication with customers in general, not only customers with disabilities.
This means "ease of access" or "ease of use," and refers to the state and degree of use by various people irrespective of age and whether or not they have disabilities.
Izutsu: What kind of response have you had from customers who have actually taken part in accessible tourism so far?
Mr. Odake: One parent of a family that participated in the dual skiing experience in Hokkaido with a child who had a severe disability afterwards said, "I was worried about whether my daughter would be able to enjoy the experience, but with appropriate support, I found that it was surprisingly easy for her to enjoy it. Without realizing it, I had been setting limits on what she could do." He said that this experience made him realize that it was better to just try things without thinking too much about this or that.
Izutsu: So, it turned out to be a very positive experience, it seems.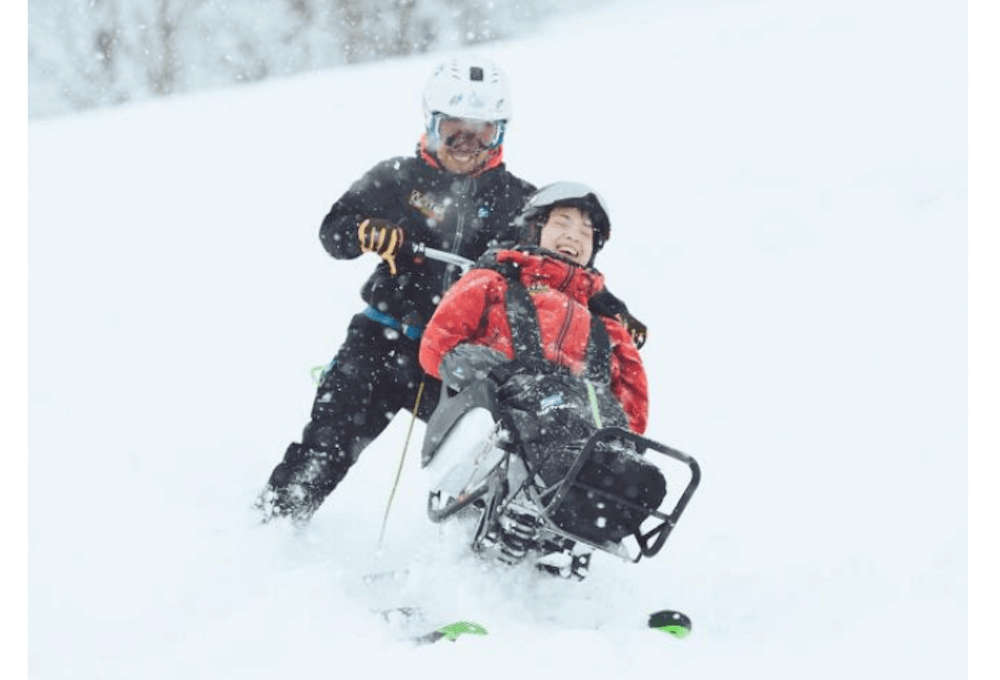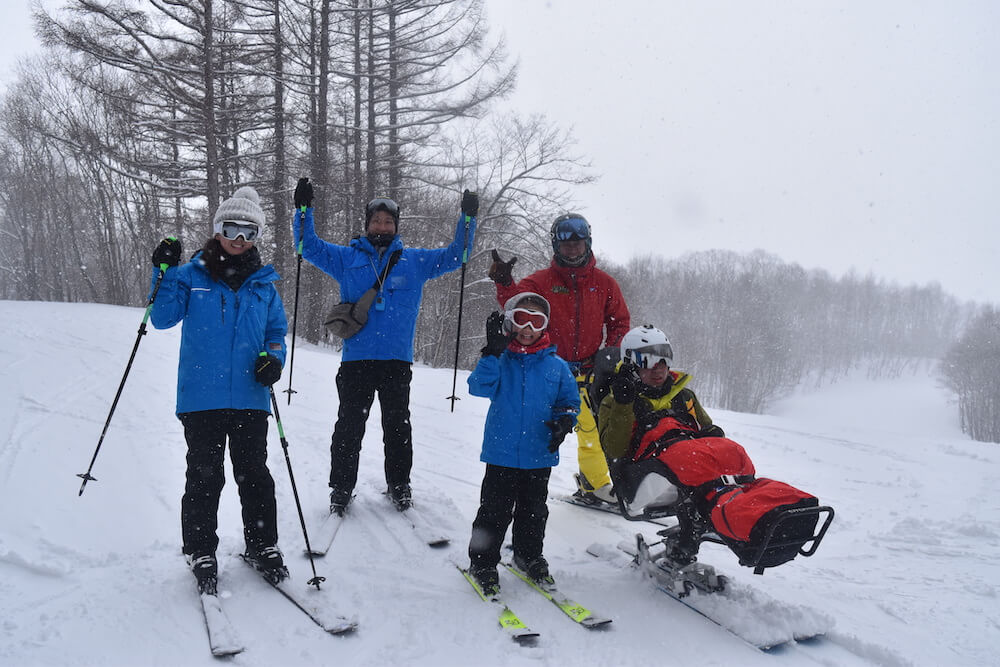 Cooperation across service sectors holds the key to "a trip that everyone can enjoy"
Yamada: Can you tell us how you see the future of accessible tourism?
Mr. Odake: The " Wheelchair-accessible Okinawa " tour currently on sale is mainly for wheelchair users, but I would like to plan tours to accommodate other disabilities as well. Another plan is to also expand the travel destinations. Until now, the destinations have been limited to Hokkaido, Hawaii, and Okinawa, so I would like to conduct research on places people are interested in going to, and work on product planning for new destinations while taking into consideration barrier-free support at the local level.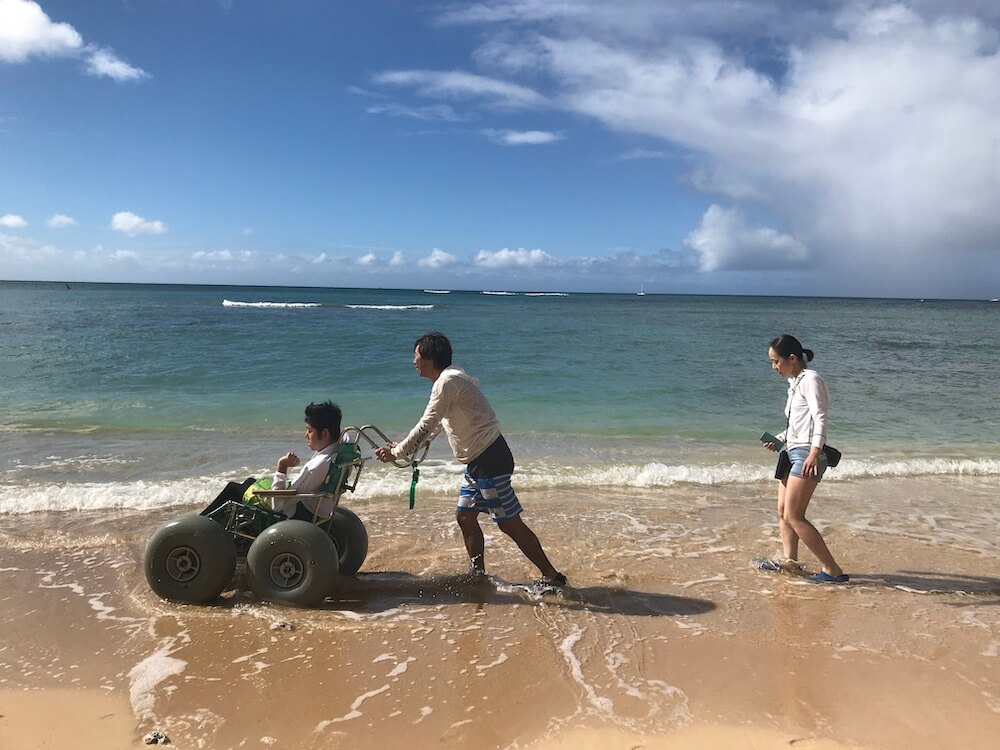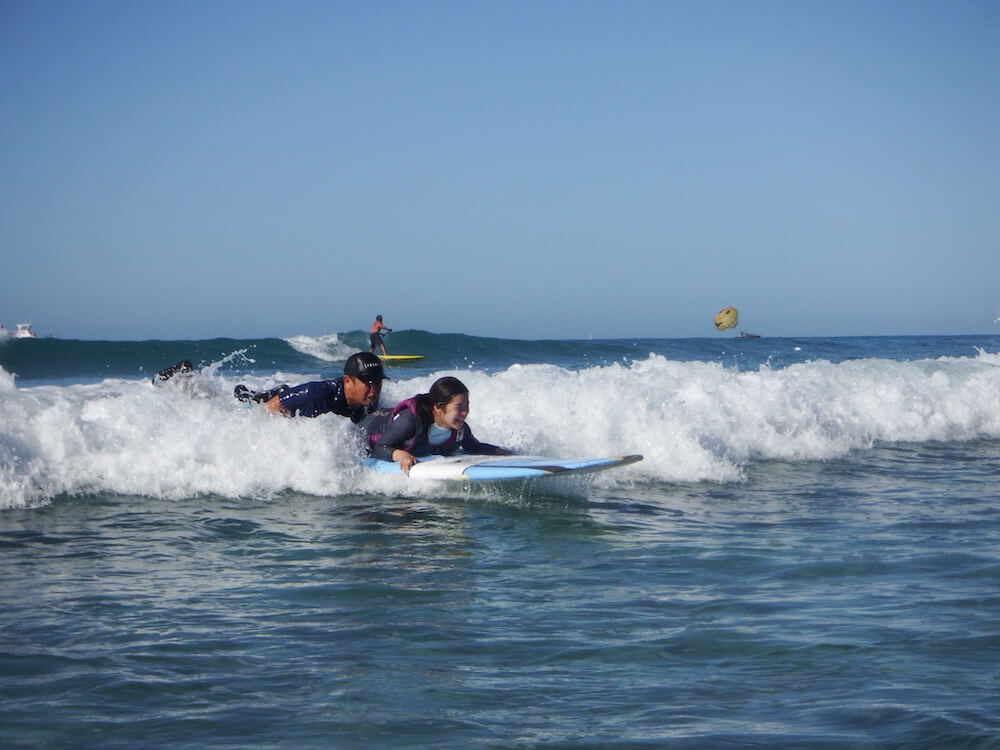 Izutsu: Expanding the types of tours and tour destinations for people with disabilities will enable you to build relationships with more stakeholders, I imagine.
Mr. Odake: That is correct. We have developed various activities such as dual skiing in Hokkaido, surfing in Hawaii, and excursions on glass-bottom boats and chair boats in Okinawa. We need to work with local operators, but in many cases they do not have the knowledge for accommodating people with disabilities. First of all, I think it is important for operators to empathize and agree with our philosophy, and then to proceed to discuss how people with disabilities can participate safely.
Yamada: I agree with you. What kind of initiatives do you believe are necessary for the JAL Group to create a society where everyone could enrich their lives through travel?
Mr. Odake: I think it is important to cooperate across service sectors. In view of COVID-19 conditions, the JAL Group jointly with ANA formulated the【Customers who request special assistance】Guidelines on Accessible Air Travel in Response to COVID-19 in October 2020. These are guidelines indicating specific measures to take for receiving passengers using aircraft. This is an initiative that has only just begun, but in the future I would like to consider further collaboration by exchanging views with airport operators, airport buildings, and other airlines.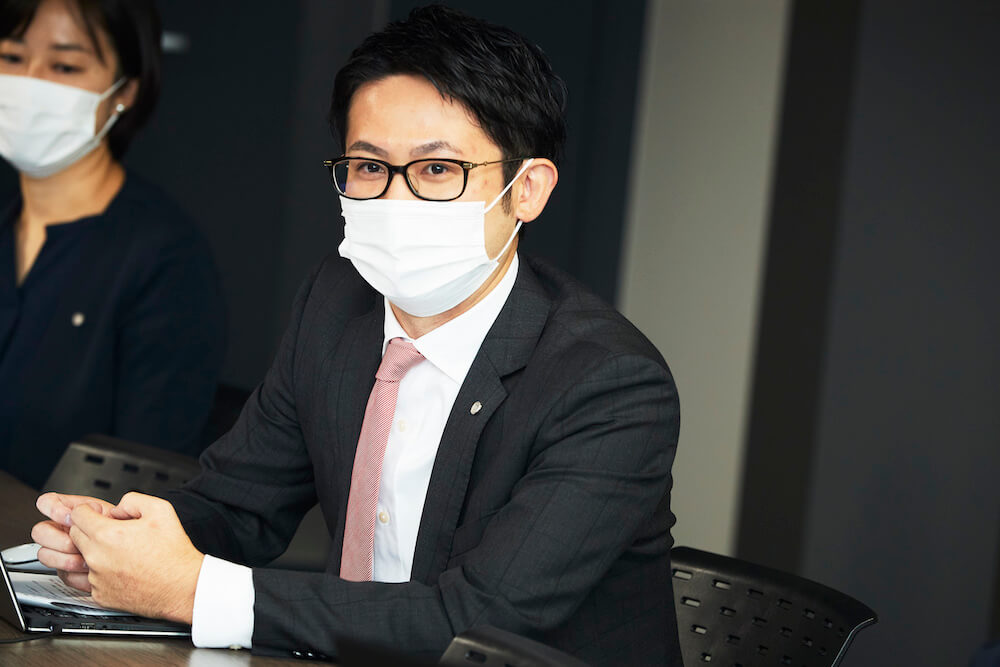 Izutsu: On every occasion when I used the airport, I have been impressed by JAL staff responses to various situations, and I have been very inspired listening to you speak today about a society where everyone can enjoy traveling in comfort. I hope it will be realized as soon as possible. Thank you very much for your time today.