2022 Winter Olympics – It's all about the athletes
From February 4, Japan's eyes will be on the performance of Japanese athletes.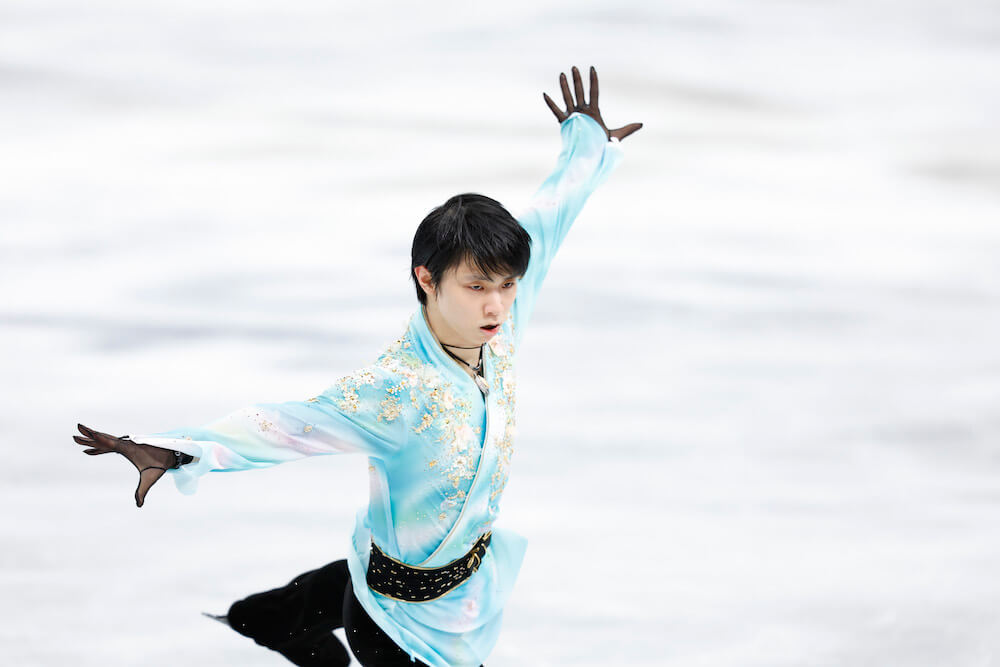 Yuzuru Hanyu's historic run for third consecutive title
The first athlete to come to mind is figure skater Yuzuru Hanyu. His attempt to win a third consecutive men's single title has attracted global interest, with many media outlets in Europe and the United States covering him and further raising expectations. Although many people were concerned when he sat out for part of this season because of an ankle injury, he competed in the Japan national championships at the end of last year. His freestyle routine in Beijing is said to include a quad axel (quadruple and a half jump), and if he successfully completes this move and wins gold, he will be only the third person in history and the first in more than 80 years to win three consecutive individual gold medals in figure skating. The previous three-time consecutive gold medalists were Gillis Grafström, who won gold medals for Sweden in the men's event in 1920 at the Antwerp Summer Olympics, in 1924 at the first Winter Olympics (Chamonix-Mont-Blanc, France), and in 1928 (St. Moritz, Switzerland), and Norwegian women's singles gold medalist Sonja Henie, who won in 1928, 1932 (Lake Placid, New York), and 1936 (Garmisch-Partenkirchen, Germany), and went on to become a famous actor. In those early days of the sport, the emphasis was more on skating, while today's routines are defined more by jumps of increasing difficulty like the quad axel.
Nathan Chen of the United States is seen as Mr. Hanyu's main challenger, while the other Japanese men's figure skaters to watch are 2018 silver medalist Shoma Uno, and Yuma Kagiyama, who has shown remarkable progress this season.
Japanese contenders in other sports
In ski jumping, Four Hills Tournament winner Ryoyu Kobayashi will be going for gold in the men's event, while Sara Takanashi will be looking to add to her 110 podium appearances including 61 Ski Jumping World Cup podium finishes – both the most of any man or woman in history – in the women's event. Having won silver medals in the men's individual normal hill 10-kilometer event in Sochi in 2014 and Pyeongchang in 2018, Nordic combined skier Akito Watabe will be aiming for gold as well.
Snowboarder Ayumu Hirano also won silver in the men's halfpipe event in Sochi and Pyeongchang, and in Beijing is aiming to be the first person to successfully execute a frontside triple cork 1440 (four full rotations and three off-axis flips) in Olympic competition. In the men's freestyle ski mogul event, Ikuma Horishima will be competing in Beijing after having won three World Cup events this season, and Loco Solare, the women's curling team who have boosted curling's popularity in Japan, will be competing as well. The Japanese team captain is speed skater Miho Takagi, who won gold in the women's team pursuit, silver in the 1,500-meter, and bronze in the 1,000-meter events in Pyeongchang, and in Beijing she will compete in all individual events from 500 to 5,000 meters.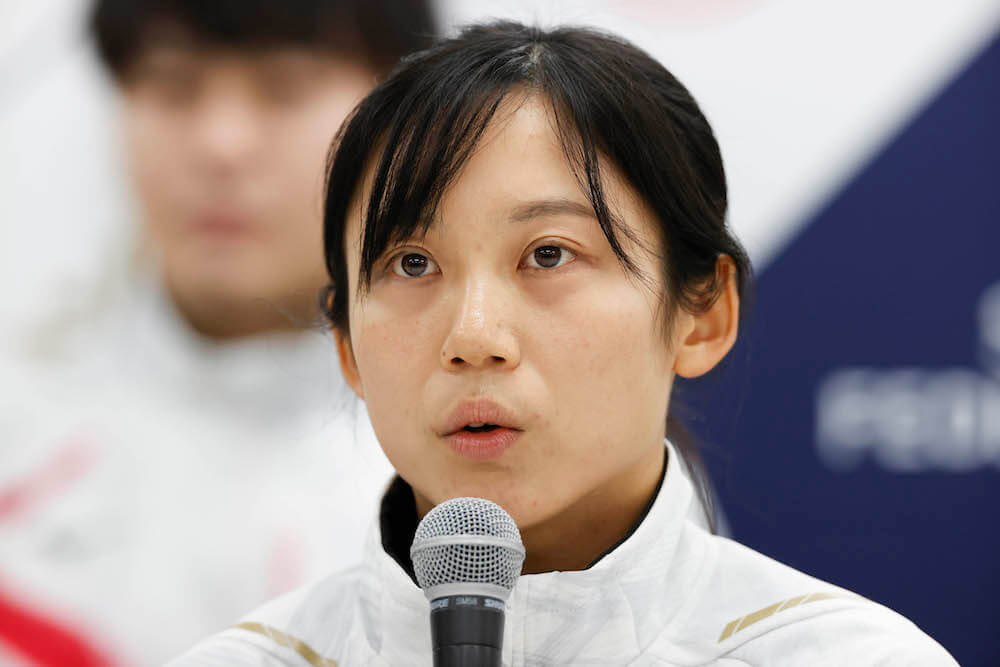 Nao Kodaira
Also competing in Beijing will be Nao Kodaira, one of Japan's stars in Pyeongchang who won the gold medal in the 500-meter women's speed skating event with an Olympic record time of 36.94 seconds in the final. When she crossed the finish line, Japanese fans in attendance cheered wildly, but Ms. Kodaira pressed a finger to her mouth to ask the crowd to quiet down for the next skater and her main rival in the event, South Korea's Lee Sang-hwa. Ms. Lee had won gold medals in 2010 in Vancouver and in 2014 in Sochi, but in Pyeongchang came in second, missing out on the chance to win her third consecutive gold medal in her home country. After the race, with the crowd chanting her name and overcome with emotion, she burst into tears as she took her celebratory lap around the rink carrying a South Korean flag, when she was joined by Ms. Kodaira with a Japanese flag on her back. In fact, the two were long-time friends, having visited each other's homes and supported one another during difficult times. Given the political differences between their two countries, this sight of the two rivals embracing was one of Pyeongchang's most memorable moments, demonstrating the value of the Olympics as a way of bringing people together even when governments cannot.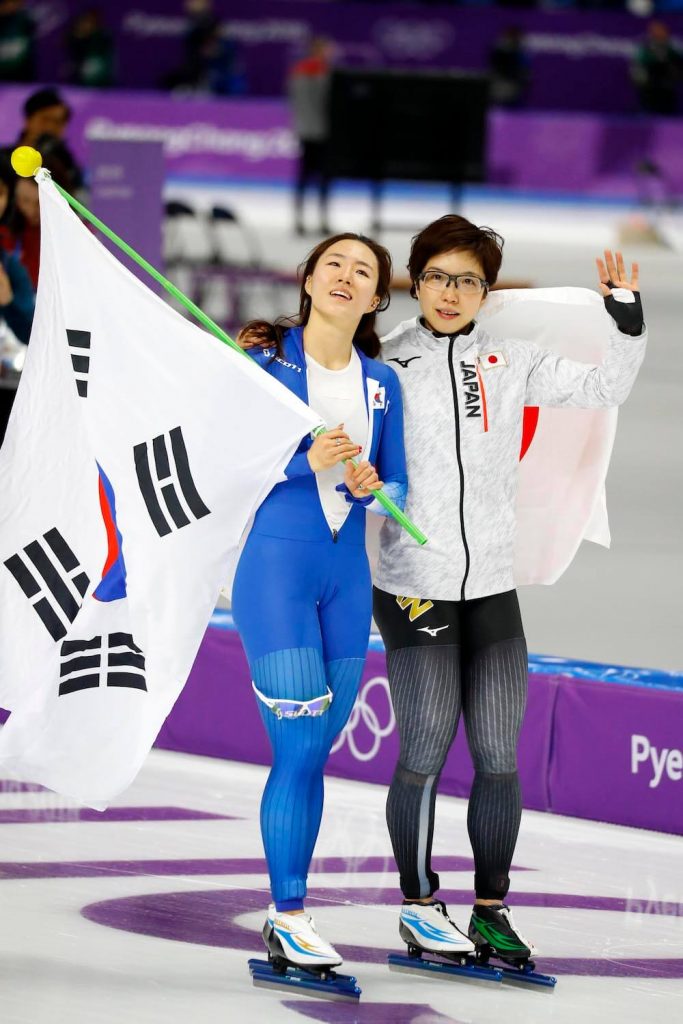 Having become a heroine in Japan, Ms. Kodaira initially struggled with the disconnect between people's praise and her own feelings, and felt that she had to do something in return to live up to people's expectations of her as a gold medalist. It turned out that volunteerism is what saved her from feeling trapped. In October 2019, the city of Nagano and surrounding apple orchards in her home prefecture of Nagano were severely damaged by a typhoon, and she volunteered to participate in cleanup activities. Doing this work, covered in dust, she felt a connection to her hometown, and finally experienced peace of mind. In subsequent competitions, she wore a red racing suit decorated with an apple motif, demonstrating her connection to her hometown.
What Athletes Can Do
In 2017, the Nippon Foundation established the HEROs project to promote athletes' activities that contribute to society through sports. In addition to supporting these activities, the Foundation holds a HEROs AWARD ceremony in December each year to recognize outstanding activities being carried out by athletes and organizations. This has led to the creation of a network of athletes who are using their unique position to make a social contribution.

Contact
Public Relations Team
The Nippon Foundation
Email: cc@ps.nippon-foundation.or.jp