【TNF Journal】Business's New Relationship with Disabilities (Part 22)
Leadership at the Top and Steady Cultivation of Understanding Widen the Circle of Support Building an Inclusive Group Organization at Showa Denko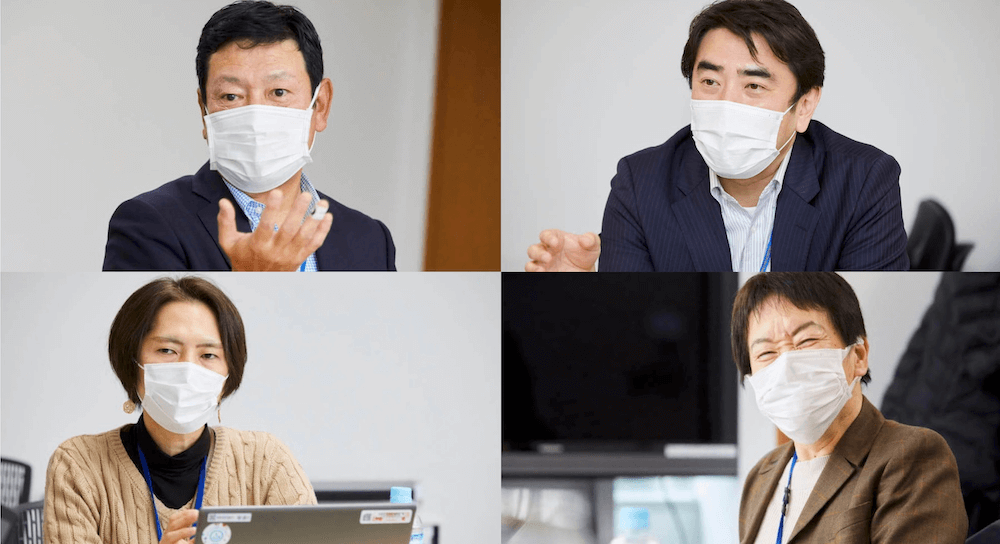 Key Points in this Article
Showa Denko has launched a dedicated in-house "inclusion support site for people with disabilities" to promote diversity and inclusion ("D&I")*
The leaders at the helm of the company give guidance and help bring about a major change in awareness within the company
Workshops and other activities have increased the number of supporters and created a movement across the entire company
*

Abbreviation for diversity and inclusion. A viewpoint that respects and makes positive use of each aspect of diversity regardless of a person's attributes including gender, age, race and disability.
Reporting: The Nippon Foundation Journal Editing Department
D&I is now an important management topic in global companies. Showa Denko K.K. (external link), one of Japan's leading chemical manufacturers introduced in the previous article, established a department called the "Job Support Team (JST)" under the slogan, "We change unique personality into power." Through this department, which brings together employment know-how for employees with intellectual, developmental, and mental disabilities, the company is promoting D&I by creating a model case for "working together with employees with disabilities" and sharing it within the organization.
In 2020, Showa Denko joined "The Valuable 500" (external link), a global network organization that promotes the social participation of persons with disabilities. It is said that this initiative has led to a rapid increase in understanding of people with disabilities within the company.
Members of the Nippon Foundation Working Group* interviewed Diversity Promotion Group Leader Mr. Hironori Ara (Human Resources Department Diversity Promotion Group) and Mr. Hideaki Suzuki and Ms. Yuki Ichikawa, who head the JST.
*

Members who engage in research and planning at the Nippon Foundation, whose aim is to accelerate the participation of persons with disabilities in society

*

Department names and job titles are current as of December 2021 when the interview was conducted.
Promoting "empathy" not coercion
Okuhira: I am Masako Okuhira from the Nippon Foundation Working Group. I would like to ask you about Showa Denko's D&I, particularly in regard to your efforts for the inclusion of persons with disabilities. On what aspects do you place importance in promoting an understanding of people with disabilities within the company?
Mr. Suzuki: In a nutshell, refraining from forcing people to do anything. If you provide food to people who are already full, they are not likely to be interested. Therefore, we felt that we first needed some mechanism to make people hungry.
Our slogan is "We change unique personality into power." This is a phrase that was created with the idea of making a casual appeal to others rather than calling attention to "employees with disabilities." The JST undertakes the printing of in-house business cards, posters, pamphlets and other publications and at the JST we created an "Only one Uniqueness" logo, which we place on items such as business card boxes and envelope templates used in our in-house mail service. First of all, I hope this mark will give you an opportunity to become aware of the existence of the JST.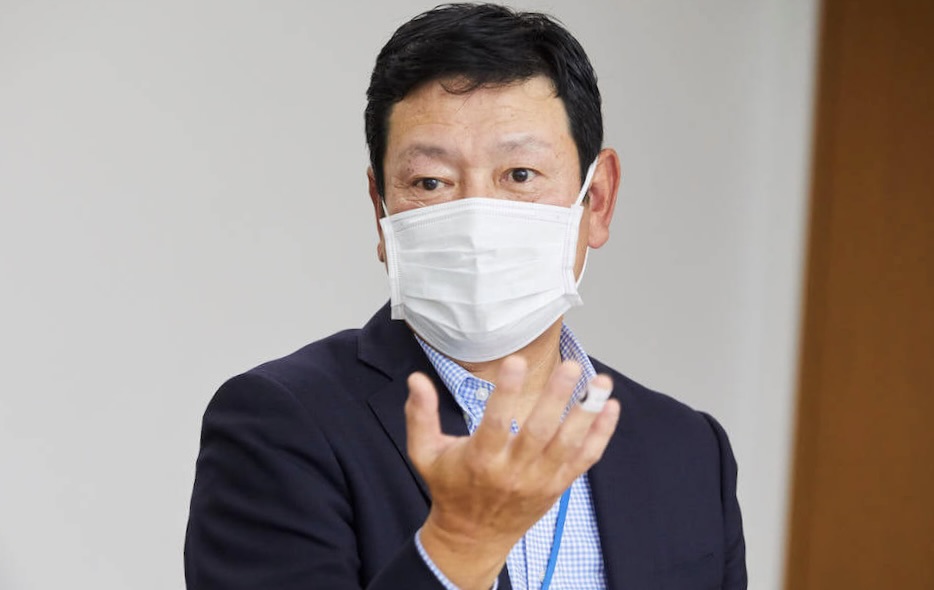 Okuhira: I heard that you are also promoting the "Only-one Uniqueness Supporters" movement in-house to solicit supporters for "creating an inclusive work environment."
Mr. Suzuki: Since I joined the company in 2014, I have been working to promote the employment of people with disabilities, and I thought that it would be good if we had a community to support us. However, it is not easy to change the mindset of the company all at once.
We joined The Valuable 500 in 2020, and out of our desire to work positively together at that time, the concept of "Only-one Uniqueness Supporters" was born. First, we launched a dedicated in-house "inclusion support site for people with disabilities" and recruited supporters.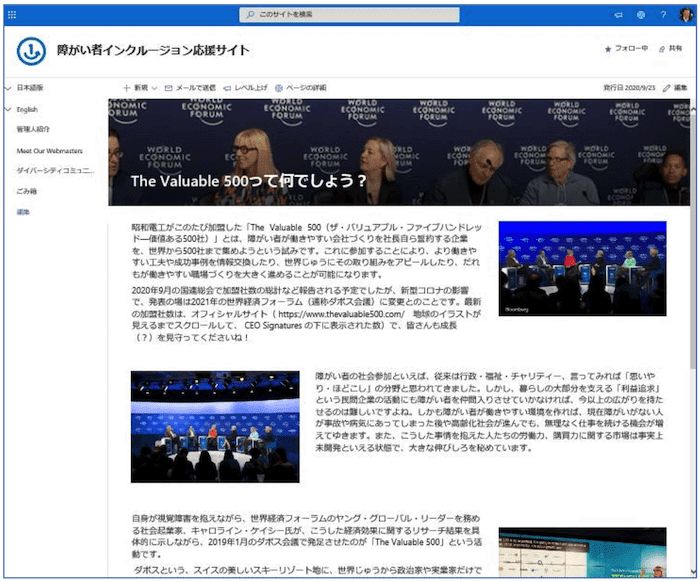 Mr. Suzuki: In 2014, we published and distributed the "Guidebook for Working with People with Mental, Developmental, and Intellectual Disabilities" but at that time we just distributed it and nothing changed in the company.
Reflecting on that publication, we considered creating a revised version, and in the winter of 2020, we created and distributed the D&I pamphlet "Inclusion of Persons with Disabilities" which summarizes the company's reasons for participating in The Valuable 500 and presents successful examples of employment within the group. Based on this publication, the company held D&I Workshops for 541 teams (workplaces) in Japan and 16 teams overseas. Initially, our goal was to attract 500 supporters, but by November 2021, more than 4,000 people registered as supporters.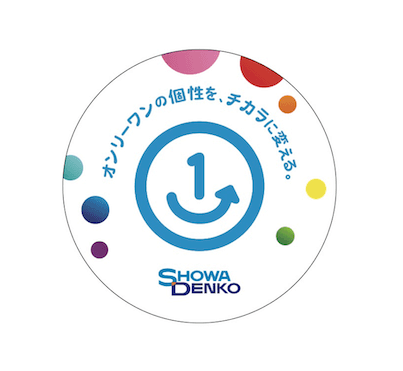 Okuhira: Amazing! That's eight times your target!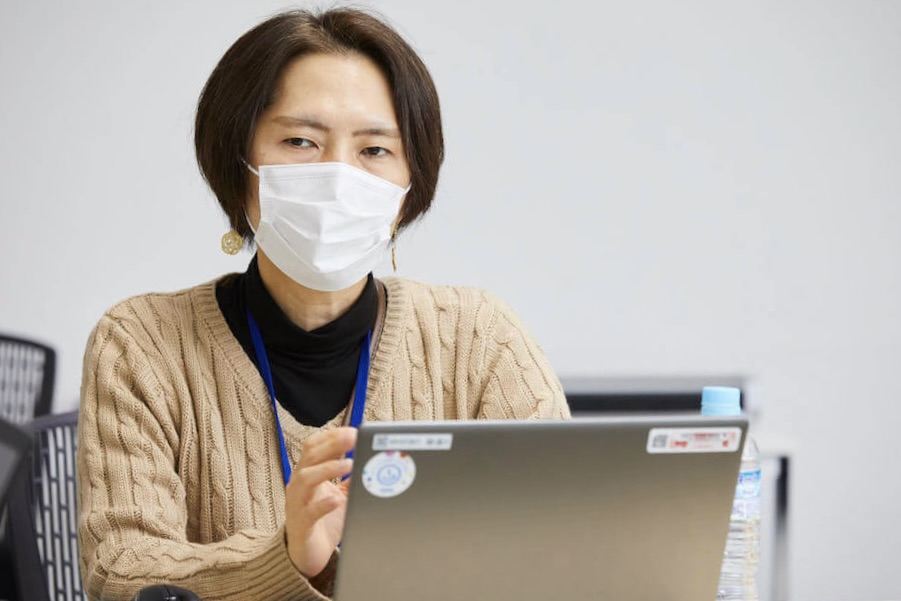 Ms. Ichikawa: The existence of the JST has been gradually recognized, but above all, Mr. Kohei Morikawa, the former president, declared that he himself would take the lead in initiatives for the inclusion of persons with disabilities, and the company delivered a clear message of this company policy to the global media by joining The Valuable 500. I think these had a great impact on the change in awareness within the organization.
Okuhira: Strong leadership is pushing ahead with Showa Denko's D&I, isn't it?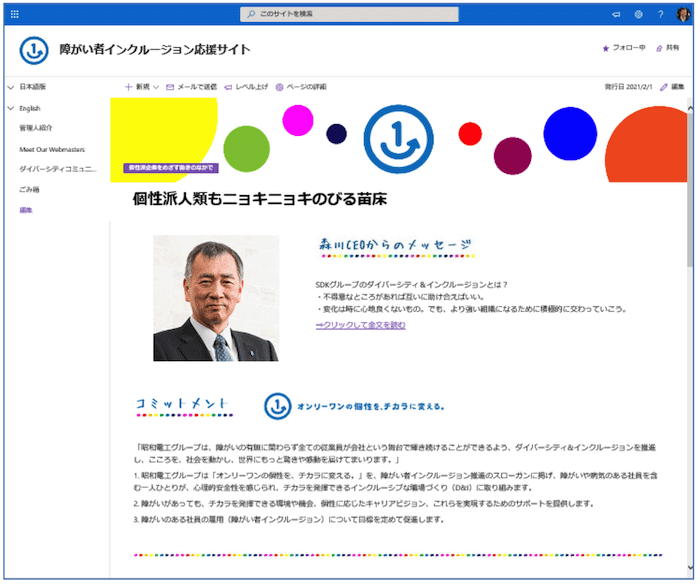 Proposal of four "changes" that can be put into practice immediately
Okuhira: What kinds of things do you do at D&I workshops?
Mr. Suzuki: The D&I pamphlet "Inclusion of Persons with Disabilities" contains tips on how to understand disabilities from a personal standpoint. Watching the video message of Ms. Caroline Casey, the founder of The Valuable 500, reading our pamphlet, and using these as a reference give the workshop participants the opportunity to think about disabilities. In addition, we are proposing converting the four "changes" of the Showa Denko Group's D&I promotion keywords – change management, change communication, change work styles, and change yourself – to the four changes for the inclusion of persons with disabilities, and for each and every person to "own" these changes as their own. Furthermore, to create a workplace environment where all employees including those with disabilities and illnesses can demonstrate their abilities with confidence, we are challenging all persons to make these "changes" their own personal changes.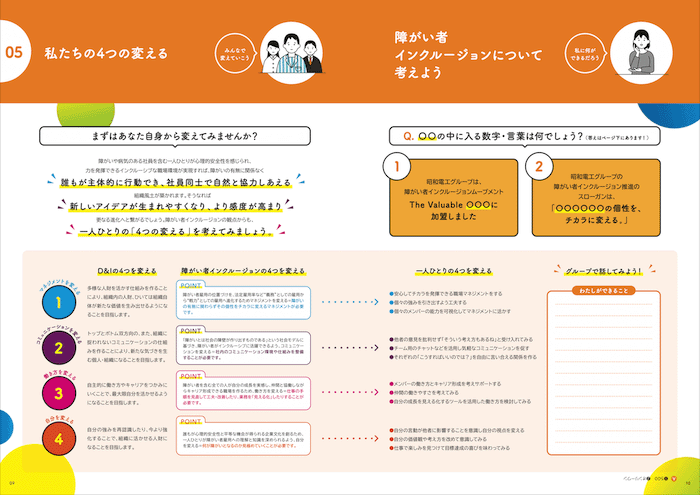 Okuhira: What kind of response did you receive from staff?
Ms. Ichikawa: We actually received many valuable opinions and impressions from them. For example, one person commented that even when we refer to disabilities, each person's disability is different, so it is important for both persons at the work site that accepts employees with disabilities and those employees with disabilities to make efforts to deepen understanding. Another person remarked that he wanted to live in a world where there was no such concept as a disabled person in the future.
One person asked, "What is inclusion in the first place?" The fact that such questions arise show that there is interest. I think it is our role to make all kinds of efforts to encourage each and every employee to be interested in the inclusion of persons with disabilities and to think to themselves, "What can I do?"
Okuhira: Questions and interests will perhaps lead to the "getting hungry" that you mentioned at the beginning. In addition to holding D&I workshops, do you distribute any kind of information to your employees?
Mr. Suzuki: Until now, you could say that we have been in the "cultivation" period. As the next step, as a period for expanding on this, we have begun to provide e-learning content on the support portal site where people can learn more about D&I. Of course, this is not compulsory; it is made available with the idea that people who are interested can view the content as they wish.
Material on the site is created by JST members, and we are currently working on content for a second installment. Designs, ideas, and concepts on how to present things that I could never imagine are included throughout the site, and employees have praised the content as being "very easy to understand."
Expanding the scope of work that only the JST can do and deepening understanding within the company
Okuhira: D&I seems to be heading in a very good direction. Can you tell us how you see the future?
Mr. Ara: When it comes to hiring people with disabilities, many people tend to think of them as performing "auxiliary work." When I began working with JST members however, I was surprised by their very high IT skills. At that time, I felt that there might be a way to create value within the company by having JST members do things that others can't do.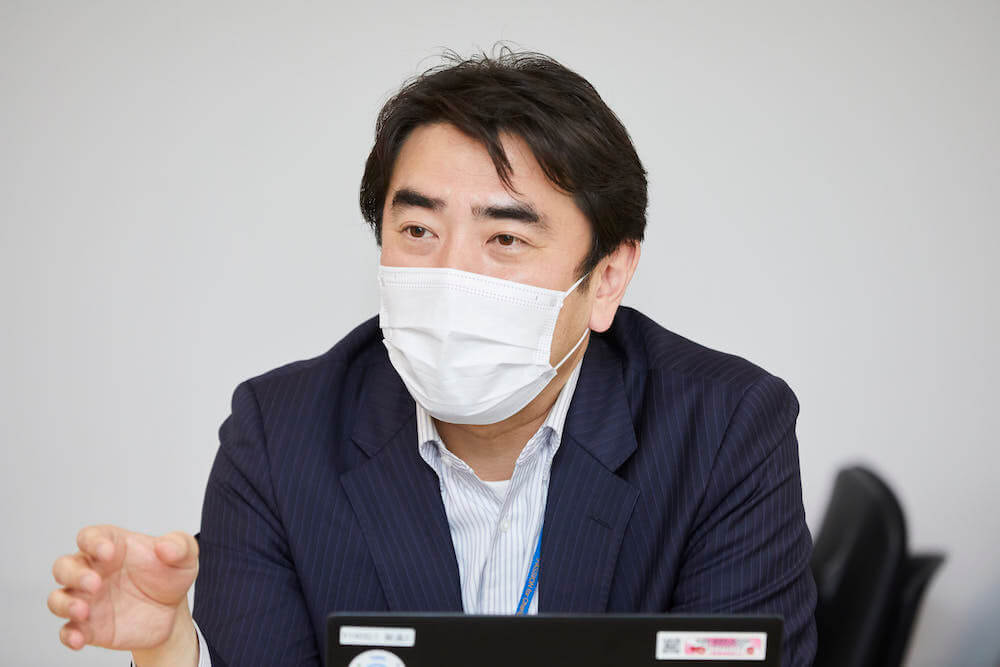 Mr. Ara: That's when I came up with the idea of creating e-learning content. Many departments have already created their own e-learning content, but if we just followed the formalities of conventional content, it would be very boring. On the other hand, if we outsourced the work, it would look quite presentable, but the content would be lacking in substance. I felt that the JST could create both visuals and content at a high level.
And if we created content that attracted the attention of other departments, they would entrust the JST with ICT work and we could recruit even more excellent human resources, which would lead to the promotion of digitalization of the company as a whole. I have such expectations for JST members.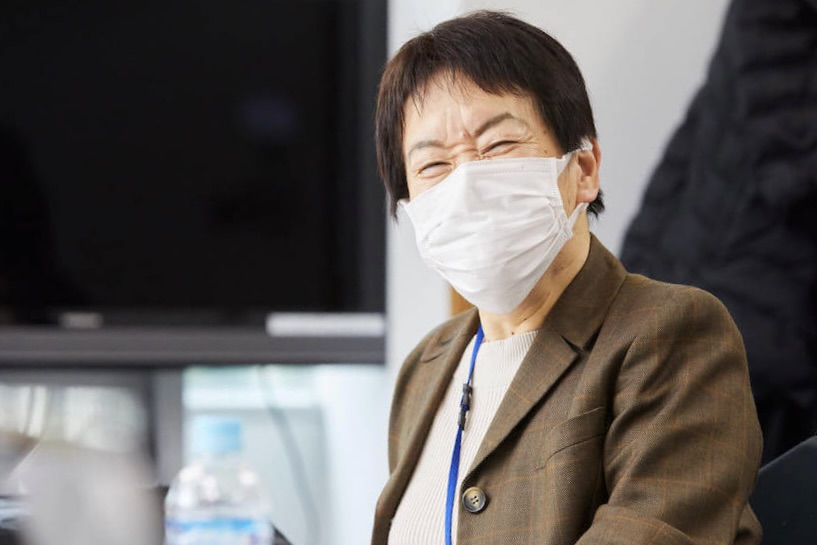 Mr. Suzuki: Our purpose is to increase the number of supporters who are interested in the inclusion of persons with disabilities. This will take time, but I believe that if we give people with whom we have cultivated an understanding the nutrition of "knowledge," their understanding will surely grow and lead to the creation of an inclusive environment.
I myself had a heart attack in 2013 and received a disability certificate after having surgery to implant an ICD (small AED) in my chest. Initially I resisted being called a "person with a disability," but as I went about my everyday life, I felt there was something I wanted others to be aware of, and if I didn't communicate this myself, it would not be communicated to anyone. It may be quite difficult for a person in good health to imagine, but I wish that all people would at least consider the possibility of becoming a person with a disability.
Okuhira: Yes, it would be good if that kind of understanding became more widespread in the future. Thank you very much for your time today.
Photo: Eizaburo Sogo