Digital Transformation Fund EstablishedSymposium on power of digital transformation in addressing social issues held on Dec. 5
The Nippon Foundation held a symposium on December 5 to mark the launch of the Digital Transformation Fund, established with a US$3 million donation from Google.org, the philanthropic arm of Google LLC, to use the power of digital transformation to invigorate the social sector.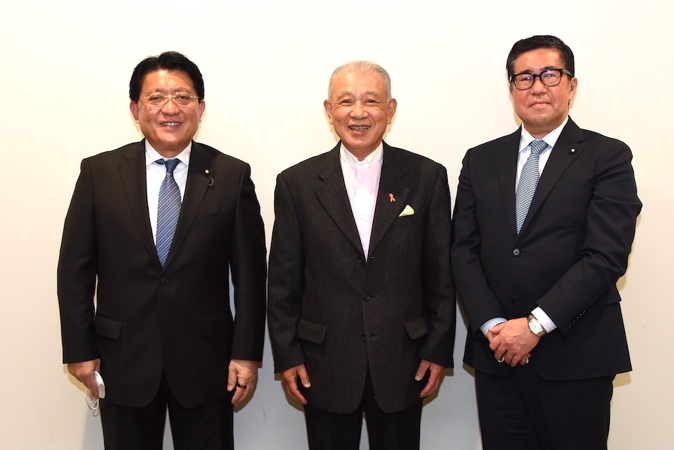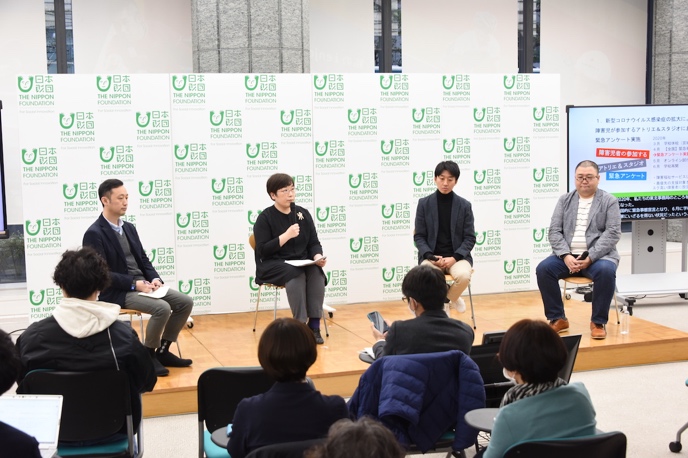 Symposium report: Digital Transformation in the Social Sector – Toward a Society in Which No One Is Left Behind
The symposium was held at The Nippon Foundation's head office in Tokyo, and began with opening remarks by The Nippon Foundation Chairman Yohei Sasakawa, who noted:
"This sector in Japan lags behind other economically advanced countries, and we need to correct this. Mr. Hirai has been stressing this for some time, particularly with regard to the use of digital technology for children, and I would like to close this gap in the use of digital technologies for children and by NGOs. We hope that today will be the starting point for producing concrete results, while maintaining transparency and accountability. I am extremely thankful to Google.org for their support."
Google Japan President Shinji Okuyama added:
"The Nippon Foundation's activities on behalf of Japanese society are very encouraging. Google is launching a variety of initiatives to promote Japan's digital future and change based on our Japan Digitization Initiative. As part of this initiative, we are honored to be able to contribute to The Nippon Foundation's Digital Transformation Fund through Google's philanthropic arm Google.org. It is our hope that this will bring the benefits of technology to nonprofit organizations, as well as to children, persons with disabilities, and other communities of socially vulnerable people, and that they will be able to take advantage of the opportunities created by digital technologies."
These remarks were followed by a keynote address from lower house representative Takuya Hirai, Japan's first minister for digital transformation (and current chairperson of the LDP Headquarters for the Promotion of a Digital Society). He commented:
"With a vision for a 'Digital Society where no one will be left behind,' the Japanese government is emphasizing the construction of public systems that can be used by older persons and persons with disabilities. I hope that this collaborative effort by Google.org and The Nippon Foundation in the area of digital transformation will help NGOs and other segments of the social sector give support to people who face difficulties."
The main session featured representatives of NGOs that are engaged in implementing digital transformation in real-world environments, who discussed the concrete issues they face when introducing digital tools from scratch.
Projects that have been launched using the fund were also introduced. These include online classes that use digital transformation to eliminate "experience disparities" and to enhance "speaking ability," an online dietary education program about life in natural environments, and a project that uses virtual reality to create experiential content for children who are hospitalized or attend schools for students with disabilities.
The following are the three projects that the Digital Transformation Fund has decided to support.
| Organization | Project Overview |
| --- | --- |
| MORIUMIUS LUSAIL | Provides an online dietary education program that teaches children who use Children's 3rd Places (operated by The Nippon Foundation) about natural environments and living. |
| alba edu | Provides online social studies tours for children who use Children's 3rd Places and kodomo shokudo (children's cafeterias, which provide children with free or low-cost meals), including overseas walking tours, workplace experiences, and visits to aquariums and art museums, to eliminate the gap in experiences faced by children in low-income households. |
| D-SHiPS32 | Aims to provide children attending schools for students with disabilities or undergoing long-term hospitalization, who because of their disability or illness have limited opportunity to play and learn outdoors, with new experiences even when they are indoors, using art, technology, the metaverse, virtual reality, and non-fungible tokens (NFTs). |
About Google.org
Google.org is the philanthropic arm of Google LLC, harnessing Google's strengths to support the resolution of major issues facing humanity. Integrating funding, products, and technological expertise, it supports communities in need of assistance to provide opportunities for all people. It works with NGOs, social enterprises, and citizens organizations with the potential to bring about meaningful change, to have a significant impact on communities. To realize a better world more quickly, Google.org considers it important to use technology to create scalable data-driven innovation.
About the Digital Transformation Fund
The Digital Transformation Fund was established by The Nippon Foundation with US$3 million in support from Google.org.
With Japanese NGOs being negatively affected by the coronavirus pandemic, the fund supports projects that introduce technology to bring about a social impact for people facing difficulty. The fund is currently supporting three organizations engaged in activities for Japan's children, including online dietary education and experiential content using the metaverse and virtual reality for children attending schools for students with disabilities or undergoing long-term hospitalization.
Contact
Public Relations Team
The Nippon Foundation
Email: cc@ps.nippon-foundation.or.jp