Ceremony Held to Transfer Stage from Nippon Bunraku Project Portable wooden stage presented to Hachioji City
A ceremony was held at The Nippon Zaidan Building on January 17 to present the portable wooden stage used in the Nippon Bunraku project to the city of Hachioji in western Tokyo.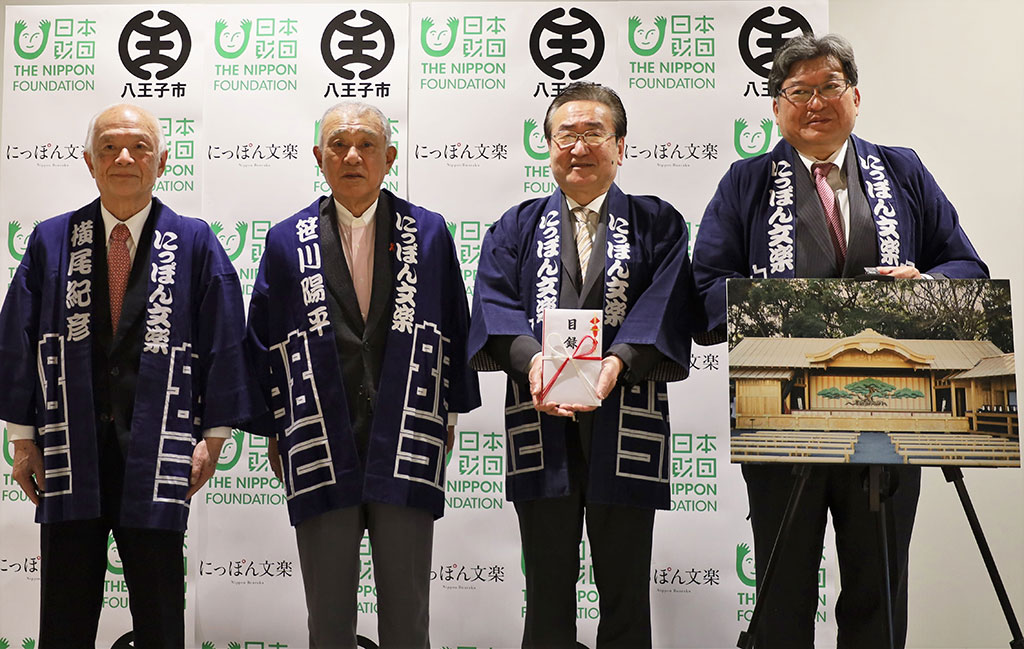 The Nippon Foundation launched the Nippon Bunraku project in 2014 to spur renewed recognition of the value of Bunraku puppet theater, one of Japan's traditional performing arts. The project adopted a style different from the classic ningyo joruri to widen the appeal of the performances.
A full-sized, portable stage that can be disassembled and reassembled, made of Japanese cypress at a cost of roughly 100 million yen, was built for the project, and the first performance was held at Roppongi Hills in Tokyo in March 2015. Over the five years to March 2020, performances were held at seven locations across Japan and were viewed by more than 13,000 people.
Having toured the country and fulfilled its role of disseminating and renewing interest in this aspect of Japanese culture both in Japan and overseas, the Nippon Bunraku project officially transferred ownership of the stage to Hachioji City, where it will be permanently installed at a cultural facility being built (scheduled for completion during fiscal 2026) at the south exit of Hachioji Station.
Hachioji is home to Hachioji Kuruma Ningyo, a form of puppet theater that dates to the 19th century and is closely related to classic ningyo joruri Bunraku, and has been designated an Important Intangible Folk Cultural Property by the Japanese government. Various uses for the stage, including traditional arts performances and community activities, are being considered for the Japanese-style space that will be created.
Permanently installing this portable stage in Hachioji will help to ensure that this culture is passed on to the next generation, and is expected to contribute to the renewed recognition of Japanese culture that has been the project's role.
Contact
Public Relations Team
The Nippon Foundation
Email: cc@ps.nippon-foundation.or.jp