Awareness Survey of 18-Year-Olds – National Diet and PoliticiansResults of 54th installment announced – Only 20% have 'high expectations' for Japanese politics, 'younger Diet members' most cited improvement needed
The 54th installment of the Awareness Survey of 18-Year-Olds, launched by The Nippon Foundation in October 2018, was carried out from January 27 to February 1 on the subject of the "National Diet and Politicians." The survey of 1,000 respondents in Japan aged 17 to 19 was intended to examine young people's interest in politics and their impression and opinions regarding the Diet (national legislature) and Diet members.
The results showed that while a majority of respondents expressed interest in politics for reasons including "Politics will be relevant to my life now or in the future," negative views including "Responses to unforeseen events," "Reflecting the people's will," and "Lack of integrity / transparency" were expressed, with a majority saying that the Diet is "Not a place for meaningful policy deliberation" and more than 60% feeling that the "Opinions of young people are not incorporated." In addition, when asked if they had "High hopes" for today's politics, only one in five replied affirmatively, with the remaining 80% saying they did not. With regard to measures to improve the functioning of the Diet, the top replies for how to increase interest in politics were the "Election of younger Diet members" and "Online activities."
Highlights of the 54th Awareness Survey of 18-Year-Olds – National Security
Degree of interest in current Japanese politics
Interested – 54.9%
Not interested – 45.1%
*

Totals of "Interested + Somewhat interested" and "Not interested + Somewhat not interested."
Impression of current Japanese politics
Not "clean" (lacking integrity / transparency) – 81.3%

*

Total of "Not 'clean' + Somewhat not 'clean.'"

Have high hopes – 20.0%

*

Total of "Yes" + "Somewhat yes."
Current Diet as a place for meaningful policymaking
Agree – 19.3%
Disagree – 52.3%
*

Totals of "Agree + Somewhat agree" and "Disagree + Somewhat disagree."
Needed to make the Diet function more effectively
Election of younger Diet members – 35.5%
Use of things like the internet to allow citizens to express their will – 28.5%
Survey Excerpts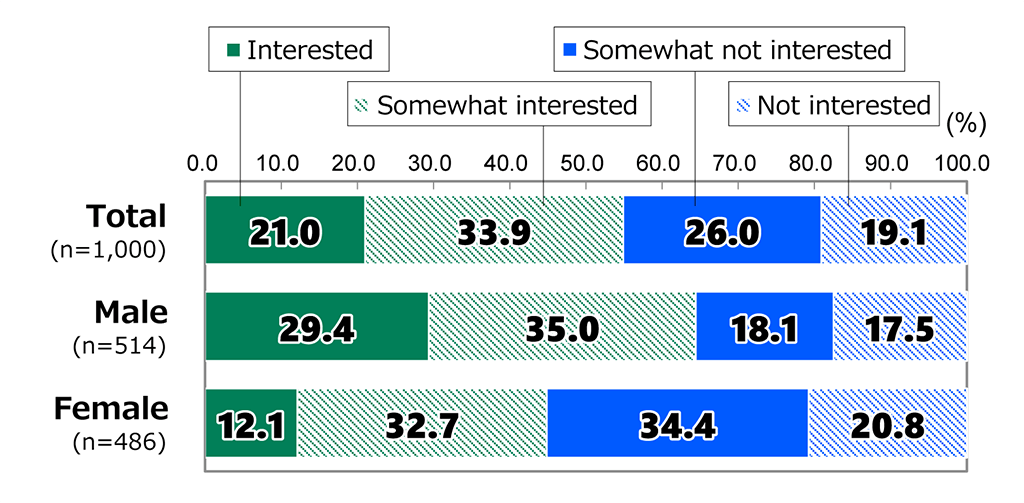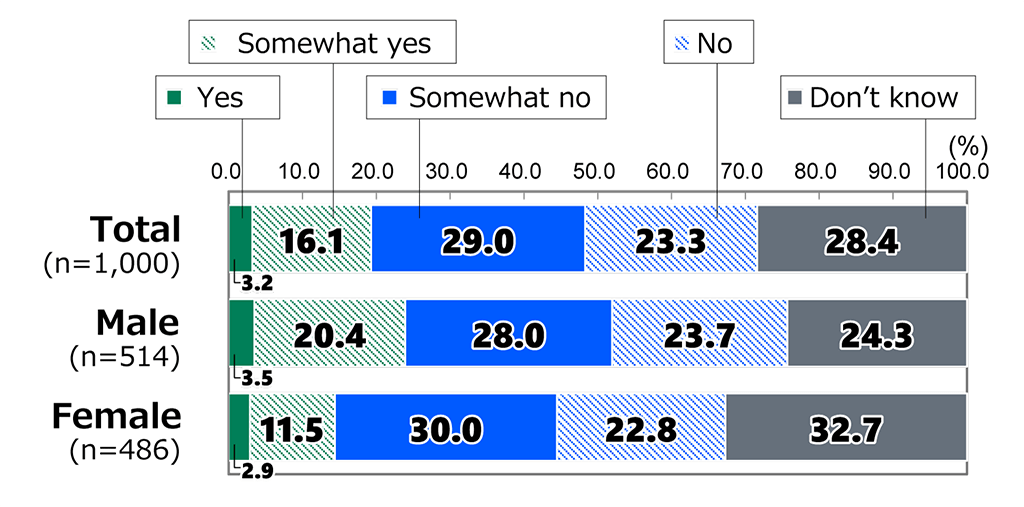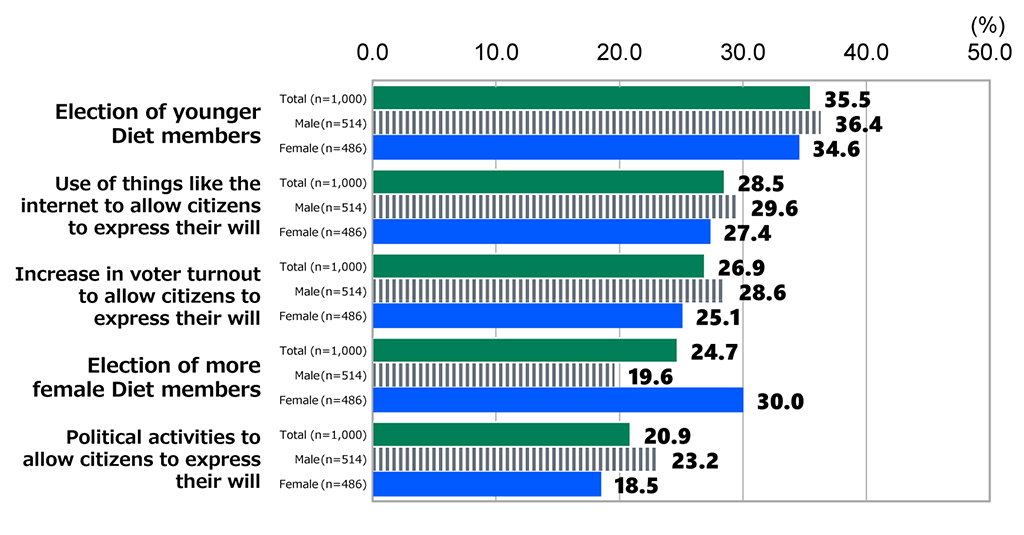 About the Awareness Survey of 18-Year-Olds
Revisions to Japan's Civil Code lowering the age of adulthood to 18 for a range of activities, including voting, took effect in April 2022, making it even more important to understand and record the awareness of the 18-year-olds who represent Japan's next generation. With this in mind, in October 2018 The Nippon Foundation launched the Awareness Survey of 18-Year-Olds, as an ongoing survey of 1,000 young men and women across Japan aged around 18, to survey their values, attitudes toward politics and elections, understanding of social issues, and other current themes on an ongoing basis.
Notes:
From the 13th survey, the number of respondents, comprising men and women aged 17 to 19, has been increased to 1,000 from 800.
With the exception of the 20th and 46th installments, "Awareness Survey of Society and Country," all surveys cover respondents in Japan only.
Contact
Public Relations Team
The Nippon Foundation
Email: cc@ps.nippon-foundation.or.jp