Asian Women Social Entrepreneurs Seminar in Bangkok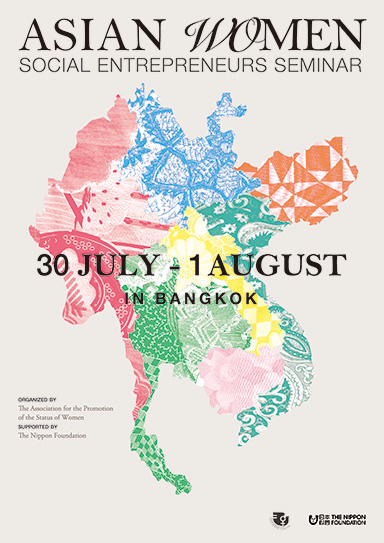 Fast-growing Asia, especially the Mekong region, faces the issue of how to utilize the power of women to both ensure economic growth and combat social issues.
The Asian Women Social Entrepreneurs Seminar, to be held from July 30 to August 1, is intended for women seeking to solve social issues through business, including NGO executives who want to shift from a donation-based business model to a more sustainable one, as well as up-and-coming women social entrepreneurs.
The purpose of this seminar is to articulate the challenges and opportunities for women social entrepreneurship, harness the necessary resources, and create a network to empower these women leaders.
There are also plans to develop a scheme that links the participants with business partners and resources, and that supports their current and future business endeavors following the seminar.
Name
Asian Women Social Entrepreneurs Seminar
Date
July 30 (Wednesday) – August 1 (Friday)
Venue
Association for the Promotion of the Status of Women: APSW
501/1 Dechatungka Rd. Sikan Donmuang Bangkok 10210 Thailand
Organizer
Association for the Promotion of the Status of Women: APSW
Operational Partner
re:terra, Change Fusion
Sponsor
The Nippon Foundation
Participants

Invitation Session: July 30 – 31 (Wednesday – Thursday)

Capacity building sessions for around 30 invited invitees (women social entrepreneurs and NGO executives) from Cambodia, Laos, Myanmar, Thailand, and Vietnam

Open Session: August 1 (Friday)

Anyone interested in the topic of Asian women social entrepreneurs

Seminar Language
English
Organizer Website
http://www.apsw-thailand.org/indexEN.html
Contact
Administration, Head Office, APSW
e-mail: admin@apsw-thailand.org
Contact
International Program Department
The Nippon Foundation