Nagisa-no-Koban Opening Ceremony
Japan's First Marine Social Welfare Facility Opens
Time: Friday, July 25, 2014 10:00
Location: Koigawa, Obama City, Fukui Prefecture
In cooperation with Community Network Fukui, an NGO supporting the independence and social participation of persons with disabilities in Fukui Prefecture, the Nippon Foundation has built a Nagisa-no-Koban (Seaside Patrol Station) as a focal point for building ties between the residents of Obama and the ocean. An opening ceremony was held on July 25.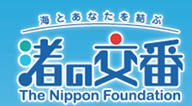 This marine social welfare facility, the first of its kind in Japan, uses marine resources to provide employment opportunities to older residents, persons with disabilities, and other unemployed persons through seaside safety and environmental protection activities.
The facility will hold community events through which everyone can freely enjoy the ocean, with the aim of becoming a symbolic center for the building of ties among all local residents, including older persons, persons with disabilities, and unemployed persons.
Other community activities being planned include the year-round operation of hama-chaya (the local term for umi-no-ie beach restaurants that operate during the summer), as well as various events throughout the year, such as sales of local marine products, sales of solar-generated electricity, and beach cleaning and weeding. These activities will create jobs in the community and strengthen ties between people and the ocean. The new facility is equipped with solar panels, salt production equipment, and a toilet incorporating universal design.
This is the Nippon Foundation's third Nagisa-no-Koban, following facilities already operating in Miyazaki City, Miyazaki Prefecture, and in Omaezaki City, Shizuoka Prefecture.
Contact
Public Relations Section, Communications Department
The Nippon Foundation