Recommendations for Future Recovery in Fukushima Submitted to Prime Minister Abe
The Nippon Foundation held an international expert's symposium,
Beyond Radiation and Health Risk – Toward Resilience and Recovery
, from 8-9 September. At the symposium, Japanese and international experts examined the effects of the Fukushima Daiichi nuclear power plant accident and compiled
recommendations (PDF/156KB)
to be submitted to the Japan Government to help with recovery measures in Fukushima. On 11 September, these recommendations were submitted to Prime Minister Shinzo Abe at his office by international experts and Yohei Sasakawa, Chairman of The Nippon Foundation.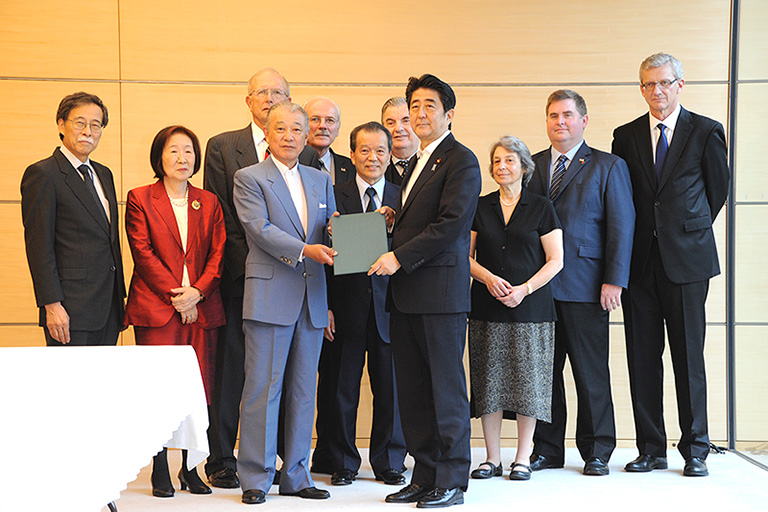 Participants who hand-delivered the Recommendations at the Prime Minister's Office
Yohei Sasakawa (Chair):

Chairman, The Nippon Foundation

Evelyn J. Bromet:

Distinguished Professor, Stony Brook University

Abel Julio González:

Senior Advisor, Argentine Nuclear Regulatory Authority

Carl Magnus Larsson:

Chair of UNSCEAR, CRO-ARPANSA

Jacques Lochard:

Vice Chair, Main Commission, ICRP

Fred Mettler:

Professor Emeritus, University of New Mexico School of Medicine

Christopher H. Clement:

Scientific Secretary, ICRP

Shin-ichi Kikuchi:

President, Chairman of the Board, Fukushima Medical University

Ohtsura Niwa:

Distinguished Professor, Fukushima Medical University

Etsuko Kita:

Chair, Sasakawa Memorial Health Foundation
Reference
3rd Fukushima International Experts Symposium Beyond Radiation and Health Risk – Toward Resilience and Recovery
Date
8 (Mon.) – 9 (Tue.) September 2014
Venue
Fukushima View Hotel (Fukushima City, Fukushima Prefecture)
Organizer
The Nippon Foundation
Co-organizers
Sasakawa Memorial Health Foundation, Fukushima Medical University
Supported by
Nagasaki University
Contact
Public Relations Department The Nippon Foundation
Tel

+81-3-6229-5131

Fax

+81-3-6229-5130

E-mail