Nippon Foundation Chairman Sasakawa Receives IBA's "Rule of Law" Award
Award Recognizes His 40-year Effort to End Leprosy
On October 23, the International Bar Association (IBA) presented its Rule of Law Award to Yohei Sasakawa, the chairman of the Nippon Foundation (and WHO Goodwill Ambassador for Leprosy Elimination and Japanese Government Goodwill Ambassador for the Human Rights of Persons Affected by Leprosy).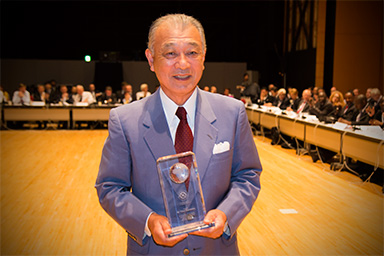 The IBA, which is the world's leading organization of legal practitioners, bestows its Rule of Law Award on individuals who have made outstanding contributions to international justice, human rights, and the rule of law, in line with the organization's own aims of safeguarding the rights of individuals and the independence of the judiciary.
Yohei Sasakawa was chosen as the award's recipient in recognition of his dedication over the past four decades to eliminating leprosy and ending the discrimination and other human rights violations of those who have been affected by the disease. In bestowing its award, the IBA recognizes the ongoing global efforts Mr. Sasakawa has made in pursuit of those goals, working in close cooperation with the WHO, national governments, international organizations, and non-profit organizations.
In January 2013, the Nippon Foundation and the IBA, together with 46 bar associations in 40 countries and 1 region, announced their support of the Global Appeal to end stigma and discrimination against people affected by leprosy.
The president of the IBA, Michael Reynolds, in conferring the award, said that Mr. Sasakawa's "life-long commitment to eliminating leprosy and upholding the human rights of those affected by the condition serves as an example to us all."
At the award ceremony, which was held during the annual conference of the IBA, held at the Tokyo International Forum, Mr. Sasakawa delivered the following comments: "I receive this award together with the men and women affected by leprosy, who are taking a stand to end the stigma and discrimination against them and reclaim their rightful places in society, and who are working tirelessly to empower people affected by leprosy through medical treatment and advocacy. As one member in this global fight, I am looking forward to rejoicing with my fellow stakeholders on winning this award, and renewing our commitments to rid the world of the suffering caused by leprosy and its entailing stigma and discrimination."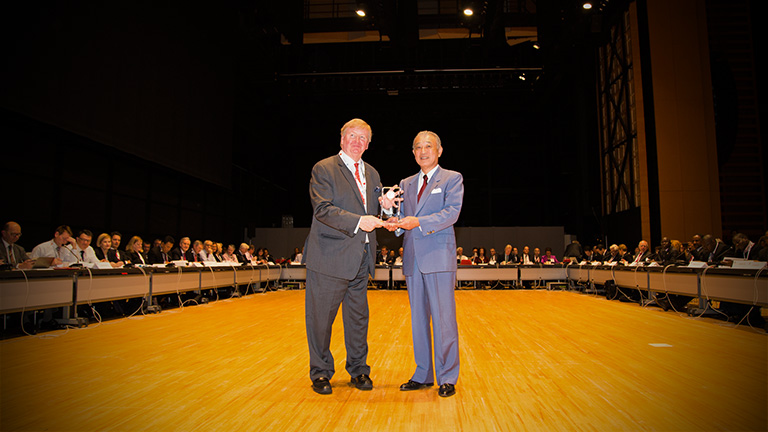 Contact
Public Relations Department
The Nippon Foundation