Ceremony to Deliver Passenger Ferry to Palau
Vessel to Replace Sunken Nippon Maru
Time: December 15, 2014 (Monday) 10:00 –10:30
Location: Palau Terminal Port
The Nippon Foundation is donating a passenger ferry to the Republic of Palau, to replace the Nippon Maru that was irreparably damaged by a typhoon. A delivery ceremony will be held on December 15.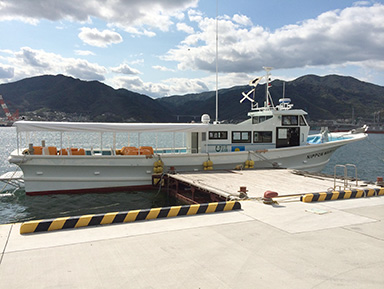 The Nippon Foundation donated the original Nippon Maru to Palau in 1989. Operating between Koror and Peleliu states, the ferry provided transportation to the country's residents for more than 20 years. In December 2012, however, Palau was struck by a major typhoon that sank the ferry. Since then, residents have had no choice but to travel via cargo ships that also carry gasoline and other hazardous materials. The lack of a ferry has also had a direct impact on people's daily lives, limiting older resident's access to health care facilities and leading to shortages of daily necessities.
At the request of the Palau government for assistance in replacing the Nippon Maru, the Nippon Foundation decided in December 2013 to construct and donate a 60-passenger ferry, the Nippon Maru II. With the project to replace the Nippon Maru in the Republic of Palau now completed, the new vessel is ready to be delivered. The Nippon Maru II is equipped with sea rescue gear and telecommunication devices including satellite phones, and together with small patrol boats provided by the Nippon Foundation will help to bolster Palau's maritime safety capacity.
Delivery Ceremony
Time
December 15, 2014 (Monday) 10:00 –10:30
Location
Palau Terminal Port
Program (Tentative)
Greetings from representatives of the governments of Japan and Palau, panel presentation, commemorative photograph.
(Scheduled attendees include the president, vice president, and minister of state of the Republic of Palau, the governor of Peleliu State, and local residents.)
Contact
Public Relations Section, Communications Department
The Nippon Foundation