1,000 Volunteers Plant 6,000 Trees Largest Event to Date to Replace Shrine Groves Lost in Tsunami
Time: June 14, 2015 (Sunday) 13:00 – 15:30
Location: Hachiman Shrine (Tagajo City, Miyagi Prefecture)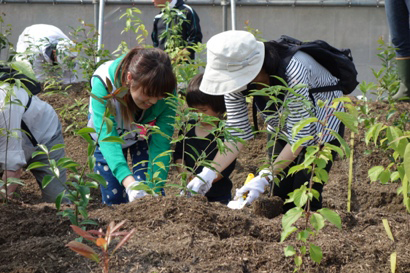 The Nippon Foundation and tsunami-damaged Hachiman Shrine jointly held a tree-planting event yesterday, June 14, to restore the woods on the shrine grounds.
The Shrine Grove Resuscitation Project was launched in 2012, as a way to support northeast Japan's recovery from the Great East Japan Earthquake and resulting tsunami. Through tree planting, the Nippon Foundation aims to bring together local residents to resuscitate shrine groves and revitalize local communities. The project covers three prefectures – Iwate, Miyagi, and Fukushima – and is being overseen by Akira Miyawaki, director of the Japanese Center for International Studies in Ecology. This was the ninth event held in Miyagi Prefecture, and the 11th overall.
Approximately 1,000 people gathered for the event, and planted 6,000 trees comprising 25 varieties including shirakashi (Quercus myrsinaefolia; bamboo-leaf oak), tabunoki (Machilus thunbergii), and yamazakura (Prunus jamasakura) on the shrine ground's roughly 1,279 square meters, making this the project's largest event. The Nippon Foundation provided support in the amount of ¥17.77 million for soil improvements needed to plant the trees.
The afternoon began with an opening ceremony featuring greetings by the chief priest of Hachiman Shrine and representatives of the prefectural and national shrine associations, the mayor of Tagajo City, and Nippon Foundation executive director Hideo Sato. A local cultural group performed a shishi-odori deer dance that is traditional to the region, and Mami Koyama, a popular animation voice actress, presented a reading of Japanese mythology from the Kojiki (Records of Ancient Matters).
This was followed by an explanation of how to plant the trees, the actual planting, and a commemorative photograph.
About Hachiman Shrine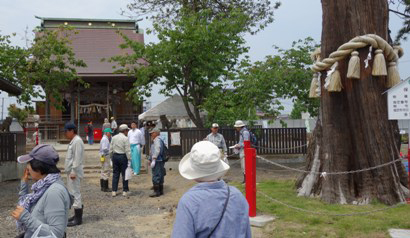 Located one kilometer from the coast, Hachiman Shrine was hit by a three-meter tsunami on March 11, 2011. The shrine office, torii gateway, and portable shrine were completely destroyed. The main shrine survived, protected by the surrounding grove, but given the danger of saltwater-damaged trees falling, the trees were felled and removed by volunteers.
Shrine Grove Resuscitation Project (number of trees is rounded):
| | | |
| --- | --- | --- |
| June 2012 | Yamamoto, Miyagi Prefecture | 3,300trees |
| August 2012 | Watari, Miyagi Prefecture | 1,100trees |
| April 2013 | Yamamoto, Miyagi Prefecture | 2,300trees |
| May 2013 | Watari, Miyagi Prefecture | 2,100trees |
| July 2013 | Watari, Miyagi Prefecture | 2,500trees |
| April 2014 | Ishinomaki, Miyagi Prefecture | 3,500trees |
| April 2014 | Iwaki, Fukushima Prefecture | 700trees |
| May 2014 | Ishinomaki, Miyagi Prefecture | 3,000trees |
| July 2014 | Ishinomaki, Miyagi Prefecture | 2,500trees |
| May 2015 | Minamisoma, Fukushima Prefecture | 3,000trees |
| June 2015 | Tagajo, Miyagi Prefecture | 6,000trees |
Contact
Public Relations Section, Communications Department
The Nippon Foundation