Nippon Bunraku Project – Performance in Bunraku's Birthplace to Mark 400 Years of Dotonbori
Press Conference Held to Announce Performance
Time: July 8 (Wednesday) 14:00 – 15:00
Location: Osaka Museum of History
The Nippon Foundation held a press conference on July 8 to announce Nippon Bunraku performances, to be held October 17-20, with an afternoon and evening show each day, at Naniwa-no-Miya Park in Osaka, the birthplace of Bunraku.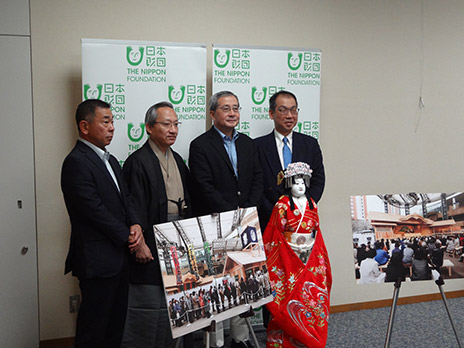 One of Japan's leading traditional arts and a UNESCO World Intangible Cultural Heritage, bunraku puppet theater has broad appeal both in Japan and overseas, and the Nippon Foundation is launching the Nippon Bunraku project to reaffirm bunraku's value. The project's first performances were held in March in a park at the Roppongi Hills complex in Tokyo, and the audience was encouraged to enjoy bunraku while eating and drinking in this outdoor setting. An authentic mobile stage made of cypress was built using traditional construction techniques, and will continue to be used for future performances.
This year the city of Osaka is marking the 400th anniversary of the excavation of Dotonbori, the canal from which the adjacent shopping and entertainment area takes its name. This district is also where bunraku originated, and the plays to be performed are intended to appeal to a broad audience in celebration of 400 years of local culture.
In his remarks at the July 8 press conference, Takeju Ogata, president of the Nippon Foundation, noted, "Bunraku is a national treasure. We are aiming for the style of a traveling show, as bunraku was originally performed. We have donated approximately ¥100 million to build the mobile stage, which we hope to use for two tours annually until the Tokyo Olympics are held in 2020."
Masayuki Nakamura, director of the Yokohama Noh Theater and general producer of the project, gave an overview of the project, saying "Bunraku is a unique world of highly refined artistry. Through these performances, we hope that more people will think about how to preserve this art form." He added that seating is being limited to roughly 400 people, so the audience can fully experience the thrill of seeing the puppets' movements, and that people will be encouraged to bring food and drinks, to enjoy bunraku as a form of amusement as it was in its early days.
The press conference also featured the screening of a video showing the assembly of the cypress stage, and a discussion of the history of Osaka and bunraku, highlighting Osaka's local culture and the appeal of bunraku, by bunraku puppeteer Kanjuro Kiritake III and Toru Imai, president of the Dotonbori Store Association.
Contact
Communications Department
The Nippon Foundation