Training 10,000 Technicians to Strengthen Offshore Development
Maritime countries represent 50 trillion yen market Establishing multisector consortium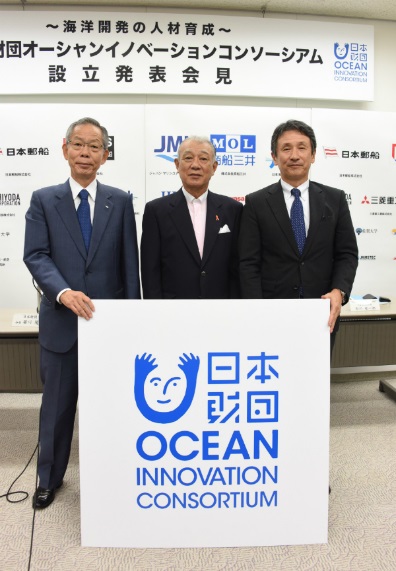 The Nippon Foundation Ocean Innovation Consortium was launched on October 4 as a nationwide initiative encompassing the industrial, academic, public, and private sectors with the aim of cultivating human resources involved in offshore development. The offshore development market is expected to grow to 50 trillion yen by 2030, and the consortium aims to increase the number of offshore development technicians to 10,000 by that time, representing a roughly five-fold increase from the current 2,000-plus. On Marine Day 2015 (July 20), Prime Minister Shinzo Abe called for the creation of a structure for human resource development through a consortium as one basic strategy for Japan as a maritime country. A general meeting to launch the consortium was held at The Nippon Foundation headquarters in Tokyo on October 4 and was attended by 12 companies including Japan Marine United, Mitsui O.S.K. Lines, Japan Drilling, Nippon Yusen, and Mitsui Engineering & Shipbuilding, as well as 12 universities and 4 public institutions. The Nippon Foundation Chairman Yohei Sasakawa was named the consortium's chairman, and Koji Miyahara, board counselor at Nippon Yusen, and Yuichiro Ichikawa, president of Japan Drilling, as vice chairmen.
Developing human resources for the future
At a press conference held after the general meeting, Mr. Sasakawa noted, "With the world's sixth-largest exclusive economic zone, Japan has abundant seabed resources and renewable energy sources like wind power, and if we can learn to use these effectively the potential for Japan's resources will increase significantly." Mr. Miyahara added, "Offshore development is one of the pillars of Japan's growth strategy, and I hope we will quickly be able to develop human resources for the future. Abundant resources have been confirmed to exist in the seas surrounding Japan, including methane hydrate, the main component in natural gas, hydrothermal deposits with accumulations of gold and silver, and sludge containing rare earth minerals. In addition, as an island nation, Japan's topography presents a range of possibilities for renewable energy like wind power and wave power. The market for offshore oil and natural gas is estimated to be worth approximately 30 trillion yen annually, of which Japan's share is roughly 1%, and Japan has less than 0.01% of the 2.3 trillion yen market for offshore wind power generation. This shows that Japan is trailing other countries in these fields, making the cultivation of human resources with technical skills and expertise for offshore development an urgent issue for gaining market share going forward. Looking at the 23 major companies involved in offshore development, however, of the total 15,000 technicians at these companies, only 2,200 are engaged in offshore development. This is because offshore development industries have not been viewed as an attractive field by students, in part because of the absence of programs to connect students with companies and opportunities to gain on-site experience.
Putting a solid human resource development system in place by 2020
As Japan's only comprehensive organization for cultivating human resources for offshore development, the consortium will develop seminars, curricula, and teaching materials, and expand overseas dispatching programs and scholarship programs in cooperation with overseas companies and universities, targeting university undergraduates and graduate students and young technicians working for companies, to put in place a solid human resource development system by 2020.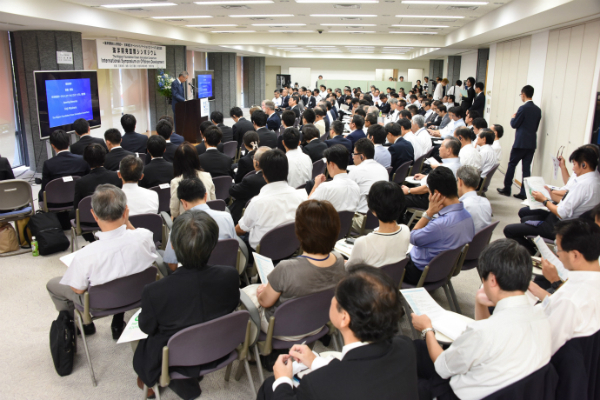 The consortium has estimated that to have 10,000 technicians by 2030, on average more than 500 people will need to be trained annually. The aim is to have a broad range of companies participate in offshore development, from fields including offshore oil, general trading, marine transport, and shipbuilding, and while working to increase the number of participating companies and universities, the consortium also sees a possibility to promote offshore development as an industry that creates new industrial structures and increases demand for human resources in mining, exploration and development, and production and transport. Ahead of the consortium's launch, this fiscal year The Nippon Foundation provided on-site training opportunities for 17 university students of one to four months at an oil company in Norway and a university in Scotland. These students were each presented with a Certificate of Completion.

An International Symposium on Offshore Development was also held to commemorate the consortium's launch, featuring six speakers from Japan and overseas, including Nobuo Tanaka, president of the Sasakawa Peace Foundation and former executive director of the International Energy Agency, and Ed Nagel, who has more than 40 years of experience in the energy industry and is vice president of the offshore engineering company EXMAR Offshore.

In his keynote address titled "Energy Strategies in a Storm," Mr. Tanaka noted, "The stability of energy supplies cannot be guaranteed going forward, and we need to have even more diverse sources. Asia could implement a major framework to guarantee stable energy supplies, and closer ties between Japan and Russia could be the first step toward that possibility."
Contact
Communications Department The Nippon Foundation