1st Cybathlon International Competition Held
Pilots' technical ability and robotic tools' superiority key to victory.
The first international Cybathlon was held on October 8 in Zurich. Teams of technological developers and a pilot used the latest robotics and other technologies to compete in terms of speed and accuracy, demonstrating how novel technologies can assist people with disabilities in their daily life. A total of 66 teams from more than 20 countries competed in front of roughly 4,600 spectators, with three teams from Japan – Meltin MMI, the Wakayama University RT-Movers, and Xiborg – participating with the support of The Nippon Foundation.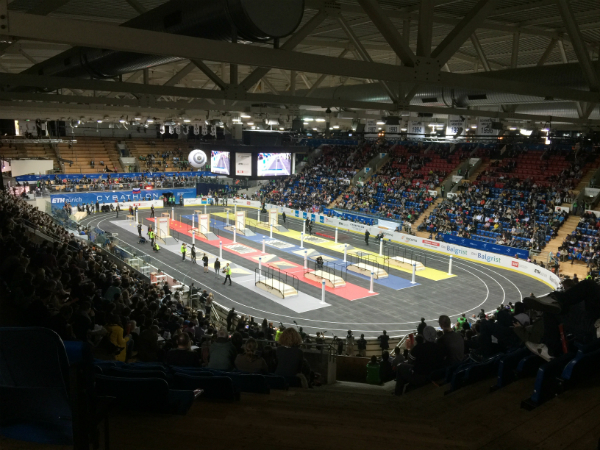 Unlike competitions like the Paralympics, where competitors do not use electrically controlled prosthetic or assistive devices, Cybathalon represents a new concept in sports competition featuring six disciplines: powered arm prosthesis race; powered leg prosthesis race; powered wheelchair race; powered exoskeleton race; functional electrical stimulation (FES) bike race; and brain-computer interface race. Victory in each competition was determined by the superiority of the assistive devices and the skill of the pilots in using the devices. Of the teams from Japan, Meltin MMI competed in the powered arm prosthesis race and the FES bike race, Wakayama University's RT-Movers competed in the powered wheelchair race, and Xiborg competed in the powered leg prosthesis race.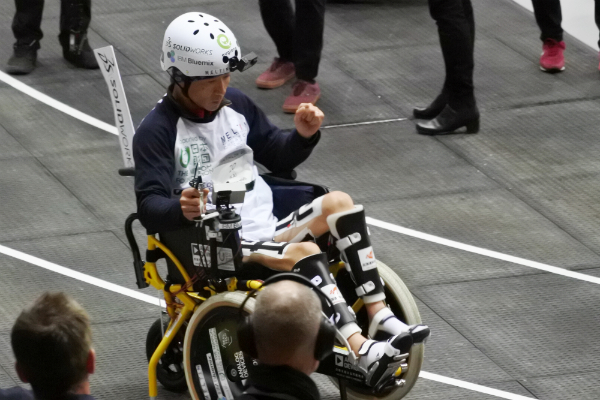 Meltin MMI places 8th in powered arm prosthesis race
The powered arm prosthesis race used a course featuring six tasks that required combinations of everyday activities like placing items on a tray and carrying the tray on a slope without dropping anything, replacing a light bulb, opening a can, opening a bottle, cutting bread, and hanging laundry to dry. Points were awarded for each task, with the team scoring the most points named the winner. Victory was determined by how quickly and accurately the pilot could use an electrically controlled prosthesis to do things like grasp and release an object. Using a myoelectric (controlled by electric signals transmitted by muscles in the person's body) prosthetic arm, Meltin MMI's pilot passed through the qualifying round of the powered arm prosthesis race, and eventually finished in eighth place overall. In the FES bike race, electrical stimulation was applied to muscles in the legs of a pilot with complete paraplegia to pedal a bicycle, with two pilots competing at a time on a circular track and the winner being the first to cross the finish line. If a pilot veered from their lane they were given a warning, with three warnings resulting in disqualification, meaning the pilot and technology had to be able to navigate the course accurately. Meltin MMI's pilot used a wheelchair-type bike, and although he was not able to complete the full number of laps, he received rousing support from the spectators.
Wakayama University RT-Movers place 4th in powered wheelchair race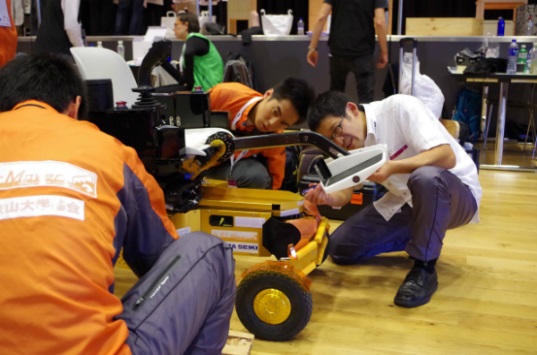 The next team to compete was the Wakayama University RT-Movers in the powered wheelchair race. Unlike conventional wheelchairs used in daily life, this race featured advanced motorized wheelchairs controlled by a joystick, touchpad, or other device, and pilots were required to navigate a course that included tasks representing daily life. The course comprised six tasks, with points awarded for each one and the highest-scoring team declared the winner, or the team with the fastest time in the event of a tie score. Pilots had to be able to pull up to a table, and navigate a slalom, ramp and door, rough terrain, tilted path, and stairs. The wheelchairs used a variety of unique configurations, including a continuous (caterpillar) track. RT-Movers' pilot, Paralympic medalist Tomoya Ito, used a four-wheeled wheelchair and finished in fourth place.
Xiborg competes in powered leg prosthesis race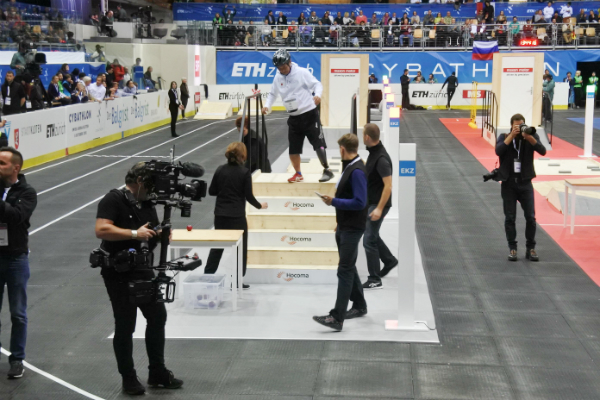 Finally, the Xiborg team competed in the powered leg prosthesis race. This race also featured six tasks, with points awarded for each one. Pilots were required to sit down on and stand up from a sofa, step over and pass beneath hurdles, navigate a ramp and pass through a door, step over stones, walk over a tilted path, and navigate stairs while carrying objects balanced on a plate. Pilots used powered prosthetic legs intended for daily use, and the challenges required balance, knee strength, and the ability to position the foot accurately. The Xiborg team placed 12th in the qualifying round, and did not advance to the finals.
Encouraging further development of assistive devices
The event was organized by ETH (Swiss Federal Institute of Technology) Zurich with the goal of encouraging researchers and developers to make progress on assistive technologies. Summing up the day's activities, ETH president Lino Guzzella noted, "Today, the Cybathlon thrilled spectators from all over the world and demonstrated most impressively just what technology has to offer in assisting humans." Plans are for a second Cybathalon to be held in 2020.
Contact
Communications Department The Nippon Foundation