ParaFes 2016 – Unlock Yourself
Tokyo governor joins sports and music festival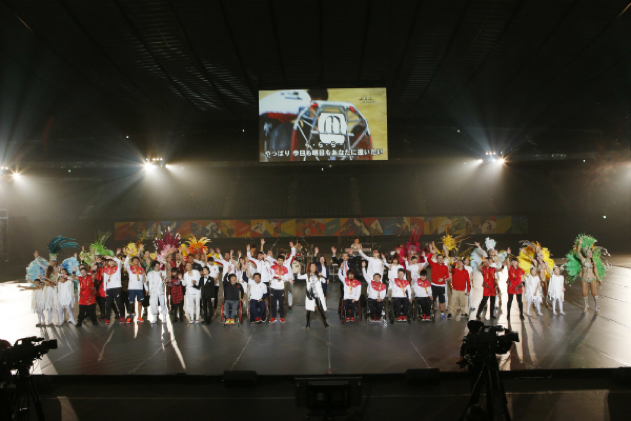 "ParaFes 2016 – Unlock Yourself," a sports and music festival featuring Rio 2016 Paralympic medalists and artists with visual impairment, was held on November 22 at the Yoyogi 1st Gymnasium in Tokyo, with approximately 5,000 spectators in attendance. At the call of Seiko Noda, a prominent LDP politician who heads a working group making preparations for the Tokyo 2020 Paralympic Games, the event was organized by the Nippon Foundation Paralympic Support Center.
Festive opening sets tone for the evening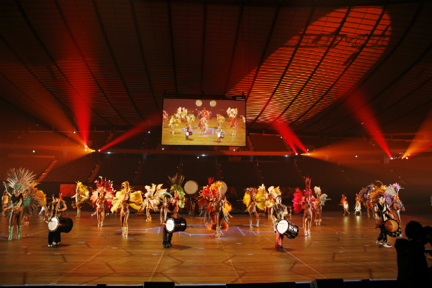 At 7:00 pm, as the event began, the gymnasium was flooded with sound and images projected onto the floor, as costumed samba dancers and Japanese wadaiko drummers immediately set the tone for the festive evening. This was followed by performances by guitarist Marty Friedman, and professional dancers Tommy "Guns" Ly, who has a prosthetic leg, and Luca "Lazylegz" Patuelli, who was born with arthrogryposis multiplex congenita.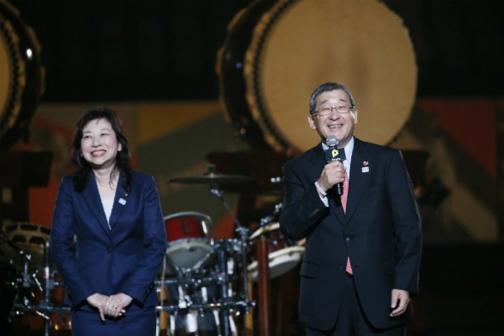 After the performances, Paralympic Support Center Chairman Yasushi Yamawaki welcomed the spectators, noting, "Many people cheered on the Paralympians at the Rio Paralympics. I hope we can continue this momentum to create an inclusive society in which everyone, whether they have an impairment or not, can enjoy themselves." Ms. Noda added, "The Paralympics are still not as well known as the Olympics. We are having this event so that artists can act as a bridge to bring greater recognition to Paralympians." Next, Tokyo Governor Yuriko Koike pointed out that "The Olympics will not be a success if the Paralympics are not a success. I want to prepare thoroughly to have a spectacular Paralympics."
Entertainers team with Paralympians to introduce Paralympic sports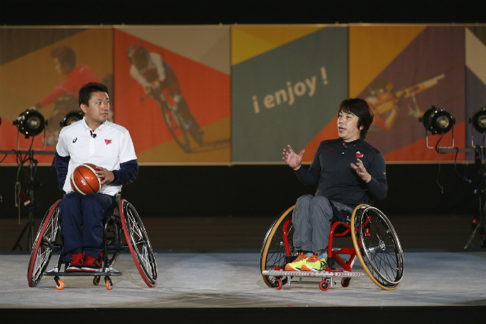 Next, popular comedians Hiroshi Tamura and the duo Bambino were joined by Paralympians to introduce Paralympic sports. The first sport was wheelchair basketball. Former Japan team members Shinji Negi and Katsumi Miyake explained the rules and how they differ from traditional basketball, and then invited the three comedians to give it a try. A three-minute shooting competition between the Paralympians and the comedians ended in a 1-1 tie.
This was followed by track and field, with three members of the Rio 2016 Paralympics bronze medalist men's 400-meter relay team – Hajimu Ashida, Keita Sato, and Tomoki Tagawa – taking the stage together with Sae Tsuji, also a Rio 2016 bronze medalist in the women's 400-meter track event. All four of these Paralympians use a prosthetic arm or leg, and they demonstrated how the devices are attached to their bodies and discussed how these devices affect their lives.
The last sport to be introduced was wheelchair rugby. The Japanese men's team won its first bronze medal in Rio, and four members of the team – Daisuke Ikezaki, Kazuhiko Kanno, Tomoaki Imai, and Masayuki Haga – took the stage. Wearing his bronze medal, Mr. Haga said, "If you shake a medal from the Rio Paralympics, the sound (of the loose metal inside) differs depending on which medal it is. I hope to hear the sound of gold at the Tokyo Paralympics." Mr. Ikezaki added, "I will try again for a gold medal in Tokyo, and I hope to achieve that with the rest of the team." Three of the Paralympians then demonstrated a wheelchair rugby tackle with Daisuke Ishiyama of Bambino, who was so overwhelmed that he said afterward, "I don't even remember what happened."
Popular musicians add their support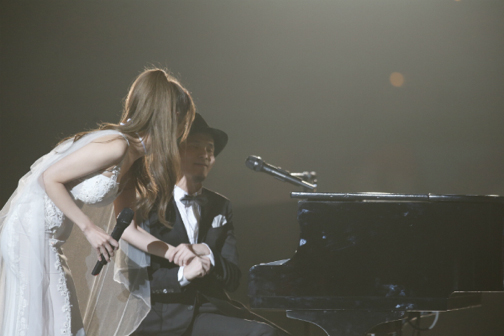 This concluded the sports portion of the event, and was followed by a musical concert. First, Koshi Kishita, a singer-songwriter who is blind and has been called the "Japanese Stevie Wonder," sang while accompanying himself on the piano. For this section, the lights in the gymnasium were turned off and spectators put on eye masks that had been distributed in advance, to experience a "blind concert" using only their ears to take in the music. Mr. Kishita then performed John Lenon's "Imagine," joined by Chihiro Watanabe, a singer who is also blind. Mr. Kishita performed a song with Sarah Àlainn, an Australian musician who is popular in Japan, as well.
The concert closed with a performance by singer-songwriter Maki Ohguro, who continues to give concerts in support of the reconstruction of northeastern Japan from the 2011 earthquake and tsunami. As spectators were leaving, they were able to view a life-sized replica (approximately 2.6 by 6.1 meters) of a mural drawn for the Paralympic Support Center office by Shingo Katori of the popular musical group SMAP.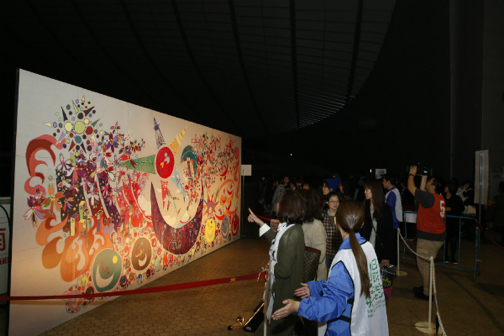 Related Link
Contact
Communications Department The Nippon Foundation