Working to Restore Childhood Scenery
Recovery lags 7 years after earthquake and tsunami – Agricultural activities in Minamisoma, Fukushima Prefecture
"In spring, the rice paddies glitter from the light on the water, and in summer the wind blows through the sea of green. In autumn, the sound of the wind as it rustles the harvested rice plants is soothing. I want to bring back these scenes of Odaka from my childhood. If that happens, people will come back as well, and new people may come wanting to take up agriculture."
These were the thoughts of Takashi Mizugai of Odaka, an area of Minamisoma City in Fukushima Prefecture. After the nuclear power plant accident triggered by the Great East Japan Earthquake that struck northeastern Japan in March 2011, the International Commission on Radiological Protection (ICRP) began holding dialog seminars with local residents from the autumn of 2011. The most recent seminar was held in Minamisoma on February 10-11, and on the first day Mr. Mizugai gave a tour of the area and shared his thoughts regarding the restoration of agriculture to the region.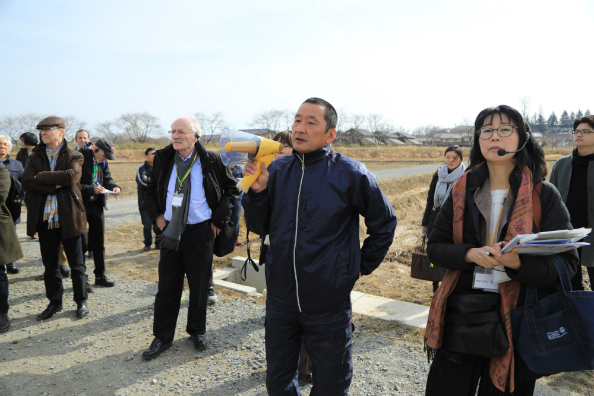 Following the accident at Tokyo Electric Power Company's Fukushima Daiichi Nuclear Power Station, an evacuation order was issued for the area within a 20-kilometer radius of the power plant, and residents 20 to 30 kilometers from the plant were told to stay indoors. Later, the area was divided into "evacuation order cancellation preparation zones," "restricted residence zones," and "difficult-to-return zones." The number of Fukushima Prefecture residents who evacuated peaked at 164,865, and currently roughly 53,200 people have yet to return to their homes. Odaka, where Mr. Mizugai lives, is in the 20-kilometer zone, and the evacuation order was lifted in July 2016. The current population is roughly 2,500, meaning that only 19% of residents have returned, and most of those who have returned are in their 50s, 60s, or older.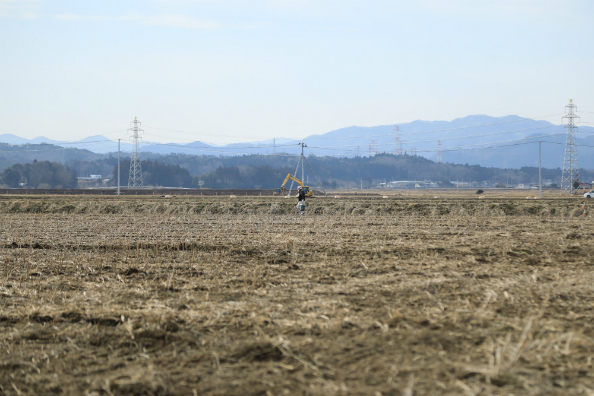 Although more than seven years have passed since the accident, agricultural products from Fukushima Prefecture are still struggling for acceptance. Some products, including corn and peaches, are beginning to recover. Exports still face adversity, however, with China continuing to ban all imports of food and feed products from the prefecture and South Korea prohibiting seafood imports. The situation within the 20-kilometer zone is even more acute, and local residents are searching for ways to revive agricultural activity.
After the accident, with local agriculture "completely destroyed," residents of Odaka were allowed to enter and leave the area during the daytime only. Mr. Mizugai and some fellow farmers undertook the nominal farmland protection tasks of brush clearing and decontamination. At night, they could not return to their homes, which were near the area where they were working, and they had to make a three-hour round trip from where they had evacuated in Fukushima. During this time, Mr. Mizugai's work as one of the first attempts to restore agriculture within the 20-kilometer zone began to attract attention.
Cultivation of soybeans began on a trial basis from around 2013. Before the earthquake, Odaka's rice paddies had been irrigated by water from the Ogaki Dam Reservoir in the neighboring town of Namie, but sediment created by the earthquake blocked the irrigation channel and water could no longer flow to the fields. Mr. Mizugai learned that soybeans have a high absorption rate for radioactive cesium relative to other agricultural products, so he thought that if they could grow soybeans they could grow other products as well.
After growing and testing the soybeans, the amount of cesium absorbed was below the legal limit, and from then, with cooperation from Fukushima Prefecture and the Ministry of Agriculture, Forestry and Fisheries, they began planting soybeans every year, and selling them outside general distribution routes from around 2015. They also began small-scale rice cultivation from 2015, and that rice is now being produced as livestock feed. He notes, "Our products are still not reaching general consumers, so I feel like we are suffering from ungrounded concerns, but I am nevertheless happy that agriculture has restarted as an industry."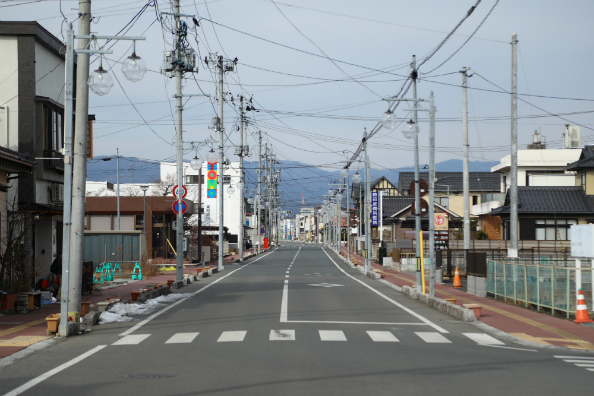 Mr. Mizugai is 56, while his fellow farmers are in their late 50s at the youngest, and most are in their 60s. Many of the young people they had hoped would join them left Odaka after the nuclear plant accident, and it will be difficult for Odaka's agriculture to continue if successors are not found within the next five years. These farmers are currently introducing machinery to make up for the shortage of workers, but they are searching for new ways to manage the work. These concerns about the future of Minamisoma and Odaka were the theme of the second day's dialog seminar, where many people shared their concerns about the area's future.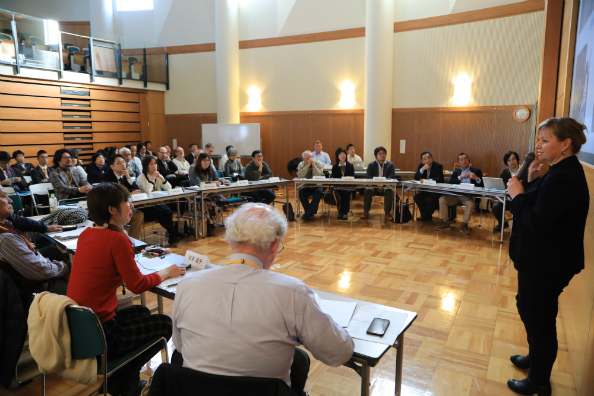 With an aging population and declining birthrate, many areas across Japan are losing population. This is especially true in this area, where many people have left their hometowns near the site of the accident. This trend will be difficult to stop, but Mr. Mizugai will continue to persevere to restore his childhood scenery.
Contact
Communications Department
The Nippon Foundation
E-mail:cc@ps.nippon-foundation.or.jp