Group of SDF Officers Makes 1st Visit to China in 6 Years
Field officer exchange leading to gradual improvement in ties; discussions on joint disaster relief and peacekeeping operations
A group of officers from the Japan Self-Defense Forces recently called on their counterparts in China under the Japan-China Field Officer Exchange program, which has resumed after a six-year suspension. On September 20, the group paid a courtesy call on Major General Shao Yuanming, Deputy Chief of the Joint Staff Department of China's Central Military Commission. During the visit, Yohei Sasakawa, Honorary Chairman of The Sasakawa Peace Foundation, which sponsored the visit, and Chairman of The Nippon Foundation, asked that the program be continued for the next five years without further suspensions. General Shao replied favorably, noting that Japan – China relations are entering a new stage of development, and expressed his hope that the relationship would move forward through the efforts of both countries.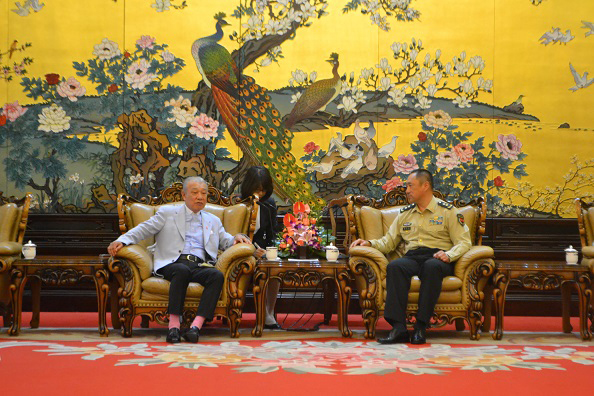 Mr. Sasakawa expressed his desire that Japan's Self-Defense Forces ("SDF") and China's People's Liberation Army ("PLA") could cooperate in the areas of disaster relief and peacekeeping operations. General Shao showed a positive response, noting that it was a "wonderful idea" and adding that he would like to consider this as part of the planning for future exchanges.
The group of 13 SDF officers was led by Rear Admiral Tomohiko Madono of the Joint Staff's Defense Plans and Policy Department. The decision to restart the exchange program was made in February of this year, after having been suspended in October 2012 in connection with Japan's nationalization of the Senkaku Islands (referred to as the Diaoyu Islands in China), and in April a group of 25 PLA officers visited Japan. This was the first time since the resumption that a group of SDF officers has visited China. They arrived in Beijing on September 19 and returned to Japan on September 27. During their tour, they participated in a forum on marine safety at the China Institute for International Strategic Studies, and visited the PLA Air Force Aviation University in Changchun, Jilin Province, as well as a naval facility in Shanghai and other PLA facilities.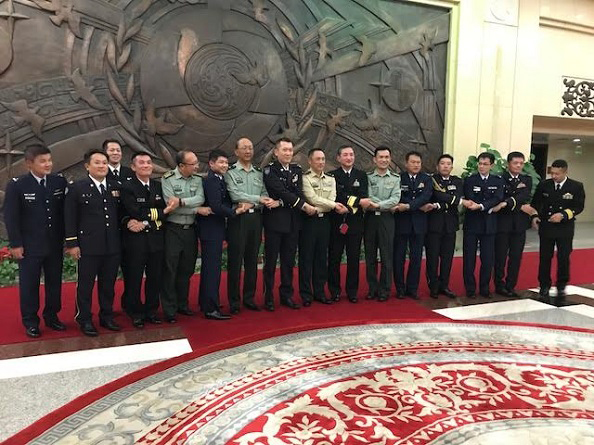 Against the backdrop of gradually improving Japan-China relations, Mr. Sasakawa noted to General Shao that when the decision was made in February to restart the exchange program, the Chinese side expressed enthusiasm, noting that they hoped to establish a new Japan – China relationship. He emphasized the significance of the fact that the field officer exchange came ahead of visits to Japan by Chinese State Councilor and Foreign Minister Wang Yi and Premier Li Keqiang, and the planned visit by Japanese Prime Minister Shinzo Abe to China in the fall.
General Shao commented that promoting practical cooperation and interaction was very important for achieving world peace.
Mr. Sasakawa added that the exchange program, which The Sasakawa Peace Foundation carries out with the cooperation of Japan's Ministry of Defense and China's Office for International Military Cooperation and the China Institute for International Strategic Studies, is a "Track 1.5" effort (involving both official government and private-sector parties) that is being watched by other countries, and he hopes it will become an internationally established model.
At a reception during the tour, Admiral Madono gave the example of the endangered crested ibis pairs that China has presented to Japan, which have produced more than 350 offspring through artificial breeding, "Like the crested ibis, even if the relationship between the SDF and PLA starts out on a small scale, it can still flourish over time."
Contact
Communications Department
The Nippon Foundation
E-mail:cc@ps.nippon-foundation.or.jp