On Site in Areas Damaged by July 2018 Western Japan Flooding
Importance of health management using specialist medical and social welfare expertise is an important issue in evacuation shelters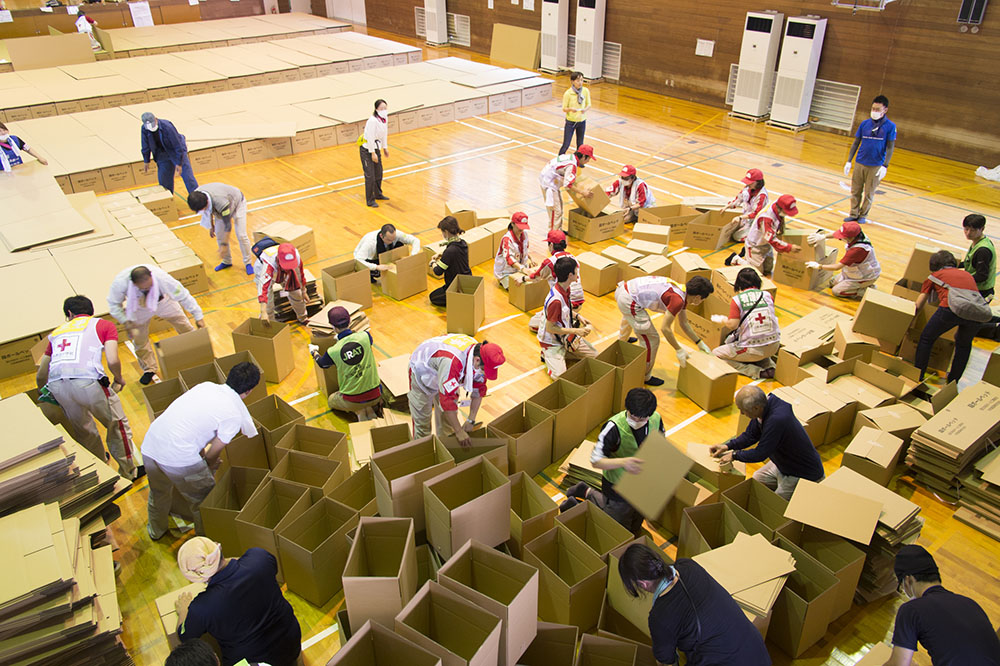 Heavy rains that struck western Japan in July 2018 triggered flooding and mudslides that damaged many homes and forced people to move into evacuation shelters. Creating environments in evacuation shelters that allow many people to live together suddenly, without warning, is an indispensable aspect of disaster relief and recovery, and requires support from people with specialist expertise.
Tadayuki Tokashiki was one of the first people sent by The Nippon Foundation to assess the needs on the ground after the flooding and mudslides occurred. He worked with members of the Peace Boat Disaster Relief Volunteer Center (PBV) to support the operation of an evacuation shelter at the Kurashiki Municipal Nima Elementary School in Mabicho, Kurashiki, in Okayama Prefecture. One of the first things they did was to have medical and social welfare specialists from outside the prefecture talk with the people living in the shelter about their health, as a first step in health management in the shelter.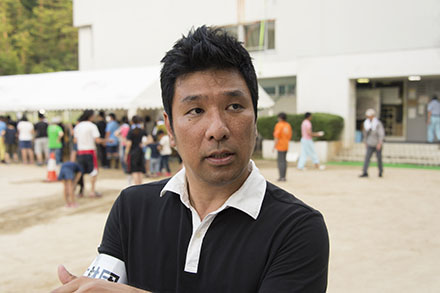 Much of Mabicho experienced severe flooding, forcing many residents to live in evacuation centers, and the gymnasium of the Nima Elementary School was used as an evacuation shelter for close to 200 people. Evacuation shelters need to have systems in place to ensure that people's health is maintained. This is why groups like the Japanese Red Cross Society and disaster welfare assistance teams provide advice on maintaining the health of
persons living in evacuation shelters. The shelter at Nima Elementary School installed cardboard beds because sleeping on a bed is healthier than sleeping directly on the floor, which can result in breathing in dust. In addition, many of the people living in the shelter were older, and found it easier to stand up from a bed than from the floor.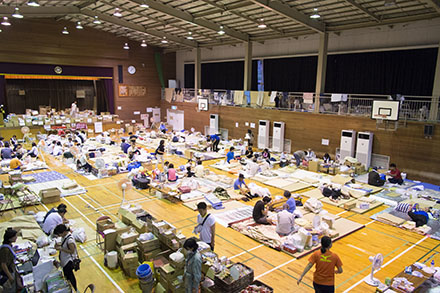 Before installing the cardboard beds, the evacuees moved their personal belongings to a separate area and the floor was cleaned, and then the beds were installed and people brought their belongings back to their own bed.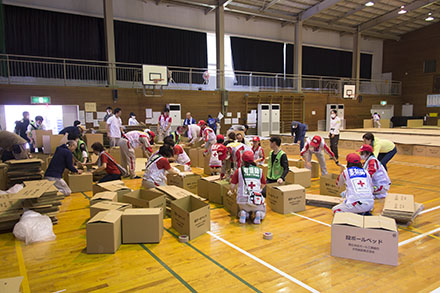 The layout of the gymnasium was also changed with the installation of the cardboard beds, to provide a rest area and facilitate communication among the evacuees. In addition, many of the evacuees would return to their flooded homes during the daytime to remove mud and debris, and go back to the shelter for meals and to sleep at night. To maintain hygiene inside the shelter,
a dining area was set up outside the gymnasium so these people could have their meals without changing out of their work clothes.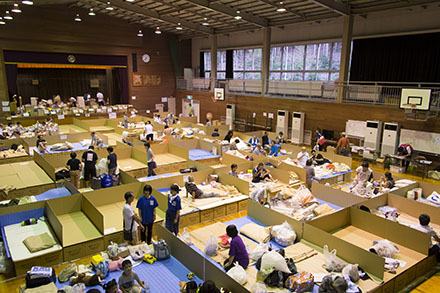 Evacuation shelters function as bases from which victims recover and rebuild from disasters, and rebuild their daily lives. To support the operation of these bases, specialist medical and social welfare expertise, like that at Nima Elementary School, is needed.
Contact
Communications Department
The Nippon Foundation
E-mail:cc@ps.nippon-foundation.or.jp