The Nippon Foundation-GEBCO Seabed 2030 Symposium – From Vision to Action
The Nippon Foundation and the General Bathymetric Chart of the Oceans (GEBCO) Guiding Committee jointly launched The Nippon Foundation – Gebco Seabed 2030 Project in 2017 with the goal of mapping 100% of the ocean floor by 2030. An event to report on the project's progress to date and plans going forward, under the title "From Vision to Action," was held at the Royal Society in London on October 22, with roughly 100 researchers and members of the media attending.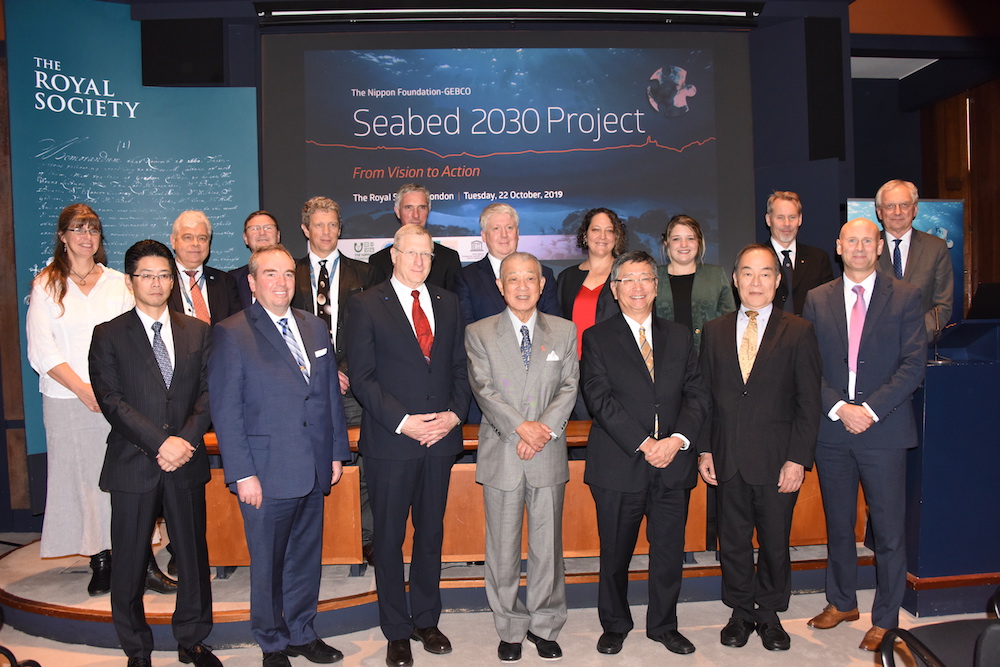 The project is set up to create a map of the ocean floor by collecting seabed topography data from around the world. Progress has been accelerating, with more than 100 organizations, including national governments, international institutions, research institutions, and companies participating, and in the two years since its launch, the amount of bathymetric data available for mapping has more than doubled, to 32,000 square kilometers, equivalent to the landmass of Africa. This has brought the amount of the ocean floor that has been mapped to 15%, compared with 6% when the project was launched. The number of partners involved has also grown steadily, to 106 from 42 at the end of the first year.
At the symposium, graduates of the bathymetry training program launched jointly by GEBCO and The Nippon Foundation in 2004 reported on their contributions to Seabed 2030. One of these presentations was from the GEBCO-Nippon Foundation Alumni Team, which was led by alumni of the training program and recently won the Shell Ocean Discovery XPRIZE, an international competition in autonomous underwater mapping technologies. Through this competition, the team successfully developed a measuring system able to perform autonomous topography at the previously impossible depth of 4,000 meters, contributing crucial technological innovation toward the achievement of the Seabed 2030 objective. The $4 million (roughly 430 million yen) prize has already been donated to The Nippon Foundation for reinvestment in the Seabed 2030 project.
The Nippon Foundation Chairman Yohei Sasakawa noted that mapping 100% of the ocean floor will by no means be easy, and cannot be achieved by simply continuing with the work that has been done so far. He laid out three areas where work needs to be done: (1) promoting mapping in uncharted areas of the ocean; (2) the use of crowdsourcing to collect bathymetric data; and (3) technological innovation in data collection. The project intends to pursue new activities in these areas going forward.
Related News
Contact
Public Relations Team
The Nippon Foundation
Email: cc@ps.nippon-foundation.or.jp