For the Safety and Order of the Ocean
Coast guards from around the world gather
The 2nd Coast Guard Global Summit, bringing together top officials involved in ocean safety from around the world, was held in Tokyo on November 20-21. Roughly 200 people representing 84 institutions from 75 countries attended the event, which was jointly organized by The Nippon Foundation and the Japan Coast Guard, to discuss the future direction of ocean policies. Attendance was more than double that of the first summit, held in 2017.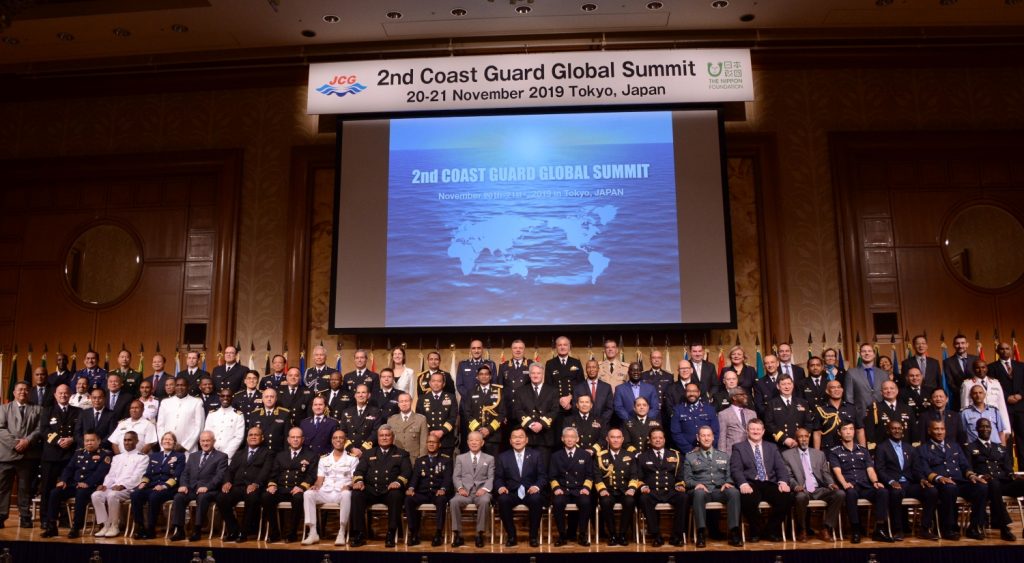 Bringing together knowledge and insights to resolve issues
The ocean is currently faced with many, wide-ranging issues including environmental degradation from climate change and pollution, terrorism and piracy, smuggling and human trafficking, illegal fishing practices, and refugees seeking to migrate. These issues cannot be solved by any single country, or any two or three countries, or any region on its own.
The summit reaffirmed the importance of involving coast guards at the global level to resolve these issues. Participants formulated a set of operating guidelines and established a committee to consider a sustainable and functional framework for its work going forward. It was decided that over the next two years, a second working group session would be held in Tokyo next fall, and a 3rd Global Summit would be held in 2021. The representatives also decided to set up a website to facilitate the sharing of useful information and examples from various countries, and a committee will consider the specific content and procedures for the website going forward.
Joint response and training
Presentations included examples of earthquake and tsunami preparedness and drills by the Chilean navy and the Japan Coast Guard, together with examples of follow-up measures. The Pacific Community (SPC), an organization focusing on issues related to Pacific island countries, reported on risks in terms of ocean safety and its activities to protect the ocean environment, and the Bali Process, an international forum dealing with human trafficking and related issues, presented examples of ways to deal with the movement of people over the ocean. This information will prove very useful to other countries when faced with these issues, and will also be available on the website.
Training ocean-proficient human resources
The importance of training human resources for effectively addressing issues close at hand is widely known. Japan has indicated that it may launch a training program in Tokyo on a trial basis next year. The details have yet to be finalized, but a roughly two-week course for mid-level staff from various organizations is envisioned.
The Nippon Foundation has long been involved in ocean-related human resource training, partnering with the world's leading universities and research institutions, as well as with national governments, NGOs, and U.N.-affiliated organizations. To date, these programs have trained more than 1,300 persons from 130 countries in a broad range of ocean-related fields. This was also a major theme of the summit.
Speaking at the opening session on November 20, The Nippon Foundation Chairman Yohei Sasakawa remarked, "This second Coast Guard Global Summit will be an important opportunity to bring together and share wisdom and experiences from each country to find the most effective way for the coast guards around the world to share information and to act in close coordination and to formulate a diverse international action plan to reduce the damages that we inflict on our ocean." He added, "If actions are declared in areas that The Nippon Foundation can collaborate, we are ready to offer our support."
Speaking at the closing session, The Nippon Foundation Executive Director Mitsuyuki Unno mentioned human resource training as well, noting that even if programs are relatively short, he would like to use them to facilitate networking among scientists and to deepen discussion on important topics.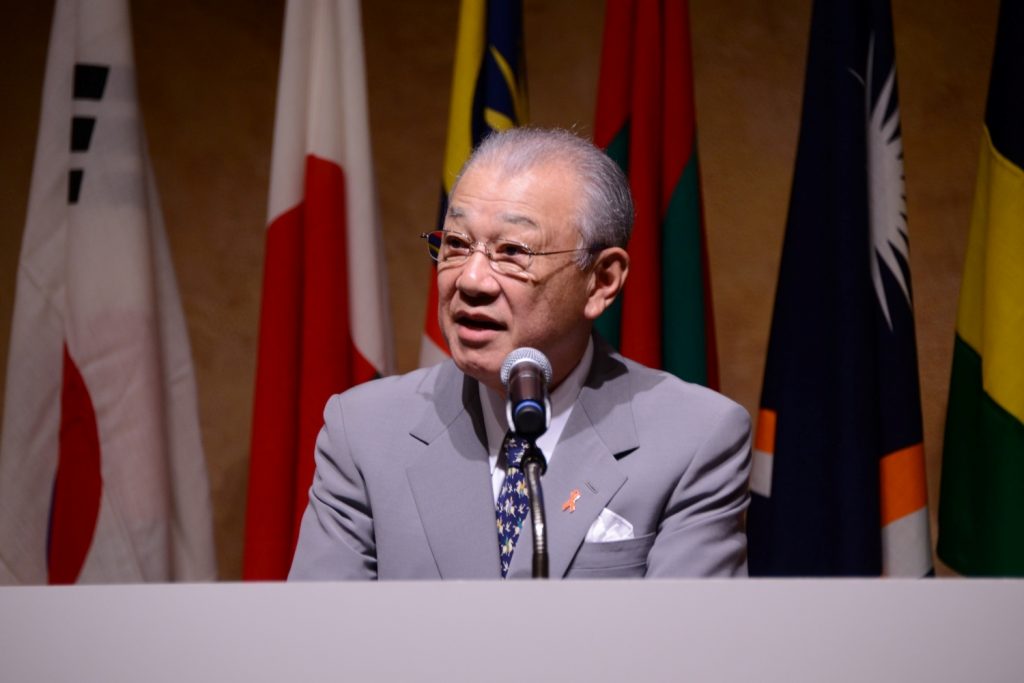 Active participation by women in the ocean community
The theme of World Oceans Day 2019 was "Gender and the ocean," and against this backdrop, summit participants agreed on the importance of creating an environment that encouraged women's participation in the ocean community. The percentage of women employed in the world's coast guards and related organizations is 26%, with the figure for the Japan Coast Guard even lower at 7%, making the training of female human resources an important theme going forward.
Summing up the summit's proceedings, Admiral Shuichi Iwanami, who is Commandant of the Japan Coast Guard and presided over the summit, commented that to overcome the issues facing coast guards and related organizations, it will be important to strengthen dialog, cooperation, and coordination beyond existing regional frameworks, and enhance coast guards' functional capacity at the global level.
After the summit, participants viewed a training exhibition by the Japan Coast Guard at Harumi Wharf. In the evening, they enjoyed a farewell reception attended by Prime Minister Shinzo Abe and Kenichi Ishii, Minister of Land, Infrastructure, Transport and Tourism.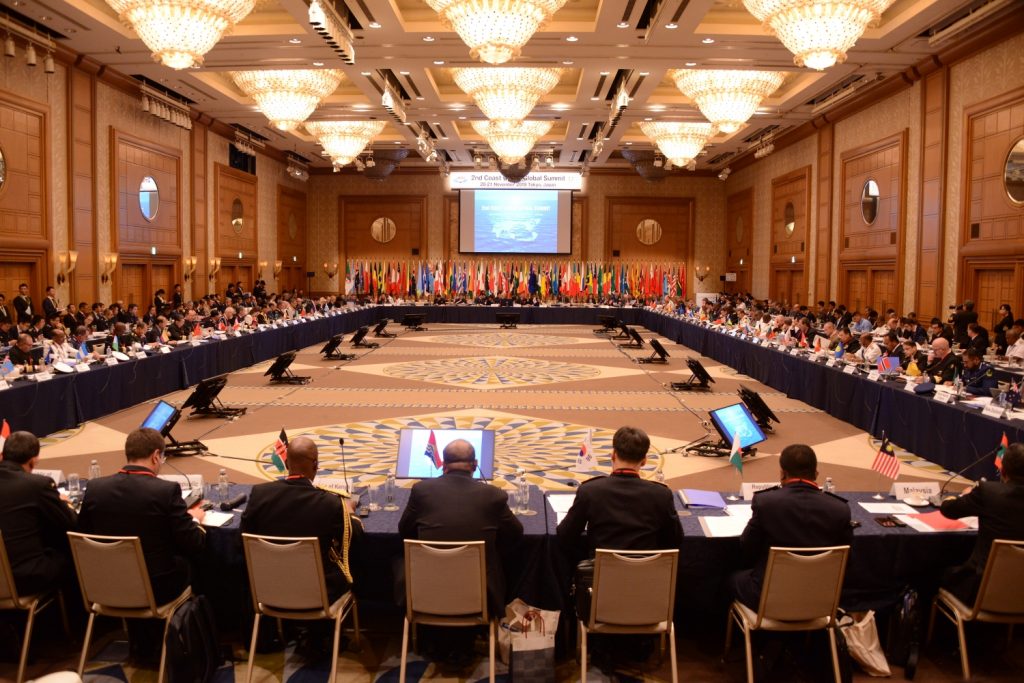 Contact
Public Relations Team
The Nippon Foundation
Email: cc@ps.nippon-foundation.or.jp