Awareness Survey of 18-Year-Olds
Results of 25th installment announced
The 25th installment of the Awareness Survey of 18-Year-Olds, launched by The Nippon Foundation in October 2018, was carried out in mid-April on the theme of the "New Coronavirus." The survey showed that a large majority of respondents were complying with the government's request to refrain from going out, 91% said that school closings and cancellations and the scaling down of school entrance and graduation ceremonies were unavoidable, and 58% felt that going forward, everyone should be more aware of taking precautions to protect themselves. Furthermore, 67% of respondents expected Japan to change after the crisis is brought under control, with government, medical care, and the economy as the top areas where change is needed.
Notes:
From the 13th survey, the number of respondents, comprising men and women aged 17 to 19, has been increased to 1,000 from 800. (With the exception of the 20th installment, "Awareness Survey of Society and Country," all surveys cover respondents in Japan only.)
In the information below, differences between total amounts and simple sums are due to rounding.
Survey 25. New Coronavirus (Preliminary results announced on April 30 and full results announced on May 26, 2020)
Finding: Respondents' main concern regarding the pandemic was "Not knowing when it will end." (multiple answers allowed; n=1,000)
"What are your main concerns regarding the new coronavirus pandemic?"
Not knowing when it will end – 69.1%
I could become infected – 59.7%
School closings could have an effect on education and employment prospects – 55.9%
A collapse of the medical system – 42.4%
I could become infected and infect others – 41.9%
I could lose my job – 40.5%
A global recession that includes Japan – 40.3%
The fact that there is no vaccination or cure available – 39.6%
National and local government responses are not clear – 27.1%
Damage to the national government's financial position – 25.6%
Finding: 81.3% of respondents were proactively seeking out information about the new coronavirus. Of those respondents, the ways they approached that information broke down as: (multiple answers allowed; n = 813)
I try to get as much information as possible – 49.4%
I try not to believe information without question – 44.9%
I focus on information from public institutions – 43.2%
I only get information from sources I trust – 33.8%
Others – 0.1%
Don't know – 2.8%
Finding: Close to 90% of respondents were reducing their close physical proximity with others by at least half: (n = 1,000)
"Are you complying with the request to refrain from going out (with the aim of reducing close physical proximity with others by 80%)?"
Am not going out at all – 29.7%
Am refraining from going out and have reduced close physical proximity by roughly 80% – 48.9%
Am refraining from going out and have reduced close physical proximity by roughly half – 8.8%
Am going out when it can't be avoided – 9.8%
Am going out as usual – 2.8%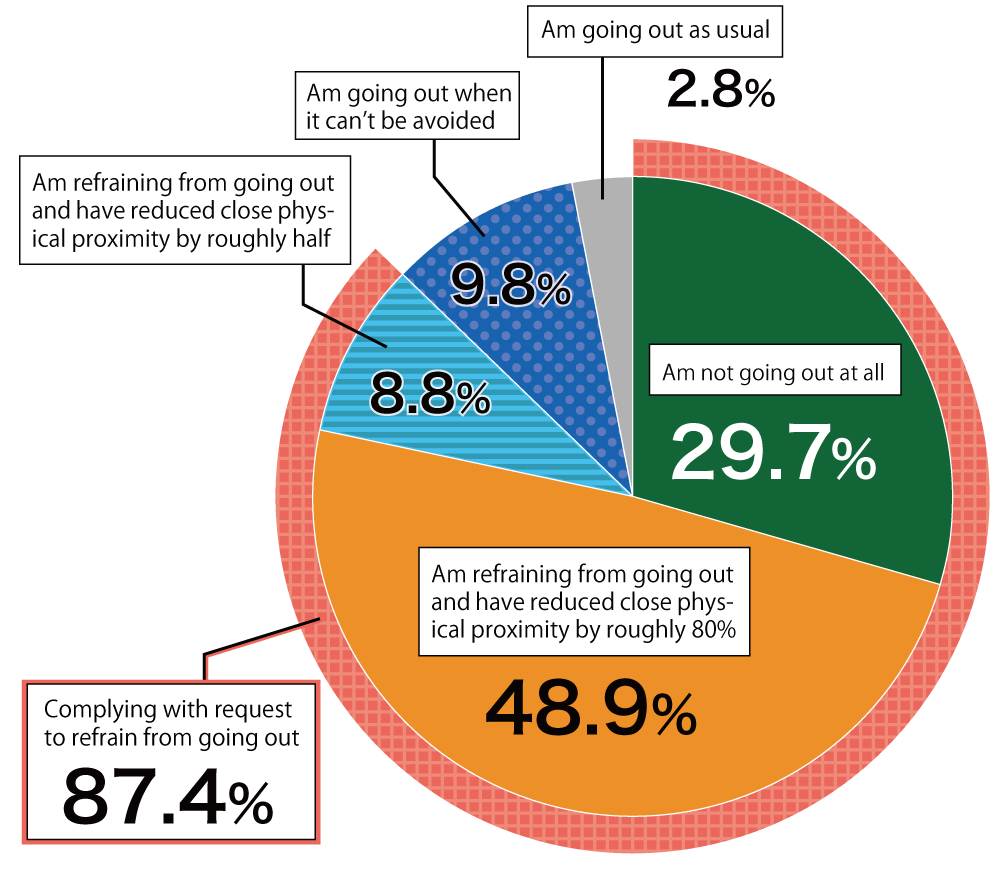 Of those respondents who were refraining from going out and had reduced close physical proximity with others by at least half, their main reasons for doing so were: (multiple answers allowed; n = 874)
I don't want to become infected myself – 74.8%
I'm afraid that if I become infected, I will infect my family or others – 68.1%
Because the government has made the request – 28.3%
Every day there are reports of chaos from the spread of the infection – 19.5%
Others – 2.4%
Of those respondents who were going out when it can't be avoided or were going out as usual, their main reasons for doing so were: (multiple answers allowed; n = 126)
My workplace is operating as usual – 42.9%
I often need to go out – 38.9%
To relieve stress – 20.6%
The request is not mandatory – 15.9%
With my school / workplace closed, I have nothing to do – 12.7%
Finding: More than half of respondents thought that avoiding going out for non-urgent, unnecessary tasks was the most effective way to prevent infection. (n=1,000)
"What do you think is the most effective way to prevent infection?"
Avoiding going out for non-urgent, unnecessary tasks – 54.7%
Washing hands thoroughly and wearing a mask – 22.9%
Taking responsibility for your own actions – 9.9%
Not believing false information ("fake news") – 6.4%
Learning about the infectious disease – 4.9%
Compling with government policies – 0.9%
Others – 0.3%
Finding: Roughly three-fourths of respondents felt that Japanese people were taking the request to refrain from going out lightly. (n=1,000)
"Some have said that Japanese people are taking government requests to refrain from going out lightly. Do you agree?"
Agree – 75.6%
Disagree – 13.3%
Don't know – 11.1%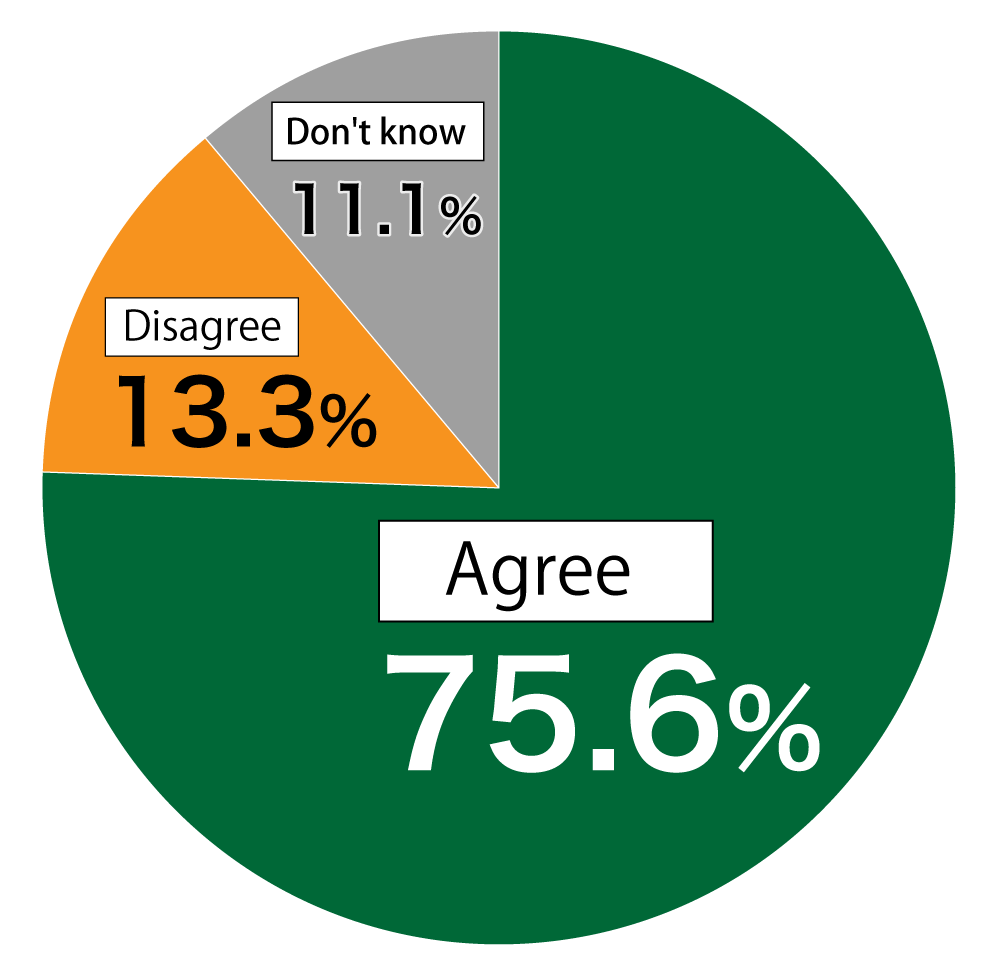 In terms of how the situation in Japan regarding the pandemic has differed from that in other countries, the most cited differences were (multiple answers allowed; n = 1,000):
There has been less sense of crisis – 65.4%
Unlike mandatory restrictions in other countries, people were requested to refrain from going out – 63.3%
The number of infections and resulting deaths has been lower than in Europe and the Americas – 35.3%
Many stores and shops continued to operate – 35.0%
Public transportation operated as usual – 30.2%
Others – 2.2%
Finding: More than 90% of respondents thought that school closings and cancellations and the scaling down of school entrance and graduation ceremonies were unavoidable. (n=1,000)
"Do you think school closings and cancellations and the scaling down of school entrance and graduation ceremonies were unavoidable?"
Yes, they were unavoidable – 91.0%
No, they should have taken place as usual – 3.2%
Don't know – 5.8%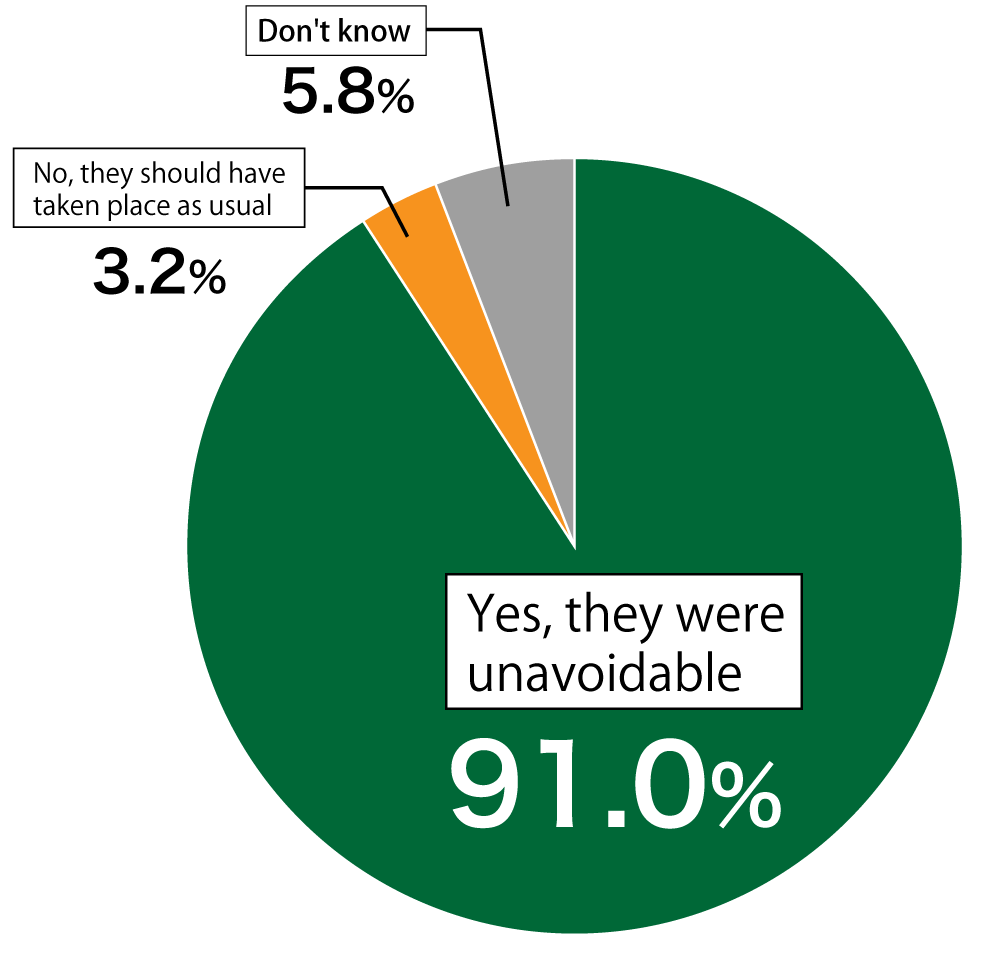 The responses deemed most important to stop the spread of infections were: (multiple answers allowed; n = 1,000)
Relief for households that have had their income decline – 50.1%
Subsidies for businesses that were requested to close – 47.7%
Strengthening of medical preparedness with a focus on infectious disease – 37.2%
Online classes – 31.6%
Making telework more common – 29.1%
Improving transportation infrastructure including alleviating rush-hour crowding – 26.8%
Promoting public awareness of the status of infections and related laws – 23.1%
Introduction of online medical diagnosis – 11.4%
Others – 0.9%
Don't know – 4.7%
Findings: Roughly two-thirds of respondents thought society would change after the pandemic is brought under control. (n=1,000)
"Do you think society will change after the pandemic is brought under control?"
Yes – 67.0%
No – 14.6%
Don't know – 18.4%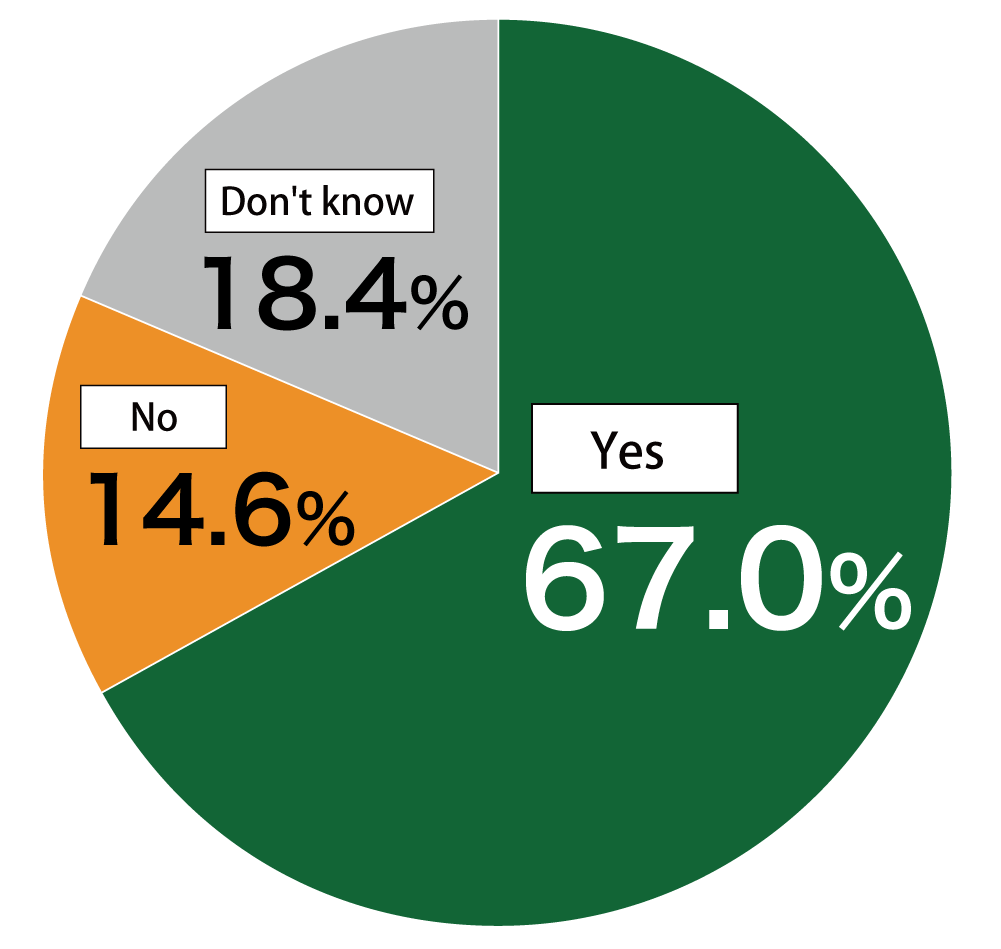 Of those who thought society would change after the pandemic is brought under control, the top areas they expected to change were: (multiple answers allowed; n = 670)
Economy – 74.2%
Medical care – 64.8%
Work – 56.3%
Government – 46.1%
Education – 43.9%
International society – 37.0%
Of all respondents, the top areas they thought should change after the pandemic is brought under control were: (n = 1,000)
Government – 45.6%
Medical care – 17.2%
Economy – 13.9%
Work – 11.5%
Education – 7.0%
International society – 4.8%
Finding: More than half of respondents felt that going forward, everyone in Japan should be more aware of taking precautions to protect themselves. (n = 1,000)
"Having experienced this crisis, how should Japan change going forward?"
Everyone should be more aware of taking precautions to protect themselves – 58.1%
The government should have the authority to implement strong countermeasures – 27.8%
A framework for cooperation between the public and private sectors should be established – 13.0%
Others – 1.1%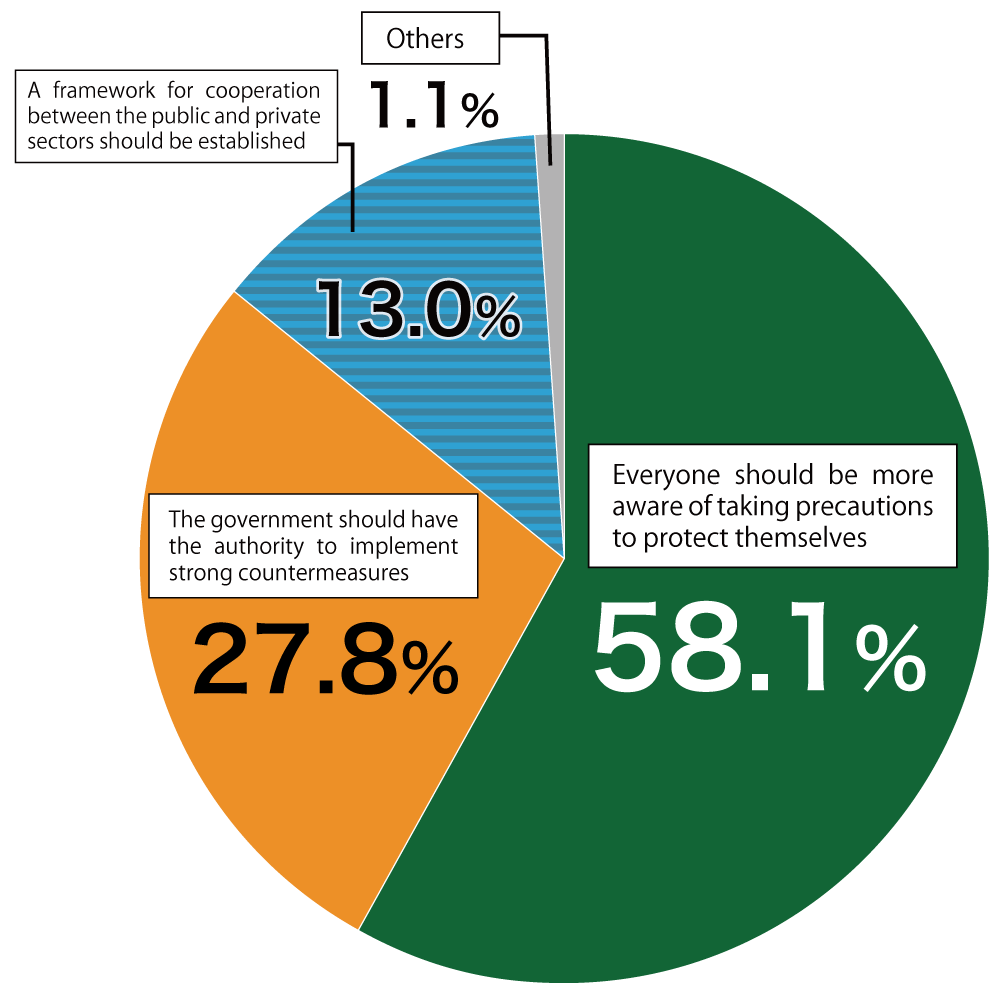 Contact
Public Relations Team
The Nippon Foundation
Email: cc@ps.nippon-foundation.or.jp