June 13 is International Albinism Awareness Day
Report on Tokyo Albinism Conference released
In December 2014, the U.N. General Assembly adopted a resolution proclaiming June 13 as International Albinism Awareness Day, with the aim of promoting a correct understanding of albinism and to eliminate discrimination and stigma against persons with albinism.
Albinism
Albinism is a genetically inherited condition that is caused by a deficiency of melanin pigment, and affects people around the world regardless of nationality, ethnicity, or gender. Many persons with albinism have weak eyesight and white skin and hair, and are vulnerable to direct sunlight, putting them at risk of contracting skin cancer if they do not use protective sunblock or sunscreen. The prevalence of albinism is estimated at 1 in 17,000 people in Europe and North America, but the rate is much higher in sub-Saharan Africa, with 1 in 1,400 people said to have the condition in Tanzania.
Persons with albinism are subject to misunderstanding and stigma around the world, but the situation is especially severe in sub-Saharan Africa. Some people superstitiously believe that persons with albinism are ghosts, and there are many reports of persons with albinism being murdered or mutilated so that their body parts can be used for witchcraft.
Despite the efforts of the UN and other organizations to promote awareness of this situation among international society, few people in Japan are aware of the situation faced by persons with albinism in Africa.
Tokyo Albinism Conference
The Tokyo Albinism Conference, held at The Nippon Zaidan Building on November 9, 2018, was the first conference held in Japan to deal with albinism in Africa. Convened in cooperation with the U.N. Independent Expert on the enjoyment of human rights by persons with albinism, the conference brought together leaders, advocates, and experts from Tanzania, Malawi, Mozambique, Nigeria, South Africa, Kenya, and Japan for a multifaced exploration of issues including education, legal and political responses, and cooperative frameworks for protecting the human rights of persons affected by albinism in Africa.
The problems faced by persons with albinism in Africa may appear unrelated to the daily lives of people in other parts of the world. Nevertheless, the topics discussed at the conference, including causes behind discrimination, education, and being able to live one's life with dignity, are universal themes that all people face wherever they live. The report also includes information from an event that grew out of the Tokyo Albinism Conference, held in Tokyo in conjunction with International Albinism Awareness Day in June 2019.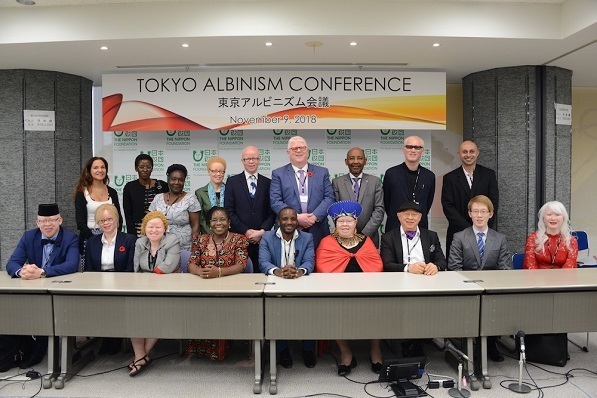 With the entire world facing the crisis of the new coronavirus, 2020 will be a year of renewed focus on issues related to health and human rights. How is this affecting the lives of persons with albinism? As we approach this year's International Awareness Day, we hope that this report will inform people with regard to the situation today and act as a call to action. The report can be downloaded using the following link.
Contact
Public Relations Team
The Nippon Foundation
Email: cc@ps.nippon-foundation.or.jp