THE TOKYO TOILET Project
Pritzker Prize winners among 16 creators transforming 17 public toilets in Shibuya, Tokyo
The Nippon Foundation is launching THE TOKYO TOILET project to build public toilets that can be used by anyone. The project will build new toilets at 17 locations in Shibuya, Tokyo, as a way of moving toward the realization of a society that embraces diversity.Three of the toilets will be made available for use by the general public from August 5.
Japan is known as one of the cleanest countries in the world. Even public toilets have a higher standard of hygiene than in much of the rest of the world. However, the use of public toilets in Japan is limited because of stereotypes that they are dark, dirty, smelly, and scary. To dispel these misconceptions regarding public toilets, The Nippon Foundation has decided to renovate 17 public toilets located in Shibuya, Tokyo, in cooperation with the Shibuya City government. These public toilets are being designed by 16 leading creators, and will use advanced design to make them accessible for everyone regardless of gender, age, or disability, to demonstrate the possibilities of an inclusive society. In addition to the construction, we have arranged for ongoing maintenance so that people will feel comfortable using these public toilets and to foster a spirit of hospitality for the next person.
The toilets being made available for use from August 5 are in three locations: Ebisu Park (creator – Masamichi Katayama); Yoyogi Fukamachi Mini Park (Shigeru Ban); and Haru-no-Ogawa Community Park (Shigeru Ban). These will be followed by openings on August 7 in Ebisu East Park (Fumihiko Maki), and a location near Ebisu Station (Nao Tamura), August 31 in Nishihara Itchome Park (Takenosuke Sakakura), and on September 7 in Jingu-Dori Park (Tadao Ando), with the remainder scheduled for completion by the spring of 2021. Please refer to the attachment for a full list of locations and creators.
The toilets will be constructed by DAIWA HOUSE INDUSTRY CO., LTD., and TOTO LTD. will advise on toilet equipment and layout. Maintenance of the toilets will be carried out under a three-party agreement concluded by The Nippon Foundation, the Shibuya City government, and the Shibuya City Tourism Association.
Three facilities to be made available on August 5
Ebisu Park (1-19-1 Ebisu-Nishi)
Designed by: Masamichi Katayama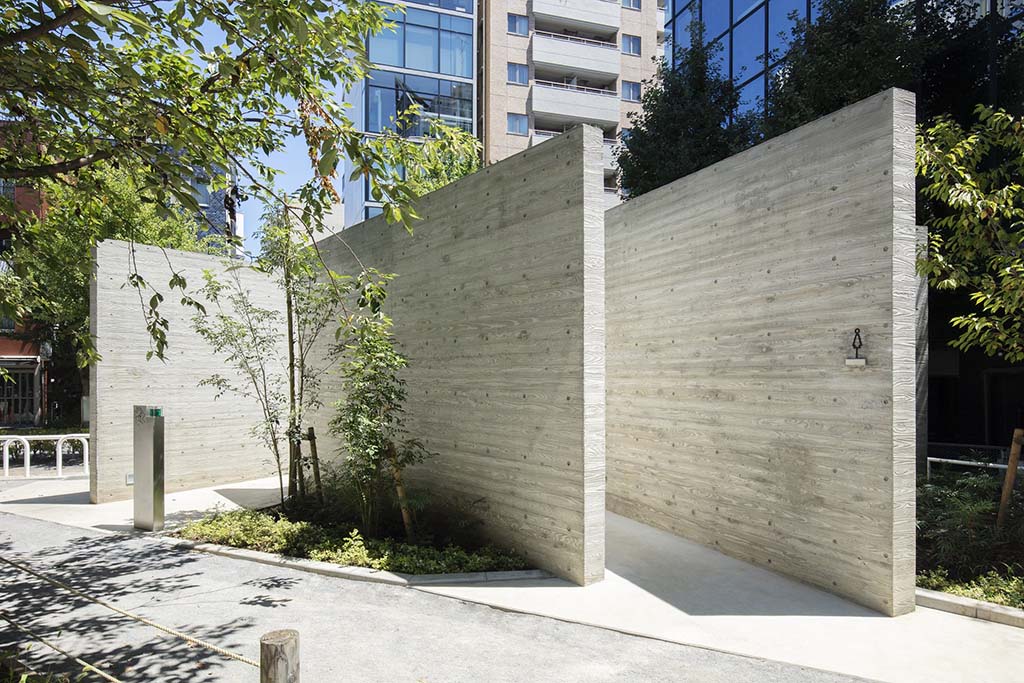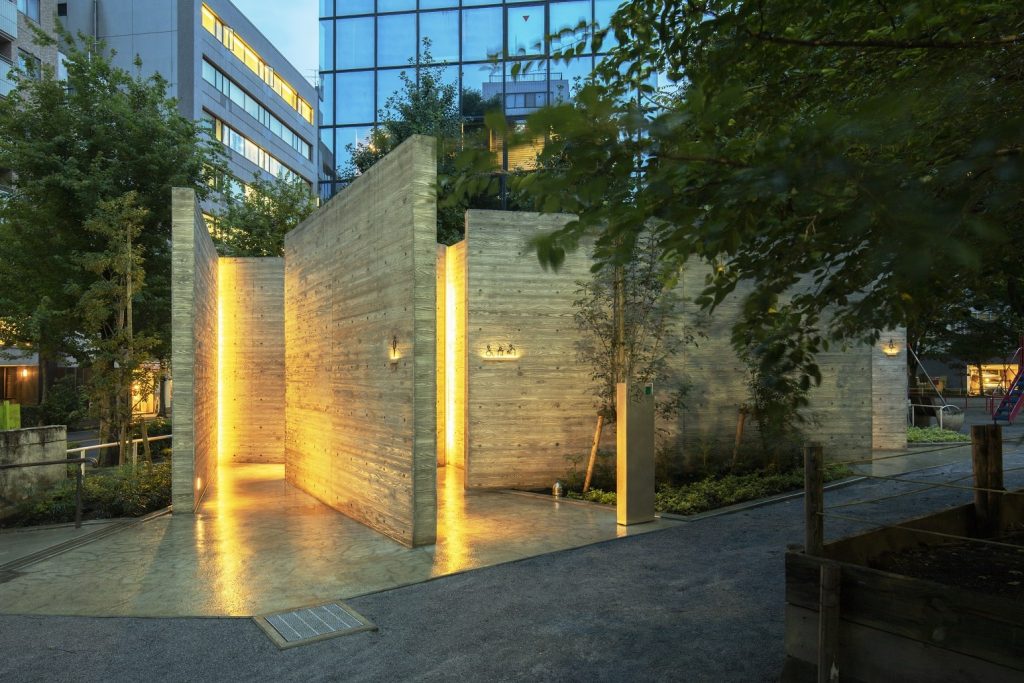 Concept
In Japan, toilets originated with kawaya, huts built over rivers dating back to the prehistoric Jomon period. Trying to envision the appearance and atmosphere of these primitive kawaya, we built an "ambiguous space" that is simultaneously an object and a toilet by randomly combining 15 concrete walls. The spaces between the walls lead users into three different areas designed for men, women, and everyone. The design creates a unique relationship in which users are invited to interact with the facility as if they are playing with a curious piece of playground equipment.
Yoyogi Fukamachi Mini Park (1-54-1 Tomigaya)
Designed by: Shigeru Ban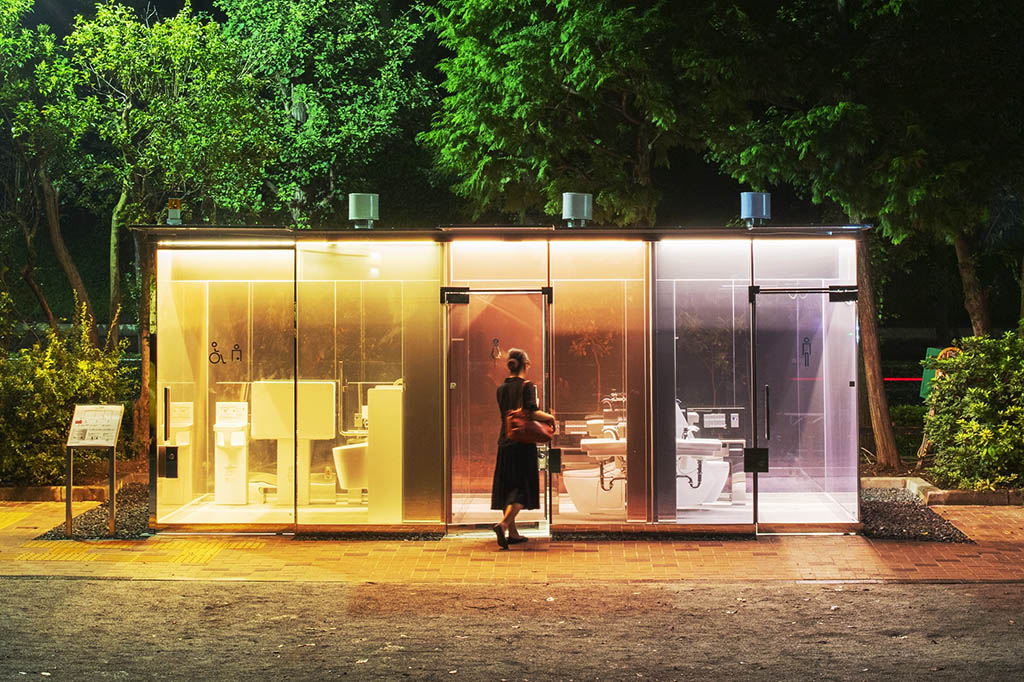 Haru-no-Ogawa Community Park (5-68-1 Yoyogi)
Designed by: Shigeru Ban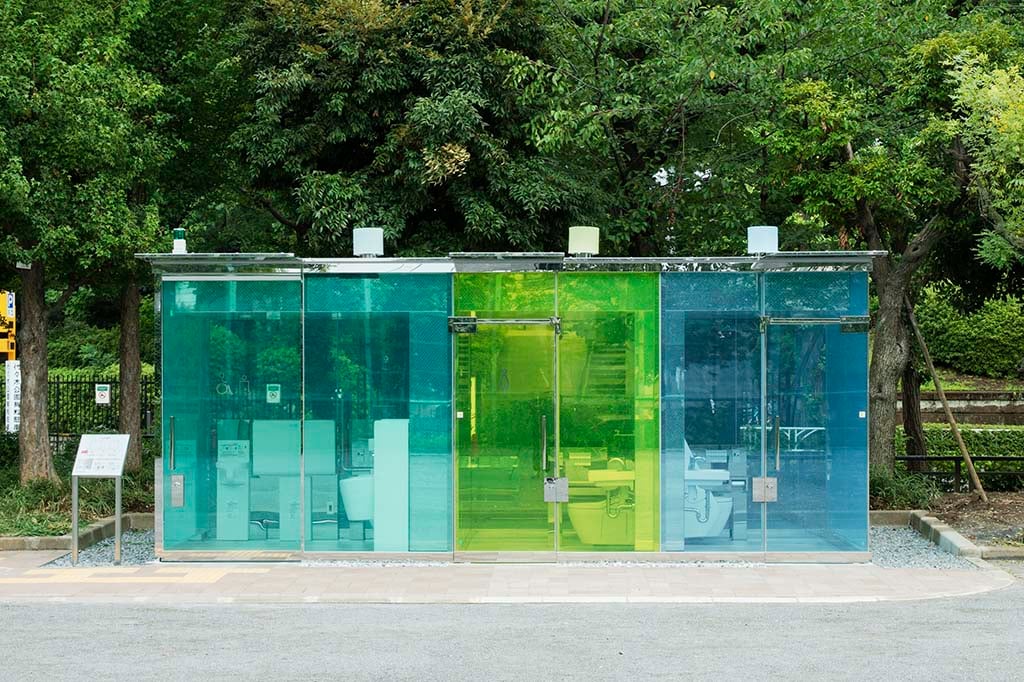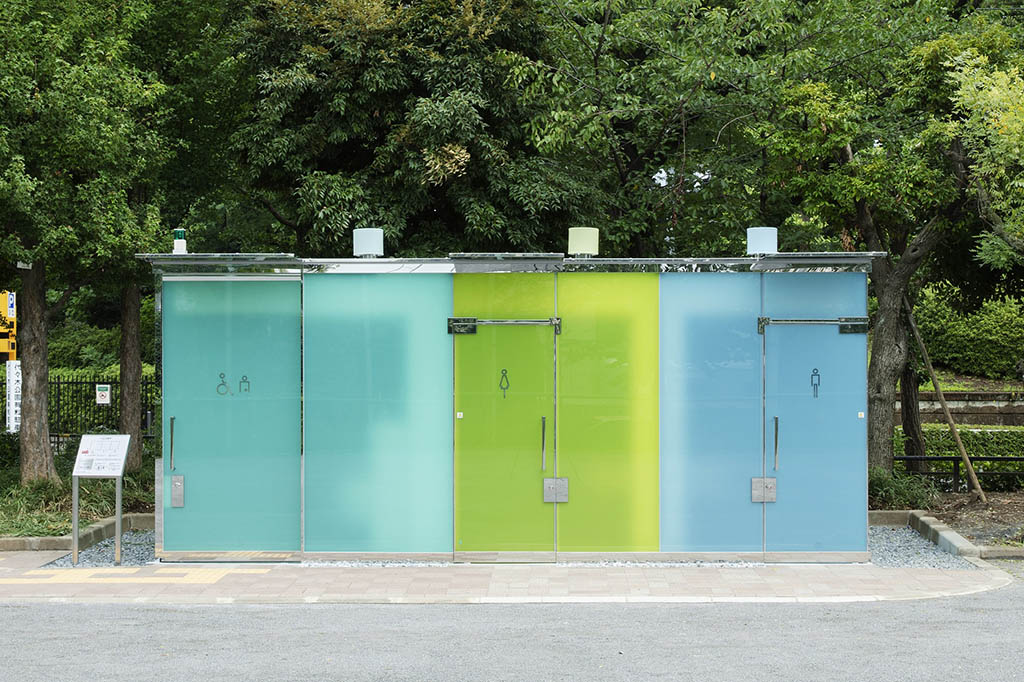 Concept
There are two concerns with public toilets, especially those located in parks. The first is whether it is clean inside, and the second is that no one is secretly waiting inside. Using a new technology, we made the outer walls with glass that becomes opaque when the lock is closed, so that a person can check inside before entering. At night, they light up the parks like a beautiful lantern.
List of Toilet Names, Locations, and Creators
Toilet Name
Address
Creator(s)
Scheduled Completion
Jingu-Dori Park
6-22-8 Jingumae
Tadao Ando
Sept. 7, 2020
Yoyogi-Hachiman
5-1-2 Yoyogi
Toyo Ito
2021 (tentative)
Hiroo East Park
4-2-27 Hiroo
Tomohito Ushiro
2021 (tentative)
Ebisu Park
1-19-1 Ebisu-Nishi
Masamichi Katayama Wonderwall
July 31, 2020

Available for use from Aug. 5

Nabeshima Shoto Park
2-10-7 Shoto
Kengo Kuma
2021 (tentative)
Sasazuka Greenway
Sasazuka 1-chome, Shibuya
Junko Kobayashi
Gondola Architects
2021 (tentative)
Nishihara Itchome Park
1-29-1 Nishihara
Takenosuke Sakakura
Aug. 31, 2020
Ebisu Station, West Exit
1-5-8 Ebisu-Minami
Kashiwa Sato
2021 (tentative)
Nanago Dori Park
2-53-5 Hatagaya
Kazoo Sato
2021 (tentative)
Higashi Sanchome
3-27-1 Higashi
Nao Tamura
Aug. 7, 2020
Jingumae
1-3-14 Jingumae
NIGO®
2021 (tentative)
Urasando
4-28-1 Sendagaya
Marc Newson
2021 (tentative)
Yoyogi Fukamachi Mini Park
1-54-1 Tomigaya
Shigeru Ban

creator for two locations in same vicinity

July 31, 2020

Available for use from Aug. 5

Haru-no-Ogawa Community Park
5-68-1 Yoyogi
Shigeru Ban

creator for two locations in same vicinity

July 31, 2020

Available for use from Aug. 5

Nishisando
3-27-1 Yoyogi
Sou Fujimoto
2021 (tentative)
Hatagaya
3-37-8 Hatagaya
UTokyo DLX Design Lab Miles Pennington
2021 (tentative)
Ebisu East Park
1-2-16 Ebisu
Fumihiko Maki
Aug. 7, 2020
Contact
Public Relations Team
The Nippon Foundation
Ms. Tominaga
Email: pr@ps.nippon-foundation.or.jp