Plastic Bottle Collection Machines Being Installed at 7-Eleven Stores in Yokohama
Plan for 120 locations to promote recycling and reduce ocean debris
The Nippon Foundation and Seven-Eleven Japan Co. Ltd., together with the cities of Yokohama and Fujisawa in Kanagawa Prefecture, have launched a project to recycle plastic bottles (made of polyethylene terephthalate, or PET, the type commonly used for soft drinks) with the aim of making effective use of limited resources, promoting recycling, and reducing ocean debris. The project began with 7-Eleven convenience stores in 15 locations in Fujisawa in late August, and is being expanded to stores in Yokohama from October 30, with installations at 120 stores planned. This project will carry out "bottle-to-bottle" recycling that recycles discarded PET bottles into new PET bottles, and the collection machines will have a capacity of approximately 280 bottles (500ml bottle equivalent basis).
Both Fujisawa and Yokohama are seaside cities and are actively working to maintain and improve the seaside environment, and Yokohama has been designated as one of Japan's "SDGs FutureCities" for its efforts to improve the aquatic environment in the bay area. The Nippon Foundation is involved in numerous projects with various stakeholders to address the issue of ocean debris, and Seven-Eleven Japan has been installing PET bottle collection machines at stores to promote recycling as part of the "measures against plastic" in the Green Challenge 2050 environmental goals announced by its parent company, Seven & i Holdings Co. Ltd., in 2019. Working together, the city governments, The Nippon Foundation, and Seven-Eleven Japan are seeking to achieve a recycling-oriented society and reduce ocean debris through the recycling of PET bottles.
Overview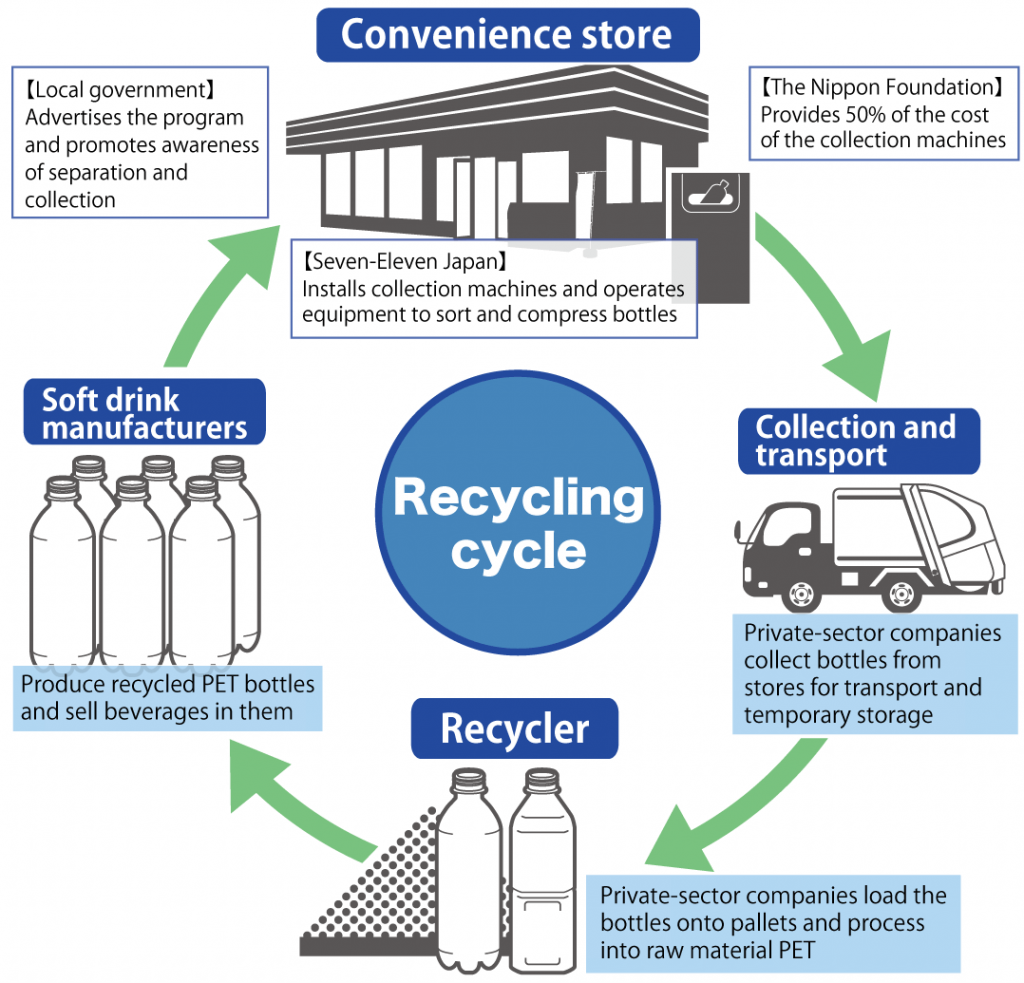 Division of responsibilities
Local governments
Making the public aware of the program and educating on proper trash separation
The Nippon Foundation
Providing 50% of the cost of the collection machines installed at 7-Eleven stores
7-Eleven stores
Operating the collection machines and managing the collected materials
Reference
Seven-Eleven Japan began installing PET bottle collection machines in 2017, and as of October 30, 2020, had installed machines at a total of 432 stores in Tokyo and Kanagawa, Saitama, Ibaraki, and Okinawa prefectures.
Contact
Public Relations Team
The Nippon Foundation
Email: cc@ps.nippon-foundation.or.jp