Awareness Survey of 18-Year-Olds
Results of 31st installment announced
The 31st installment of the Awareness Survey of 18-Year-Olds, launched by The Nippon Foundation in October 2018, was carried out from October 9 to 14 on the subject of "New Foods." The survey showed that roughly 60% of respondents consider Japan's low food self-sufficiency rate to be a problem. At the same time, less than half of respondents see possibilities for technological innovation in food, but of those who do, the areas of reduction of food waste, creation of better-tasting meals, and development of more environmentally friendly industries were seen as the most promising. With regard to alternative sources of protein, close to one-third of respondents see meat substitutes and insect-based food products as future food sources, with fewer than half being interested in trying meat substitutes and only 16% in trying insect-based food products.
On the effect of the new coronavirus pandemic, three-fourths of respondents replied that their diet and eating habits have not changed, while of those who noted changes, roughly 85% replied that they are eating out less often and roughly 60% are cooking more often.
Notes:
From the 13th survey, the number of respondents, comprising men and women aged 17 to 19, has been increased to 1,000 from 800. (With the exception of the 20th installment, "Awareness Survey of Society and Country," all surveys cover respondents in Japan only.)
In the information below, differences between total amounts and simple sums are due to rounding.
Survey 31. New Foods (Results announced on October 26, 2020)
Finding: Roughly 60% of respondents consider Japan's low food self-sufficiency rate (38%) to be a problem. (n = 1,000)
"Do you consider Japan's low food self-sufficiency rate (38%) to be a problem?"
Yes – 59.8%
No – 10.9%
Don't know – 29.3%
Of all respondents, the main measures that should be taken to prepare against food shortages were seen as reviewing the primary agricultural industry, changing consumer mindsets, and securing labor for food production. (single answer; n = 1,000)
Review the primary agricultural industry – 23.6%
Change consumer mindsets – 13.6%
Secure labor for food production – 11.8%
Develop technology to improve food productivity – 11.2%
Work with international society to create a framework for stable food supplies – 8.7%
Make new investments in the food sector – 5.1%
Manufacture alternative sources of protein – 2.2%
Others – 0.5%
Don't know – 23.3%
Finding: Close to 40% of respondents see possibilities for technological innovation in food. (n = 1,000)
"Do you see possibilities for technological innovation in food?"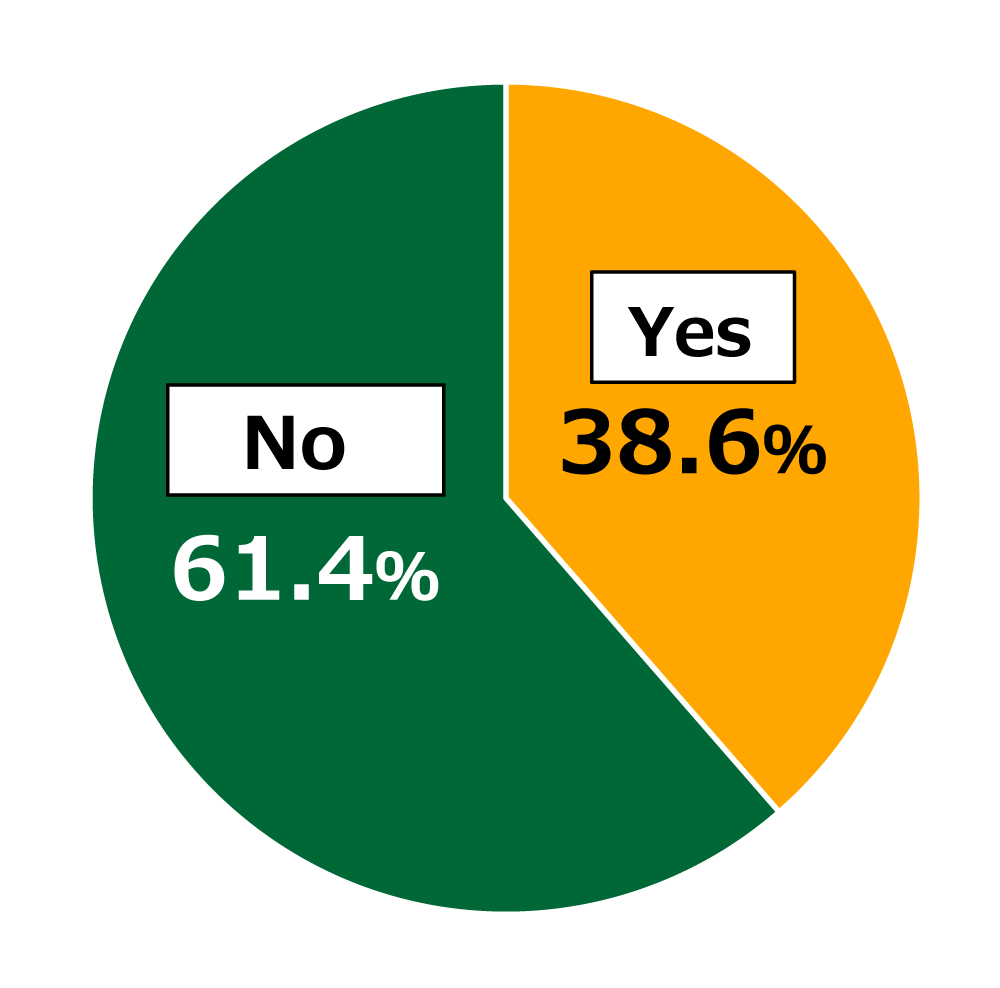 Among those respondents who see possibilities for technological innovation in food, the top areas of potential were the reduction of food waste, the creation of better-tasting meals, and the development of more environmentally friendly industries. (multiple answers allowed; n = 386)
Reducing food waste – 70.2%
Creating better-tasting meals – 56.2%
Developing more environmentally friendly industries – 52.3%
Securing next-generation foods like alternative sources of protein – 52.1%
Providing families with fresh foods – 44.0%
Using the internet of things and artificial intelligence to provide menus tailored to an individual's health and preferences – 41.5%
Improving feed environment for livestock farmers – 41.5%
Developing food robots for use in restaurants – 33.4%
Spreading health-related information online – 28.2%
Others – 1.0%
Don't know – 5.4%
Finding: Close to one-third of respondents see meat substitutes and insect-based food products as future food sources. (n = 1,000)
"Do you see meat substitutes and insect-based food products as future food sources?"
Yes – 32.6%
No – 29.8%
Don't know – 37.6%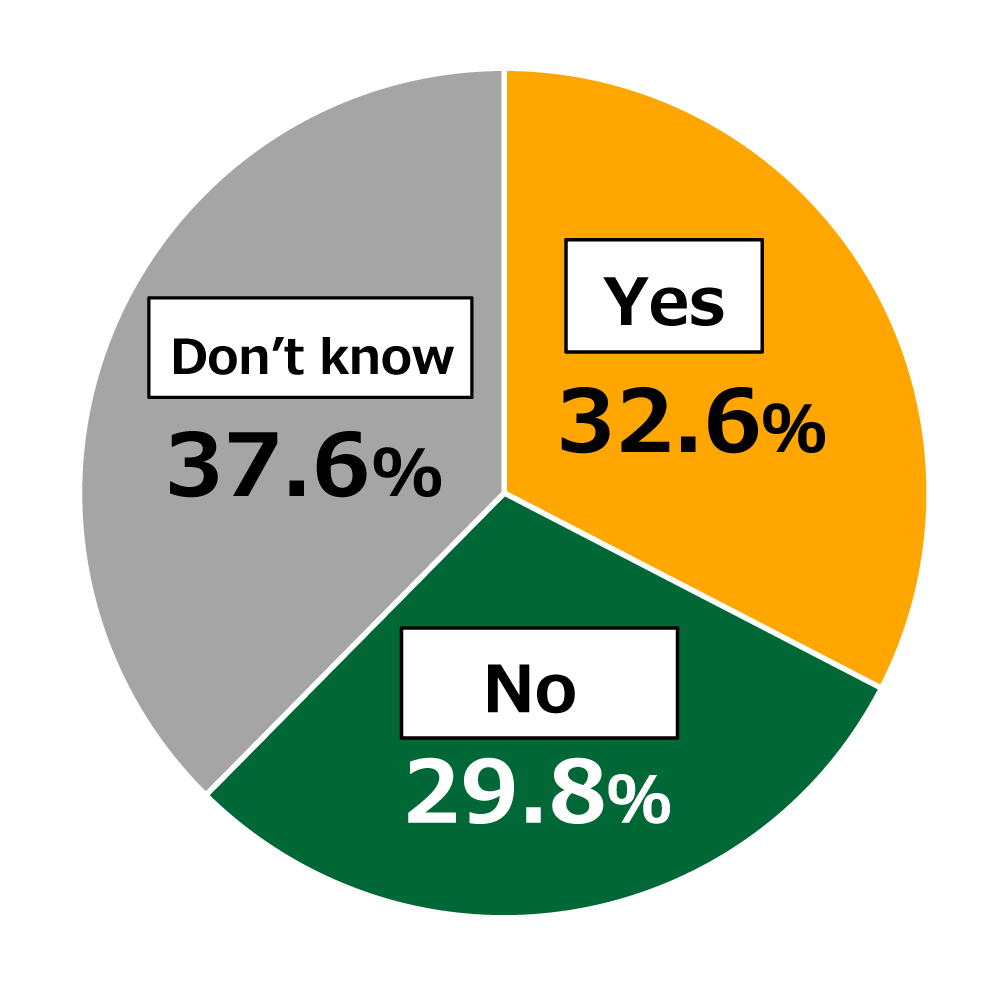 "Would you be interested in trying meat substitutes or insect-based food products?" (n = 1,000)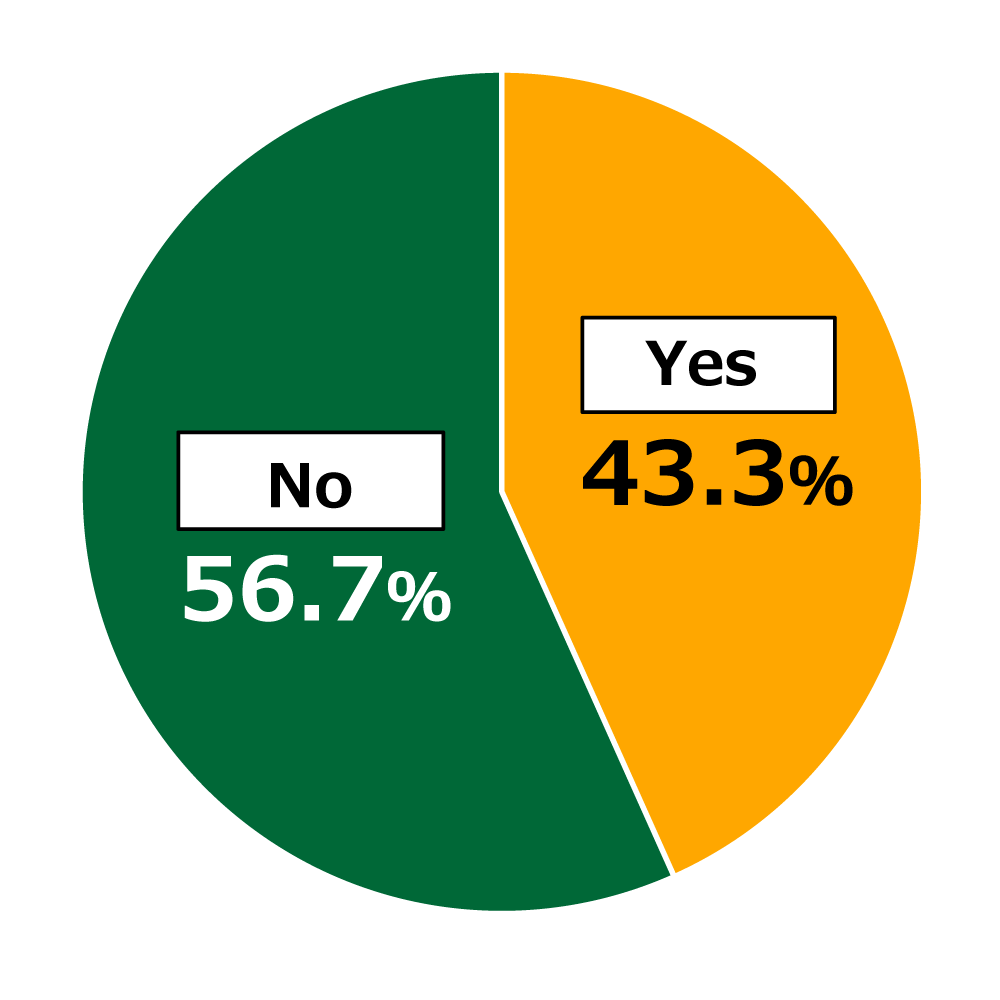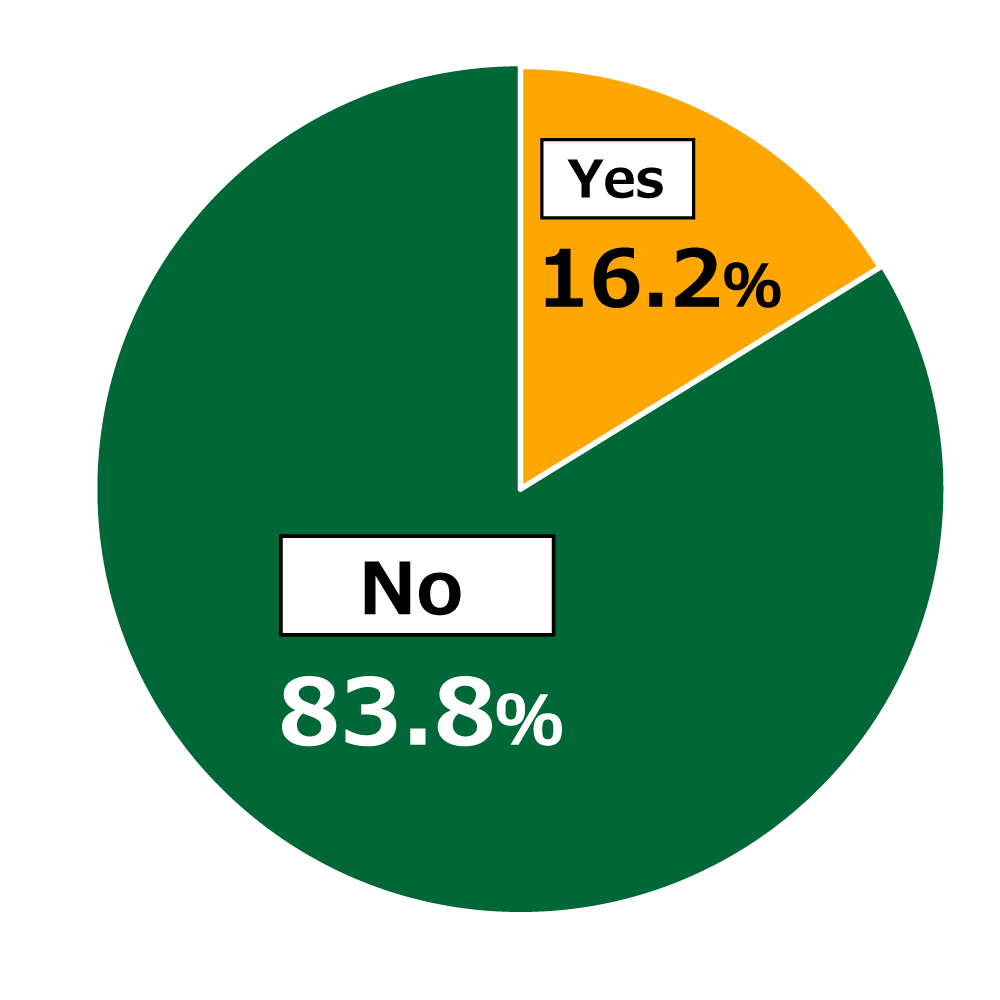 New Coronavirus-Related Findings
"Have your diet and eating habits changed as a result of the new coronavirus pandemic?" (n = 1,000)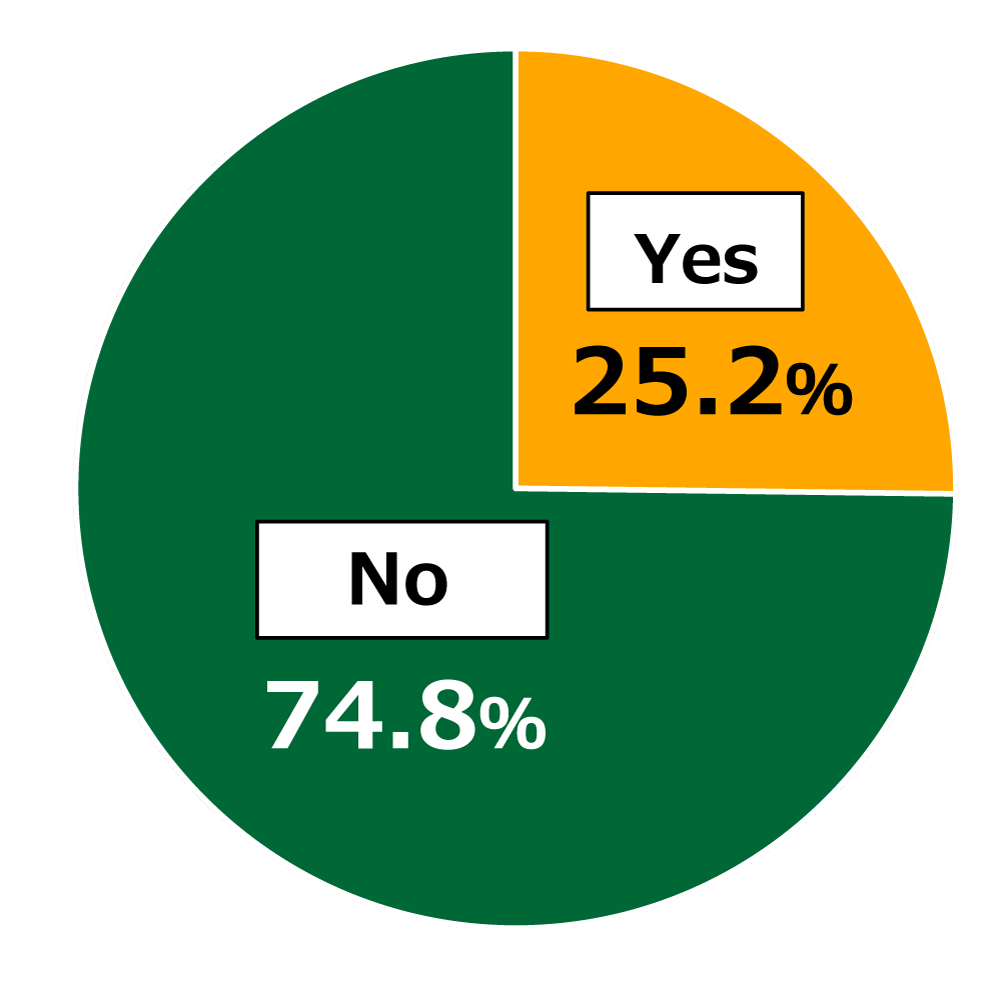 Of respondents whose diet and eating habits had changed, "In which of the following ways have your diet and eating habits changed as a result of the new coronavirus?" (n = 252)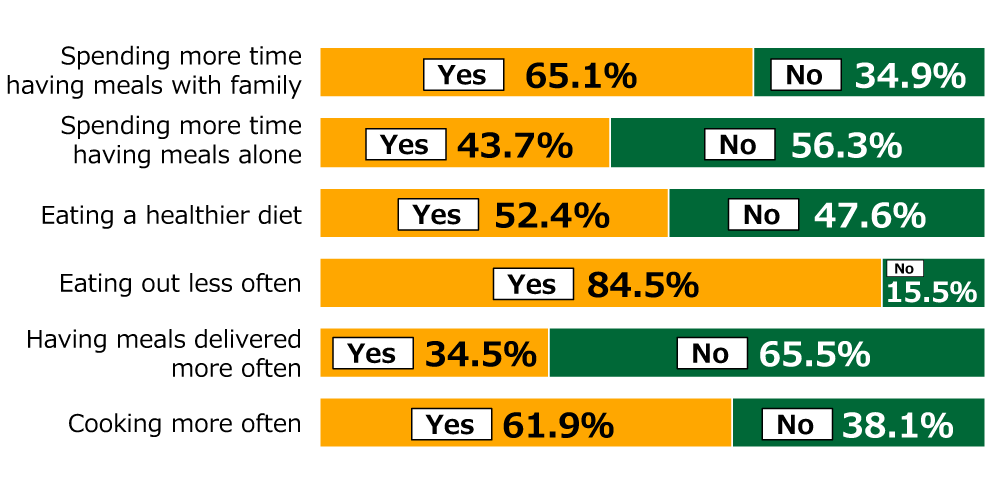 Other Findings
"What do you look for in a meal?" (multiple answers allowed; n = 1,000)
Taste – 66.1%
Satisfying portion – 47.8%
Low price – 38.6%
Safety – 27.8%
Portion that I can finish – 27.7%
Healthy – 26.2%
Easy to eat – 24.6%
Mentally refreshing – 21.1%
Enjoyment of many types of foods – 19.4%
Enjoyable to prepare – 18.4%
Freshness – 17.8%
Enjoyment of culture or season – 13.6%
Mealtime communication – 12.8%
Beauty – 9.4%
Others – 0.6%
None in particular – 8.7%
"What do you look when buying food?" (up to 3 answers allowed; n = 1,000)
Low price – 64.8%
Appearance – 58.1%
Nutritional balance – 32.7%
Domestic / local production – 22.7%
Use of additives – 10.8%
Environmental considerations – 3.7%
Support for producers during new coronavirus pandemic – 1.3%
Others – 0.7%
None in particular – 13.5%
Contact
Public Relations Team
The Nippon Foundation
Email: cc@ps.nippon-foundation.or.jp