2nd Awareness Survey of 10,000 Women – Women and Politics
More than 60% consider current percentage of female legislators too low, needs to be increased
Noting that participation by women in politics in Japan is said to lag that of other countries, The Nippon Foundation conducted its 2nd Awareness Survey of 10,000 Women on the topic of "Women and Politics." The survey found that more than 60% of respondents consider the percentage of female legislators in the national Diet and prefectural assemblies in Japan – the lowest among developed countries – to be "too low" and "needs to be increased." Regarding the fact that only two of the 19 members of Prime Minister Yoshihide Suga's cabinet are women, again more than 60% of respondents called the number "too low," with more than 90% of those respondents saying that the ideal percentage of female cabinet members would be between "roughly one-third" and "roughly half."
Notes:
Survey coverage: Women aged 18 to 69 across Japan
Respondents counted: 10,000 (aggregation of five age groups to correspond to population distribution)
Survey period: November 6 – 10, 2020
Survey method: Internet survey
Finding: More than 60% of respondents consider the number of female legislators in Japan to be "too low." (single answer; n = 10,000)
"The percentage of female members of the national Diet is 10.1% for the House of Representatives (47 women vs. 418 men) and 20.7% for the House of Councillors (50 women vs. 192 men) (as of February 2018), and 11.4% for prefectural assemblies (as of December 2019). What is your opinion of these figures?"
Too low – 62.2%
Appropriate – 5.5%
Too high – 0.8%
There is no need to be concerned about the ratio of men and women – 31.6%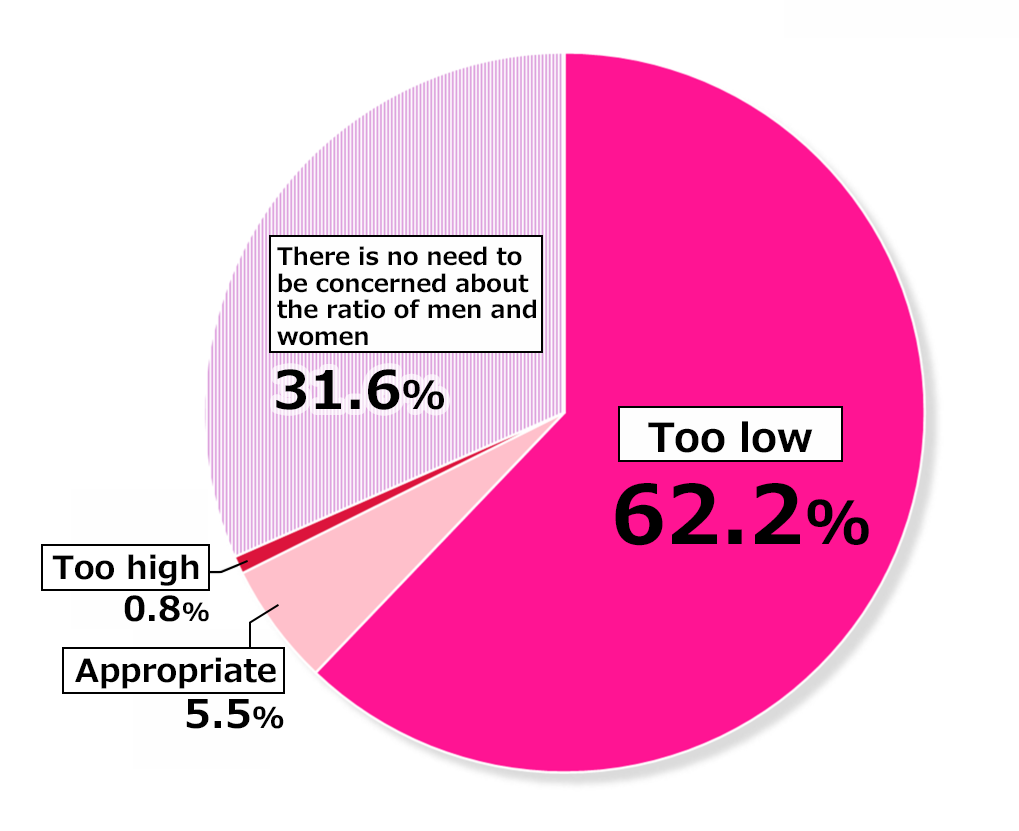 Finding: More than 60% of respondents "agree" that Japan needs more female politicians. (single answer; n = 10,000)
"Going forward, do you believe the number of female politicians in Japan needs to increase?"
Agree – 63.7%
Disagree – 4.9%
Neither agree nor disagree – 25.6%
Don't know – 5.9%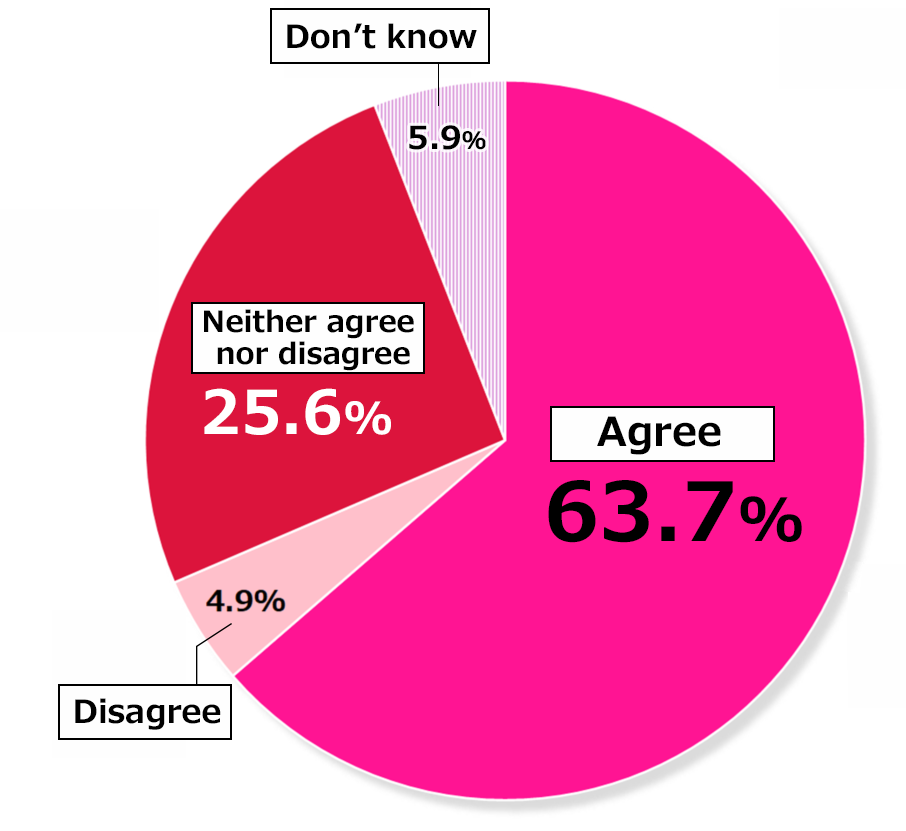 Among the reasons for the lack of women participating in politics, the most frequently cited were "a common perception that politics is a man's world," along with the "lack of an environment in which to cultivate female politicians," and an "absence of female leaders to emulate." More than one-third of respondents "agreed" with the idea of introducing a quota system in which a certain percentage of candidacies or legislative seats would be reserved for women, but at the same time, a significant number felt that "numerical targets are inappropriate."
Asked if they would like to become a politician if given the opportunity, the combined percentage replying "yes" or "somewhat yes" was less than 8%. When asked why they would not want to become a politician ("no" or "somewhat no" respondents), roughly one in four replied "I'm not confident that I could balance my personal and family life with a political career." Other reasons included "I'm not interested in a political career" (34.0% of respondents) and "I'm not interested in politics in the first place" (10.8%).
Survey Highlights
The percentage of female legislators at the national and prefectural level is "too low" (62.2%) vs. those who felt "there is no need to be concerned about the ratio of men and women" (31.6%)
Having two female members of the Suga cabinet of 19 persons is "too low" (63.4%) vs. those who felt "there is no need to be concerned about the ratio of men and women" (31.6%)
The ideal percentage of female cabinet members (among respondents who replied "too low"): "roughly half" (56.3%) or "roughly one-third" (39.8%)
Reasons for women's limited participation in politics (multiple answers allowed): "difficulty of balancing political activities with home life" (34.5%), "a common perception that politics is a man's world" (34.0%), and the "lack of an environment in which to cultivate female politicians or potential politicians" (32.7%)
Opinions on the introduction of a quota or parity system: "agree" (35.5%), "disagree" (14.1%), and "don't know" (50.4%)
Opinion of PM Suga's proposal to have fertility treatment covered by national health insurance: "approve" (40.1%), "somewhat approve" (37.6%), "somewhat disapprove" (9.2%), and "disapprove" (3.9%)
Need to increase the number of female politicians in Japan: "yes" (63.7%) vs. "no" (25.6%)
Desire to become a politician if given the opportunity: "yes" (2.0%) and "somewhat yes" (5.8%) vs. "somewhat no" (16.6%) and "no" (71.0%)
Reasons for not wanting to become a politician ("no" and "somewhat no" respondents; multiple answers allowed): "I don't feel that I am suited for politics" (56.8%), "I am not interested in a political career" (34.0%), and "I'm not confident that I could balance my personal and family life with a political career" (25.0%)
Contact
Public Relations Team
The Nippon Foundation
Email: cc@ps.nippon-foundation.or.jp