【TNF Journal】Business's New Relationship with Disabilities (Part 10)
We Need "People with Disabilities" Close to Us Every Day NHK Senior Commentator Tetsuya Takeuchi Shares Ideas on Achieving an Inclusive Society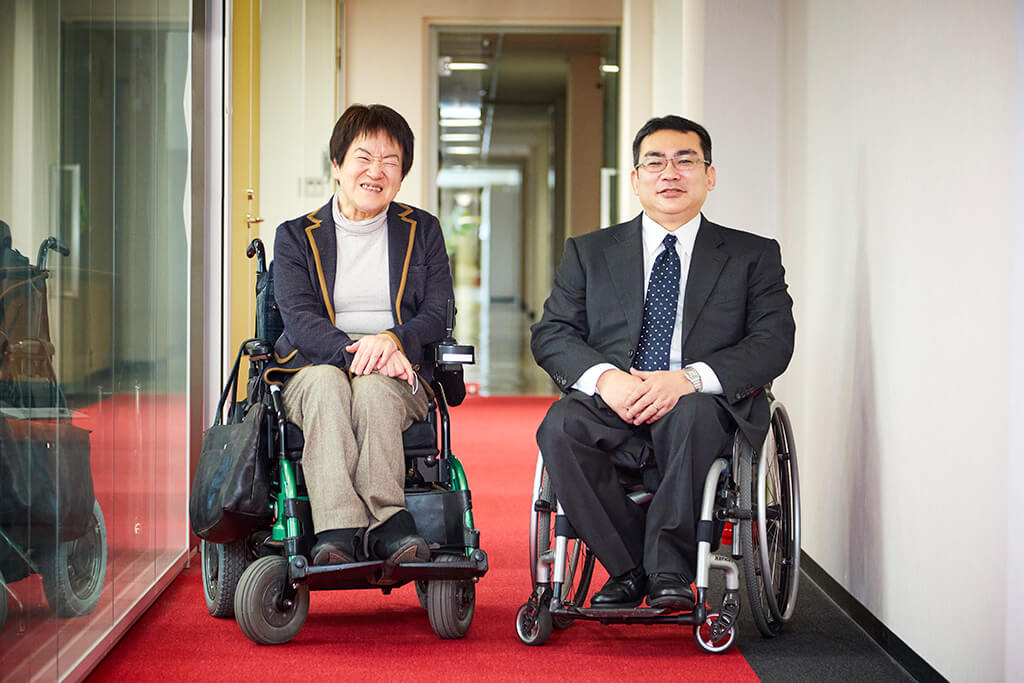 Key Points in this Article
In Japan, where there are few opportunities for people with disabilities to come into contact with able-bodied people, progress in the employment of people with disabilities is lagging
Creating opportunities for people to "become accustomed to seeing" people with disabilities in the course of their daily lives will facilitate the social participation of people with disabilities
Creating an inclusive environment where diverse people intermingle is important for understanding diversity and disabilities
Reporting: The Nippon Foundation Journal Editing Department
Focusing on the employment of people with disabilities at various companies and the development of products and services for people with disabilities, this series introduces some outstanding initiatives. We would like our readers to join us in considering what kind of viewpoints and ideas are necessary for creating a society where everyone can participate in society, irrespective of disabilities.
In charge of reporting are members of the Working Group* formed by The Nippon Foundation to accelerate the social participation of persons with disabilities.
A group formed to research and formulate plans for specific issues.
In Part 10 of this series, we interview Mr. Tetsuya Takeuchi, Senior Commentator and Senior Manager of the Program Production Department at NHK (Japan Broadcasting Corporation), who is responsible for Paralympic- and welfare-related programs. Mr. Takeuchi has been confined to a wheelchair since he was a young child, and we asked him about his views on what is needed to create a society that will facilitate the social participation of persons with disabilities.
Fulfilling in the United States his dream of working in the world of media
Okuhira: I am Masako Okuhira from The Nippon Foundation Working Group. First of all, please tell us about your life up until you joined NHK.
Mr. Takeuchi: I originally wanted to become a diplomat but I was more or less told it would be difficult since I was confined to a wheelchair. In short, I was flatly rejected. I did not really accept the idea of not being able to work just because I had a disability. On the other hand, I did not feel confident that I could commit myself to working hard until I passed the exam for the foreign service. I wanted to change the kind of world I had to contend with and I felt that media offered an opportunity, so I decided to become a newspaper journalist.
However, I came up against a brick wall there too. When I was looking for a job, I applied to a number of newspapers but I was rejected by all of them. The only reason was that they doubted a person in a wheelchair would be able to handle the work of a reporter out in the field. It was the 1990s in Japan and hiring a new graduate in a wheelchair was inconceivable in the world of media at that time.
On the other hand, I knew that persons with disabilities were working in the media overseas. I had studied international relations at university and one of my father's friends, who was an editorial writer at a major newspaper at the time, told me, "If you study English and brush up on any specialized areas you studied, you may be able to get a job." After listening to this advice, I thought to myself, "If I can become a journalist, I don't mind traveling to another country," and with that in mind, I made a sudden rash decision to go overseas. So, I studied at an American graduate school and after graduating, I found employment at a Japanese newspaper in Seattle.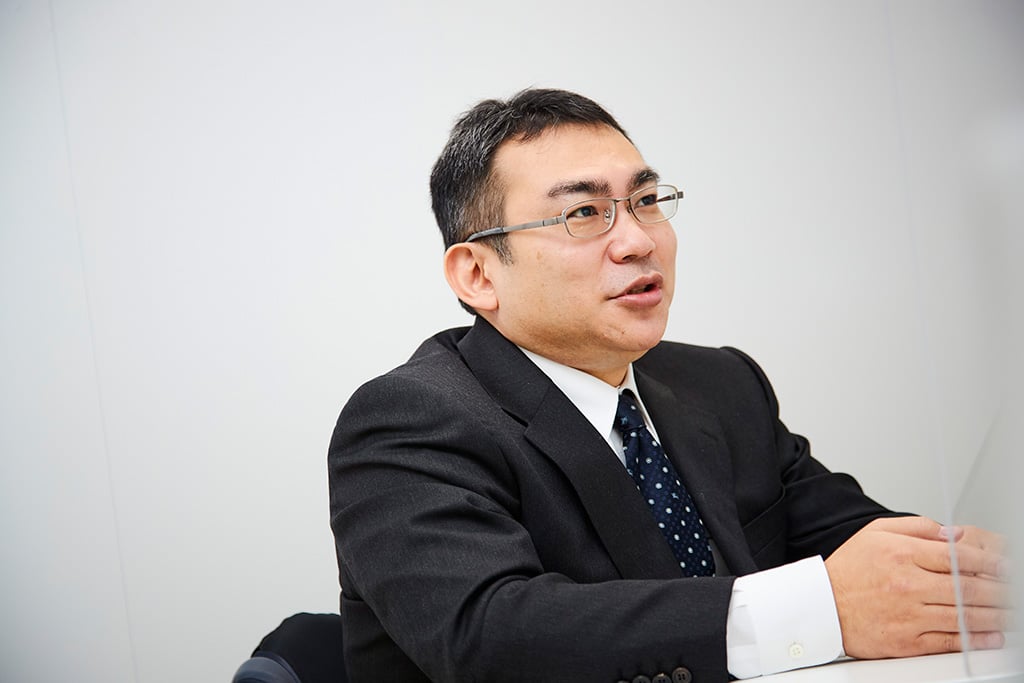 Okuhira: So media in America at that time was already accepting people with disabilities. But what was it that brought you back to Japan?
Mr. Takeuchi: My work was extremely demanding. At the worst of times, I had to work every day from 8:00 in the morning until 2:00 the next morning continuously for eight months. I had hardly any time to sleep, but at last I had succeeded in joining the media industry, and I was doing work that I loved, so I gave it my best shot.
One morning, however, after I had been working like that for an extended period, until 3:00 in the morning every day, I was unable to get up and go to work. I took that as a wakeup call. If I went on living like that, I would ruin my health for sure, so I decided to quit and came back to Japan. In 2001, I then joined NHK as a mid-career recruit.
Okuhira: Your work in America was certainly grueling. At NHK, were you employed under the recruitment quota for persons with disabilities?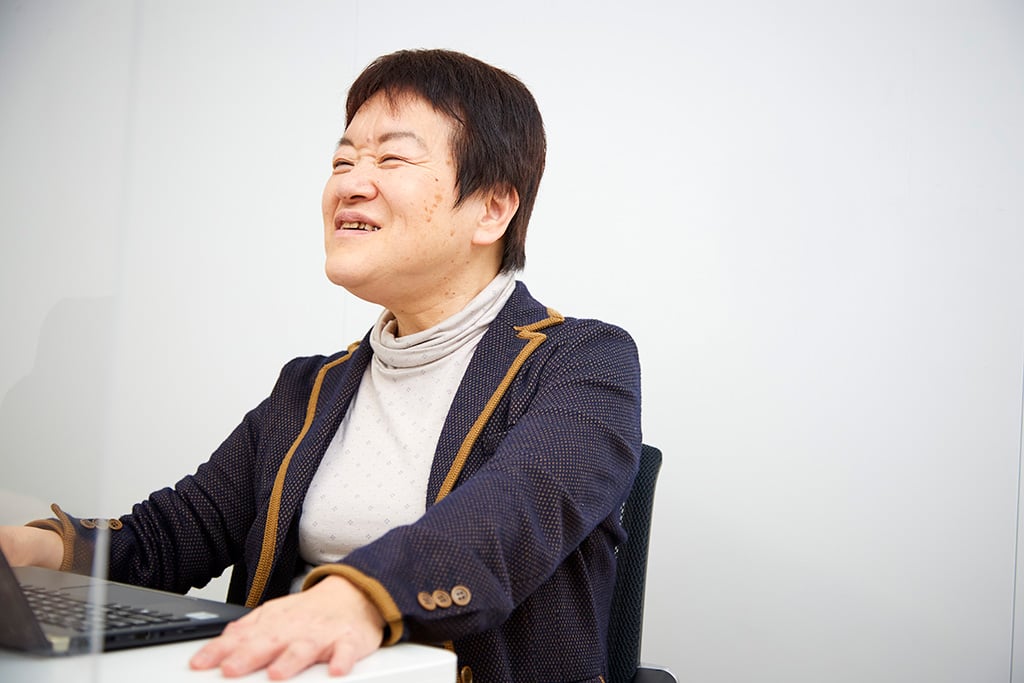 Mr. Takeuchi: No, I wasn't actually. NHK did not have any quota for people with disabilities. I took the exam for mid-career hires. People with disabilities were already working in other departments, and I was the second person in a wheelchair to be hired as a director.
Okuhira: That's wonderful. Have you been working in the area of welfare since you started?
Takeuchi: Yes, I have. At that time, I was not particularly interested in welfare but it was recommended to me during my interview, and on the presumption that I might be turned down if I refused, I emphatically stated that I was extremely interested in that area (laughs).
Learning through the production of programs about social conditions surrounding people with disabilities
Okuhira: So when you actually started covering welfare in your work, how did you find it?
Mr. Takeuchi: When I was a student, there were hardly any people with disabilities at the school I attended, and until I joined NHK, I had little opportunity to come into contact with other people with disabilities. So, after commencing work, I had a lot to learn about welfare, starting from the very basics. I now feel very happy that I was assigned to work in this area.
Okuhira: Did the people in your workplace accept you straight away?
Mr. Takeuchi: Since my office handles programs relating to welfare, from the moment I was assigned there, I found my supervisor, who arranged improvements in the work environment for me, very understanding. On location, there were often places where the ground or floors were uneven and apartment buildings without elevators, but I was given an assistant who was in charge of carrying my belongings and even me, when necessary.
In addition, as the floor where I worked had no toilets that could accommodate a wheelchair, the company removed two Japanese-style toilets to make a dedicated toilet for wheelchair users. I felt very grateful for the care they showed.
Mr. Takeuchi, do you happen to have any photos of the time you were doing local coverage as a director?  → I'm sorry, I don't. The only time I was photographed was when a magazine called Normalization interviewed me some time in the past. Ms. Okuhira, if you ask Mr. Kobayashi, there may be some photographs. There could be a copyright issue, however. 
Okuhira: This is an example of rational consideration of someone with a disability. What kind of programs have you been involved in until now?
Mr. Takeuchi: I have worked on Ningen Yu Yu (Comfortable Human Life), which became Welfare Network, and is currently broadcasting as Heart Net TV (a new window opens), a welfare information program. In addition to these, I was also involved with programs such as Eigo-de Shabera Night (You have to Speak English) (a new window opens) and Jiatama Quiz, Socrates no Jinji (Brainy Quiz: Personnel Affairs of Scorates)) (a new window opens).
Okuhira: Please tell us about work you've done that left a lasting impression on you.
Mr. Takeuchi: One such time was when I was working on Close-up Gendai (Close-up Today) (a new window opens) and covering the subject of infants with low birthweight.* My own son was born at the extremely low birthweight of 650 grams but there was hardly any information on the subject at the time, and the stories I heard through interviews left a lasting impression. I learned a lot from them.
An infant whose birthweight is less than 2,500g. An infant with a birthweight less than 1,500g is referred to as a "very low birthweight infant," and less than 1,000g an "extremely low birthweight infant." While the birthrate in Japan is falling, the ratio of low birthweight infants has been increasing annually.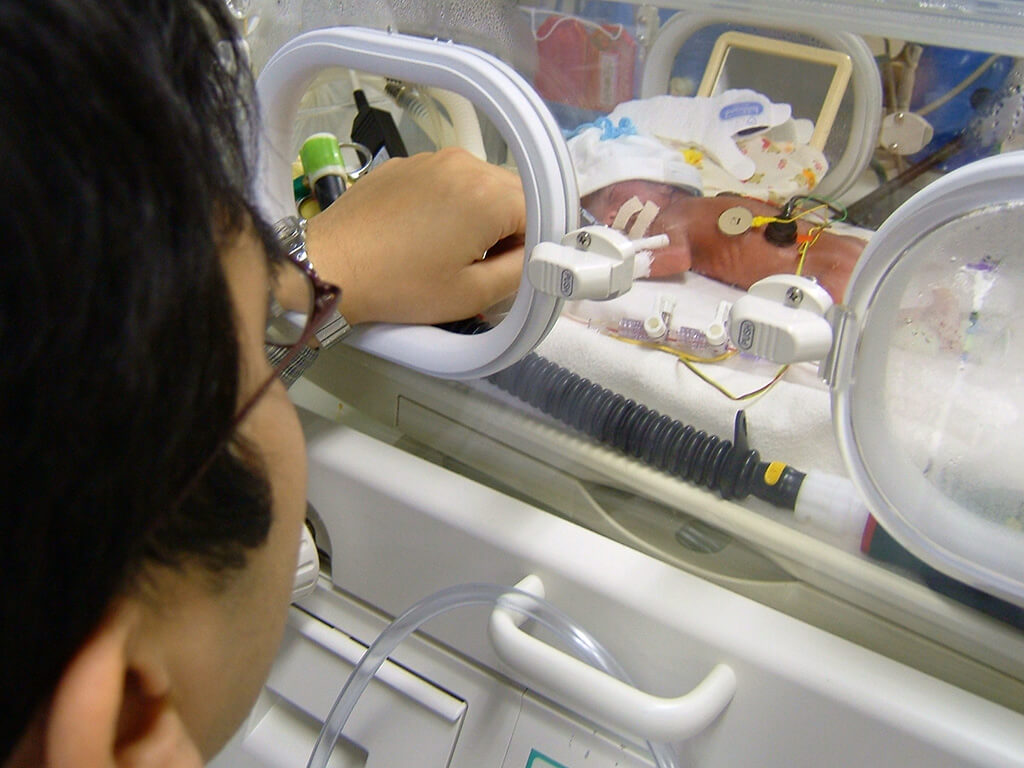 Extremely low birthweight infants are believed to have a high rate of developmental disabilities, and my son also has a developmental disability. While I understand intellectually through my work what children with developmental problems are good at and not so good at, when the child with a disability happens to be my own son, my concerns as a parent come to the fore, and my attention is inevitably drawn to improvement in the things he's not good at, despite knowing very well that he is the one experiencing difficulties and is suffering.
Until now, I have lived my own life based on the principle that I will be able to manage on my own somehow. So even though I know that there are things a person with disabilities is incapable of doing, not because of lack of effort, I get very frustrated when I look at the current situation. That said, I believe that coming to terms with my son's disability every day is changing my view of people with disabilities and my view of life.
Everyone needs to "get used to seeing" people with disabilities
Okuhira: Through your current work, do you have any particular feelings about the current state of social participation of persons with disabilities or issues in that area?
Mr. Takeuchi: I think the fact that there are few opportunities to actually see people with disabilities in public is a problem. Although there may be more of us out and about now than there used to be, I'm the only one who crosses the scramble intersection in Shibuya in a wheelchair at breakneck speed (laughs). Unless people actually witness the circumstances of people with disabilities first hand, I do not think they will understand the kind of assistance or support people with disabilities require.
I also think that there are few opportunities for children to interact with people with disabilities at the learning stage, and that there are significant disparities in their educational environments.
I was moved by one incident I came across in a newspaper article. Local primary school students have supposedly assisted on a daily basis a person with a visual impairment who has commuted by bus. They have helped the person get on and off the bus over a period of more than 10 years. The children supposedly have no awareness of helping someone but simply assist out of a feeling of doing what they could for another person.
It all started when one young girl began to help the person, and even after she finished primary school, other local children took over. I think it is important for children who live with people with disabilities to take initiative voluntarily as a matter of course and learn from that.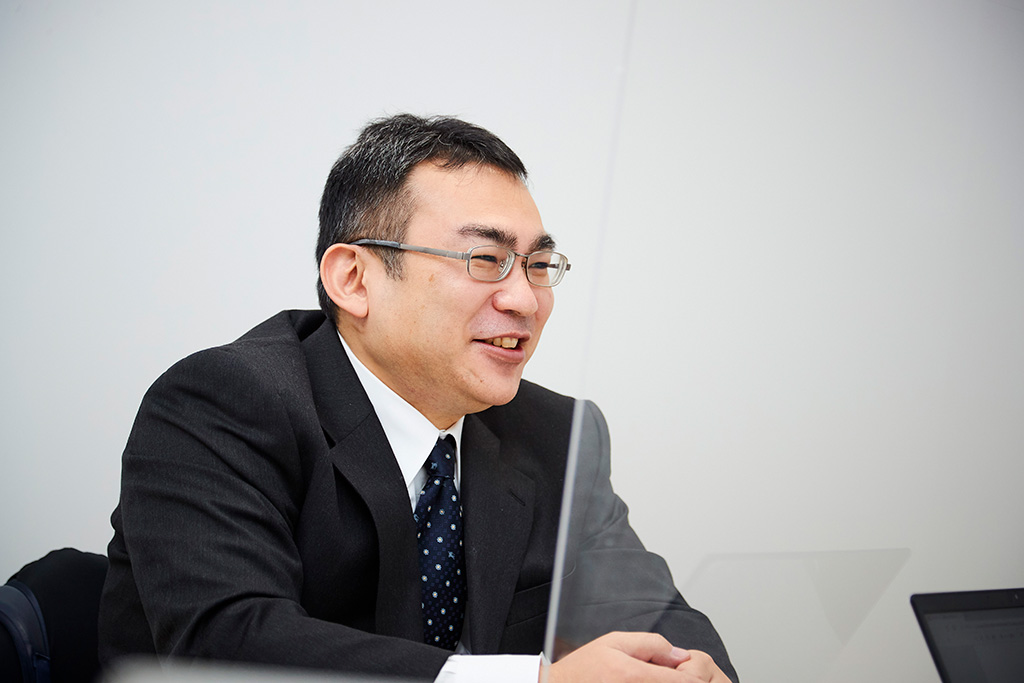 Okuhira: Mr. Takeuchi, what do you believe is the role of the media and corporate world in promoting the inclusion of people with disabilities?
Mr. Takeuchi: As a start, we should perhaps create opportunities to get used to seeing people with disabilities more often in public. For example, take writer and media talent Hirotada Ototake as one person with a disability who has stepped into the spotlight. Although in the early days it might have been different, the majority of TV viewers now look upon him as an individual by the name of "Ototake-san" rather than someone with a disability.
The 2012 London Paralympic Games was also a turning point in Great Britain in people's perception of people with disabilities. The general view shifted from one of "pity" to "admiration" for people with disabilities. I think it would be wonderful if the general viewpoint of Japanese society as a whole could shift in the same way.
As part of this process, I feel it is the role of the media to create opportunities for people with disabilities to speak by shining the spotlight on them and presenting how they live rather than concealing it.
Yamada: I am Yuhei Yamada of The Nippon Foundation Working Group. I am appearing remotely to reduce the number of people in the same room, so please bear with me. I have a mental disability, and I believe it is important to broaden society's understanding of disabilities. On the other hand, I feel it is difficult for people to understand less obvious disabilities like mental disorders. Mr. Takeuchi, what is your view in this regard?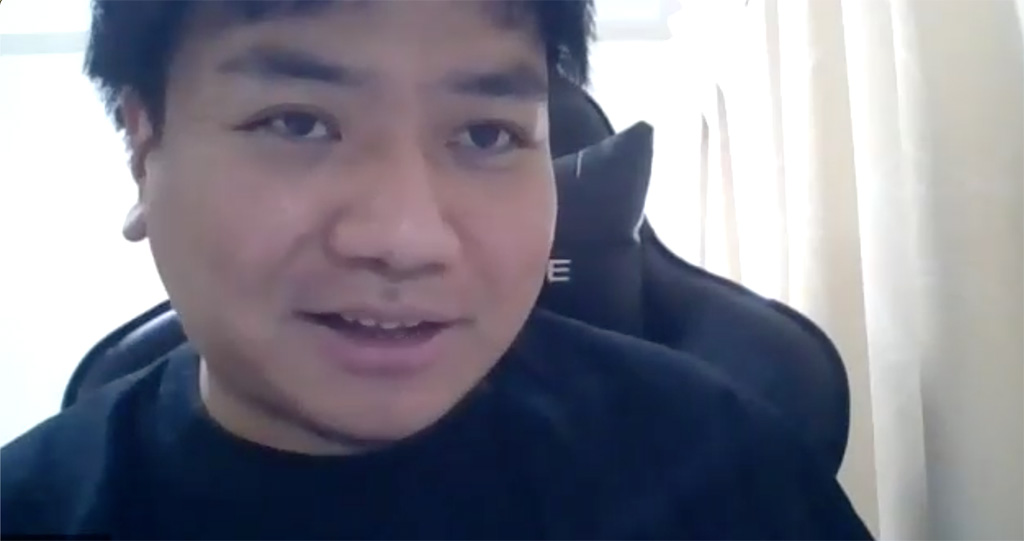 Mr. Takeuchi: Yes, it is an extremely difficult problem. It is important for the person concerned to understand that he or she has a problem. We place a so-called "help mark" on my son, because, as parents, we want people around him to give him assistance if anything should happen to him.
On the other hand, we also worry that making it obvious that he is a person with a disability will have the effect of causing discrimination. I have not yet found the answer, and I am in a quandary.
Yamada: It is really hard to come up with a satisfactory answer. Many people find it difficult to express their disabilities in words. I also have been struggling with this issue as I engage in my work activities.
Okuhira: Finally, please tell us about the society you would like to realize through your work.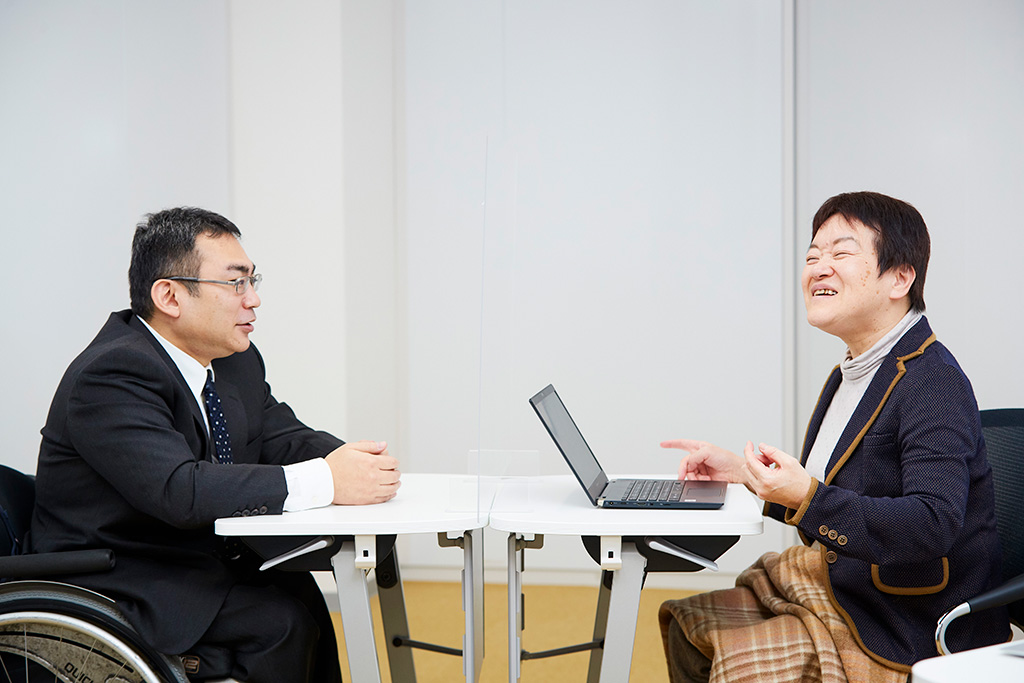 Mr. Takeuchi: My vision is a society where all people with and without disabilities, including those with disabilities that are not visible, can live in an integrated manner. I believe creating an environment and putting in place systems where students study in the same classrooms, teachers with various disabilities teach at the front of the class, and children from childhood are accustomed to seeing people with disabilities and intermingling with them in their daily lives as a matter of course is the starting point of deepening the understanding of the employment of people with disabilities.
I believe that if people from the time of their childhood have friends with disabilities, they will naturally accept such people. I feel that people with disabilities and people without disabilities still live apart in our society. I hope that we can appeal to people through programs and other means to shorten the distance between people even a little.
Okuhira: Little by little the opportunities for people with disabilities to appear in the media are increasing, and we have expectations for further progress in the creation of an inclusive society. Thank you very much for your time today.
Photo: Eizaburo Togawa
Profile
Tetsuya Takeuchi
Senior Commentator/NHK News Commentators Bureau. Born in Nagano City, Nagano Prefecture in 1973. Became confined to a wheelchair due to the aftereffects of acute myelitis which he contracted at the age of three years four months. Studied at graduate school in the United States after graduating from university in Japan. Subsequently worked as a newspaper reporter in Seattle until joining NHK in 2001. Mainly covers welfare-related matters and the Paralympics. Worked at the Headquaters for the Tokyo 2020 Olympic and Paralympic Games, NHK. Currently serves as Program Production Department Senior Manager as well as a senior commentator (covering welfare-related matters and the Paralympics).