【TNF Journal】Business's New Relationship with Disabilities (Part 16)Self-motivated Working and Learning
SEGA SAMMY Group Has Plans to Grow as an Organization in Tandem
with the Growth of Persons with Disabilities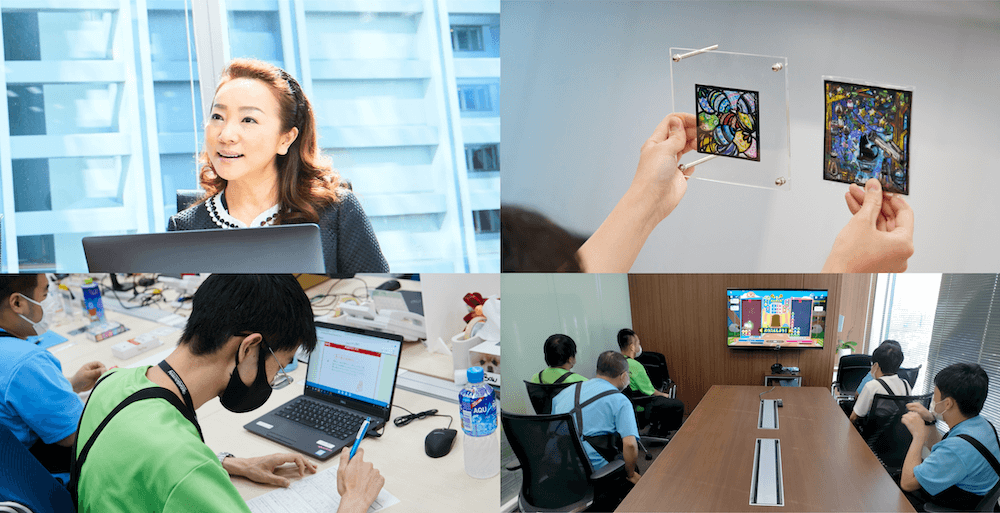 Key Points in this Article
Workplaces for persons with disabilities often provide only simple or light work where it is difficult for individuals to hone their skills or develop a career path
Sega Sammy Group's special subsidiary conducts skills development programs that focus on the future of employees with disabilities
Creating an environment where all individuals can develop their skills and continue to work will lead to the overall growth of the company
Reporting: The Nippon Foundation Journal Editing Department
Taking a close look at the employment of people with disabilities at companies and the development of products and services for people with disabilities, we introduce some outstanding initiatives in this series. We would like our readers to join us in considering what kind of viewpoints and ideas are necessary for creating an inclusive society* where everyone can actively participate whether or not they have disabilities.
A society in which the existence of each and every individual is valued, regardless of race, gender, nationality, social status or disability
This interview was conducted by a member of the Working Group*1 formed by the Nippon Foundation to accelerate the social participation of persons with disabilities. Following on from the previous issue(a new window opens), we present initiatives of the SEGA SAMMY Group in promoting diversity and inclusion*2 based on its mission "Constantly Creating, Forever Captivating – Making Life More Colorful –."
*1

A group formed to research and promote plans on specific issues

*2

Creating a society where everyone respects and acknowledges diversity of race, gender, age, and the presence of absence of disabilities, and where everyone can play an active role
SEGA SAMMY BUSINESS SUPPORT INC., a special subsidiary* of the SEGA SAMMY HOLDINGS INC., is devoting efforts to skills development to suit the abilities and interests of its employees with disabilities. Leading the company in these efforts is Ms. Yuka Ichiki, who was appointed President (Representative Director) in 2020. What is the underlying rationale of the company?
A company established to promote the hiring of people with disabilities and stability in their employment
Skills development programs focused on the future
Okuhira: I am Masako Okuhira from the Nippon Foundation Working Group. I heard that you are conducting a unique skills development program at SEGA SAMMY BUSINESS SUPPORT.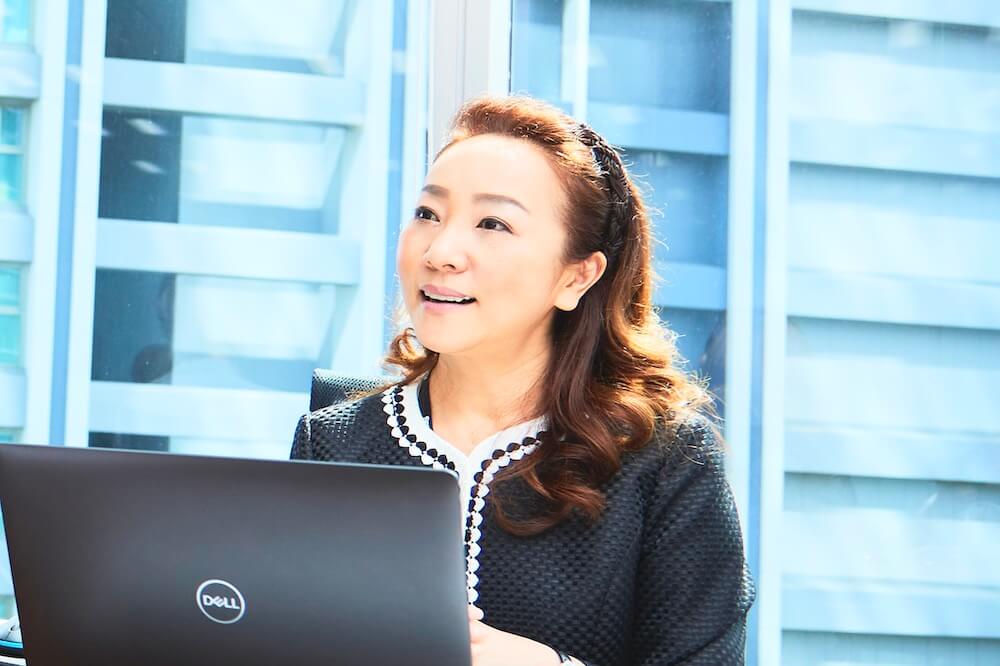 Ms. Ichiki: At the Tokyo office at present, staff are divided into two teams – the Office Cleaning Team and Office Assistant Team – and engage in their work accordingly. Each team formulates its own policies. For example, the Office Cleaning Team allocates 30 minutes of its working hours each day to employee skills development.
The Office Cleaning Team conducts a variety of programs that change day to day, such as the "100 math problems challenge," coloring pictures for adults, touch-typing for computers, and writing compositions on current events. The activities are aimed at improving social adaptability and supporting autonomy, and therefore help in training staff to understand and concentrate on their work, and work details. These activities also lead to discovery of areas each individual is good at, and the development of skills other than cleaning work. This skills development time is also used for monthly staff training, which is conducted once a month.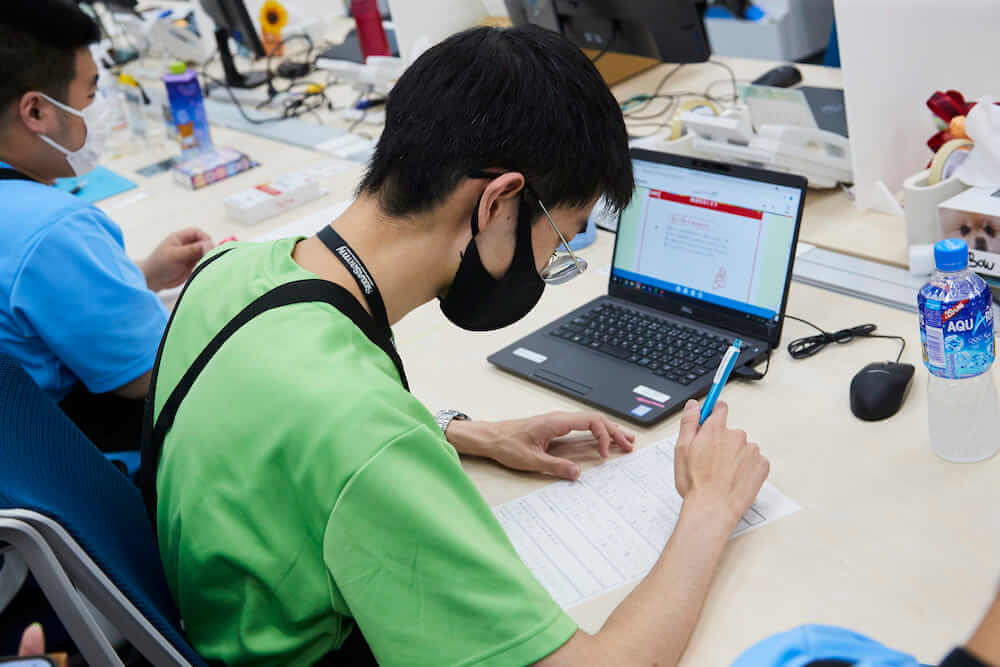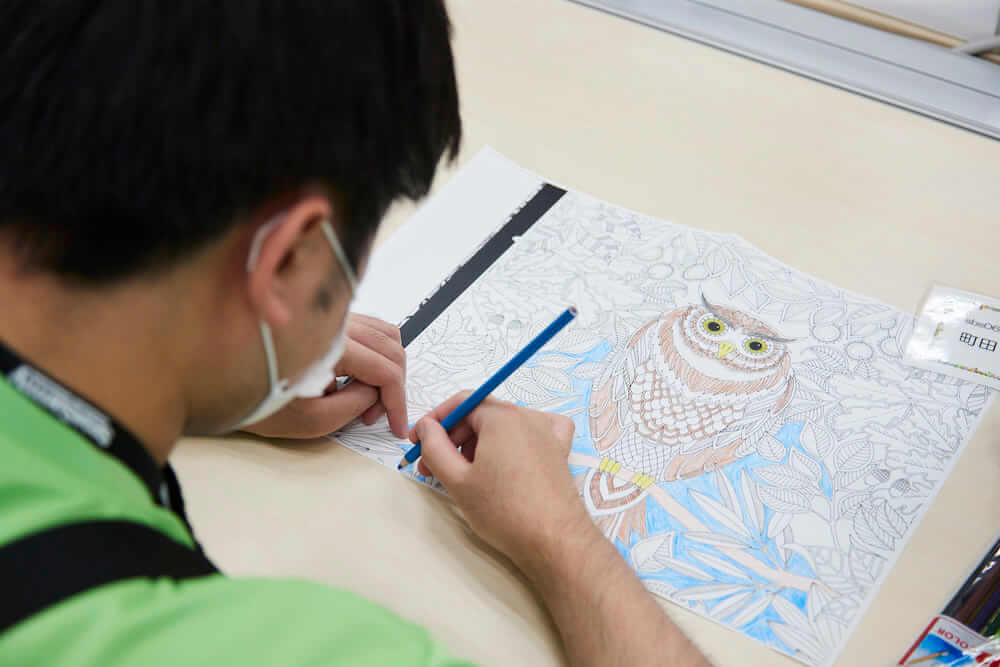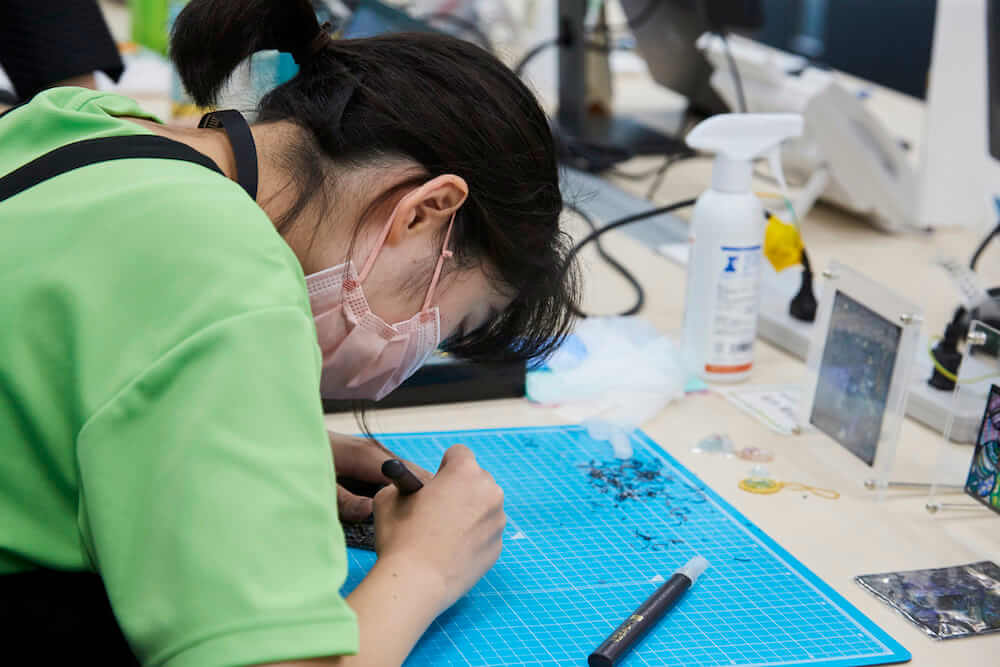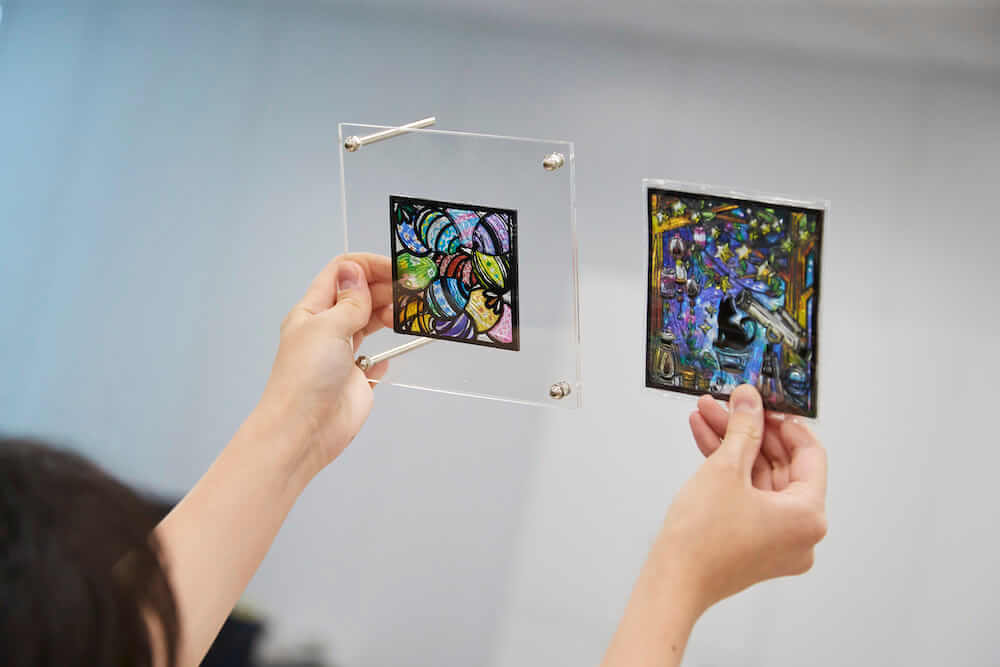 Ms. Ichiki: There is also a company rule that employees are free to play "Puyo Puyo Champions" for an hour during lunch break. Puyo Puyo Champions are puzzle games where so-called Puyo characters of the same color that drop down from the top of the screen are matched and vanish. Playing the game also helps develop dynamic vision, instantaneous judgment, and fingertip motor skills.
We adopt products of the group companies for skills development also to enhance staff's sense of belonging to the SEGA SAMMY Group, and at the same time we want them to feel proud that they are group employees.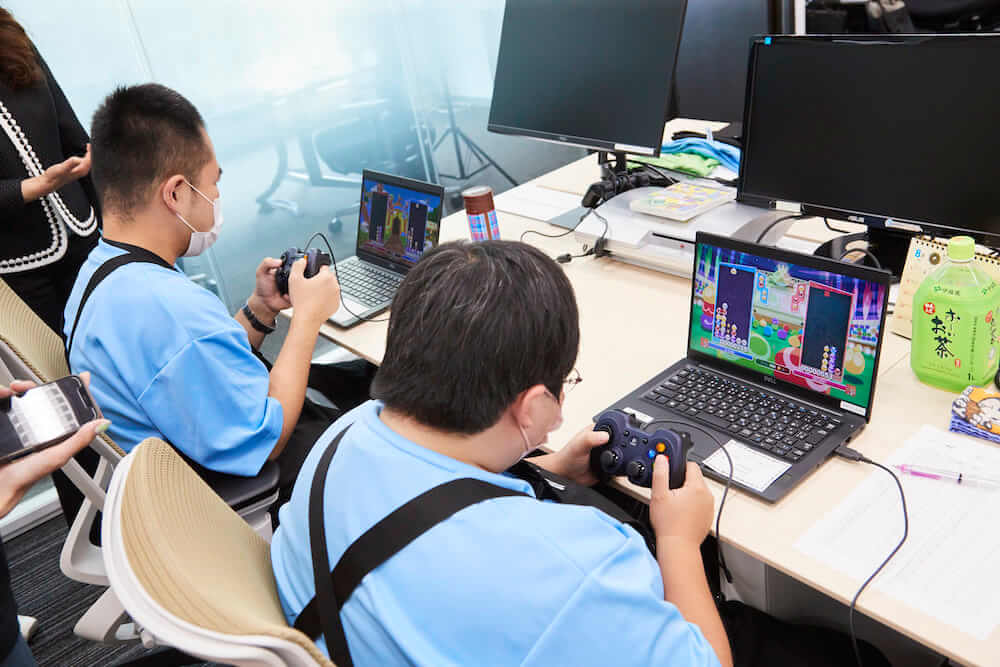 Okuhira: I think that is an excellent idea. By the way, I noticed one employee rolling some red paper clay into a ball. What was he doing?
Ms. Ichiki: SEGA TOYS, a group company of the SEGA SAMMY Group, operates bakeries in the Anpanman Children's Museums all over Japan. The clay balls they are making are meant to resemble the nose and cheeks of the Anpanman-shaped bread sold at these bakeries, and the employee you saw is practicing tearing off and rolling the material evenly. It is really difficult to make neatly-shaped small balls of the same size. Although we have not entered into any negotiations or arrangements with Sega Toys, if our employees are able to make these balls skillfully, they might be able to have a dream of working in bread making in the future. The possibility of such arrangements with Sega Toys is unknown, but we have incorporated this exercise in the hope that it will lead to the creation of skills in a business area.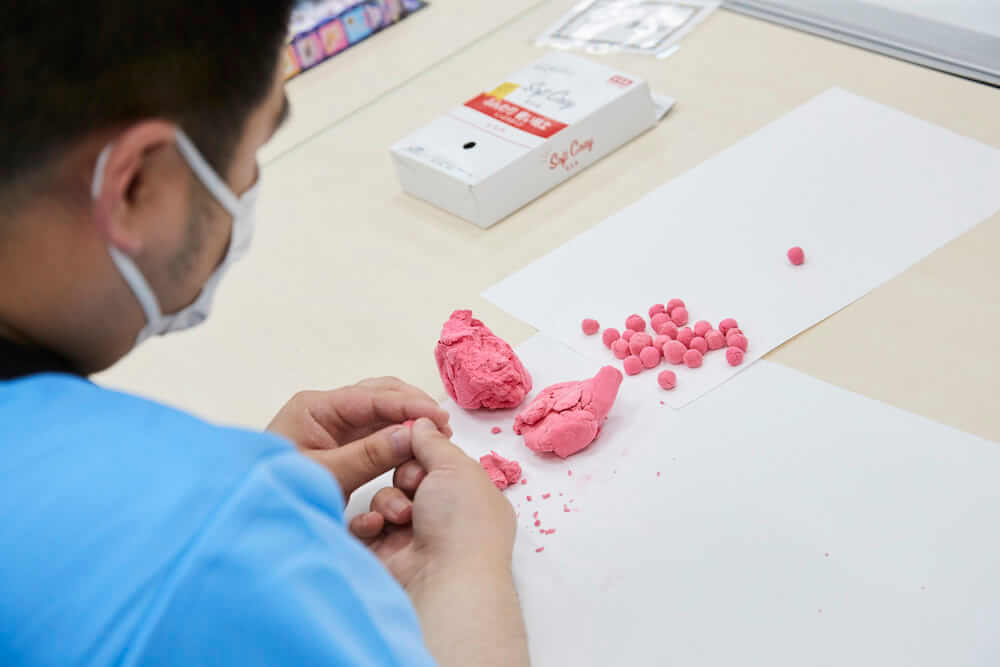 Okuhira: It is wonderful that you make efforts with your employees' future in mind. Everyone also looks as if they are enjoying themselves.
Ms. Ichiki: We have also received feedback from families who tell us, "He has become more cheerful," or "She has started to talk about her work at home." In July, we held a "Puyo Puyo Champions Tournament" jointly with two companies namely Rakuten Socio Business, Inc. (a new window opens), a special subsidiary company of Rakuten Group, Inc., and Dentsu Solari Inc. (a new window opens), a special subsidiary company of Dentsu Inc. After each company conducted in-house preliminaries and selected three players to represent their respective companies, the players competed online. The MC from Rakuten was very skilled and entertaining, and the employees with disabilities together with their instructors got very excited and had a wonderful time.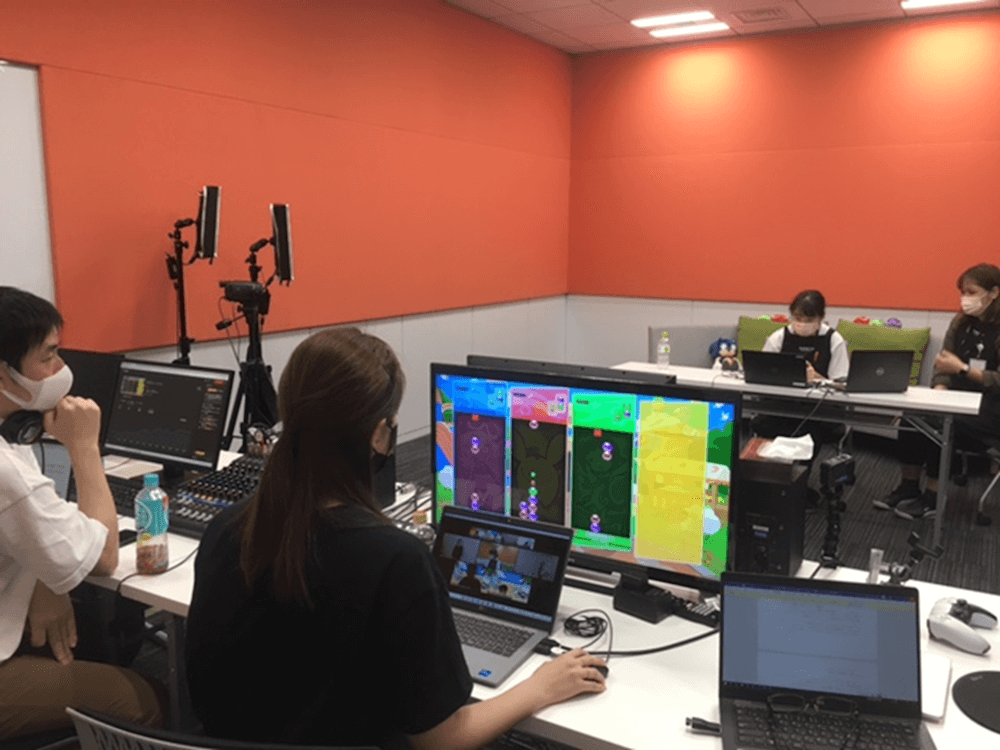 Okuhira: So there seems to be connections among the special subsidiaries.
Ms. Ichiki: This Puyo Puyo tournament involving the three companies started from a conversation about our employees enduring a lot of hardships and being unable to have an enjoyable time together for a long time due to COVID-19, and someone suggested that we do something that would bring smiles to everyone.
I have had discussions on various matters with President Kawashima of Rakuten Socio Business and President Shimizu of Dentsu Solari, both of whom are also women, as well as received advice from them and exchanged information with them. We often get together as coordinators for special subsidiary gatherings as well as at study meetings for special subsidiary presidents, and in such occasions we discuss matters such as how the employment of people with disabilities should change or taking on the challenge of new approaches.
To realize the wish of each one who "wants to try"
Okuhira: So, how do you approach skills development for those in the Office Assistant Team?
Ms. Ichiki: Employees of the Office Assistant Team are welcome to take at their own initiative any programs of our in-house SEGA SAMMY College* which might interest them. All group employees are free to participate in these programs.
Business school for group employees which has courses for each employee level starting with new employees, as well as optional courses ("dojo courses") that employees are free to take. The school serves as a venue for employees to acquire knowledge and skills and for strengthening group cohesiveness.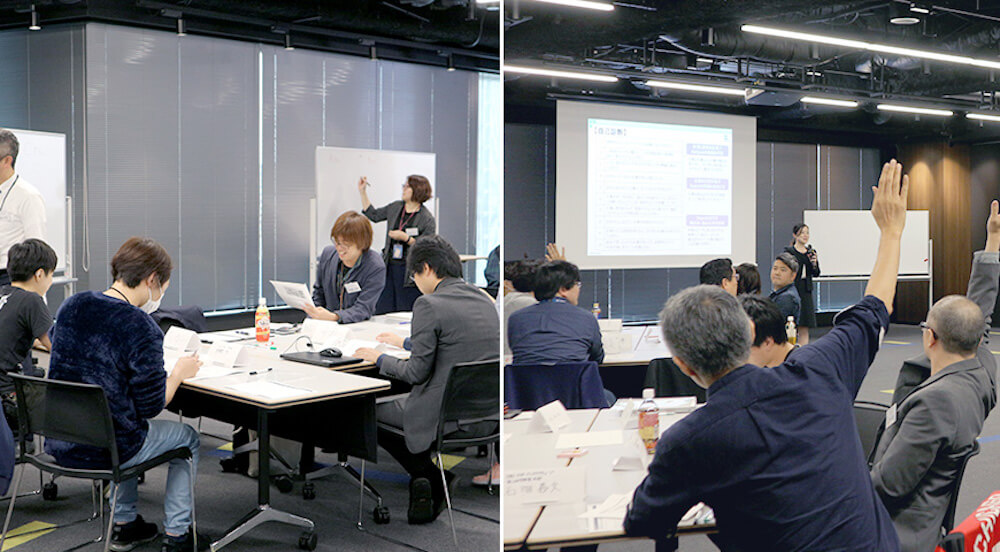 Okuhira: So you even have a college within the company! What kind of programs does the college offer?
Ms. Ichiki: It offers quite a variety of courses including accounting, office administration, management, marketing and communication. The Office Assistant Team employees have a very strong motivation to learn, and they enjoy taking courses. All group employees are given the chance to receive an education, and we want to support them in their desire to learn, whether or not they have disabilities. When employees can hone skills that will lead to future opportunities, this not only leads to their own growth but can also lead to the growth of the company.
Okuhira: Sega Sammy truly values its employees.
Ms. Ichiki: I hold regular one-on-one talks with all employees of the special subsidiary, and at that time I listen to each of them talk about various matters including their ambitions to do new things such as work on the computer, and I listen to them talk about their dreams and concerns about the future. I then think about what we as a company can do to help them fulfill even one of their hopes or dreams, and work together with their instructors on creating skills development programs.
Okuhira: I see that the Office Cleaning Team has very colorful and trendy uniforms.
Ms. Ichiki: We were determined to create the trendiest uniform of any special subsidiary (laugh). Above all, we want our staff to have fun while working. For the summer uniform, we prepared three tee shirts in different colors with a material that dries quickly, is comfortable to wear, does not wrinkle easily, and is easy to wash, and employees can choose the color they want to wear depending on their mood on the day. In addition to the Sega Sammy colors blue and green, we added white as a third color in consideration of the feelings of female employees, but we were very particular about selecting color tones of blue and green. At the Miyazaki Plant, taking into consideration the transparency of white when it becomes wet due to perspiration, we asked the employees to choose between pink and gray as the third color instead of white. The female employees overwhelmingly chose pink, so I felt pleased that we asked them their preference. Work pants were also made so that the length of the hems can be changed according to employees' preferences by placing ten snap buttons on the inside of the hems of the work pants. Sporting a Seattle coffee shop style embroidered logo, the uniform apron has a rather sophisticated design. However, we actually made a point of choosing the apron that is the most troublesome and takes time to put on. We thought about our employees taking care to put on their uniform properly every day, and wanted this procedure to become part of their training. For example, putting on the apron entails working out the order of processes in putting it on, determining its symmetry, and carefully tying the strings, as well as carefully folding it after taking it off.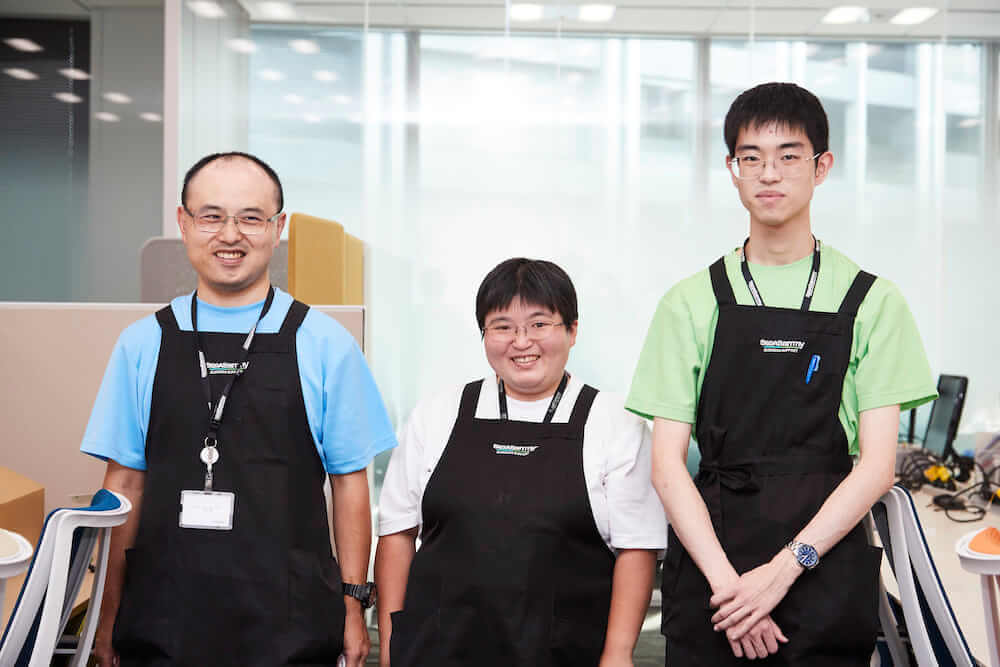 Okuhira: As with everything, doing things with a sense of enjoyment is important, isn't it?
Ms. Ichiki: I agree. The building of head office is extremely large, and is easy to get lost in. Right after the Tokyo office opened and the employees just joined the company, we planned various activities such as a game where employees, working in pairs, were to buy the cheapest 500 ml. bottle of water in the building. The aim was for them to remember the location of their office while enjoying the game.
For lunch, employees also have many choices. There is a large employee cafeteria, convenience stores where they can buy many kinds of lunch boxes and sandwiches as well as restaurants, food trucks and food delivery services. To ensure they could enjoy an economical, tasty lunch every day, we gave them a small notebook and pen and had them create individual maps of the head office building. As they explored the building, we had them write down and remember places they wanted to check out later. In the first week, they frequently got lost, but they seemed to enjoy that as well, and I believe this activity helped them to naturally overcome the anxiety they tended to feel when they first joined the company.
Promoting inclusion while joining hands
Okuhira: I believe you are promoting diversity and inclusion from various viewpoints. Are there any other initiatives you have been promoting in this respect?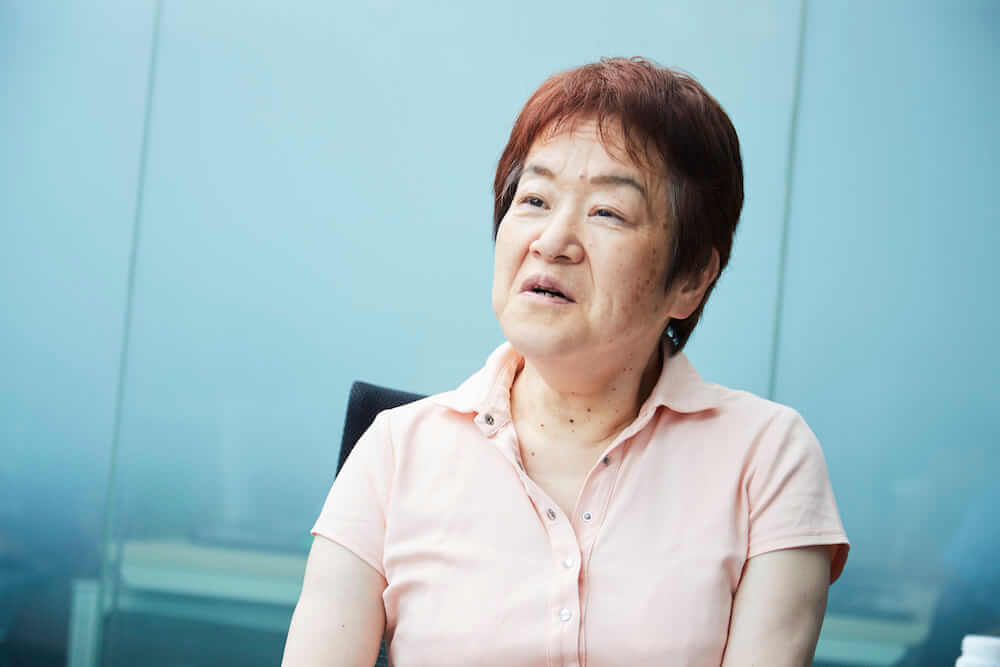 Ms. Ichiki: We are conducting a Japan-U.S. joint study on social inclusion in the employment of persons with disabilities in cooperation with researchers from the University of Minnesota, University of Wisconsin-Madison, University of Tokyo and Hiroshima University.
When I was given the opportunity to give a lecture about our company's initiatives at an international conference on the employment of persons with disabilities, we received very positive reactions including comments that arrangements at Japanese special subsidiaries are excellent, and we received requests from overseas media to cover our approach to employment. We were very pleased with the interest shown in the employment of persons with disabilities in Japan.
I am also an advisory board member for a conference called Mashing Up (a new window opens), whose aim is to create an inclusive society, and I have been given opportunities to speak in panel discussions concerning the employment of persons with disabilities. At such times, I try to speak in a manner that will further deepen the understanding of as many people as possible regarding this issue.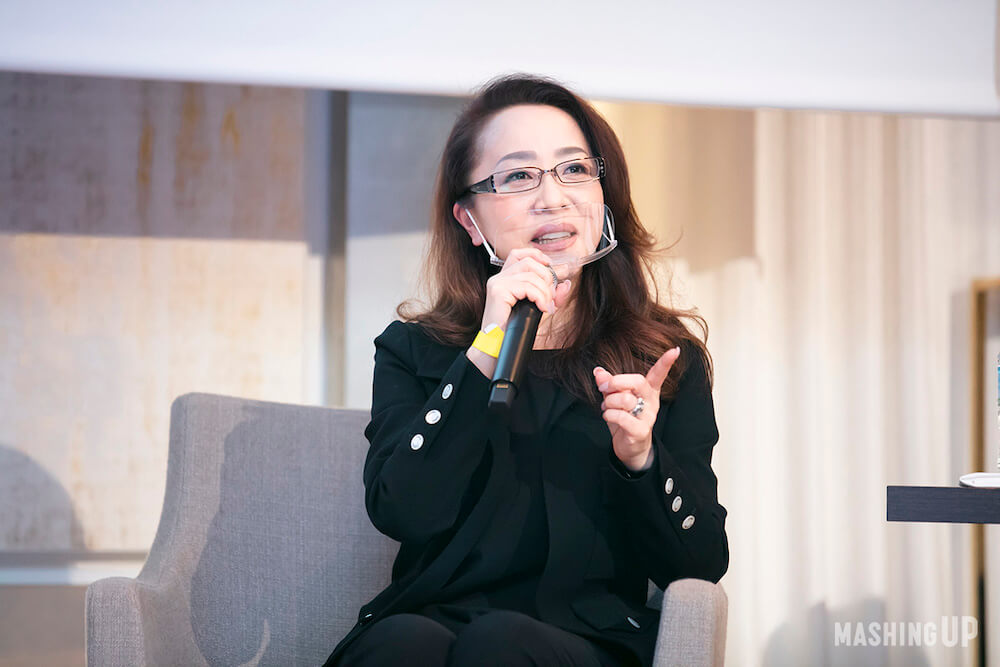 Okuhira: So I guess special subsidiaries are a uniquely Japanese system for hiring people with disabilities. At the same time, it also seems that there is some criticism that the head offices of some companies create special subsidiaries only to meet their employment ratio of people with disabilities.
Mr. Ichiki: I believe one positive aspect about special subsidiaries is their ability to train all kinds of expert human resources required by people with disabilities for performing their work, such as instructors and other personnel, and to convey this know-how to the work sites of group companies. The person in charge of personnel affairs at each group company where the hiring of people with disabilities applies is appointed as a director of SEGA SAMMY BUSINESS SUPPORT, and at our monthly board of directors meetings, we provide opportunities for them to share information about government and Keidanren (Federation of Economic Organizations) in regard to the employment of persons with disabilities, and we hold discussions so as to encourage companies to consider measures for direct employment.
Okuhira: This can certainly be considered a positive aspect of special subsidiaries. Ms. Ichiki, I understand that you are also participating in the Working Group for Examining the Review of the Employment System for Persons with Disabilities led by Keidanren. What kind of discussions are you holding at those meetings?
Ms. Ichiki: To put it simply, we gather the opinions of companies on national policies and systems, and work to realize these. In the course of discussions on the various issues of major companies that employ hundreds of people with disabilities and their plans for revision, Keidanren summarizes the requests to be made to the government. Committee members include not only the presidents of special subsidiaries but also the presidents of parent companies, so it is very educational for me to learn the opinions and views of these companies from their respective positions. Through these discussions, I can understand details of the current system and promptly perceive how the country will change in the future, so I believe we will be able to promote the employment of persons with disabilities in a better way while making assumptions about the future.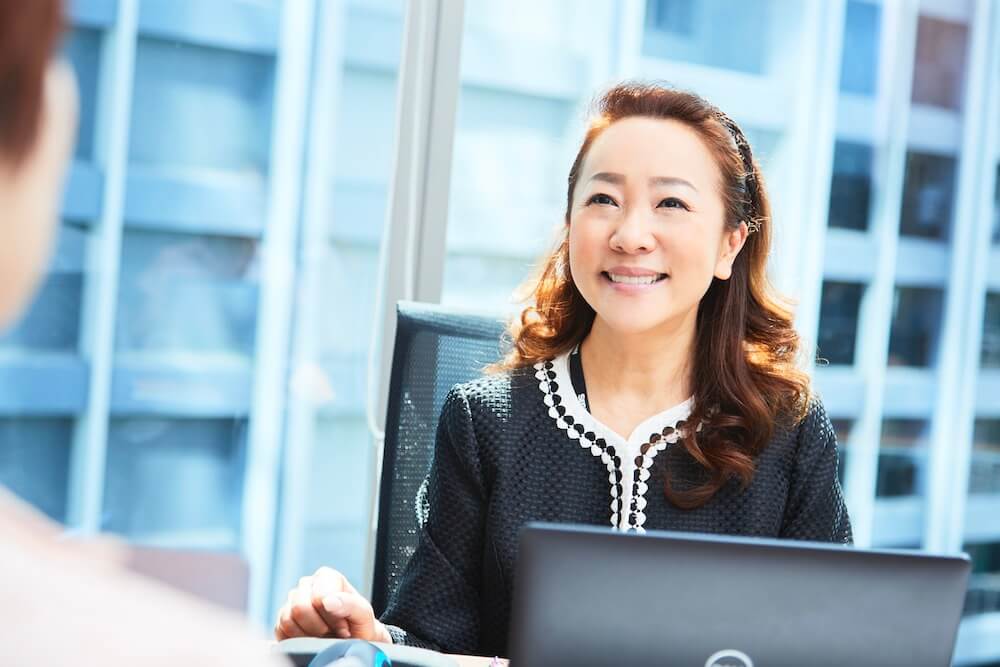 Okuhira: While there are many companies that must make considerable headway in their hiring of people with disabilities, from your own perspective, what kind of viewpoint do you think companies should have?
Ms. Ichiki: It is somewhat presumptuous of me to make any kind of statement, but I always believe it is important for us to develop "empathy." I do not believe departments responsible for diversity and inclusion or departments responsible for sustainability including the employment of persons with disabilities and the promotion of a greater understanding of persons with disabilities will expand and develop in a positive way simply by carrying out the directives of top management.
We are committed to further promoting diversity and inclusion across the Sega Sammy Group, so I believe it is important to start by developing empathy within the group. Toward that end, I have met with the top management of group companies since 2020 to listen to their thoughts, and have considered how we can respond to the requests of each company as an important matter when considering measures. In addition, since there is a limit to what we can do on our own, I would like to join with other companies and promote group projects where we can work together.
I hope that one day such efforts will take root as part of the Sega Sammy Group culture and ethos, and that everybody, one by one, can have fun and come up with ideas that will allow us to work, laugh, and feel happy together, irrespective of disabilities.
Photo: Eizaburo Sogo